I must admit that this Broccoli Cheddar Casserole recipe took me more than a few times to get right. But after perfection, I think it's truly outstanding, even ULTIMATE! Some might think that it's embarrassing that it took me a few times to get a casserole recipe right, considering I've been developing recipes for over a decade. After all, a casserole is about as basic as it gets right? RIGHT?!
I mean sure. If you are just stirring together stuff with a few cans of soup and popping it in the oven, that's definitely true (not that there's anything wrong with that!), but making a broccoli and cheese casserole from scratch can be a lot harder than you might think.
It took a few stabs to nail down the right amount of rice (too much equals a brick) and the order of ingredients (can't just stir everything together). The cool things are that A) I did all the work for ya. Just follow the steps, ya'll. And, B) you can make this well in advance and pop it in the oven to reheat and it's maybe even better than the first time you bake it because of some unknown casserole law of nature.
Casserole Failure
First, let's just get this picture out of the way. This is WRONG. Very very wrong. It actually didn't taste that bad but the proportions and toppings were just way off in my opinion.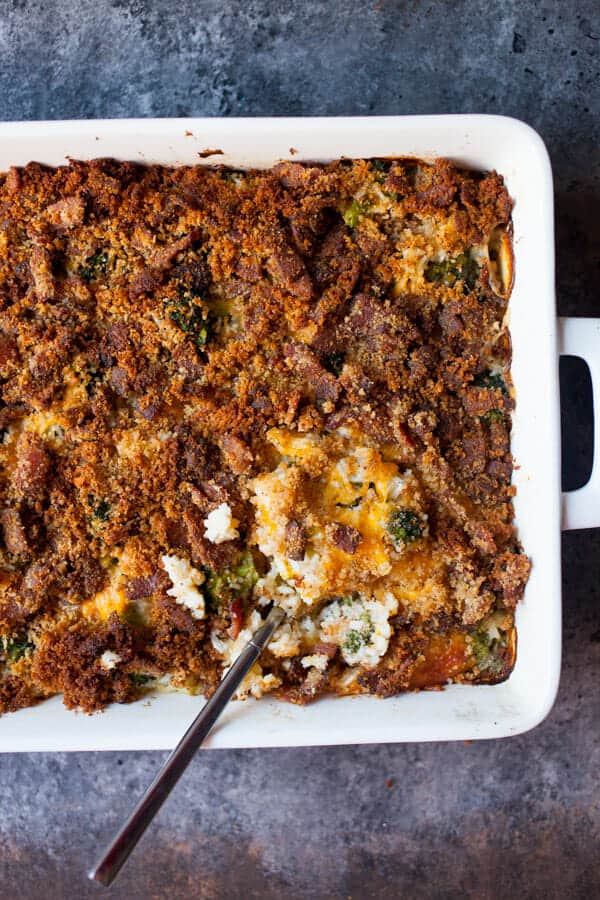 Compare that to the nice clean layers and perfectly browned topping in the final broccoli cheddar casserole version and you'll agree that I had a lot of work together from my first version to my last version here.
Ingredients and layers of the casserole
Before we assemble this bacon, broccoli, cheddar casserole, let's cook the parts!
Let's start with bacon. You could easily make this casserole vegetarian by just toasting the breadcrumbs in some olive oil, but bacon is delicious so unless you have a reason not to, I'd add it.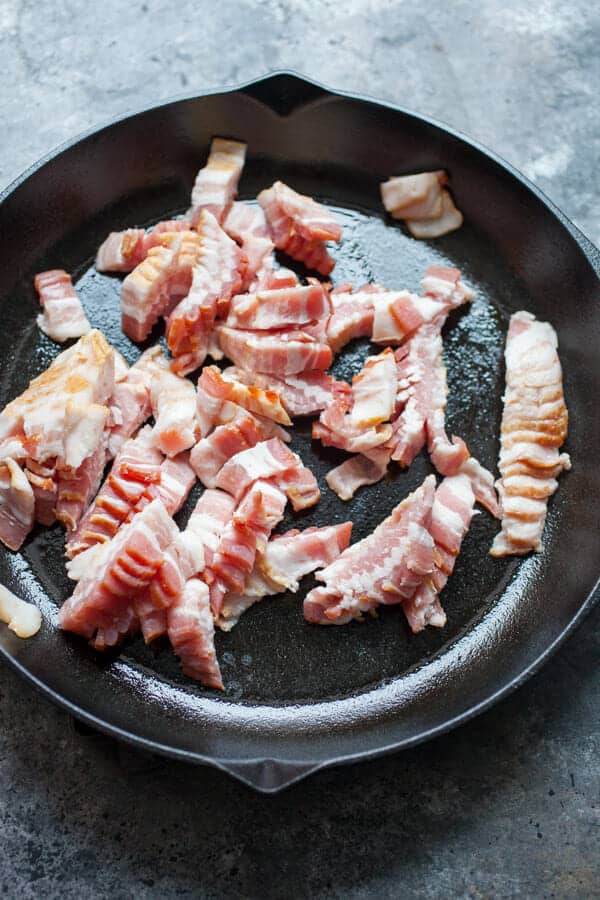 Crisp up the bacon in a skillet and then use the bacon grease to brown your bread crumbs over LOW heat so they don't get too toasty.
You'll obviously need broccoli for this recipe. A lot of it actually. You could use frozen, but fresh is better. Blanch it in some salted water for a few minutes and then remove it. It should have some crunch too it still. Try not to overcook the broccoli or it will just fall apart in your casserole.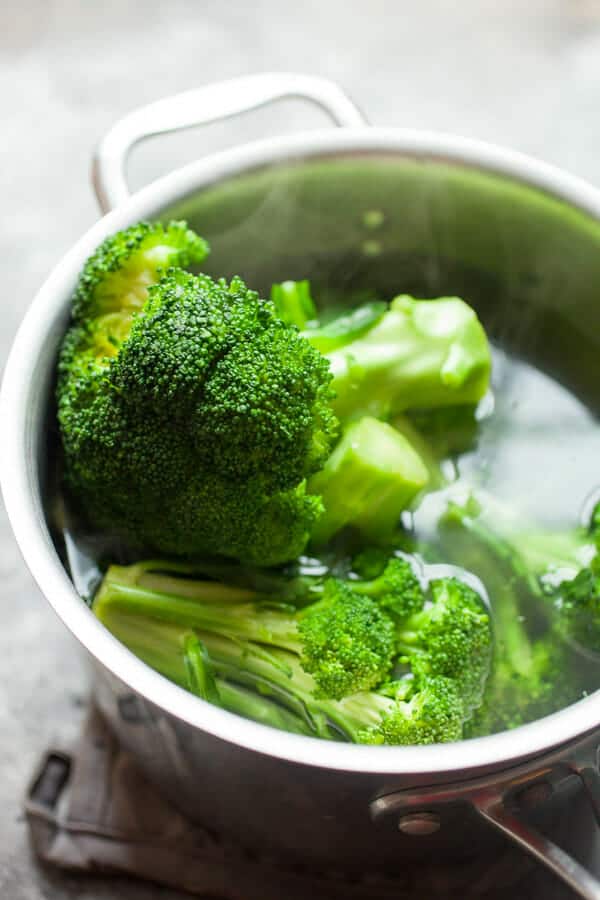 The key to using rice in from-scratch casseroles
Rice is the glue for this broccoli cheddar casserole. You can cook a batch in your broccoli water after blanching if you want or, even better, use leftovers.
Most importantly: actually measure the rice here people. Do not eyeball it for this recipe. The difference between two and three cups of rice in the casserole is the difference between perfection and brick of food.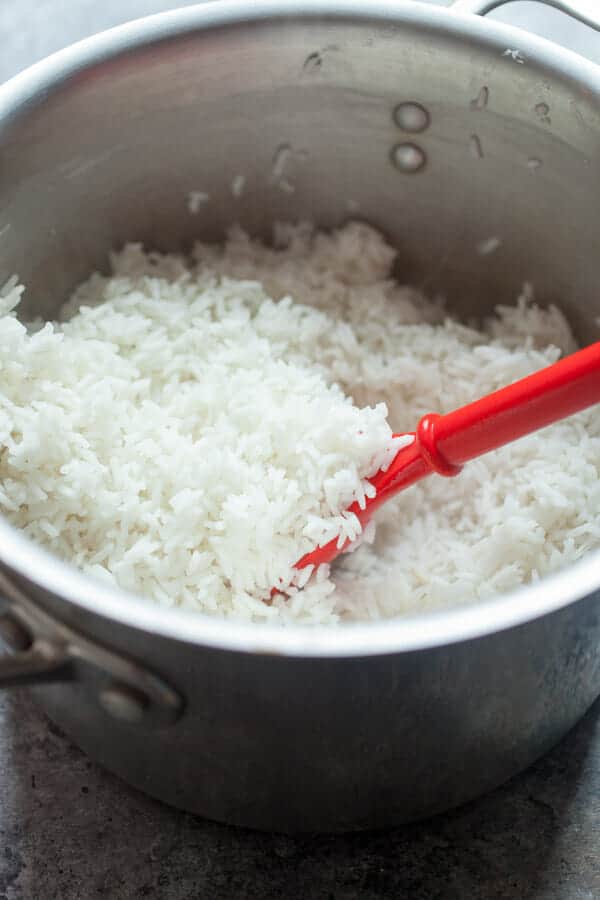 Making the Casserole Sauce
Because I wanted to make this broccoli cheddar casserole from scratch that means I needed a sauce that wasn't from a soup can. The sauce for the casserole is a standard béchamel sauce but with onions and garlic added in. Melt the butter and cook the onions and garlic until they are translucent. Then add in the flour.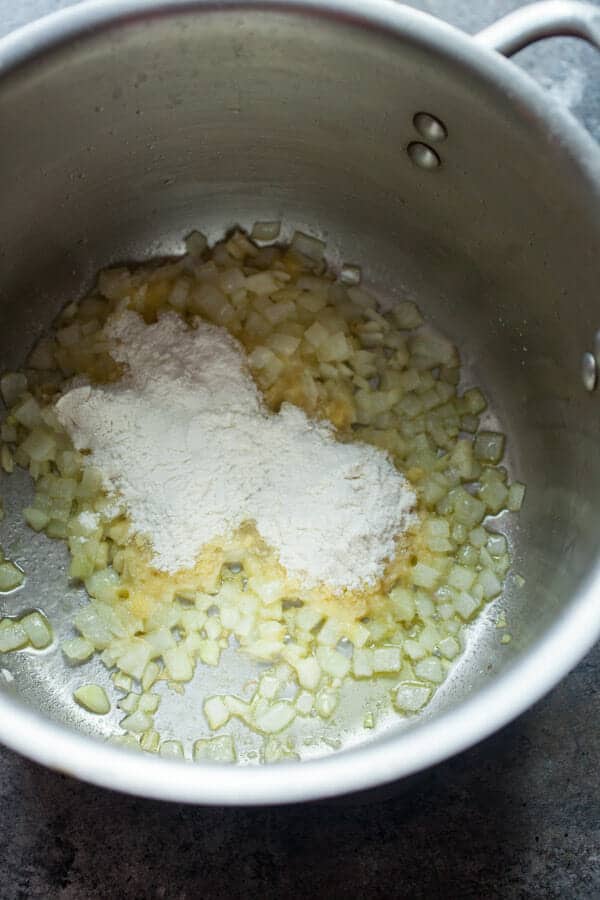 Once that cooks for a minute or two add the milk slowly, whisking or stirring constantly to prevent lumps. Then the cream and mustard.
Season with salt and pepper and stir in your rice. It'll look a bit watery at this point, but will thicken as it bakes.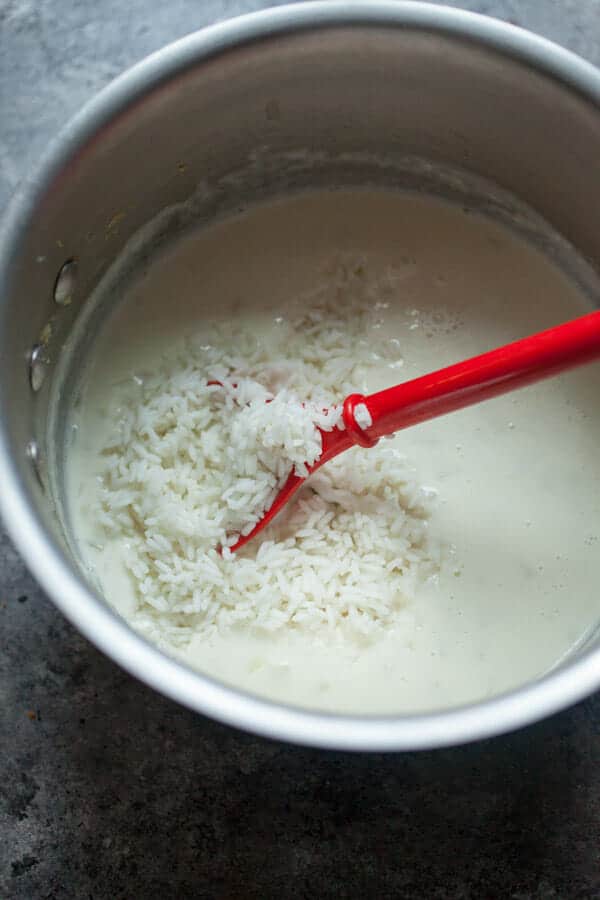 The layers of this game are important. I actually don't recommend stirring the broccoli and cheese into the rice base. Keeping stuff separate works better for this casserole.
Assembling and Baking the Broccoli Cheddar Casserole
Transfer your rice mixture into a buttered dish. Then layer on your broccoli and cheese.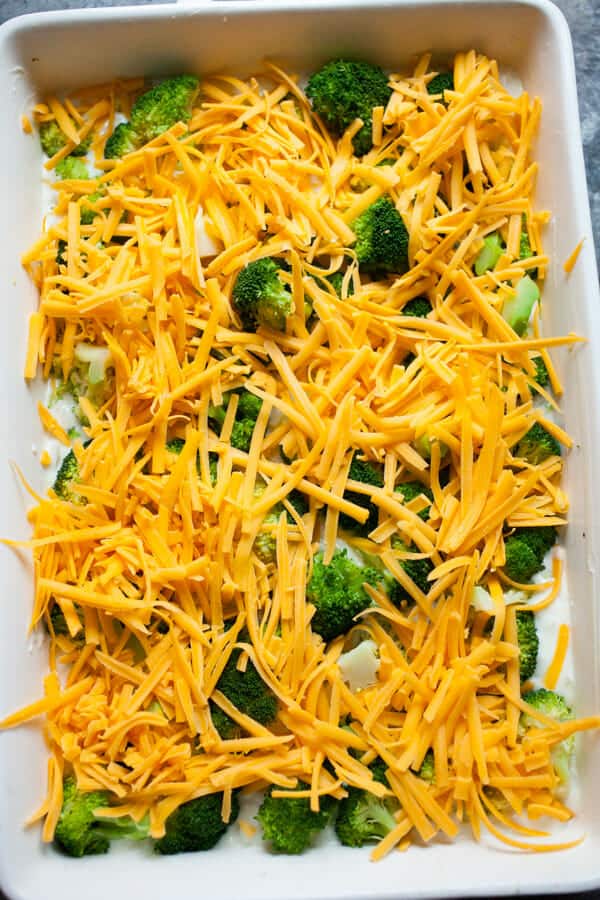 Bacon and bread crumbs go last! When I saw how nice these layers were working out, I thought this casserole would be a winner.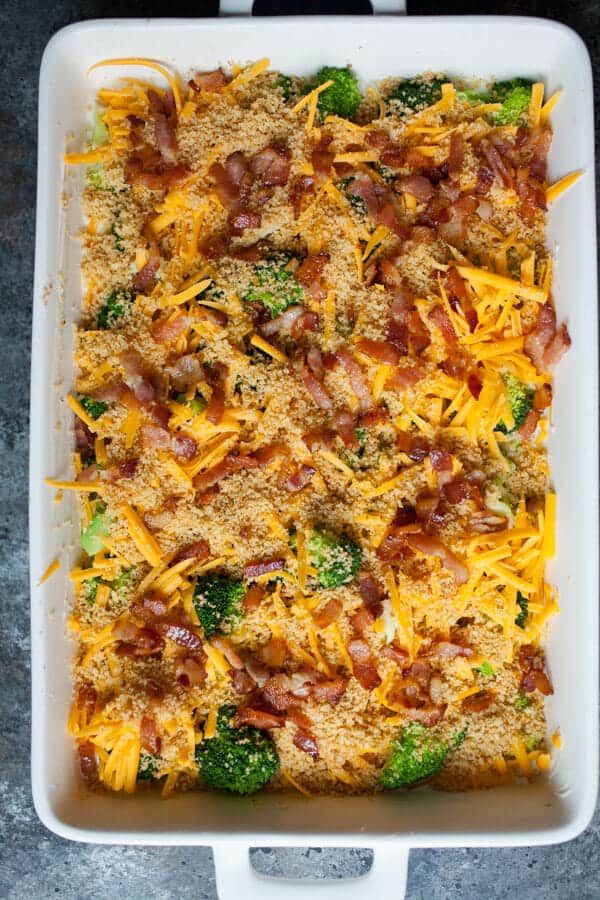 Bake for 25-30 minutes until it's bubbling and the topping is browned.
Let it cool a bit before serving, but it's best warm, obviously!
Casserole Swaps and Substitutions
There is some room here for swaps and substitutions as with all casseroles.
Mushrooms! I love adding mushrooms to a hearty casserole like this. Saute the mushrooms and add them to the layer with the broccoli.
Veggie Friendly! For a vegetarian version of this casserole, leave out the bacon or add in some crumbled seared tofu or seitan.
Rice swaps! Try subbing out wild rice or brown rice for the white rice. Just make sure to cook it well and measure it so it doesn't get gummy.
What to serve with Broccoli Cheddar Casserole
This recipe can absolutely be a meal on its own, but if you're looking for something to serve with it, I would recommend keeping it light. Something like this ultimate fall salad would be great or if you have some fresh corn then this spicy corn salad would be a nice side dish.
Some chips and dips would be nice as well as a side dish as well. This slow cooker caramelized onion dip would be good with chips or veggies or you could make some homemade baba ganoush.
Storing and reheating instructions
This ultimate broccoli cheddar casserole recipe actually reheats beautifully. Feel free to make it in advance and warm it in a 300-degree oven until it's heated through. If you have leftovers, they'll store in the fridge for up to a week or you can freeze it in individual portions. You can reheat the casserole in the oven until warmed through or even if does okay in the microwave in short bursts on high.
Fall is casserole season and this recipe is a keeper.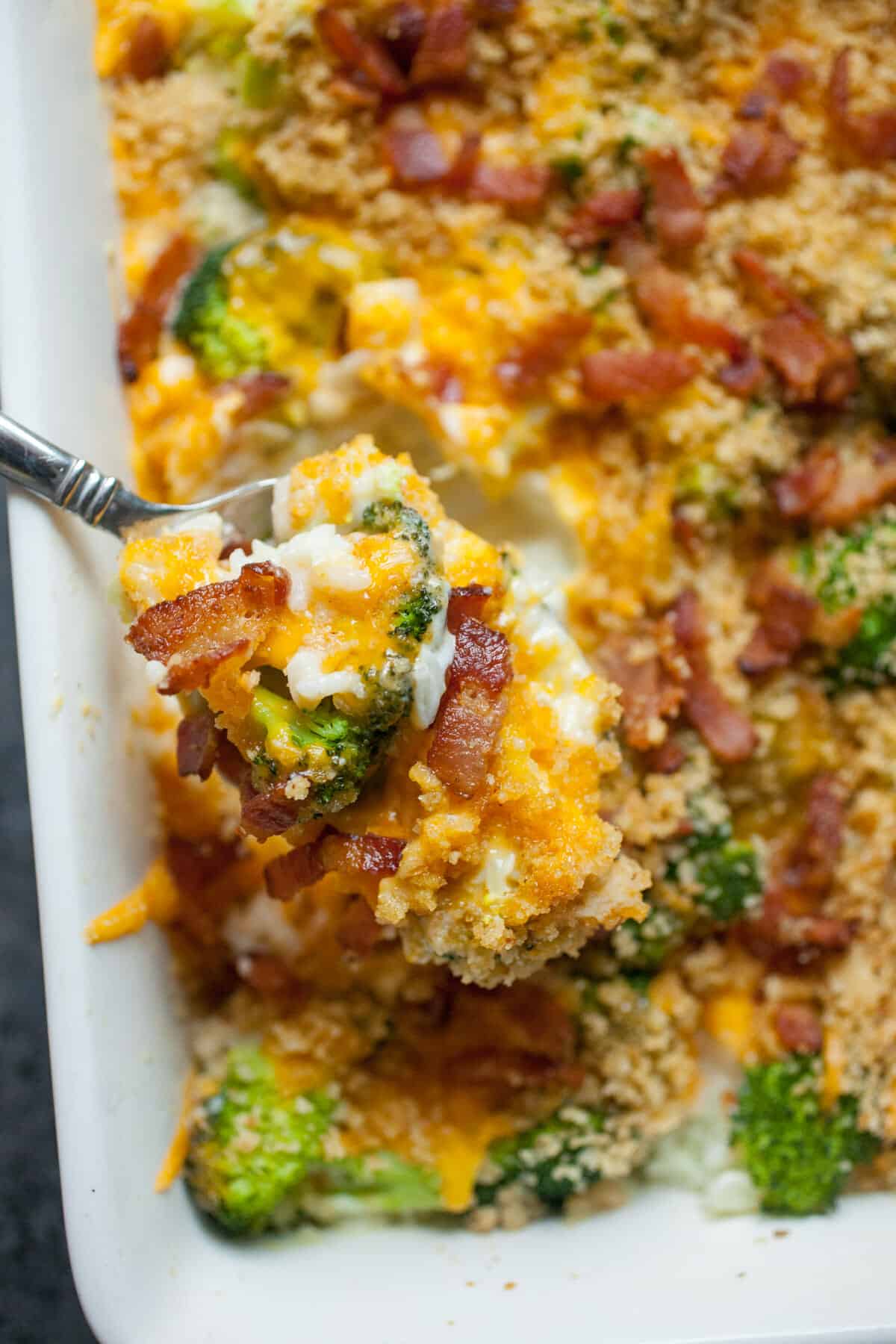 Ultimate Broccoli Cheddar Casserole
After much testing, this is my favorite way to make broccoli casserole. Simple ingredients layered in the right order can make something really delicious!
Ingredients
2

pounds

broccoli

,

blanched

3

tablespoons

unsalted butter

1

white onion

,

chopped

4

cloves

garlic

,

minced

3

tablespoons

all-purpose flour

2

cups

milk

½

cup

cream

2

cups

cooked long grain white rice

1

tablespoon

Dijon mustard

8

ounces

cheddar cheese

,

grated

8

ounces

bacon

,

crispy

1

cup

breadcrumbs

Salt and pepper
Instructions
Preheat oven to 350 degrees F. Lightly butter a large 9×13 baking dish.

Blanch broccoli in salted boiling water for about 2 minutes until it's bright in color. It should still be a bit crispy, not soggy at all. Remove and let cool.

If you need to cook rice, you can do so in the broccoli water, but it's easiest to use leftover rice. Once rice is cooked, measure out two cups of cooked rice.

Add chopped bacon to a skillet over low heat, cook until pieces are crispy and fat is rendered, about 7-8 minutes. Then remove bacon and add breadcrumbs. Stir well until bread crumbs absorb the bacon grease and start to brown. Remove from heat.

In a large pot (you can use the same one for cooking broccoli and rice – just wipe it out), add butter and melt over medium heat. Then add onions and garlic and cook until translucent. Season with a pinch of salt and pepper.

Add flour to the pot and stir. Cook for a minute or two, then add milk in 1/2 cup batches, stirring constantly to incorporate. Add cream last. Once mixture is together and warm, add rice. It'll be a bit watery at this point, but will thicken while baking. Add mustard to mixture and season with a pinch of salt and pepper.

Pour your rice base into the prepared casserole dish. Top with broccoli florets. Then top with grated cheese, followed by bacon and breadcrumbs.

Bake casserole at 350 degrees F. for 25-30 minutes until it's bubbly and browned on top.

Serve while warm!
Nutrition
Serving:
2
c.
|
Calories:
695
kcal
|
Carbohydrates:
49
g
|
Protein:
26
g
|
Fat:
45
g
|
Saturated Fat:
22
g
|
Polyunsaturated Fat:
4
g
|
Monounsaturated Fat:
14
g
|
Trans Fat:
0.3
g
|
Cholesterol:
110
mg
|
Sodium:
745
mg
|
Potassium:
821
mg
|
Fiber:
6
g
|
Sugar:
9
g
|
Vitamin A:
1935
IU
|
Vitamin C:
137
mg
|
Calcium:
503
mg
|
Iron:
3
mg
Did you make this recipe?
Here are a few other great recipes!