When our family goes on vacation in North Carolina we rarely eat out, choosing instead to by local seafood and cook it ourselves. But, one year I had this Shrimp Burger from a local restaurant called Provision Company. They have a pretty nice menu of fresh seafood and I was at a loss on what to order.
A friend quickly said, "Just get the shrimp burger."
Really? A shrimp burger? Sounds fishy…
But it turned out to be a great choice. The burger was super tender and had large chunks of fresh shrimp in it. I did some research as soon as I got home and this Shrimp Burger Recipe is an almost spot-on reproduction of the Provisions and Co shrimp burger!
Preparing the Shrimp
It doesn't really matter what size of shrimp you use for this shrimp burger recipe. You can even buy the shrimp that have already been shelled and cleaned. You do need RAW shrimp though. It won't work with pre-cooked shrimp. Personally, I like to do that myself just to save a few bucks.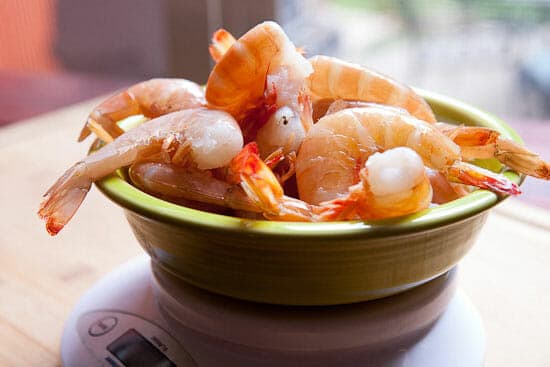 When you have your shrimp cleaned, divide them in half. You want to roughly chop about half a pound of the shrimp which will be folded into the burgers later. The other half will be pureed into a paste with all this stuff!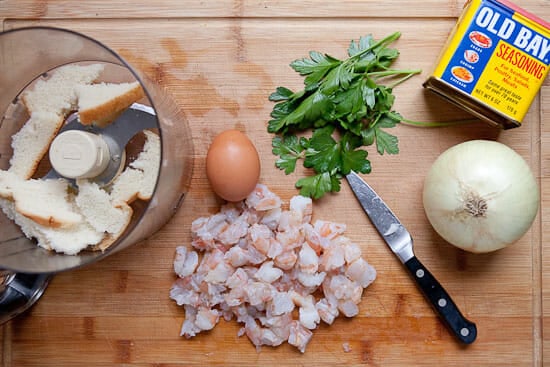 Making the Shrimp Burger Mixture
I think it would be possible to make this without a food processor, but a processor makes it really easy.
Just pulse the bread a few times to make crumbs and then add the shrimp and other ingredients and pulse it until the mixture is in a rough paste.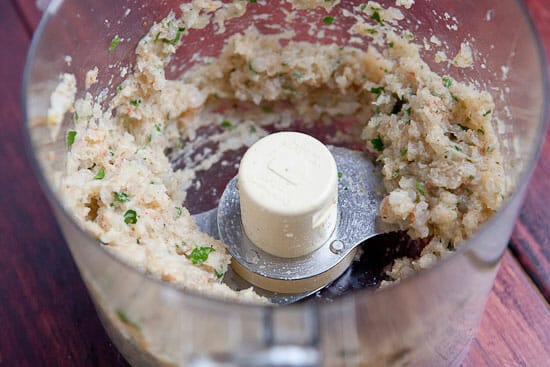 Scoop that out into a bowl and fold in the chopped shrimp. This is the trick to having nice chunks of shrimp in the burger but also a smooth texture that sticks together.
The tricky part now is to decide if you need or want to add breadcrumbs. You might need to if the mixture is really loose, but you'll just have to judge it by feel.
I added a few small handfuls of breadcrumbs to my shrimp burger recipe mixture (about 1/3 cup maybe) and that was just enough to get the mixture to stick together.
Then I formed my burger mixture into three large balls. You could cook these immediately at this point or chill them for later.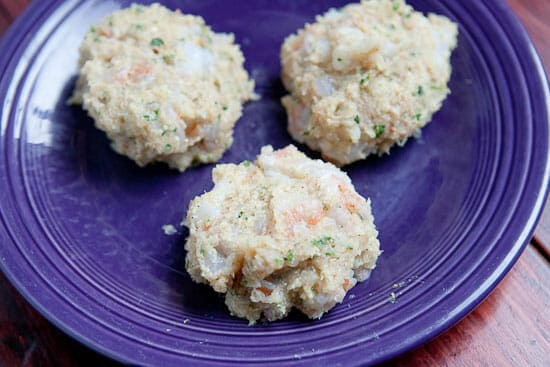 Cooking the Shrimp Burgers
The sauce for these burgers is super important. Don't skimp on it. It's an easy sauce to stir together but all the pieces are important (capers, lemon, etc.)
When you're ready to eat smear a toasted bun with a good amount of the sauce and prepare your veggies.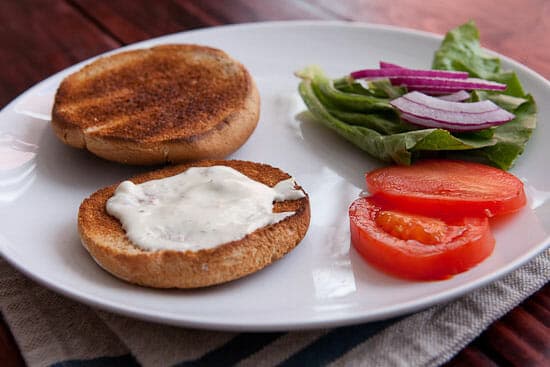 I think it would be near impossible to grill these burgers. They are too loose. Instead, add a drizzle of oil to a skillet and then heat it over medium heat. You don't want the pan too hot or the outside of the burger will just burn and you want to cook these through obviously.
Add a burger and use a spatula to press it down into a patty. These burgers will need to cook for 4-5 minutes per side.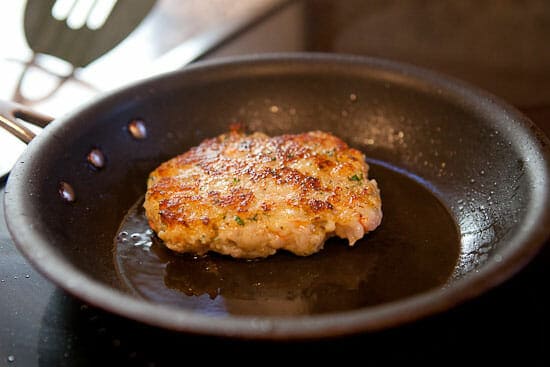 Serve the hot patty on the bun with more sauce.
It should be a messy burger and it's almost impossible to put on too much sauce!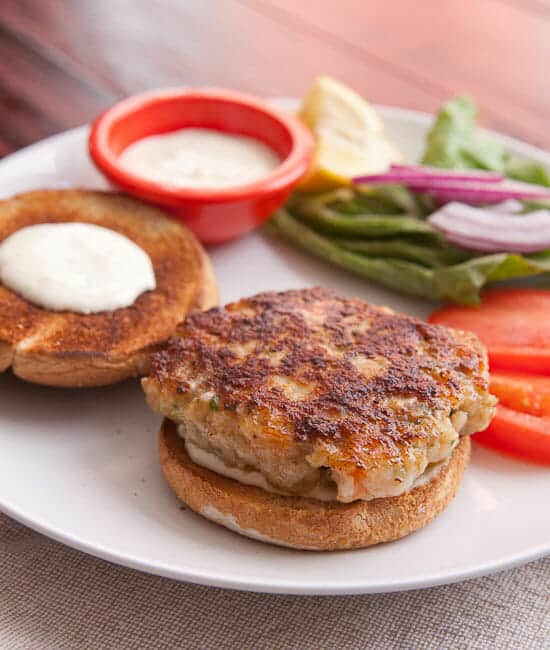 Living in a land-locked state, this is a great way to get some seafood flavors going. It was a great burger and I was surprised how easy it was to reproduce at home!
This shrimp burger recipe is a thing. A very good thing!
Homemade Shrimp Burgers
Homemade shrimp burger recipe inspired by Provisions and Co. Restaurant. These tasty shrimp burgers are blow-your-mind delicious!
Ingredients
1

slice

white sandwich bread

1

pound

raw shrimp

1

large egg white

¼

white onion

2

tablespoons

fresh parsley

1

teaspoon

Old Bay

Pinch

of salt and pepper

⅓

cup

breadcrumbs

,

opt.

Neutral oil

,

for cooking
Burger Tartar Sauce:
¼

cup

mayonnaise

¼

cup

Greek yogurt

1

lemon

,

juice only

2

teaspoons

capers

,

chopped

1

teaspoon

horseradish

1

teaspoon

fresh parsley

Buns

Tomatoes

Red onion

Lettuce
Instructions
For sauce, mince capers and parsley and whisk together with other ingredients. Feel free to taste and adjust seasoning to your liking.

To start burgers, peel shrimp and devein with a paring knife or buy peeled and cleaned shrimp. Take about half of the shrimp and roughly chop it and set aside. This will be the texture in the burgers later.

In a food processor, pulse the piece of bread until it is in tiny pieces. Then add the rest of the shrimp, the egg white, the onion, the parsley and the spices and pulse a few times until it's in a rough paste.

Transfer shrimp paste to a bowl and fold in chopped shrimp. If the mixture is really wet, add breadcrumbs. You may or may not need them.

When mixture is formable, but still pretty wet, divide it into three even balls. You can either cook these immediately or store them in the fridge for later.

When you want to cook a burger, add a drizzle of neutral oil to a skillet over medium heat. Once the oil is shimmering hot, add a burger ball and press it down a bit to form a patty in the pan.

Let the burgers cook for about 4-5 minutes per side.

Once burgers are cooked through completely, serve them on a toasted bun with a smear of tartar sauce and veggies on the side.
Nutrition
Serving:
1
burger
|
Calories:
333
kcal
|
Carbohydrates:
20
g
|
Protein:
26
g
|
Fat:
17
g
|
Saturated Fat:
3
g
|
Polyunsaturated Fat:
9
g
|
Monounsaturated Fat:
3
g
|
Trans Fat:
0.1
g
|
Cholesterol:
199
mg
|
Sodium:
1155
mg
|
Potassium:
319
mg
|
Fiber:
2
g
|
Sugar:
3
g
|
Vitamin A:
540
IU
|
Vitamin C:
24
mg
|
Calcium:
164
mg
|
Iron:
2
mg
Did you make this recipe?
Storage and Reheating
These shrimp burgers keep well in the fridge for 3-4 days once they are cooked. Reheat them gently in a skillet over low heat. I wouldn't microwave them as they will lose their juiciness and get really chewy. Once these are cooked, you can freeze them if you seal them well in airtight freezer bags. Thaw them before reheating them on the stove.
Here are some other great recipes to try!
Has anyone ever had one of these before? Leave a comment!