"Oh wow. This is actually good."
That was my wife's review of this Ultimate Chicken Salad Sandwich recipe. The most important thing to note when reading that review is she doesn't really like chicken salad. I've never seen her order or choose it if she has literally any other lunch option.
Her endorsement is quite the statement on this salad.
Meanwhile, I absolutely LOVE chicken salad. Like 💙 it.
Over the years, I've probably made chicken salad with dozens of different add-ins and dressings. I swear this combo that you are reading right here is THE combo.
The Most Important Part of Good Chicken Salad
It's homemade mayo, people.
I know. Making mayo is NOT something that most people want to deal with, but it don't call this chicken salad ultimate if you aren't making your own mayo. You can call it "good" or "crunchy" or whatever, but you can't bridge that last step to ultimate without homemade mayo.
The easiest way to make homemade mayo is actually with an immersion blender. I add an egg to a jar along with juice from half a lemon, a small dot of Dijon mustard, and about a cup of oil (I like half canola and half olive oil). Then add your immersion blender, turn it on high, and slowly raise it up. It will beautifully emulsify the mayo in seconds. Then season it with salt and pepper and you're ready.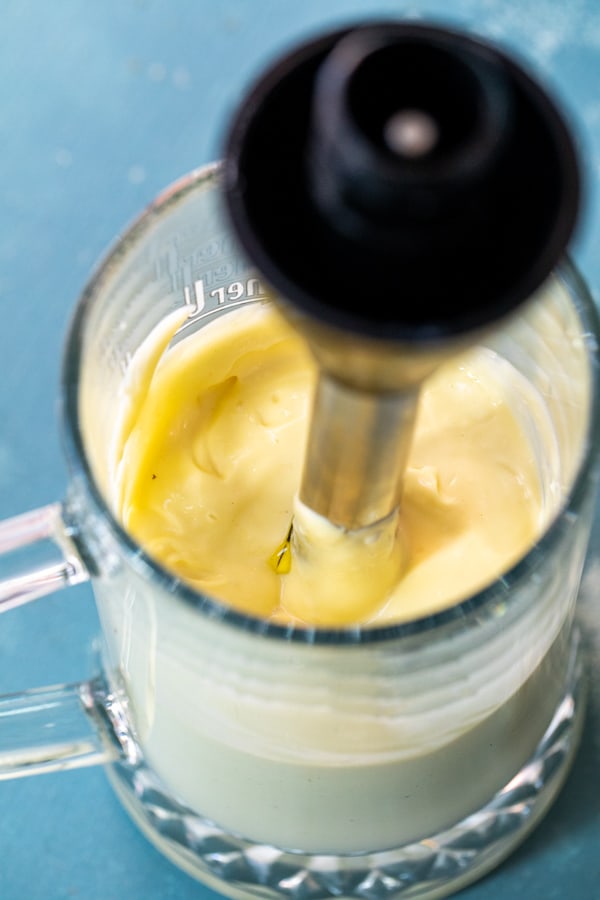 If you don't have an immersion blender, you can 100% still make homemade mayo. Check out my homemade mayo tutorial for the old-school whisking way to get it done.
It's worth noting that I'm a firm believer that perfect is the enemy of the good. So, if you really don't want to deal with homemade mayo, use a good store-bought one and try this recipe anyway!
Chicken Salad Add-ins
Let's talk add-ins to chicken salad. Mostly, I believe in lots of crunchy things. I've tried various nuts over the years, various fruit, and loads of crunchy veggies.
Here are the ones I like most which are all in this recipe:
Celery. A must have classic.
Pine nuts. Lightly toasted.
Grapes. Green grapes, sliced thin.
I also like to add some sort of onion, like scallions, thinly sliced red onions, or shallots.
That's what you need. Nothing more. Nothing less!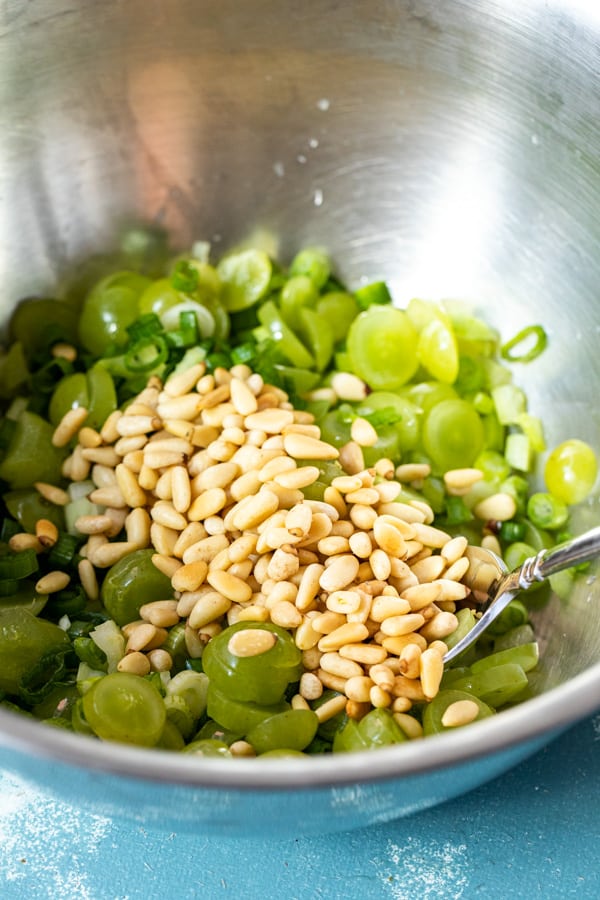 Poaching Chicken for Chicken Salad
Most people screw up poached chicken by over-cooking it. They boil it to oblivion and then wonder why it's tough and chewy.
Lightly salt barely simmering water, and gently poach the chicken until it's just cooked through. It helps to butterfly the chicken breasts so they cook more evenly and in about 10 minutes.
Check the temperature of your chicken in the thickest part of the breast and pull it when it hits 165˚F.
Then you can dice it up and add it to the bowl!
Next, all that beautiful homemade mayo, plus a little extra mustard and salt and pepper.
That, my friends, is the chicken salad of your dreams.
Seriously, it's SO good.
How to Make a Chicken Salad Sandwich
There are two schools of thought on the sandwich here. Some people prefer a sturdy crusty bread. That's fine.
Personally, because there is so much crunchy stuff going on in the salad, I actually like a good soft sandwich bread like a potato bread or Hawaiian bread!
If you use soft bread, be sure to lay out some arugula so the bread doesn't get too soggy.
You can really pile on the chicken salad.
Trust me when I say this is a GOOD sandwich. Like, really good.
Storing the Chicken Salad
This chicken salad keeps surprisingly well in the fridge for 4-5 days. Just give it a stir before serving it.
I wouldn't freeze the salad. Mayo usually doesn't freeze great in my experience.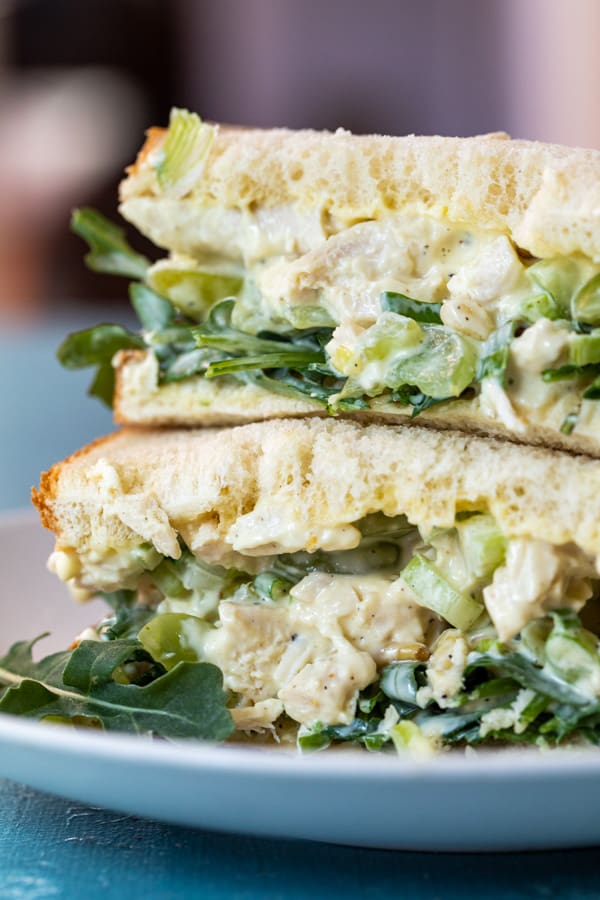 If you don't think you are a chicken salad fan, this is the recipe for you. If you don't like this one, then you truly don't like chicken salad sandwiches. If you are a chicken salad fan, then this is an absolute must-try!
Ultimate Chicken Salad Sandwich
I've tried dozens of different add-in combinations for chicken salad and this ultimate version is the perfect mix of add-ins. You'll never need another chicken salad sandwich recipe!
Ingredients
2

stalks celery

,

chopped

½

cup

pine nuts

,

toasted

1

cup

sliced green grapes

4

scallions

,

chopped

2

cups

poached chicken

,

chopped

1

cup

mayonnaise

,

preferably homemade

2

tablespoons

Dijon mustard

Salt and pepper

,

to taste

Arugula

,

for serving

Soft sandwich bread

,

for serving
Instructions
Poach two medium-sized (6-8 oz.) chicken breasts in lightly salted, simmering water, until they are just cooked through and register 165˚F in the thickest part of the breasts. Poaching should take 15-20 minutes. Then let breasts cool until you can handle them and roughly chop them up.

Meanwhile, in a medium bowl, stir together celery, toasted pine nuts, grapes, and scallions. Fold in mayonnaise (homemade is best) and mustard. Finally, fold in chopped chicken and season with salt and pepper to taste.

Serve chicken salad on soft sandwich bread on a bed of arugula.

Leftover chicken salad stores well in the fridge for 4-5 days. Stir well before serving.

Read my

homemade mayo post

to learn how to make it by hand, or combine ingredients in a jar and use an immersion blender for quick homemade mayo.
Nutrition
Serving:
1
sandwich
|
Calories:
434
kcal
|
Carbohydrates:
7
g
|
Protein:
9
g
|
Fat:
42
g
|
Saturated Fat:
7
g
|
Polyunsaturated Fat:
22
g
|
Monounsaturated Fat:
11
g
|
Trans Fat:
0.1
g
|
Cholesterol:
44
mg
|
Sodium:
322
mg
|
Potassium:
227
mg
|
Fiber:
1
g
|
Sugar:
5
g
|
Vitamin A:
186
IU
|
Vitamin C:
3
mg
|
Calcium:
21
mg
|
Iron:
1
mg
Did you make this recipe?
Here are some other great sandwich recipes!