It's extremely rare that I try to fix a NY Times recipe. Like… what hubris I must have to think I can improve on a recipe written and tested by the team there. But, I recently had this recipe (probably paywalled) and immediately thought the Spicy Corn Salad could be improved with a few small tweaks.
I love the idea of this recipe because it uses fresh corn in its best way, grilled and blistered and then served with some scallion and spicy peppers. This recipe can truly only be made with fresh corn so make it RIGHT NOW while corn is at its best.
But, I thought the dressing the NY Times recipe uses was a bit weird and a little too tight for my liking. So I switched the feta to Cotija cheese and embraced the tex-mex flavors that corn brings. The result is a damn-near perfect summer side salad and goes with almost any grilled item you are making this weekend!
How to blister corn on the grill
Sometimes if I'm grilling corn, I just throw the entire ear of corn on the grill, husk and all, and let it get almost burned. Then I peel off the husk and it's perfect with butter. But, for this recipe, it's best to actually peel the corn first and drizzle and season the kernels with olive oil, salt, and pepper. Then grill them so the corn kernels get direct heat and blister in spots.
While you're at it, toss the scallions and peppers on the grill! I used serrano to really bring out some bright heat to the dressing. All this stuff will grill pretty quickly. The scallions and peppers will need 4-5 minutes to get blistered and the corn will need longer, probably around 10 minutes total but maybe longer depending on your grill heat. Don't rush it!
When the items are grilled, you can pull them off the grill and chop them up!
Making the Cotija dressing
This is a fun dressing and is a nice mix of salty, tangy, and citrus. Crumbled cotija cheese is nice and salty and I love it in a dressing rather than crumbled on top. Mixed with lemon, buttermilk, fresh herbs, and garlic and it's a wonderful dressing, almost like a ranch dressing but a bit better.
Once you have the dressing made, taste it and adjust to your liking. If you want the dressing thinner, add a bit more buttermilk. If you think it needs a little sweetness, add in some honey. Remember that the corn is nice and sweet though so don't over-sweeten it.
When your spicy pepper (Serrano) comes off the grill, remove the seeds and dice it up very finely and stir it into the dressing. It'll give the dressing a real spicy kick. YUM.
Finishing the salad
This is an easy salad once you have the pieces done. Chop the romaine lettuce into big chunks and toss with the corn mixture. Then drizzle on the buttermilk dressing.
Depending on what you are serving with this salad, feel free to chop up some avocado to make it a heartier salad. If you are serving the salad with something heavy, like grilled meats, it doesn't need the avocado and is nice as a lighter side.
I do like a sprinkle of Tajin seasoning with my salad though.
Everything goes together in a big bowl or you can make the corn salads in smaller serving bowls.
What to serve with the corn salad
Well, pretty much anything grilled is going to be just fine with this spicy corn salad. You might serve it with these grilled shrimp tacos, for example, or these Sonoran hot dogs or maybe even some whole grilled fish! Any burger or taco situation would be great with this as a side salad.
Spicy Corn Salad with Buttermilk Cotija Dressing
This spicy corn salad is a favorite side dish for summer meals. Blistered corn, jalapenos, and scallions, mixed with a simple buttermilk dressing and Romaine. Always a hit!
Ingredients
4

ears fresh corn

,

shucked

1

bunch scallions

,

trimmed

1

serrano

,

stemmed and halved lengthwise

3

tablespoons

olive oil

Kosher salt and black pepper

4

ounces

cotija cheese

,

crumbled (about 3/4 cup)

½

cup

buttermilk

1

teaspoon

freshly grated lemon zest plus 1 tablespoon lemon juice

1

small garlic clove

,

grated

¼

cup

sliced fresh chives

¼

cup

finely chopped fresh parsley

1

medium head romaine lettuce

,

roughly chopped

2

avocados

,

chopped (optional)

Tajin seasoning

,

garnish
Instructions
Peel the corn and remove some of the silk from the ears of corn. Preheat grill to medium-high heat and clean the grill.

Place corn on the grill along with the whole bunch of the scallions and the serrano pepper.

Grill the corn for 4-5 minutes per side until it's blistered on all sides. The scallions and serrano pepper should be blistered in parts and will be done before the corn.

While the corn grills, make the dressing by stirring together the buttermilk, cotija cheese, lemon, garlic, chives, and parsley. Adjust to your liking and consistency.

When grilled items come off the grill, cut the kernels off the cobs and stir together with chopped scallions. Finely chop the serrano pepper (remove seeds) and stir into dressing.

When ready to serve, chop up the romaine lettuce and toss with corn mixture. Drizzle with dressing and serve with sliced avocado and Tajin seasoning.
Nutrition
Serving:
1
bowl
|
Calories:
234
kcal
|
Carbohydrates:
8
g
|
Protein:
5
g
|
Fat:
22
g
|
Saturated Fat:
5
g
|
Polyunsaturated Fat:
2
g
|
Monounsaturated Fat:
13
g
|
Cholesterol:
19
mg
|
Sodium:
245
mg
|
Potassium:
387
mg
|
Fiber:
5
g
|
Sugar:
2
g
|
Vitamin A:
711
IU
|
Vitamin C:
8
mg
|
Calcium:
129
mg
|
Iron:
1
mg
Did you make this recipe?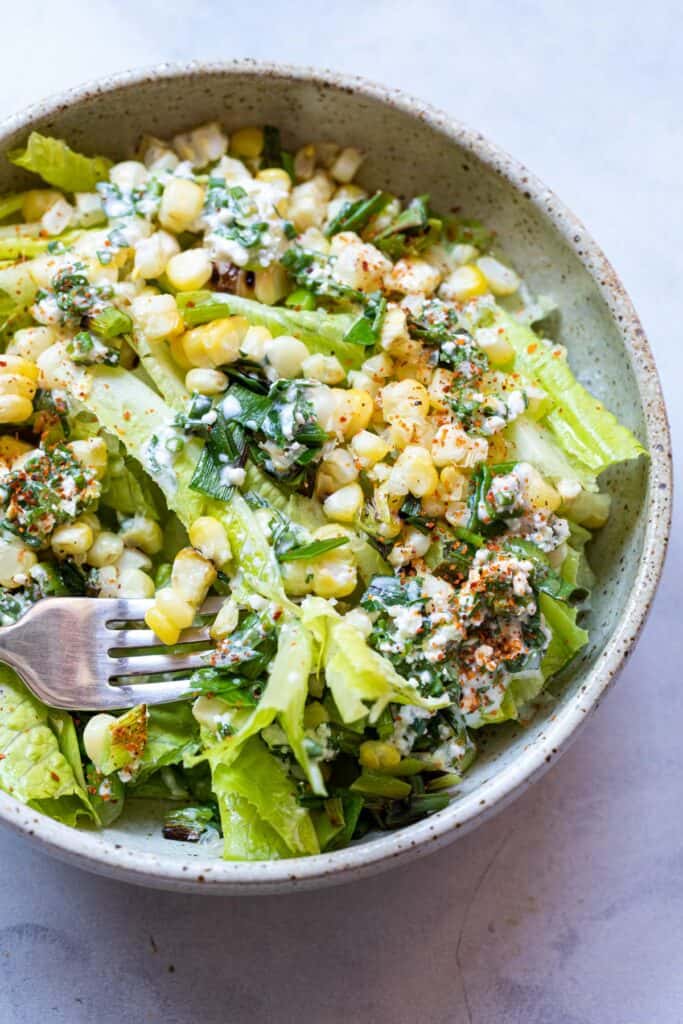 Storing the spicy corn salad for later
My only important note for storing this corn salad is to store the pieces separately. You can combine the corn and lettuce without any issue and it'll keep for a few days without issue. The avocado will brown if you have that in the salad and the buttermilk dressing will completely break down the salad if you store it on the salad.
So at a minimum, store the dressing separately from the salad and drizzle it on top right as you are serving the corn salad and you'll be in good shape!
Here are some great recipes to try!