There's an entire category of recipes that I hoped to bring back into normal cooking rotation when I wrote Love Your Leftovers.
These are dishes that require double cooking. For example, if you're crushed for time on a busy Tuesday, it's completely unrealistic that you are going to cook rice only to cook it again in a casserole. This is true even if the casserole is delicious and you want it.
It probably won't happen.
I wanted to share with you this Leftover Rice Casserole, one of my favorite casserole recipes from Love Your Leftovers.
The key part of this recipe is that you have already cooked the rice! Maybe you had leftover Chinese take-out rice or maybe you do what I do now which is just cook rice in one pound batches and freeze it.
Once you have cooked rice at the ready, you can make dishes like this any day.
Leftover Broccoli Rice Casserole
One of my favorite casserole recipes from Love Your Leftovers: Broccoli Rice Casserole with lots of cheese and mild jalapeno heat.
Ingredients
3

cups

fresh broccoli

,

blanched

1

cup

milk

1

cup

vegetable or chicken stock

½

cup

heavy cream

3

tablespoons

olive oil

½

medium onion

,

diced

3

cloves

garlic

,

minced

½

jalapeno

,

seeded and minced

Pinch

of red pepper flakes

3

tablespoons

all-purpose flour

2

cups

grated cheddar cheese

3

cups

cooked rice

,

brown or white

⅓

cup

slivered almonds

Salt and pepper
Instructions
Preheat oven to 400 degrees F.

In a medium pot, bring water to a simmer and salt it with a tablespoon of kosher salt. Once simmering, add broccoli florets and cook for 60 seconds until bright green and slightly tender. Drain and rinse with cold water to stop cooking.

In a separate smaller pot, combine cream, milk, and stock and heat over low heat until steaming, but don't boil.

In a larger pot, add oil over medium heat followed by onion, garlic, and jalapeno. Cook until soft, about 3-4 minutes. Season with red pepper flakes, salt, and pepper.

Add flour to a pot and whisk to stir flour into oil. Cook the roux until it is a light tan color, about 4 minutes.

Slowly pour in hot milk mixture, whisking constantly as you add it to the roux base. Whisk well and bring to a slight simmer. The mixture should be the consistency of a thin gravy. If it's very thin, simmer for a minute or two to thicken.

Add grated cheese and stir until cheese is melted. Stir in rice and broccoli. Taste and season with salt and pepper.

Transfer mixture to casserole dish and bake for 15 minutes.

Top with slivered almonds and return to oven for another 15 minutes.

Remove casserole and let cool for a few minutes before serving.
Nutrition
Serving:
1
Plate
|
Calories:
743
kcal
|
Carbohydrates:
53
g
|
Protein:
25
g
|
Fat:
49
g
|
Saturated Fat:
21
g
|
Polyunsaturated Fat:
4
g
|
Monounsaturated Fat:
18
g
|
Trans Fat:
0.003
g
|
Cholesterol:
99
mg
|
Sodium:
513
mg
|
Potassium:
582
mg
|
Fiber:
4
g
|
Sugar:
7
g
|
Vitamin A:
1549
IU
|
Vitamin C:
65
mg
|
Calcium:
569
mg
|
Iron:
2
mg
Did you make this recipe?
Leftover Rice Casserole
The Leftovers Key
Actually, I lied a bit. For the rice I used for this Leftover Rice Casserole, I actually cooked TWO pounds of rice at once. That might sound like a crazy amount, but I know I needed at least three cups for this dish and I needed a lot for a weekday lunch recipe I'm posting soon.
Plus, I wanted to use brown rice which takes 30-40 minutes to cook. You better believe I didn't want to cook two batches.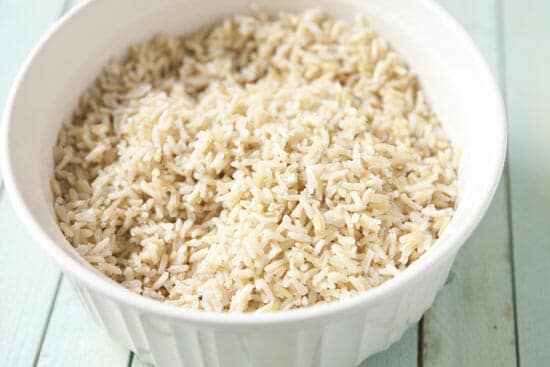 It would be totally unrealistic to make this delicious batch of brown rice and then make this Leftover Rice Casserole.
It's called planning ahead and it makes cooking easy!
Vegetable Dealings
I have a problem where I can't even follow my own recipe.
I changed up this version in a few ways from the book.
1) I added a diced jalapeno instead of just using dried spices. It's a little extra chopping, but rounds out the flavors nicely.
2) I cut back on the cream and added more milk. To be honest, I did this just because I ran out of cream on this particular day. Using 1 cup of cream instead of 1/2 cup makes for a much better casserole, but this version was tasty also.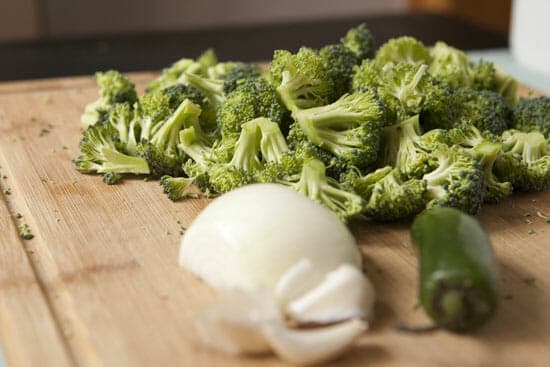 It does help to blanch the broccoli quickly before you put together the casserole.
Just bring a pot of water to a simmer and season it with salt and then dunk in the broccoli for 60 seconds. Then drain and rinse the broccoli with cold water.
You can absolutely use frozen broccoli for this recipe in which case you can just skip this entirely and thaw the broccoli in the microwave in 15 second bursts.
The Roux and The Sauce
The base of this recipe is a classic cream sauce which starts with a roux. This is really easy to do, people.
Add a glug of oil (3-4 tablespoons) to a pot along with the onions, garlic, and pepper over medium heat. Let the veggies cook for a few minutes and then stir in the flour.
Let this cook for a few minutes and whisk the flour into the oil. It'll form some dry paste and the flour will stick to the veggies and look like it's clumping. Don't worry about it.
Then add your cream/milk/stock mixture. This will mix easier if the mixture is warm (but not boiling).
Whisk like crazy as you slowly add the liquid.
The end result will be a really creamy sauce. It should be like a thin gravy, but if it's too thin then just simmer it for a bit and it should thicken right up.
Making the Casserole
Now add cheese. I used about two cups. Go crazy.
Then add that rice. Again, this rice is cooked but not even reheated or anything. I pulled it straight from the fridge and stirred it in.
Then stir in the broccoli and transfer it to a casserole dish of your choosing. I like a 2 1/2 quart pan, but you'll need at least 2 quarts to fit it all.
Bake this Leftover Rice Casserole beauty for 15 minutes at 400 degrees.
Then sprinkle on some slivered almonds and return to the oven for 15 more minutes. The almonds are kind of optional, but I think they are a nice touch.
Let the casserole cool a bit and serve it up!
Serve this with a little side salad or something and it's a great meal.
Leftover rice is one of the most versatile things you can have in your fridge. Please don't let it go to waste!
There are a dozen other awesome leftover rice ideas in Love Your Leftovers.
Do you have any leftover rice uses? Leave a comment!