I'm declaring this Easy Baba Ganoush recipe my appetizer of summer and summer has just started! Making Baba Ganoush on the grill is pretty much the only way to go and the resulting smokey eggplant dip is something I crave!
This recipe is so wonderful because if you are firing up the grill anyway, it's as easy as tossing on a few eggplants and letting them get nice and charred and then blending them with a few simple pantry ingredients.
You can serve this baba ganoush (or baba ghanoush?) with SO many things. Toss it out on a platter with sliced vegetables, warmed pita bread, or serve it as a spread with sandwiches. Go crazy and put it on a burger. No seriously. It's delicious!
What is Baba Ganoush (Ingredients)?
This is a really classic Middle Eastern spread that doesn't get as much love as hummus but, in my mind, is just as delicious. If made correctly, it's creamy and smooth, but also has some smokey undertones from the charred eggplant that makes up the dip. You can dip almost anything in it, just like hummus, or use it on sandwiches or wraps!
The only trick I have for you on this is to sneak a few cloves of garlic into the eggplant as it roasted on the grill to bring some roasted, savory garlic flavors to the mix! YUM!
The other ingredients you need for this dip are some tahini paste, olive oil, salt and pepper, garnishes like parsley and/or sesame seeds, and whatever you are going to use to scoop this delicious baba ganoush into your mouth!
Hummus vs. Baba Ganoush
At many Middle Eastern restaurants, hummus and Baba Ganoush will be served together on a platter and they are pretty similar in many ways. The big difference is that hummus starts with chickpeas and has lots of fresh lemon juice and baba ganoush starts with eggplant.
Also, baba ganoush usually has some smokey undertones from cooking the eggplants over oven fire while the chickpeas tend to just be boiled.
If made correctly, hummus is usually a bit smoother in texture than baba ganoush but I think baba ganoush is a more interesting dip if made correctly.
Grilling Eggplant for Baba Ganoush
Before you toss the eggplant on the grill, make a few deep slices into each half of the eggplant and slide in some garlic cloves!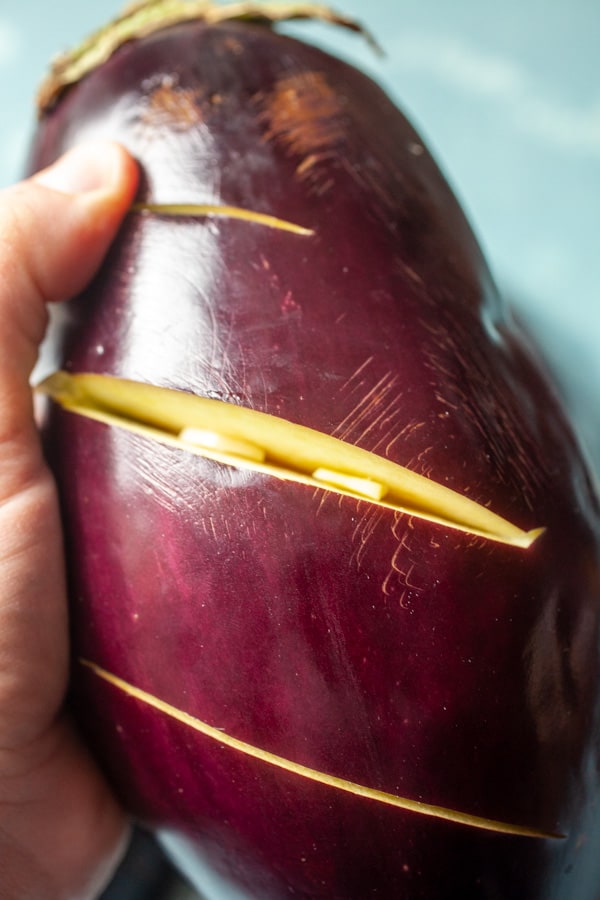 Drizzle the eggplants with olive oil and season well with salt and pepper. These are ready for the grill!
It's almost impossible to overcook these eggplants. I grilled mine for about 20 minutes total and could've left them on for another 10 minutes without too much worry. They should get really charred all over and very tender. You should be able to really squeeze them with some tongs.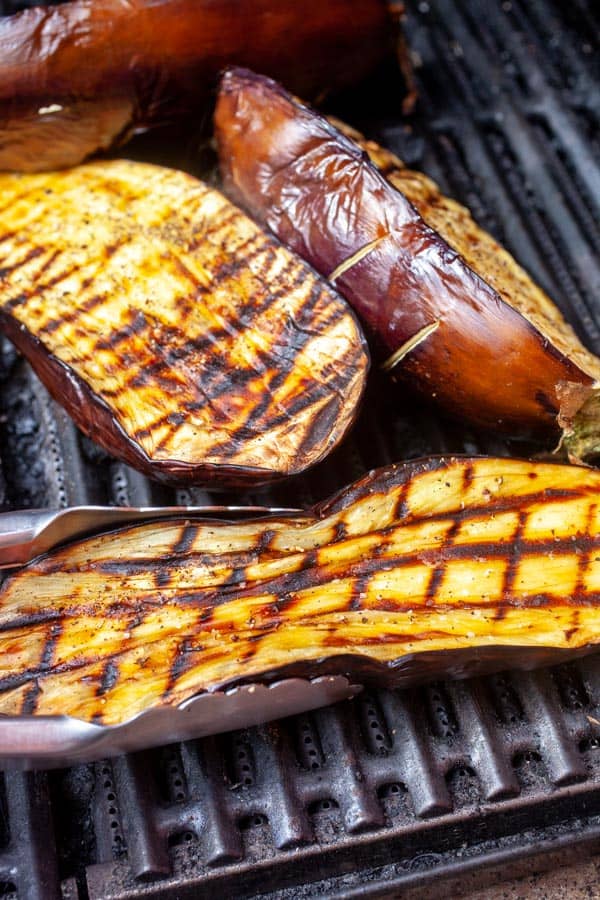 The skin on the eggplant should turn from purple to a deep, charred brown. Again, almost impossible to overcook these! Sometimes the skin will even burst and start to peel apart from the flesh of the eggplant.
If you use a charcoal grill for this process, the finished baba ganoush will have even more smoky flavor, but I use a gas grill frequently as well. Whatever grill you are using normally is great.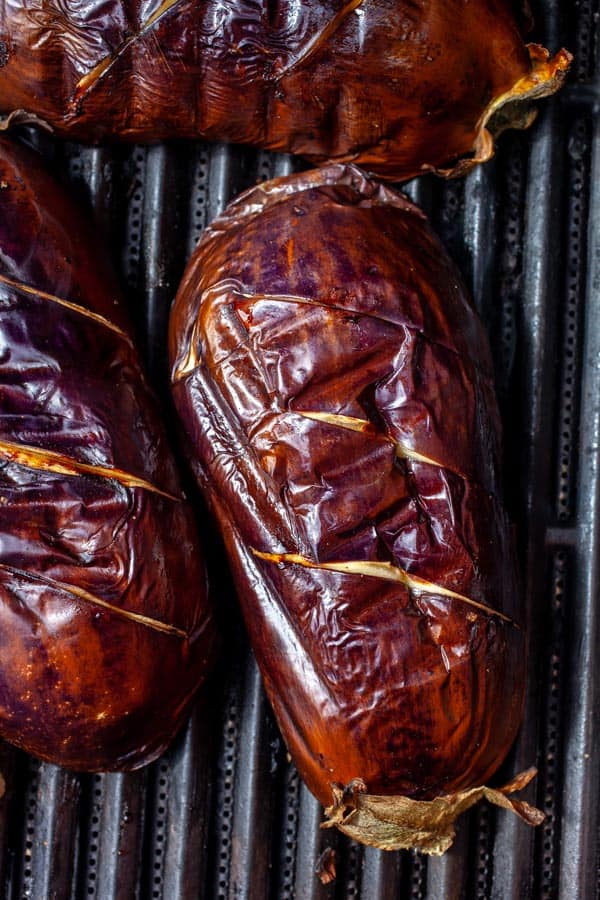 Once you decide your eggplants are charred enough, take them off the grill and stick them in a bowl covered with plastic wrap. Steaming the eggplant for 10 minutes will make it easier to blend!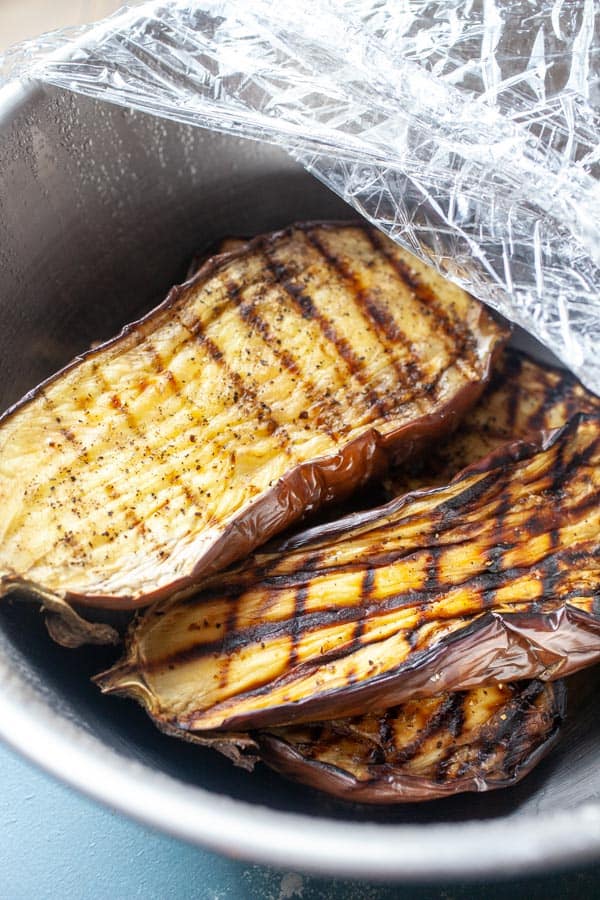 How to make this recipe in the oven
If you don't have a grill, no worries! Baba Ganoush is easy to make in the oven also. Just crank your oven up to 450˚F and add the eggplant.
Roast the eggplant until it's blistered all over and really starting to break down, probably 30 minutes. Then proceed with the recipe as normal, letting the eggplant rest and steam and then blending with other ingredients.
If you are missing the smoky flavors in the dip, you can add a very tiny amount of liquid smoke to the dip (maybe 1/2 teaspoon) to bring some smoky flavor to the dip. Just be careful. Liquid smoke is very strong and could easily overpower the dip if you overdo it.
Blending the Homemade Baba Ganoush
To finish this easy baba ganoush, once your eggplant has rested for 10 minutes, scoop the flesh of the steamed eggplant into a food processor with some olive oil and tahini and blend it until smooth! You can really make it your own at this point. It might need a pinch of salt and pepper. Maybe a squeeze of lemon?
Some people prefer the baba ganoush to be a little on the chunky side, so if that is you, just make sure not to over-process the dip. Pulse it until it reaches the consistency you like. I've found that I can never get baba ganoush quite as creamy as hummus and that's okay!
If you don't have a food processor, no worries. People were making baba ganoush before there were food processors! You can use a big mortar and pestle to mash up the dip OR just use a fork in a bowl to mash up the eggplants and then mince everything well and stir it together. It'll end up being a bit more of a chunky dip, but still delicious!
What to serve with this dip
Before serving the baba ganoush, I like to heavily garnish it as it can look a little plain just in a bowl. Think about topping it with some chopped parsley, sesame seeds, paprika, and a drizzle of olive oil.
Serve the Homemade Baba Ganoush with a big spread of crunchy veggies like carrots, radishes, and cucumbers, plus warm pita wedges or crispy pita chips for dipping.
It's a great appetizer for a chill summer weekend hang, but it also makes great weekday lunch boxes!
Storing the Easy Baba Ganoush for Later
You will almost certainly have leftover Baba Ganoush and that's just fine. It keeps great in the fridge for up to a week or you can freeze it for longer storage.
I find that this baba ganoush dip is best if you serve it at room temperature so if you are serving it out of the fridge, let it sit at room temperature for 30 minutes to take the chill off.
Grilled Baba Ganoush
One of my favorite summer appetizers is Baba Ganoush (or Baba Ghanoush). Toss eggplants on the grill and blend with some garlic, olive oil, and tahini! Serve with veggies and warm bread! I can make a meal out of this platter!
Ingredients
2

medium eggplants

,

about 1 1/2 pounds

2

cloves

garlic

,

sliced thin

¼

cup

olive oil

,

divided

½

teaspoon

salt

¼

teaspoon

black pepper

2

tablespoons

tahini paste

Sesame seeds

,

garnish

Paprika

,

garnish

Minced parsley

,

garnish

Crudites

,

for serving
Instructions
Preheat grill to medium-high heat.

Slice eggplants in half through the stem. Use a sharp knife to slice some deep cuts in the skin of each eggplant half and stick in a few garlic cloves.

Drizzle the cut side of the eggplants with olive oil and season with salt and pepper.

Grill the eggplant for about 20 minutes, flipping occasionally, until eggplant is very tender and gives easily to pressure. It should also be charred nicely all over.

Remove eggplant and add to bowl. Cover with plastic wrap and let eggplant steam for 10 minutes.

Scoop eggplant flesh and garlic into a food processor along with 2-3 tablespoons of olive oil, tahini, and a pinch of salt and pepper. Process the mixture until smooth.

Transfer to serving platter with sliced veggies, warm pita wedges, and garnish baba ghanoush with paprika, sesame seeds, and fresh parsley.

Leftover baba ganoush keeps great in the fridge for up to five days.
Nutrition
Serving:
0.25
cups
|
Calories:
75
kcal
|
Carbohydrates:
5
g
|
Protein:
1
g
|
Fat:
6
g
|
Saturated Fat:
1
g
|
Polyunsaturated Fat:
1
g
|
Monounsaturated Fat:
4
g
|
Sodium:
99
mg
|
Potassium:
189
mg
|
Fiber:
2
g
|
Sugar:
3
g
|
Vitamin A:
20
IU
|
Vitamin C:
2
mg
|
Calcium:
12
mg
|
Iron:
0.3
mg
Did you make this recipe?
Here are a few other great Grilled Appetizers!