Before I had kids, I honestly didn't think much about dishes. I would write recipes and cook recipes based on what I wanted to eat and deal with the dishes later, or convince my loving wife to do them!
But now dishes suck. Even with a dishwasher, lots of dishes means lots of cleanup after the kiddos go to bed which means less time for Netflix-and-chilling, wine, or just staring at the wall. So, I've been really working on my one pot recipe game, sort of out of necessity. This one pot broccoli cheddar mac was probably the most difficult I've tried. It was tough to nail down the cooking times and liquids, and while it does only require one pot, it also requires a little bit of hand-holding.
It's not a set and it and forget it meal, but it's totally doable and totally delicious!
One Pot Broccoli Cheddar Mac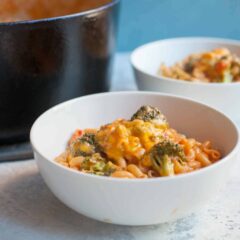 This one pot meal makes a bunch of delicious macaroni and cheese with broccoli folded right in. Your family will love this comfort recipe!
Ingredients
2

tablespoons

olive oil

½

sweet onion

,

diced

2

cloves

garlic

,

minced

½

teaspoon

dried thyme

1

28-oz. can tomato sauce (opt.)

1

pound

elbow macaroni

2

cups

vegetable stock

2

cups

milk

½

cup

water

1

pound

cheddar cheese

,

grated

1

pound

fresh broccoli florets

Salt and pepper
Instructions
In a large dutch oven, add olive oil over medium heat. Add onions, garlic, and dried thyme and cook for a few minutes until veggies soften.

Add fresh washed broccoli florets, water, stock, milk, and tomato sauce (opt.) NOTE: If you want to leave out the tomato, add an extra cup of stock or water.

Stir these ingredients together and add macaroni. Stir together again and add 3 cups of cheddar cheese. Stir together yet again to prevent sticking and bring the mixture to a simmer.

Once simmering, turn heat down to low, cover the pot and cook for 8 minutes.

Remove lid and stir macaroni. It should still be pretty liquid at this point and the macaroni is probably not completely cooked.

NOTE: If the macaroni seems dry, add another 1/2 cup of water. Depending on the exact macaroni you use, it might take slightly more water to cook through.

Stir macaroni again to try to prevent sticking (some might happen).

Return lid on pot and cook for another 8 minutes. Then remove lid, stir again, and test macaroni. If it isn't cooked, continue to cook for 1-2 minute increments.

Assuming the macaroni is done, season with salt and pepper to taste and add the rest of the cheese to top of macaroni. Return lid and remove from heat. Let macaroni steam for 5 minutes to melt top cheese.

Serve while warm!
Nutrition
Serving:
1
Bowl
|
Calories:
719
kcal
|
Carbohydrates:
71
g
|
Protein:
33
g
|
Fat:
34
g
|
Saturated Fat:
17
g
|
Polyunsaturated Fat:
2
g
|
Monounsaturated Fat:
10
g
|
Cholesterol:
85
mg
|
Sodium:
872
mg
|
Potassium:
626
mg
|
Fiber:
5
g
|
Sugar:
10
g
|
Vitamin A:
1531
IU
|
Vitamin C:
69
mg
|
Calcium:
698
mg
|
Iron:
2
mg
Did you make this recipe?
One Pot Broccoli Cheddar Mac
This recipe came to be because two of our son's favorite foods are macaroni and cheese and broccoli. I can always count on him to eat these so I figured I would put them together.
Of course, I expect the love of broccoli to fade once he realizes how uncool it is, but for now, he loves the green stuff.
Just use the florets for this recipe and cut them into no larger than 1 inch pieces. Start your one pot, which should be a large and very sturdy pot (like a dutch oven), over medium heat.
Add the onions, garlic, and thyme with the olive oil and cook for a few minutes. Then toss in the green stuff.
I added tomatoes to mine which I really loved, but it's not necessary. If you want a tomato-less version with just cleaner broccoli and cheddar flavors, then leave out the tomatoes in the recipe but add an additional cup of liquid because you'll be missing the liquid from the tomatoes.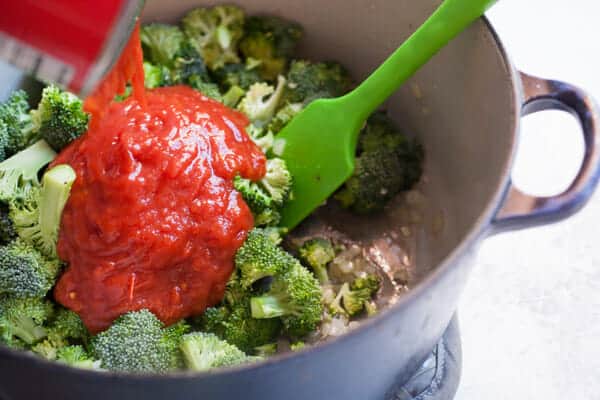 Stir that all together and add the stock, milk, and water. Start with half a cup of water and you might need to add more later. Time will tell.
Add in the macaroni as well. A full pound! Did I mention this recipe feeds a crew?
Oh, also, toss in some, but not all of the cheese. I mixed in about 3 cups of it now and saved the rest for a topping later.
As the macaroni cooks, it might look like the cheese is breaking down, but in the finished dish everything comes together fine. Don't stress about it.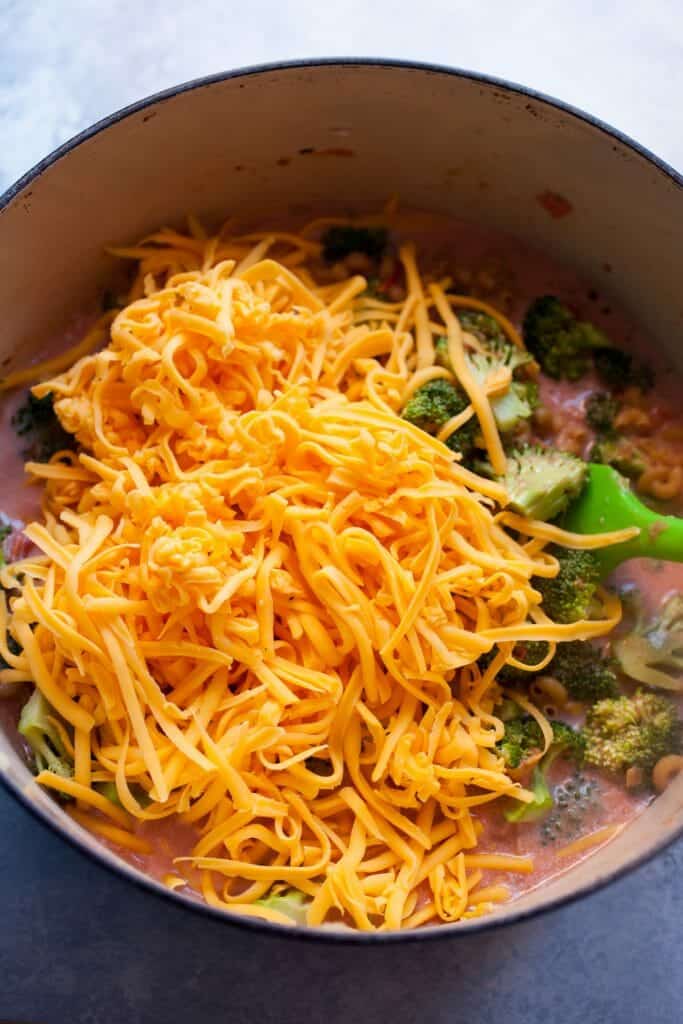 Cover the pot and bring the mixture to a simmer over medium heat. Check it occasionally. It should be simmering after a few minutes. Then stir the pasta really well to prevent sticking.
Cover the pan and turn the heat down to low and cook for another 8 minutes.
Now it's time to test! Try some of the macaroni. It's probably not cooked yet. If the pot seems very dry, add more water (1/2 – 1 cup). This can happen depending on macaroni.
Most likely though, you'll still have some water in the pan. Stir it well to prevent sticking. You might get a small amount of sticking, but don't worry too much about it.
This was my version after the first cook time!
Cover the pasta again and cook it for another 8 minutes on very low. Stir and taste again! The pasta should be done now and almost all of the liquid absorbed (it's okay if some is left).
Most importantly, season the dish now with salt and pepper. It probably needs a big pinch of both.
Also most importantly, add the rest of your cheese right on top! Cover the pot again and remove it from the heat entirely. The residual heat will steam the pasta and melt the cheese, forming a delicious cheese lid!
One thing that I was worried about is the broccoli getting overcooked. It still has a tiny bit of crunch to it which is nice.
Serve up this one pot broccoli cheddar mac in big bowls while it's piping hot!
I found that leftovers reheat okay in the microwave, but the pasta does get a bit mushy after reheating, pretty normal for a dish like this though. It's best right away though, no doubt!