When I really started adulting in my mid (okay, late) 20s, my view on the cocktail changed dramatically. A cocktail used to be booze plus a thing. Or sometimes just booze. Depends on what was in the fridge right?
Now though, a cocktail is something I completely savor. I usually will just have one because it turns out being hungover with a toddler isn't fun. But, I want that one to be really good. Enter this peach cocktail syrup!
Simple syrup is a must if you want to make many good cocktails. No. You cannot just stir sugar into the drink. It doesn't work.
This time of year though, with fresh peaches at their absolute best, this is a must-make if you are a cocktail fan. I've kept a little jug of it in my fridge for the last few weeks and I mix it with everything from bourbon to gin to just club soda for a nice fizzy treat.
For three ingredients, it's pretty hard to beat!
Easy Peach Cocktail Syrup
Just three ingredients (plus a pinch of salt) is all you need for this delicious seasonal cocktail syrup. Cheers!
Ingredients
2

cups

water

2

cups

sugar

1

ripe peach

Pinch

of salt
Instructions
Cut peach into slices and place in a medium pot with water, sugar, and a small pinch of salt. Heat over medium-low heat until sugar is dissolved. Remove from heat and let cool. Remove peel from peaches.

Once mixture is mostly cool, add to a blender and blend until smooth.

Use 1 oz. of peach syrup in cocktails with bourbon or gin + a splash of club soda for a great late season cocktail!

Peach cocktail syrup will keep great in the fridge for up to two weeks.
Nutrition
Serving:
1
oz.
|
Calories:
79
kcal
|
Carbohydrates:
20
g
|
Protein:
0.1
g
|
Fat:
0.1
g
|
Saturated Fat:
0.001
g
|
Polyunsaturated Fat:
0.01
g
|
Monounsaturated Fat:
0.004
g
|
Sodium:
1
mg
|
Potassium:
8
mg
|
Fiber:
0.1
g
|
Sugar:
20
g
|
Vitamin A:
20
IU
|
Vitamin C:
0.3
mg
|
Calcium:
3
mg
|
Iron:
0.03
mg
Did you make this recipe?
Peach Cocktail Syrup
You only need one peach for this syrup so pick a good one. It should give a little to pressure, but not be soggy at all. Rinse it off slice it into big wedges.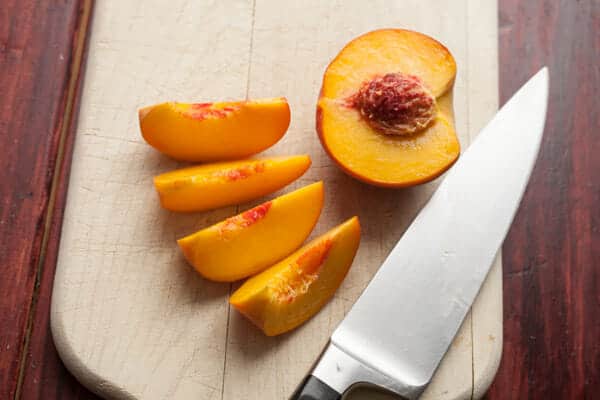 Add the wedges to a medium pot with the water and sugar. Put this over medium-low heat until the sugar is dissolved. No need to bring it to a boil or anything. By the time it's hot, the sugar should be dissolved.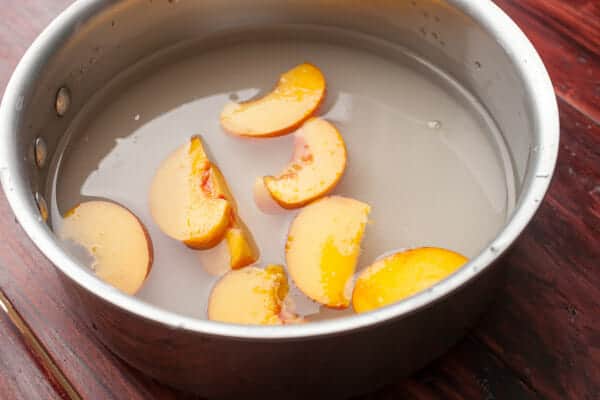 Once the mixture is hot, you should be able to just pick out the peach skins which you definitely don't want in the syrup. They should come right off!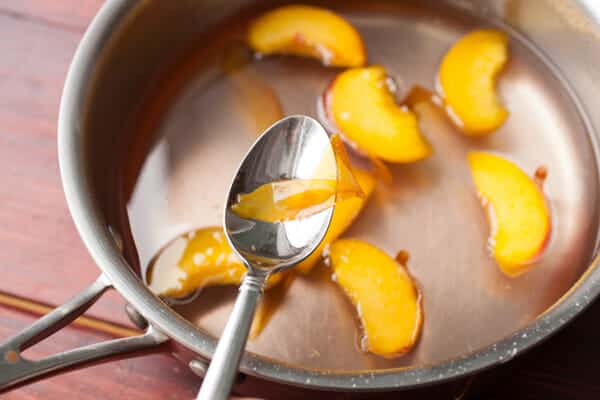 The key to making this syrup really nice is to pulse it well in a blender. This emulsifies the peaches and makes a really smooth syrup.
Be sure to let the syrup cool off a bit before blending it!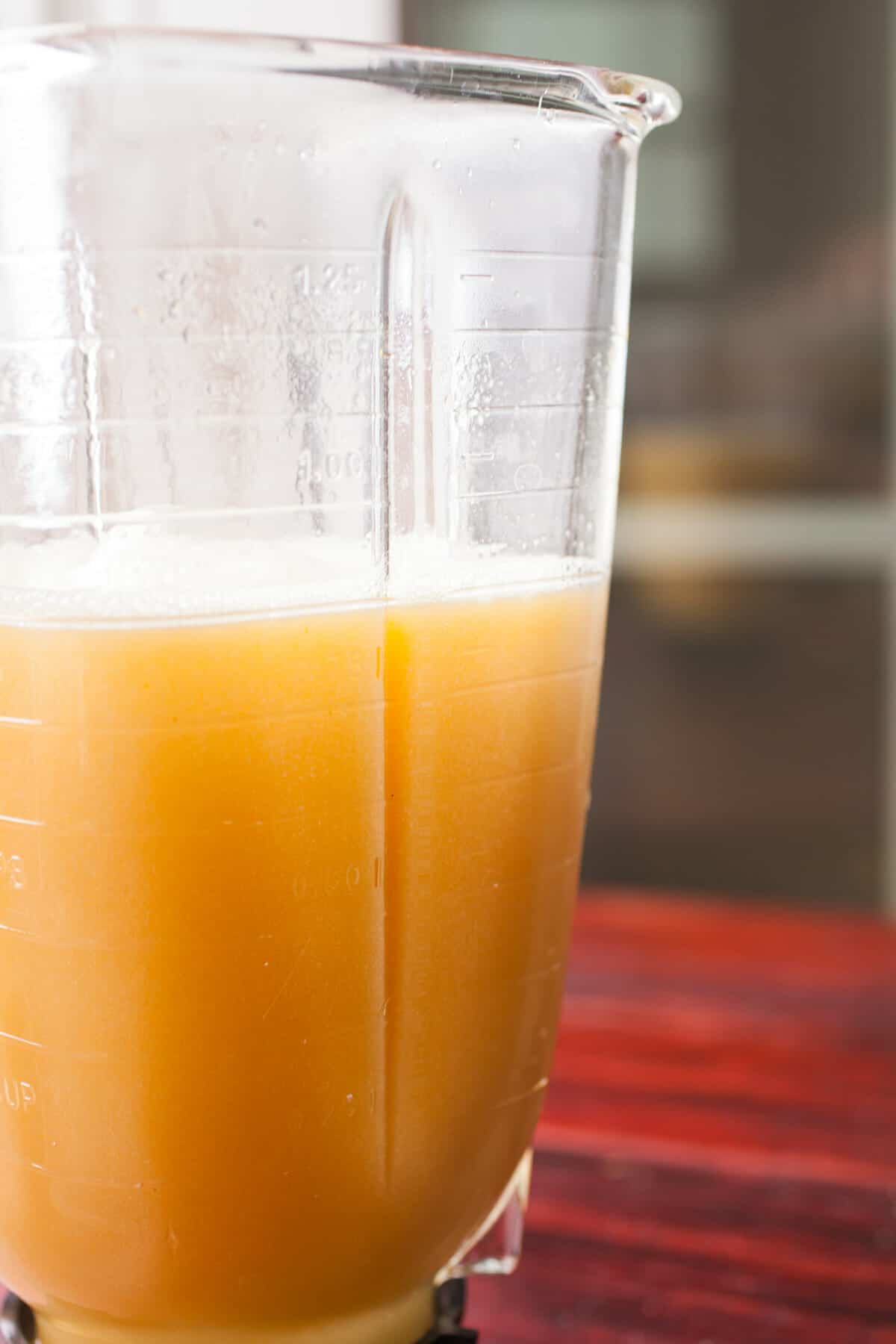 Once the mixture is blended and cool, you can store it in the fridge for up to two weeks. It might separate a bit in the fridge, but just give it a shake before pouring it and it'll be great.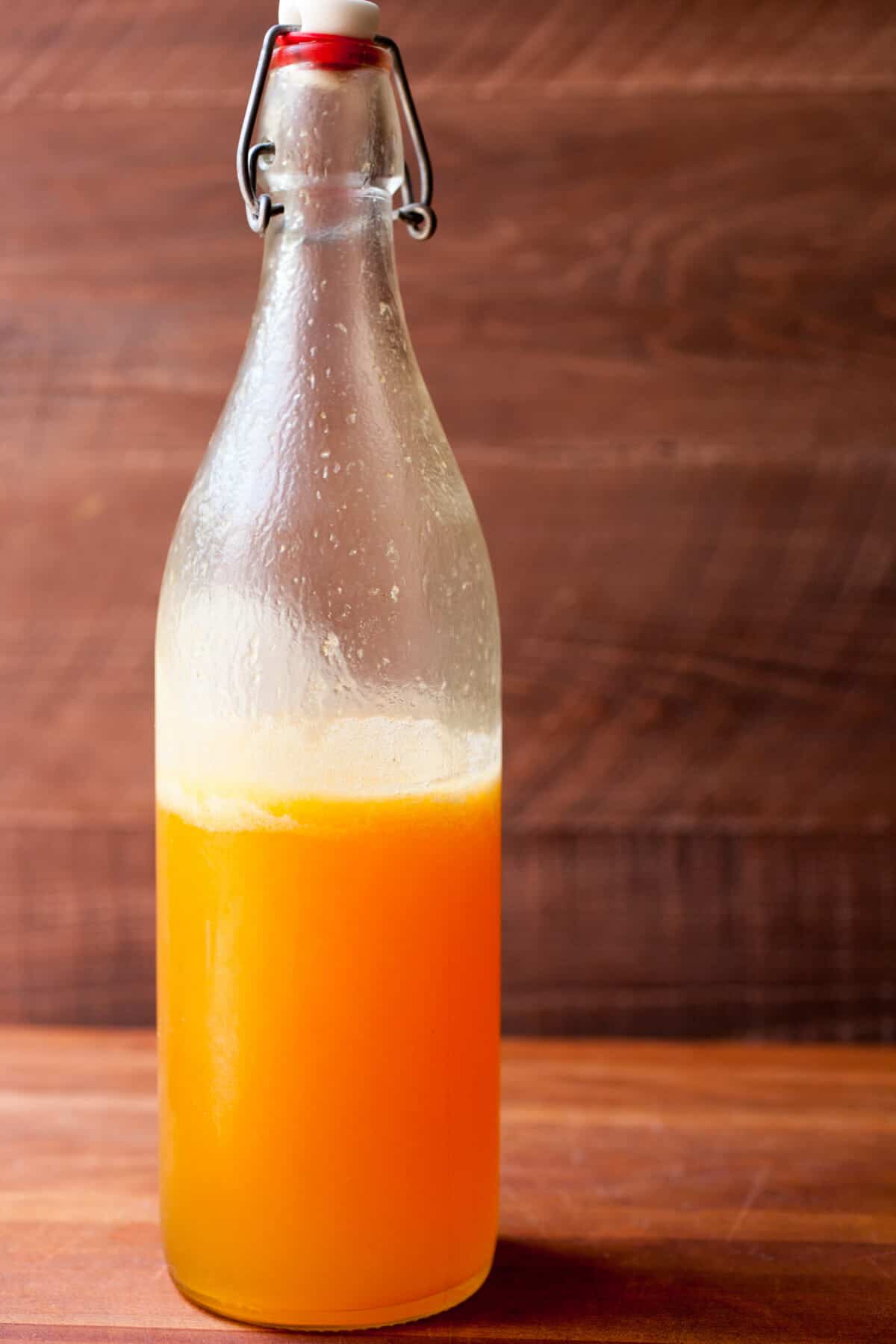 Drink Options
You can use this easy peach cocktail syrup in SO many drinks.
For starters:
2-3 oz. bourbon + 1 oz. peach syrup + dash of orange bitters + club soda
2-3 oz. gin + 1 oz. peach syrup + tonic
2 oz. tequila + 1 oz. peach syrup + 1/2 lime + 2 oz. lemonade + salted rim
2 oz. peach syrup + 8 oz. club soda or sparkling water
You get the idea. It's incredibly versatile!
Personally, I love the bourbon drink!
Cheers!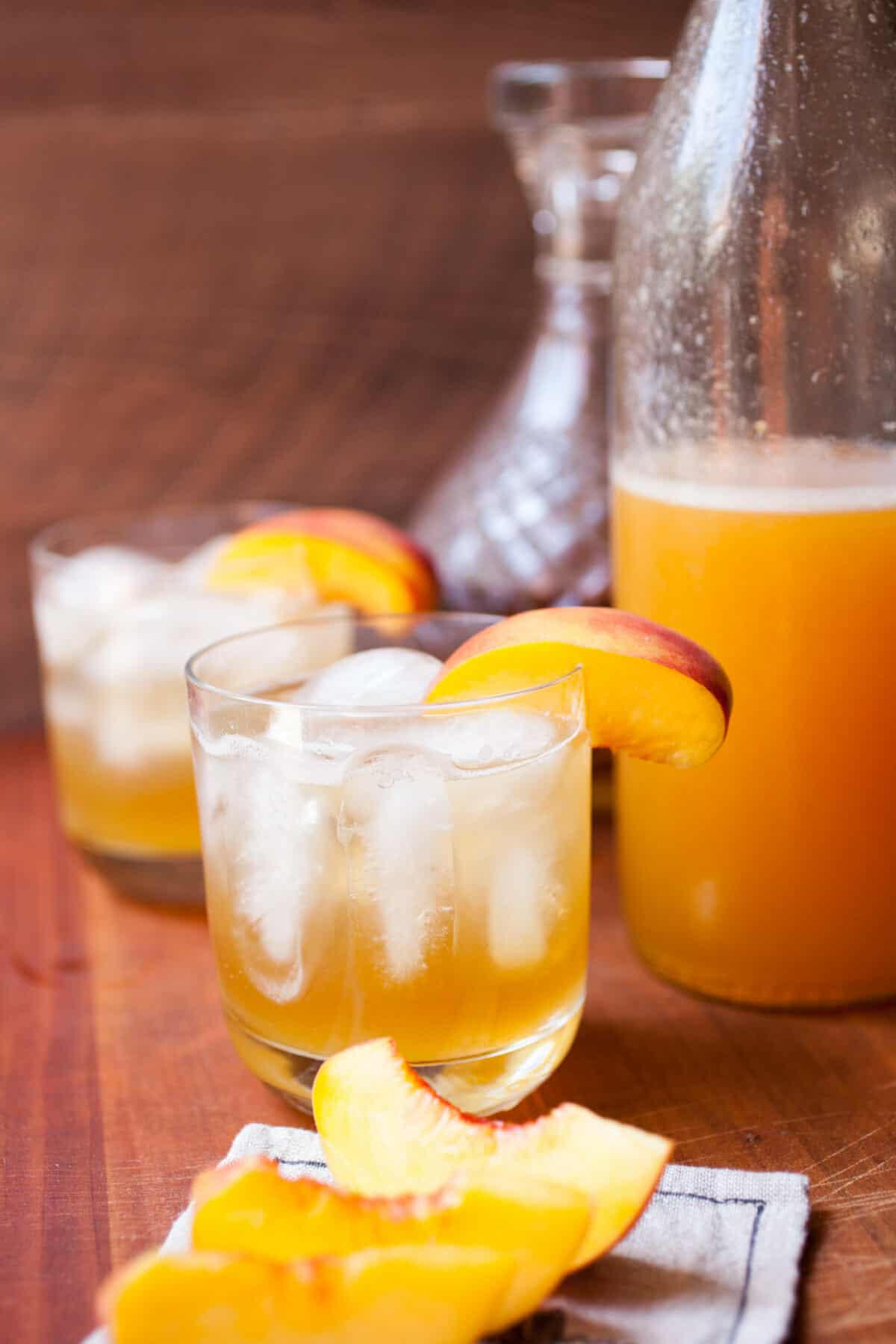 asdf