We are onto salad five of the Big Ass Salad series and this Bulgar Salad with Jammy Eggs was a dark horse favorite in the entire series. Not only was it easy to make and used a ton of fresh vegetables, it was great for lunches and you could pair it with many proteins for dinner.
This salad is a riff on a classic tabbouleh salad, which tends to be very parsley-packed with just a little bit of bulgar. I kind of switched that around and added more bulgar and less parsley, but still plenty of parsley!
If you like tabbouleh though, you'll recognize many of the flavors in this salad and I think you'll love it!
How to cook bulgar
The base of this salad is bulgar wheat which is a Middle Eastern and Mediterranean grain that is very flexible and works well in grain bowls and salads like this.
The one downside of bulgar is that if you overcook it, it turns really mushy and it's very appetizing. So, take the time to cook it correctly.
To cook the bulgar, add about a cup of bulgar to two cups of simmering water and then turn the heat down to low and cover the bulgar. Let it cook until tender, about 10-12 minutes and then immediately drain off any extra liquid.
Then fluff the bulgar with a fork to make sure the grains are separate and let it cool to at least room temperature until before you make the salad.
Be sure to check your specific kind of bulgar for cooking instructions as well. Some might cook even faster!
Good substitutions for bulgar
If you can't find bulgar or don't like it, there are SO many things you could substitute. You could use a similar grain like farro or go a completely different route like quinoa or brown rice.
It is important to have some carb base for this salad though so don't just leave out the bulgar entirely with no replacement.
How to make jammy eggs
These jammy eggs are kind of the secret sauce of this salad. They are just under being hard-boiled so they have a slight liquid yolk to them, but they aren't soft-boiled and dripping all over the salad either.
To make these successfully, I start a large pot of water with enough water in it to cover the eggs. Bring the water to a rapid boil, then add the eggs to the water and bring the pot back to a rapid boil. Cover, turn heat down to low, and boil for nine minutes. Set a timer!
Once the timer goes off, then drain the eggs and rinse them under cold water for 30 seconds to stop the cooking. Peel the eggs and they should be just under hard-boiled. They are the perfect salad egg!
The vegetables for this bulgar salad
The vegetable parade is strong with this salad. I added some cucumber, tomatoes, red onion, and lots of fresh flat-leaf Italian parsley.
For the vegetables try to dice everything the same size. I also like to remove the seeds from the cucumbers.
Tossing this all together makes for a wonderful salad!
I recommend roughly chopping a few eggs and adding that into the bulgar salad and then cut a few eggs into quarters as a topping. Then you can drizzle on olive oil and red wine vinegar and season with salt and pepper.
I added some sesame seeds to the top of my salad but that's an optional garnish!
Bulgar Salad with Jammy Eggs
This big bulgar salad is similar to a middle eastern tabbouleh but with more veggies and jammy eggs to make it even more filling. It's a great weekday lunch salad!
Ingredients
1

cup

bulgar

,

cooked and cooled

1

cup

chopped flat-leaf parsley

1

large cucumber

,

seeded and chopped

2

cups

cherry tomatoes

,

chopped

½

red onion

,

chopped

6

large eggs

,

jammy

¼

cup

olive oil

¼

cup

red wine vinegar

Pinch

of salt and pepper

Sesame seeds

,

garnish
Instructions
For bulgar, Combine 1 cup of bulgar to a pot with 2 cups of water and bring to a simmer. Cover, turn heat down to low, and simmer until tender, about 10-12 minutes. Drain any extra liquid and fluff with a work.

For eggs, bring a pot of water to a rapid boil with enough water to cover eggs. Once boiling, add large eggs, cover, and return to a rapid boil. Set a timer for 9 minutes. Immediately drain and rinse eggs with cold water to stop cooking. Peel eggs.

To finish salad, add cooled bulgar to a large bowl. Add chopped parsley, cucumbers, tomatoes, red onion, and chopped eggs, Stir to combine and drizzle with olive oil and red wine vinegar. Season with salt and pepper. Serve cold or at room temperature.

Salad will keep fine in the fridge for three days.
Nutrition
Serving:
1
bowl
|
Calories:
245
kcal
|
Carbohydrates:
22
g
|
Protein:
10
g
|
Fat:
14
g
|
Saturated Fat:
3
g
|
Polyunsaturated Fat:
2
g
|
Monounsaturated Fat:
8
g
|
Trans Fat:
0.02
g
|
Cholesterol:
164
mg
|
Sodium:
86
mg
|
Potassium:
425
mg
|
Fiber:
5
g
|
Sugar:
1
g
|
Vitamin A:
1118
IU
|
Vitamin C:
20
mg
|
Calcium:
62
mg
|
Iron:
2
mg
Did you make this recipe?
Storing this bulgar salad
There is a really light dressing on this salad and not a heavy green like lettuce or anything in it. So, the bulgar salad actually keeps well as-is in the fridge for three days or so. The thing that will fade first is the parsley. It will start to lose its luster around that third day.
It's a great salad for lunches though and packs easily and is great at room temperature or cold.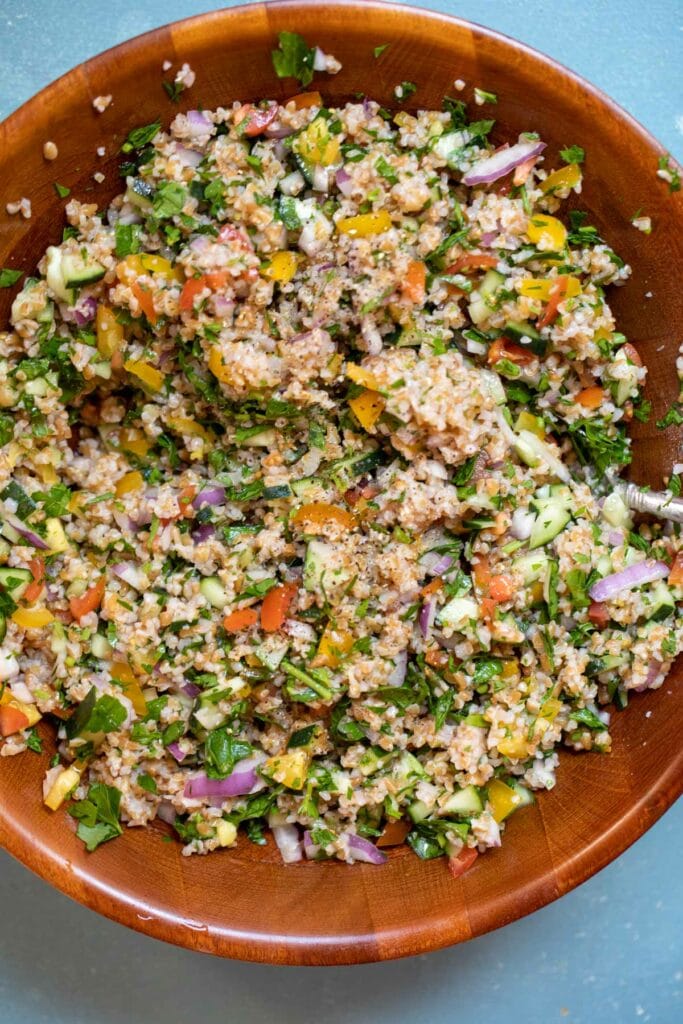 Ideas for dinner options
If you are serving this salad for dinner, it might be nice to add some extra protein to the side. Something like grilled citrus chicken would be perfect or grilled halloumi skewers! This salad would also be the perfect side dish for these steak sandwiches!
Here are a few other great egg recipes!
Eggs are one of my favorite ingredients. Here are some of the MANY ways I eat eggs.