Is there anything better than a good sandwich? This Skirt Steak Sandwich with Lemon Parsley Mayo checks all the boxes of a good sandwich. It's hearty, but at the same time light. It has crunchy elements, creamy elements, and is bright with lemon and herbs.
Most importantly, it's a cut-your-own-size sandwich. I pile it all into a large focaccia loaf and then you can slice it into quarters for a real meal or into smaller 9-12 sandwiches for smaller appetizer portions or just grab-and-go lunch options!
If I were to just be making this for myself, I might add a little extra tang to the sandwich either with a very light smear of mustard or add some capers to the mayo mixture, but Betsy doesn't like either of those things so I left it out so we could have this steak sandwich for dinner.
What kind of steak works for sandwiches?
I like to use either flank steak or skirt steak for sandwiches like this. You could use something like a rib-eye but it's a bit more expensive and not really worth the extra cost since you just slice it thinly for the sandwiches.
Skirt steak is my personal favorite for sandwiches because you can slice it thinly across the grain and then it ends up in bite-sized pieces that are easy to chew in a sandwich. Flank steak is a a great option as well and can be easier to find than skirt steak.
How to Cook the Skirt Steak
Skirt steak is a little thinner and tougher than some other cuts like flank steak. I really like it seasoned well and cooked over high heat and then sliced very thin. It's great for sandwiches because you can slice the steak so thin.
You could use flank steak or any cut of steak for this sandwich but why bother? Skirt steak is relatively cheap and works great.
Rub the steak with olive oil and season well on both sides.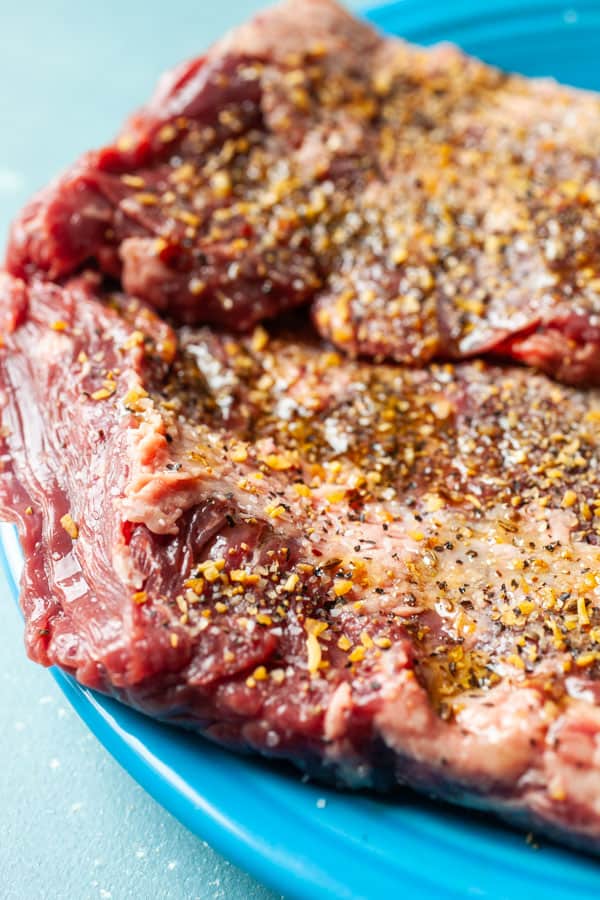 If you have a grill, fire it up and cook the steak over medium-high heat for about 4-5 minutes per side.
I chose to cook mine in a skillet on this day mostly to show that it is possible to do so. Obviously the grill works well also.
Sear it on both sides for 4 minutes or so and check the temperature. You might need to transfer it to a 350 degree F. oven for a few minutes to cook through. Mine needed like two minutes in the oven. I probably could've just kept it on the stove but it was starting to really smoke.
My finished skirt steak was a thing of beauty though!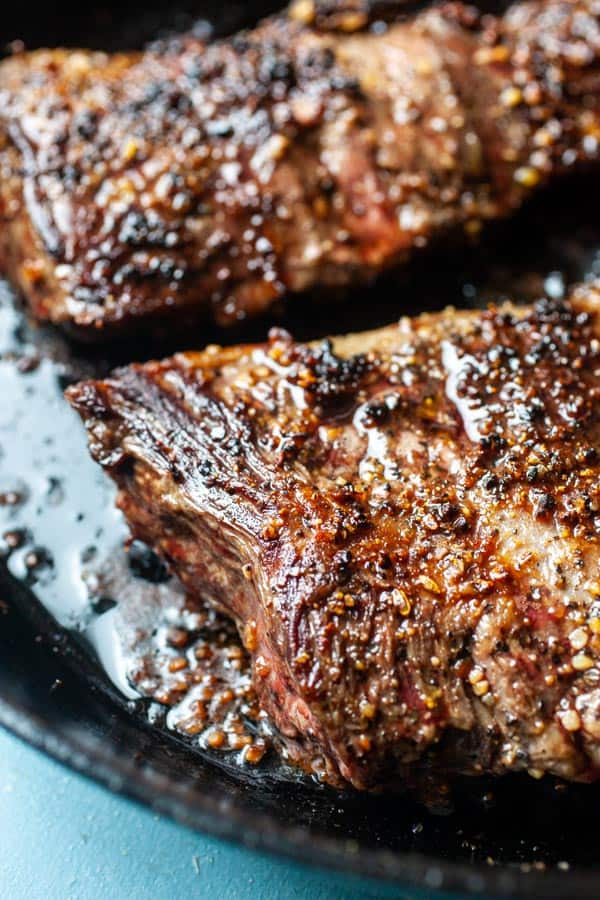 The right bread for Skirt Steak Sandwiches
Find good bread for these sandwiches. You need something sturdy. I like to use focaccia because it's relatively flat. You could use rolls if you wanted to!
I would steer you away from a soft sandwich bread as the slices just won't be sturdy enough to hold up to all the filling. Also, super soft french loaves would probably not be ideal.
If you can't find focaccia or sturdy rolls, buy a good fresh baguette. That will work as well.
I toasted my focaccia after drizzling it with a little olive oil before I cooked my steak in the skillet. You could toss these loaf halves on the grill also.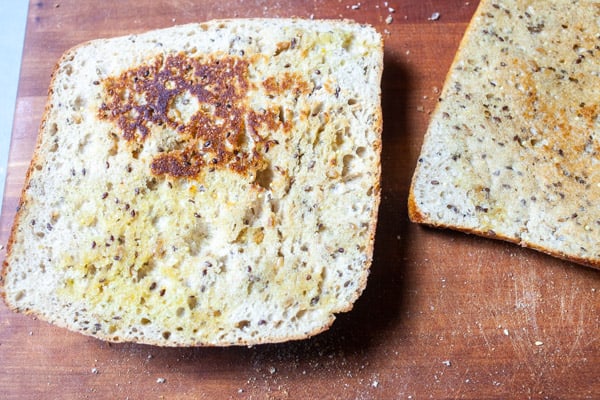 Making the Herb Lemon Mayo
The dressing for this sandwich is very important. Mayo + lemon zest + parsley equals amazing.
Honestly, I think this creamy element in the sandwich is more important than the exact cut of steak you use or the exact bread you use.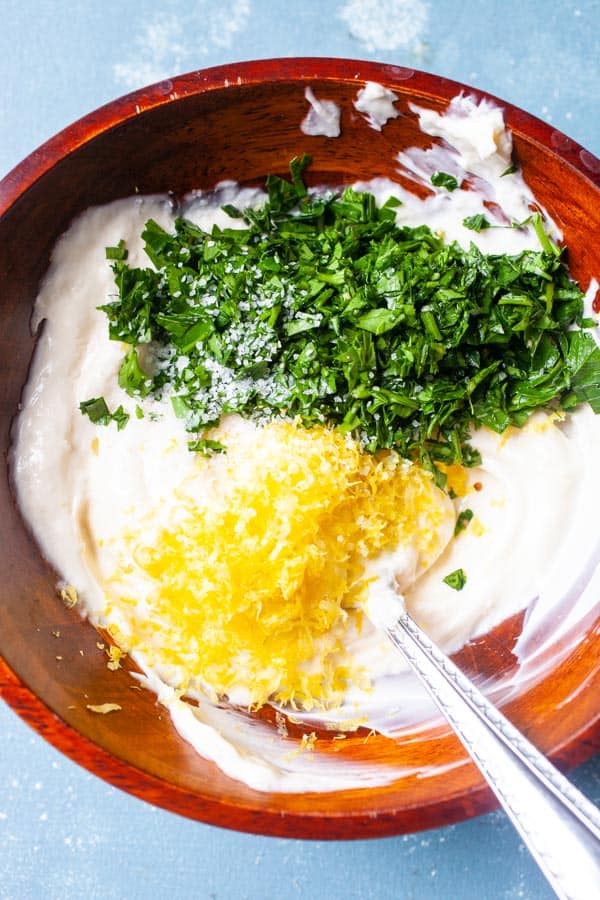 Finishing the Steak Sandwiches
To make the sandwich, smear the bottom of the loaf with some mayo and top with arugula, thin cucumbers, and thin shallots. These are all very important elements.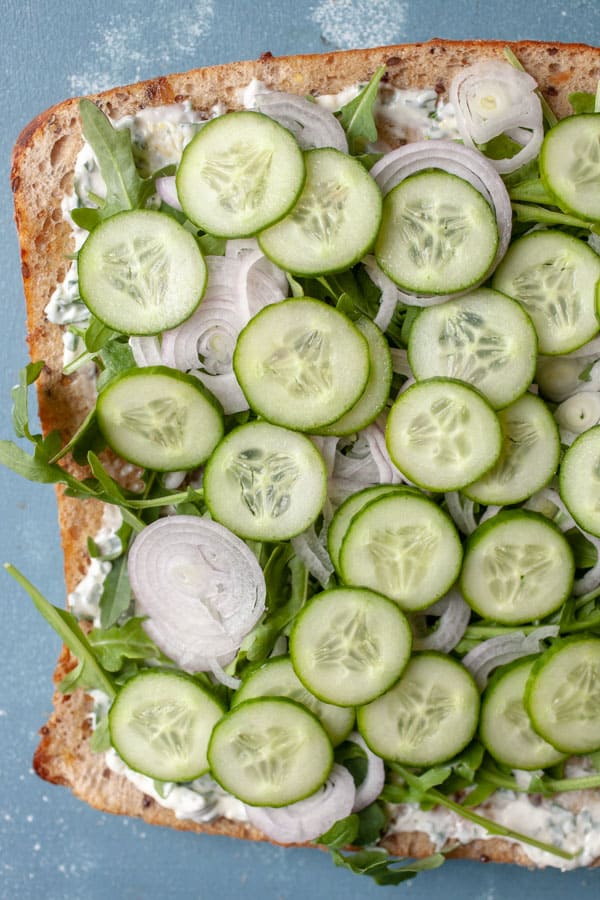 Before you slice the steak, let it rest really well. I recommend letting it rest for at least 10 minutes. If the steak is too hot it'll just wilt all your veggies in the sandwich. The steak should be warm at best or even room temperature is okay.
Find the grain in the skirt steak and slice against the grain to make the steak easier to bite.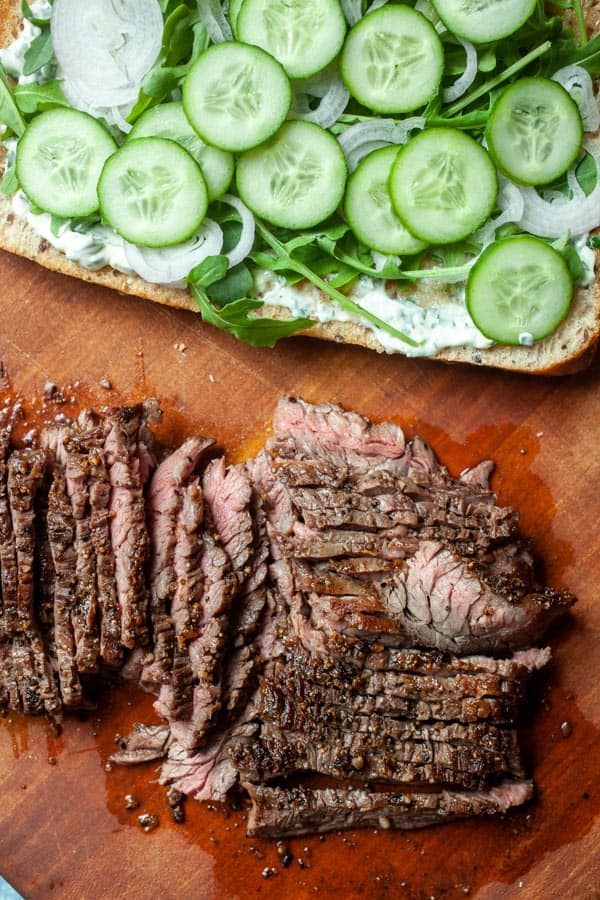 Pile the sliced steak on your sandwich and top with the focaccia (more mayo on the top piece). Slice the skirt steak sandwich into the size that you want and you're ready to serve!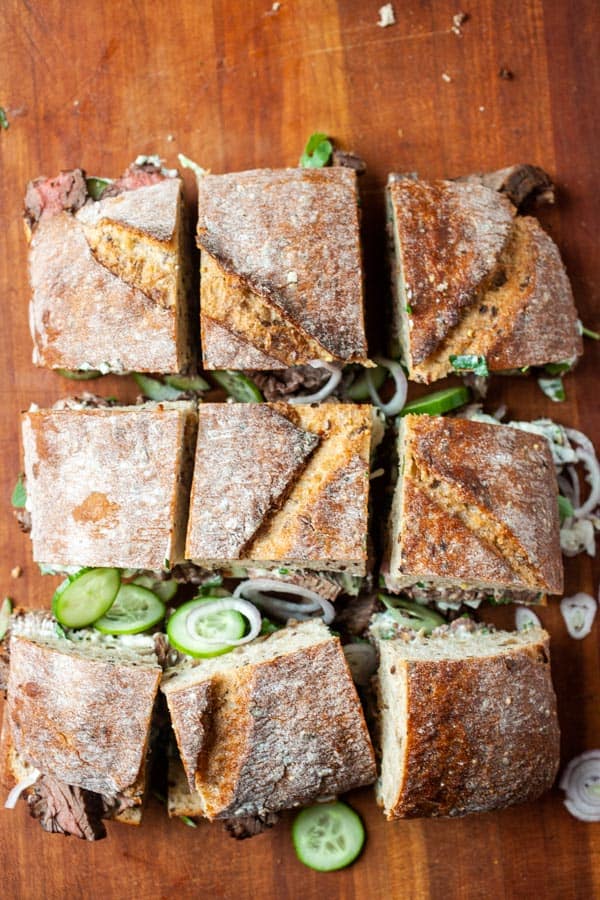 Who wants a bite?!!!
Skirt Steak Sandwiches with Lemon Parsley Mayo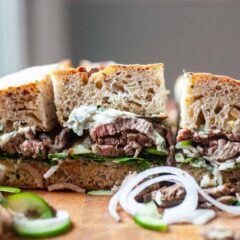 These skirt steak sandwiches are packed with skirt steak rubbed with Montreal seasoning and seared on a grill or in a skillet. Smash that together with a lemon parsley mayo, crunchy veggies, and arugula on a hearty bun. YOU WANT THIS.
Ingredients
1 ½

pounds

skirt steak

3

tablespoons

olive oil

,

divided

1

tablespoon

montreal steak seasoning

1

teaspoon

kosher salt

1

large focaccia loaf

2

cups

arugula

1

small cucumber

,

sliced thin

1

shallot

,

sliced thin

½

cup

mayonnaise

1

lemon

,

zest only

¼

cup

minced parsley
Instructions
Rub skirt steak well with about 1 tablespoon olive oil oil, steak seasoning, and kosher salt. Let rest while you preheat your pan or grill to medium-high heat.

Slice focaccia roll in half and drizzle cut side with olive oil (1 tablespoon per side). Add focaccia to your grill or skillet, olive oil side down, and toast for a few minutes.

Remove focaccia and add skirt steak. Cook skirt steak on the grill or in a sturdy cast iron skillet for 4-5 minutes per side. The steak should reach an internal temperature of at least 140˚ F. When steak is cooked through, remove it from the heat and let rest until it has cooled off and is just warm.

Meanwhile, slice up cucumbers, shallots, and mix up the mayo.

Slather bottom roll with a few tablespoons of lemon parsley mayo. Top with arugula, sliced cucumbers, and shallot.

Slice skirt steak against the grain and then pile on to the sandwich.

Slather top piece of focaccia with more mayo and add to sandwich. Press the sandwich down and slice it into hand-sized pieces. I use a square focaccia and cut mine into 9 even pieces.

Serve sandwiches right away or wrap tightly and store in the fridge for 24 hours.
Nutrition
Serving:
1
Sandwich
|
Calories:
369
kcal
|
Carbohydrates:
24
g
|
Protein:
21
g
|
Fat:
22
g
|
Saturated Fat:
4
g
|
Polyunsaturated Fat:
6
g
|
Monounsaturated Fat:
8
g
|
Trans Fat:
0.3
g
|
Cholesterol:
53
mg
|
Sodium:
628
mg
|
Potassium:
323
mg
|
Fiber:
2
g
|
Sugar:
2
g
|
Vitamin A:
298
IU
|
Vitamin C:
11
mg
|
Calcium:
28
mg
|
Iron:
2
mg
Did you make this recipe?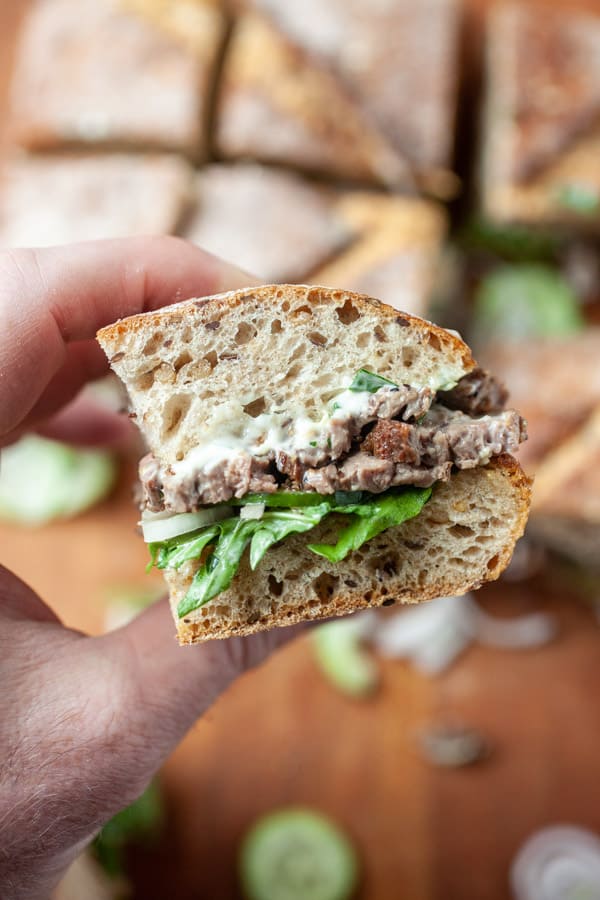 Can you store these sandwiches?
These sandwiches actually store nicely for a day or two in the fridge. Wrap them tightly in plastic wrap and store the sandwiches in the fridge. They are great for weekday lunches or on-the-go meals. They also are perfect for picnic dinners or lunches!
Here are a few other great recipes!