Normal deli-style egg salad is about the least sexy food I can think of. It's usually beyond bland, over-mayonnaised, and without any sort of texture at all. Mushy eggs and mayo? SIGN ME UP!
Egg salad has potential though. The fattiness and richness of the eggs can work but you need to add big flavors to it to balance out the fat. Acids like lemon juice are very important, but it also needs lots of crunchy ingredients for texture.
I must say I think I've pretty much perfected the formula for a good homemade egg salad and once you have it down, the variations are limitless. This lemon caper egg salad is just my most recent attempts and one of my favorite!
Lemon Caper Egg Salad
Egg salad can be so delicious if you make it right. This version is bright and crunchy with just enough dressing to keep it together.
Ingredients
6

large eggs

,

hard boiled

1

stalk celery

,

diced

2

scallions

,

diced

2

radishes

,

diced

⅓

cup

mayo

1

lemon

,

juice and zest

2

tablespoons

capers

Salt and pepper

Fresh arugula

,

for sandwiches

8

slices

sandwich bread
Instructions
Add eggs to a pot and cover by at least an inch of cold water. Bring to a boil over high heat, cover, remove from heat, and let sit for 11-12 minutes.

Remove the eggs with a slotted spoon and transfer to an ice water bath to cool. When eggs are cool, gently crack and peel. Chop eggs into quarters.

In a medium bowl, add diced celery, radishes, scallion, mayo, lemon zest and juice, capers, and a pinch of salt and pepper. Stir together.

Add eggs and use a potato masher to gently mash salad together.

Serve egg salad with fresh baby arugula on toast. Leftover egg salad will keep in fridge for 2 days.
Nutrition
Serving:
1
sandwich
|
Calories:
367
kcal
|
Carbohydrates:
28
g
|
Protein:
14
g
|
Fat:
22
g
|
Saturated Fat:
5
g
|
Polyunsaturated Fat:
11
g
|
Monounsaturated Fat:
6
g
|
Trans Fat:
0.1
g
|
Cholesterol:
253
mg
|
Sodium:
565
mg
|
Potassium:
216
mg
|
Fiber:
2
g
|
Sugar:
4
g
|
Vitamin A:
445
IU
|
Vitamin C:
16
mg
|
Calcium:
158
mg
|
Iron:
3
mg
Did you make this recipe?
Lemon Caper Egg Salad
Before we talk eggs, let's talk add-ins. The new addition to this version of egg salad is radish. I really liked it though. It not only added some crunch, but also a little spiciness.
Chop up the celery, radish, and scallion pretty fine. No huge chunks please!
Before you juice the lemon, also get the zest off of it. The zest has so much citrus flavor. It's an awesome flavor-packed addition to this salad.
A big pinch of salt and pepper should go in also.
Not pictured below: Mayo goes in also!
The key to good hard boiled eggs for egg salad is not to over cook them. Add your eggs to a pot and cover by about an inch of water. Bring it to a rapid boil, covered, then remove it from the heat and let them sit for about 12 minutes. Rinse them under cold water for a minute or two and then peel them. I actually prefer it if some of the eggs are very slightly undercooked so the yolks mash easier.
Cut your eggs into quarters once they are peeled and add them to the bowl!
Now, I like my egg salad to be on the chunky side, so I just use a potato masher to mash them up a bit. This keeps it pretty chunky. You could use a fork if you want it mixed up more, but this gives me the texture I like personally!
Serve this salad on toast with a bed of baby arugula which prevents the bread from getting too soggy.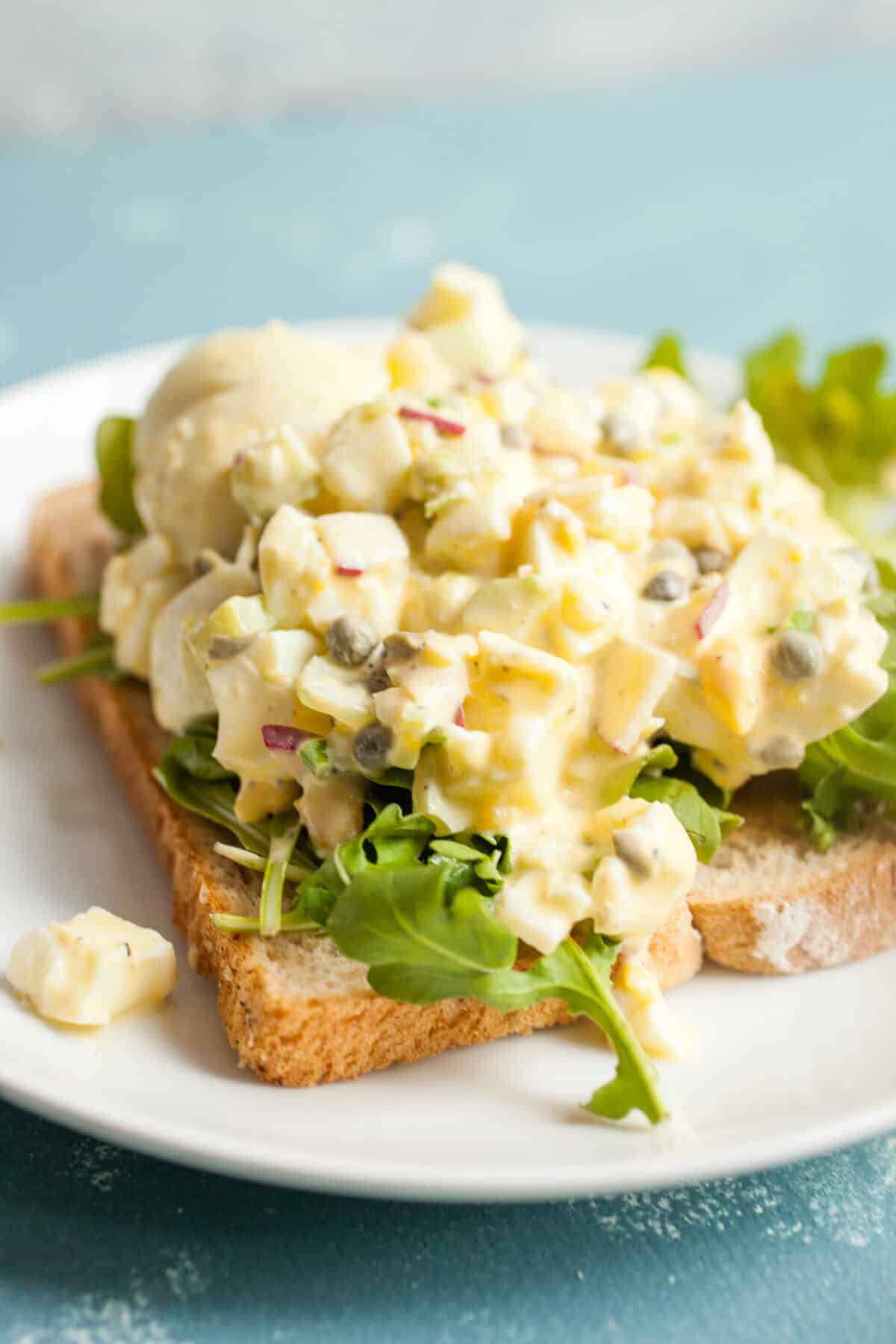 This lemon caper egg salad is very delicious, but it loses it's luster pretty quickly in the fridge. I'd give it a day or two tops and then it's probably done. It's best if you can eat it right away though!