Many people consider salads to be the most boring of meal options, but over the last month, I worked on ten epic big ass salads to counteract the boring salad stereotype!
This Big Ass Salads are exactly what you think!
First, they are all huge. You can eat them for a meal and have plenty of leftovers for lunches. Or take them to a BBQ or party for a great side dish option!
Second, they have a variety of textures and plenty of protein to keep you full. Most are vegetarian, but not all of them. You can always add extra protein as well.
Third, most of them have interesting dressings that go beyond a store-bought jar.
Let's dig in or use the table of contents on the left to find a salad that sounds good to you!
Bookmark this page for later or even better, pin it, so you can come back to it again and again for some great salad inspiration!
Chickpeas are a common salad ingredient because it's easy to pop open a can, but I like to kick these up a notch by sauteeing them for a few minutes with an easy spice mix so they get crispy. I finish the salad with loads of crunchy veggies and a simple tahini dressing! It's a winner and a great lunch salad option!
I love adding salmon to salads. it's a great healthy protein boost and cooks very quickly. The blackening spice on the salmon works really well with the horseradish sauce in the dressing. Probably one of the more unique flavor combos in this list, but I liked it a lot.
This salad gives off mega fall vibes so feel free to just bookmark it for the fall, but it was in my head so I made it now. The ingredients are all available even outside of the fall season and it's a hearty and delicious salad. Great as a side salad to roast pork. The nice thing about this salad is it keeps well even after you dress it, which isn't always the case.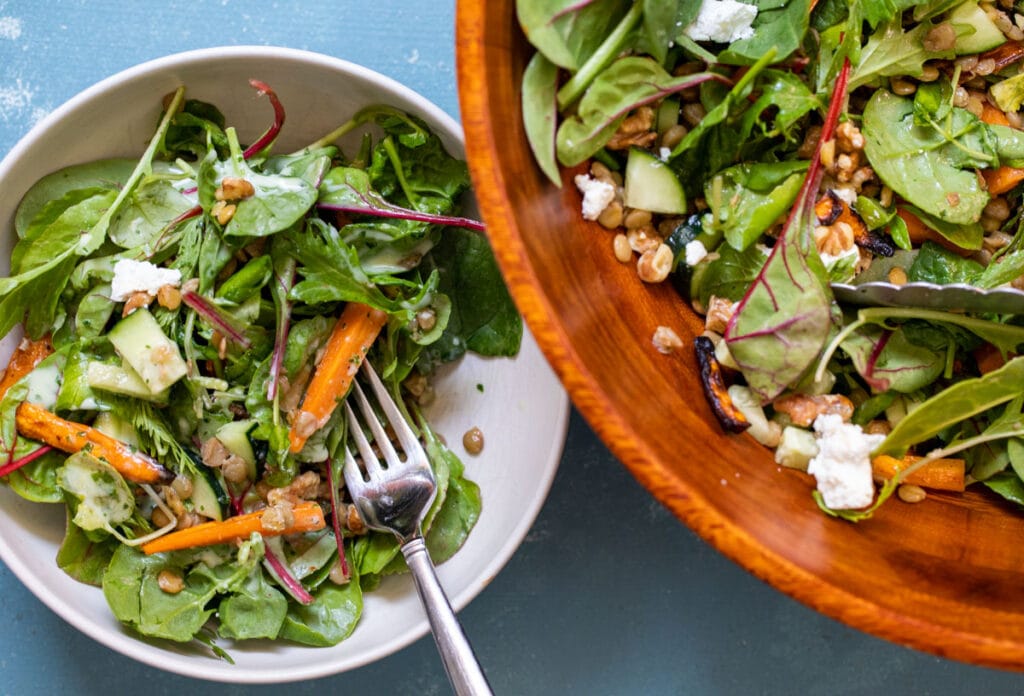 As far as the salads in this big-ass salad series go, this one is probably the lightest of the bunch. It doesn't have many ingredients, but the lentils still make it filling enough to make it a meal if you wanted to. Personally, I'm a huge fan of roasting carrots until they are sweet. I had to include a salad with them!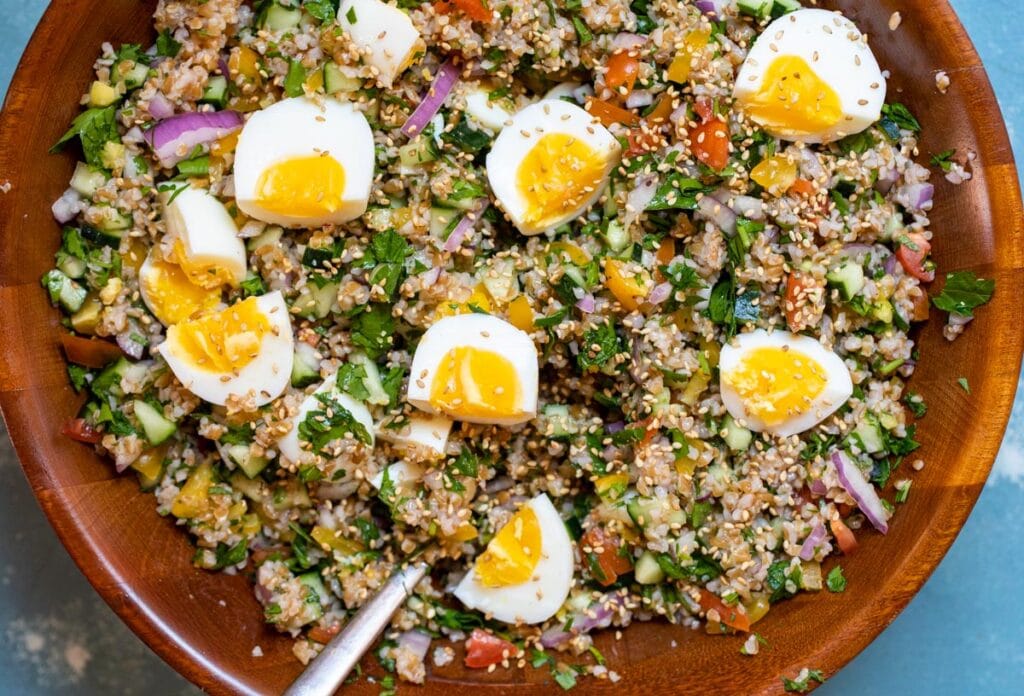 This is an updated twist on a classic tabbouleh salad except with more bulgar and less parsley than normal. To make it even heartier, I added some jammy eggs that get mixed into the salad and served on top. It's kind of a mash-up between a Mediterranean salad and an egg salad and is pretty much perfect.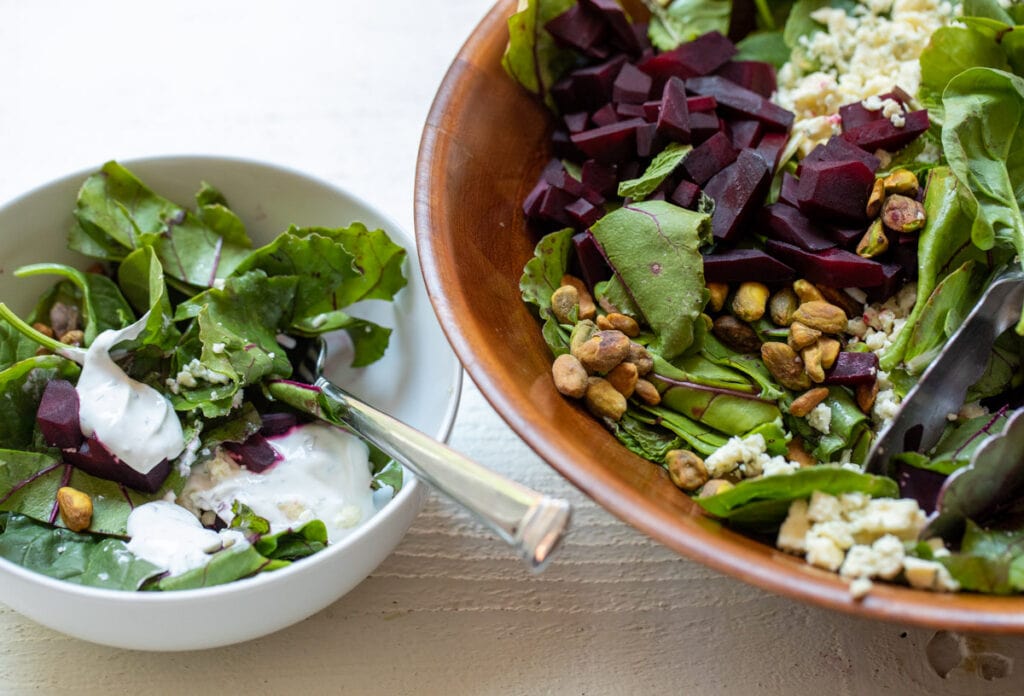 This roasted beet salad might look lighter and it has a short ingredient list, but the add-ins make it really filling. I added big handfuls of pistachios and gorgonzola cheese and the drizzle on a delicious minty dressing. It's such a great side salad served with roasted chicken or other proteins.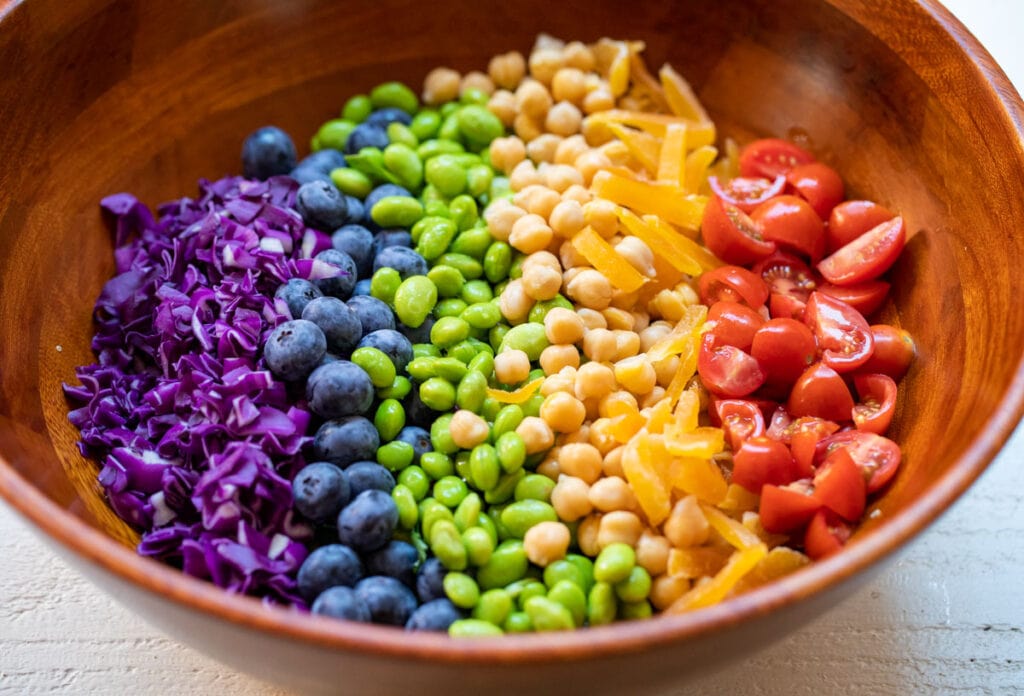 My wife and I decided this rainbow salad might be the winner out of this bunch of ten salads when it comes to a salad that you can take for lunch every day. It's so bright and colorful but is also really healthy and filling. You won't get sick of it!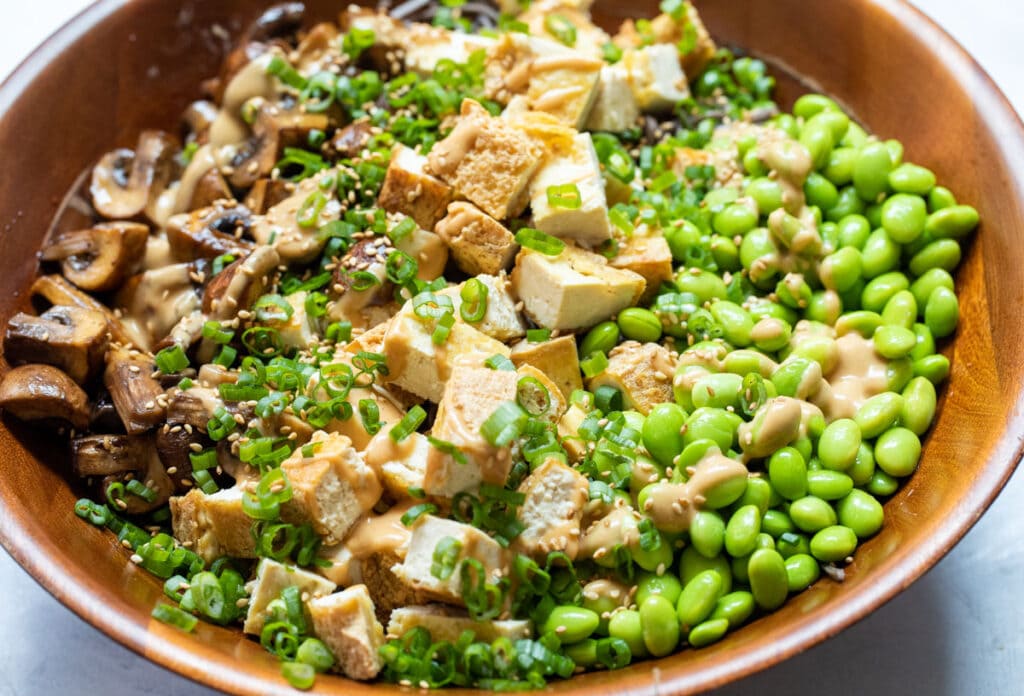 I stayed away from doing a ton of noodle salads for this series, but did want to include one cold soba salad. I went vegetarian (actually vegan) with the rest of the ingredients and this was one of the salads that I thought worked best as a complete meal. Just grab a bowl and dive in!
To cut down on prep time, I used a rotisserie chicken for this salad but you could use any leftover chicken you might have. Shred it up and mix it to wild rice and veggies. Wild rice takes a while to cook and you could use a faster-cooking grain if you want. The wild rice is nice and nutty though!
Sweet potatoes are very flexible and I wanted to take them to the Tex-Mex world for one of these salads. The key to this salad is the creamy dressing and the crispy tortilla strips. Don't skip them!
Have a favorite huge salad?
Leave me a comment below with your favorite salad that you can eat for days and days!