Let's talk about eggs, team. Specifically, let's talk about scrambled eggs and by scrambled eggs I, of course, mean cheesy eggs.
This is one of those magical recipes that's barely a recipe. It only has a few ingredients and it seriously takes five minutes at the most to make. The trick is all in the execution.
Almost every time I've had cheesy eggs they are usually overcooked and dry. Also, depending on when the cook added the cheese, it either gets too cooked or isn't melted all the way or is just added to the top of the eggs like some sort of weird cheese hat.
None of these are correct. Perfect cheesy eggs should be soft, but with the right amount of curds and the cheese should be folded through the eggs and melted!
It's not hard, but it's all about the details!
Cheesy Scrambled Eggs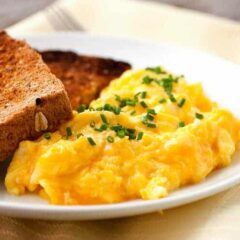 How to make perfect cheesy eggs including the right way to nail the temperature and three different cheese examples for your scrambled eggs!
Ingredients
2

large eggs

,

scrambled

½

teaspoon

butter

1

ounce

cheese

,

cheddar, parmesan, or cottage cheese

Pinch

of salt

Fresh chives
Instructions
Heat your skillet over medium-low heat. Grate cheese and scramble eggs vigorously.

When skillet is hot, add butter and melt (you can also substitute with oil).

Pour in scrambled eggs and let sit for about 10 seconds until the eggs start to firm up on the bottom.

Then stir eggs vigorously with a spatula.

When eggs are mostly set but with a bit of uncooked eggs, remove skillet from heat and add grated cheese. Fold scrambled eggs a few times off the heat until eggs finish cooking and cheese is melted.

Turn eggs out onto a plate and garnish with a pinch of salt and fresh chives. Eat immediately!
Nutrition
Serving:
2
eggs
|
Calories:
259
kcal
|
Carbohydrates:
1
g
|
Protein:
18
g
|
Fat:
20
g
|
Saturated Fat:
9
g
|
Polyunsaturated Fat:
2
g
|
Monounsaturated Fat:
6
g
|
Trans Fat:
0.1
g
|
Cholesterol:
361
mg
|
Sodium:
326
mg
|
Potassium:
144
mg
|
Sugar:
0.4
g
|
Vitamin A:
822
IU
|
Calcium:
250
mg
|
Iron:
2
mg
Did you make this recipe?
Cheese Options for Cheesy Eggs
Okay, so you could probably add any cheese to scrambled eggs and it would be pretty good, but I tend to use three different kinds depending on what I'm looking for. Most importantly, these are all usually in my fridge so it's not like I have to run to some fancy cheesemonger to get that 12-year apple smoked gouda to make breakfast.
For my money, I almost always use cheddar, parmesan, or cottage cheese. Any of these work awesomely.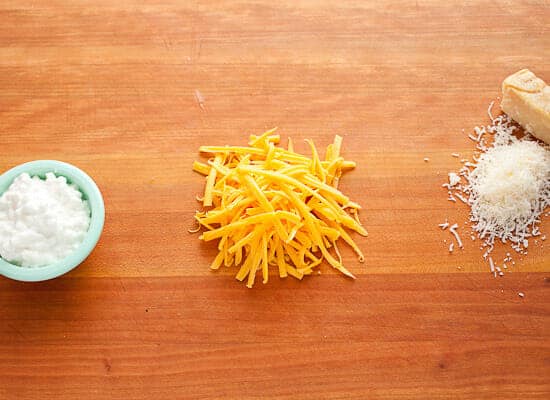 The cheddar cheese is classic and will end up with a nice melty cheese in the eggs. The parmesan will be more sharp and salty. The cottage cheese is really subtle but the results end up being creamier and fluffy.
The Perfect Cheesy Eggs Method
I usually make these in a single or double serving so I start with two eggs per person. In theory you could do this method with as many eggs as you wanted though. I used to make scrambled eggs for a shelter I volunteered at and I would do this same method with like 200 eggs.
But, it easier to do it with a small pan and a small amount of eggs to start so if you're just learning I recommend starting with two!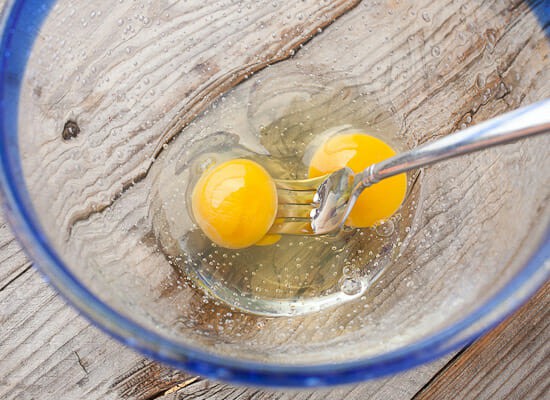 I don't recommend adding anything to the eggs. I used to try to add cream or something, but if you control your temperature well, you just need eggs.
Really whisk them though. You want them a smooth consistency with lots of bubbles.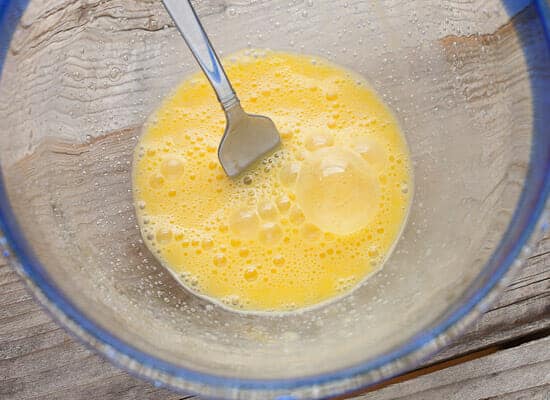 Okay. Let's talk pans. Personally, I like a small nonstick skillet for my cheesy eggs. It just works best for this method.
Most importantly, for these eggs to cook perfectly, you want to really control your heat. A super hot skillet will destroy the egg texture. Start the pan on a medium or medium-low heat.
After the pan heats for a minute or two, add some butter to the pan. You don't need much. You could also use any sort of oil.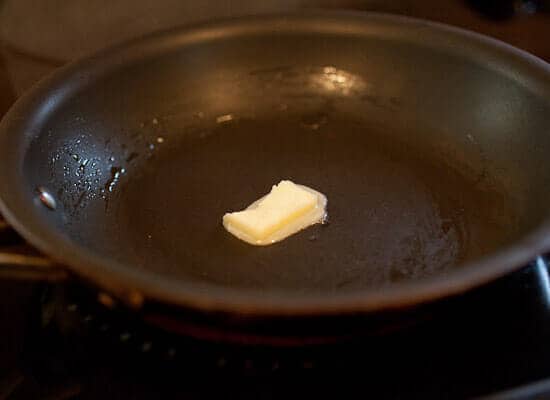 Once the butter is melted, add in the eggs and let it sit for 10-15 seconds. The goal here is to get some of the egg cooked so you get some curds in the final scramble.
You should be able to push them around a bit and see some cooked egg at the bottom.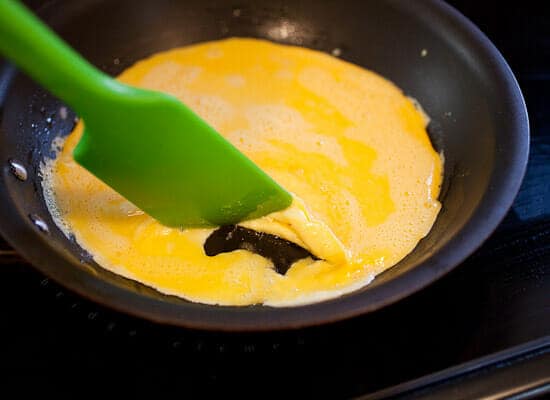 Okay, now for the tricky part. Stir the eggs around quickly to mix them up. At this point the eggs will cook really quickly so don't go watch a TV show or anything.
When the eggs are mostly cooked but still coated with a slight amount of uncooked egg, you're ready for the final step!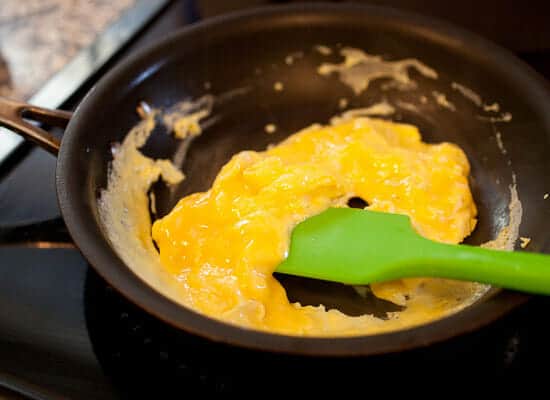 For the last step, add in whatever cheese you want to use and (very important) turn off the heat!
There is enough heat left in the pan to finish cooking the eggs and melt the cheese. So, heat off!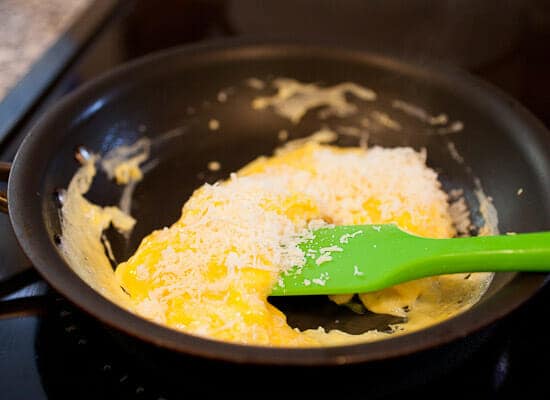 Fold the eggs over a few more times off the heat to incorporate the cheese and finish cooking the eggs.
Then just scoop the cheesy eggs onto a plate and season with a little salt and fresh chives.
Eat these cheesy eggs as soon as possible, preferably with a good piece of toast!
Don't overthink cheesy eggs, but make sure you're doing them right!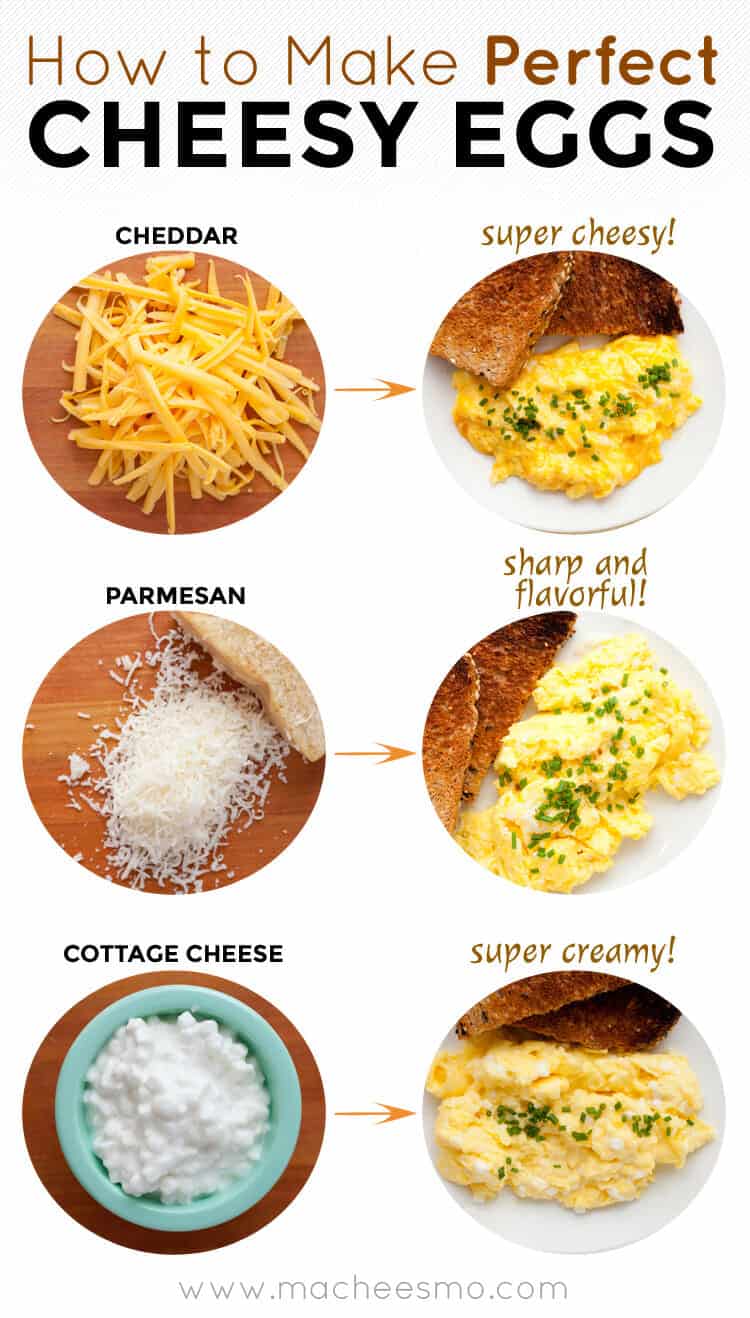 Here are a few other great egg recipes!