It felt like grilling season this week in Denver and so I had to uncover the grill and light the fire. This Grilled Citrus Chicken was a great way to kick off grilling season and made my kitchen smell like spring.
The marinade for this recipe is where the magic is at. It's jam-packed with fresh citrus juice and zest and smells incredible. After some grilling, I also like to glaze the chicken with a citrus glaze for extra flavor.
You could serve this dish with almost anything and it's ready really quickly.
Who's excited for grilling season?!
The trick to citrus marinades
The trick to making a citrus marinade really special is to use fresh citrus fruit. Even more important than the juice from this fruit though is the zest from this fruit. Zesting the oranges, lemons, and limes and adding the zest to the marinade really gives the finished chicken an incredible flavor.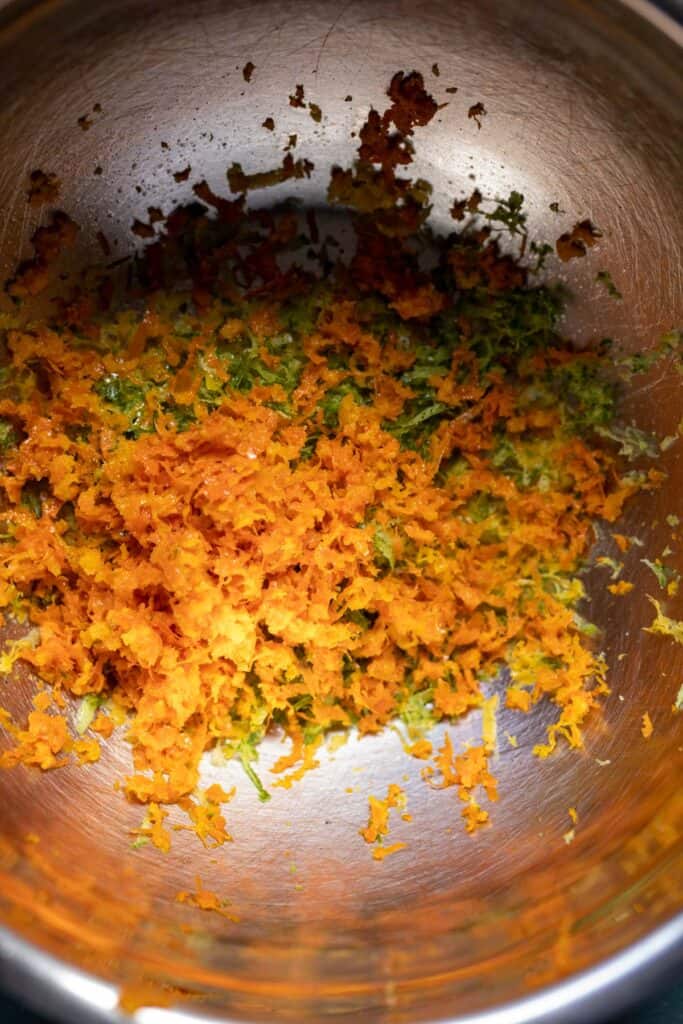 Yes. It does take a little bit longer to juice the fruits, but trust me that the flavor is worth the work.
If you need to, you can make the marinade up to a day in advance and have it ready in the fridge.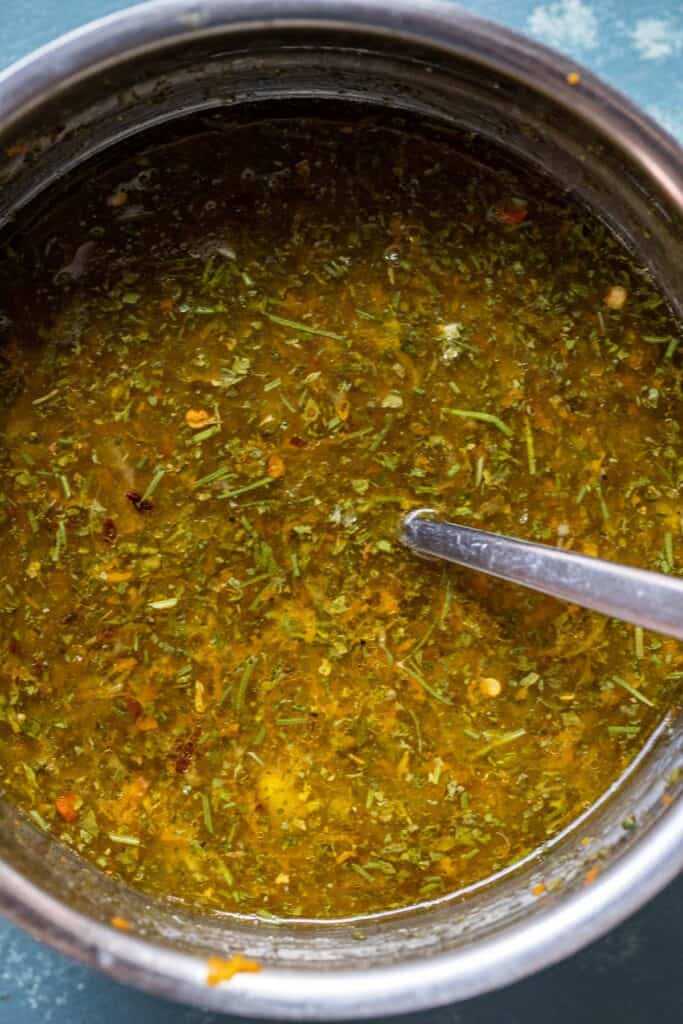 How long to marinate citrus chicken
Some chicken marinades are fine overnight, but this one isn't, unfortunately. The acid in the marinade will break down the proteins in the chicken and you'll be left with a semi-cured chicken situation where the meat is mushy.
I would say the max you could marinate chicken with this recipe is two hours. The ideal time is about 45-60 minutes, especially if you are using chicken breasts. If you are using whole pieces of chicken with bone in and skin on, you can go a little longer, but still keep close to that two hour limit.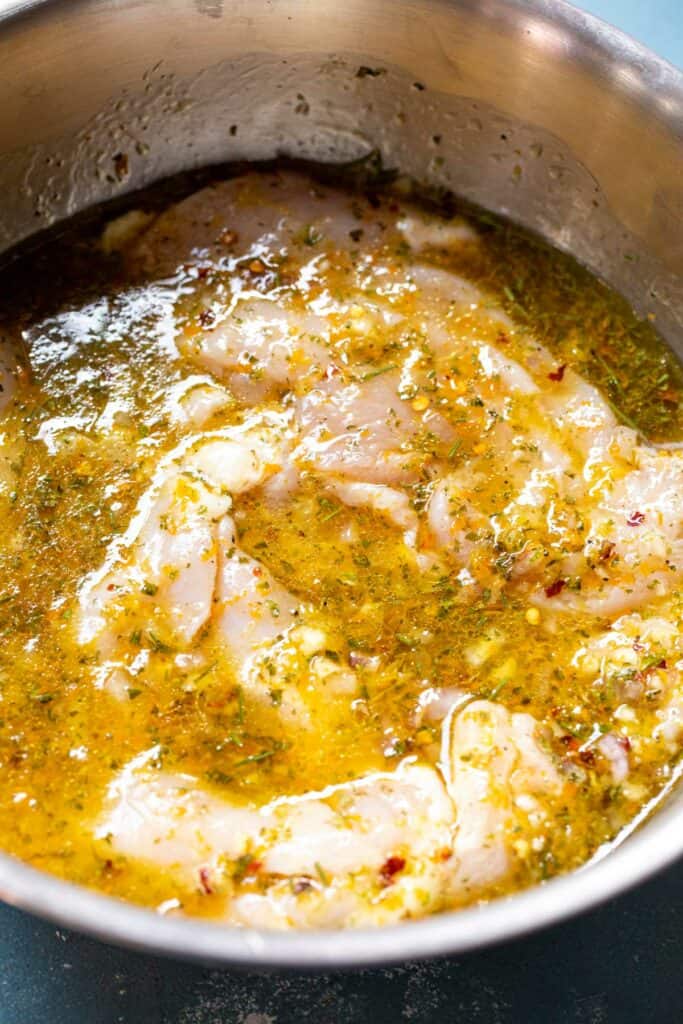 What cuts of chicken work best with this recipe?
Literally any cut of chicken will benefit from this citrus marinade. It's flexible and delicious. For this version I used chicken breasts because I wanted to use the leftovers in salad the next day (delicious).
If you wanted to use whole chicken pieces, that works also. Just add the cut-up chicken pieces to a bag or bowl with the marinade and let it rest in the fridge.
How to make the easy Citrus Chicken Marinade
This marinade is very easy to stir together after you do the hard part of zesting and juicing the fresh fruit. I would recommend zesting the limes and lemons and half of the oranges. Then add the fresh orange juice, fresh lime juice, and fresh lemon juice to a bowl with the garlic, shallot, sugar, rosemary, parsley, salt, pepper, and olive oil.
Grilling the chicken and checking for doneness
After you pull your chicken out of the marinade, place it on a preheated medium-high heat grill that has been cleaned and lightly oiled to prevent sticking.
The chicken will need to grill for 6-7 minutes per side If you are using chicken breasts. If you are using whole chicken pieces, you will need to grill for longer.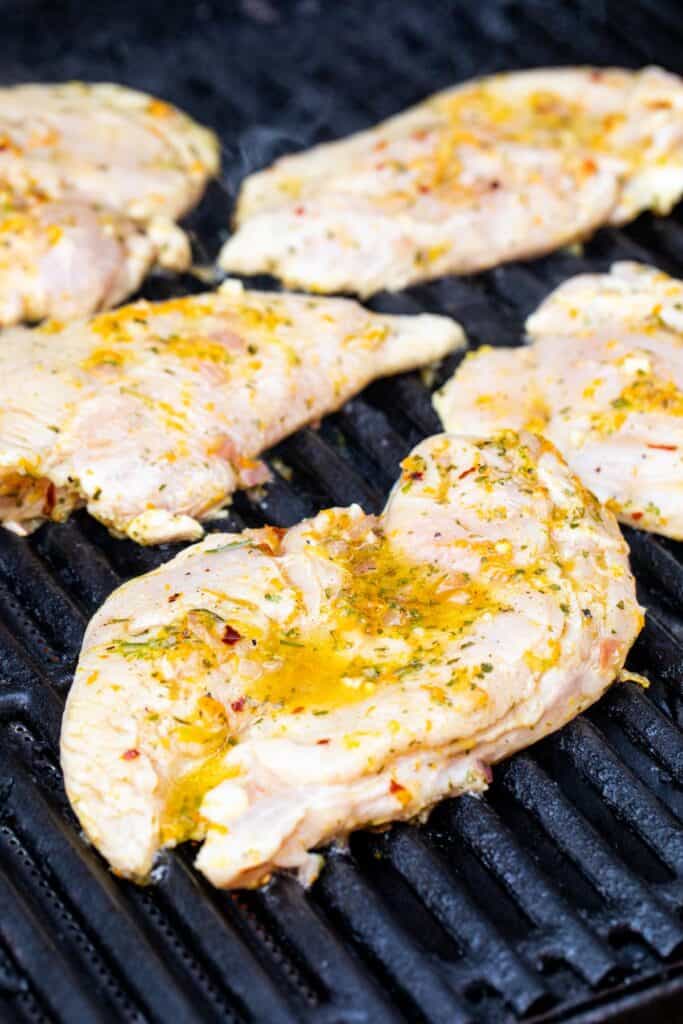 As always, I recommend using a good instant-read meat thermometer to make sure the grilled citrus chicken is at a safe 165˚F temperature. Especially with chicken breasts, they can be pretty thick and a meat thermometer always helps.
I also like to lightly pound my chicken or even butterfly it to make it a little thinner so it can grill evenly.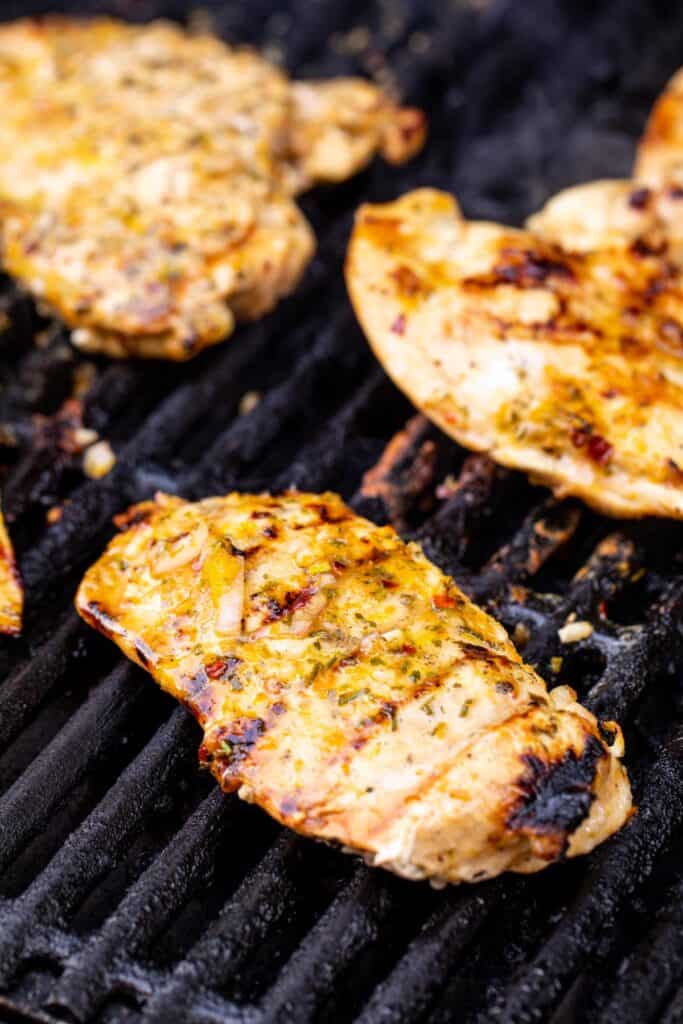 When the chicken comes off the grill, let it rest briefly before slicing and serving.
Making the citrus glaze
I make this citrus glaze with the marinade! Before you add the chicken to your marinade, pour about half of it off into a saucepan along with two tablespoons of honey.
Bring that mixture to a simmer and simmer over low heat for 5-6 minutes until the glaze starts to thicken. Then let it cool and you can brush the glaze on the chicken near the end of cooking.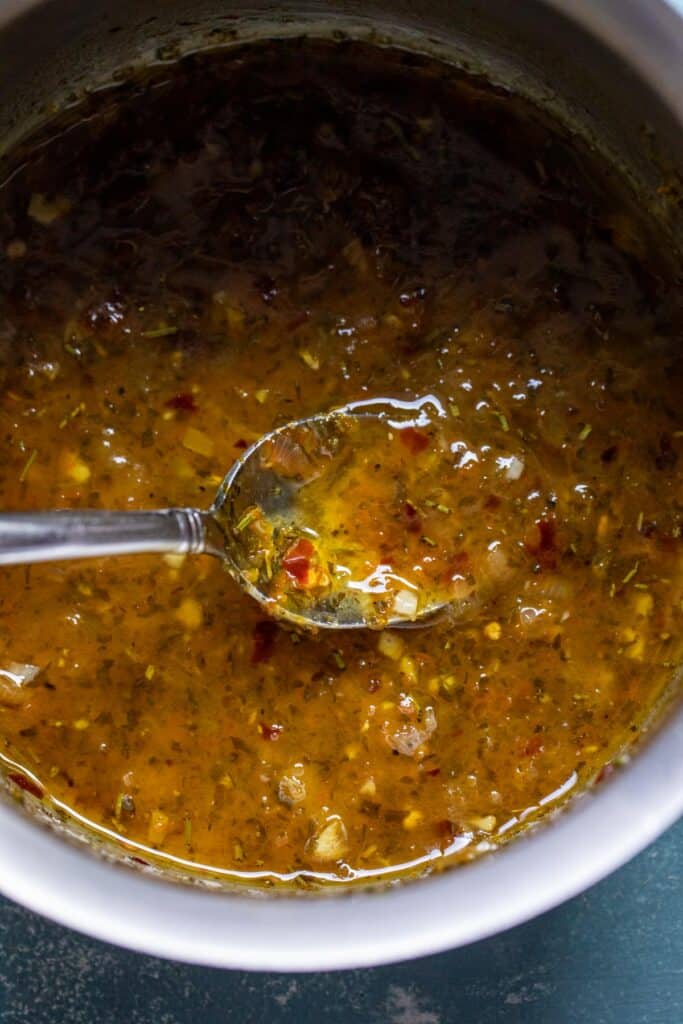 Note that this citrus glaze is a completely optional step to the recipe. The chicken is very flavorful without the glaze, but it does kind of kick it up a notch!
What to serve with citrus grilled chicken
This grilled citrus chicken goes well with so many side dishes. Serve it with a simple salad like this Easy Kale Avocado Salad or a simple pasta dish like Ricotta Pasta Sauce. It could go with good garlic bread or you could even use it in wraps or sandwiches.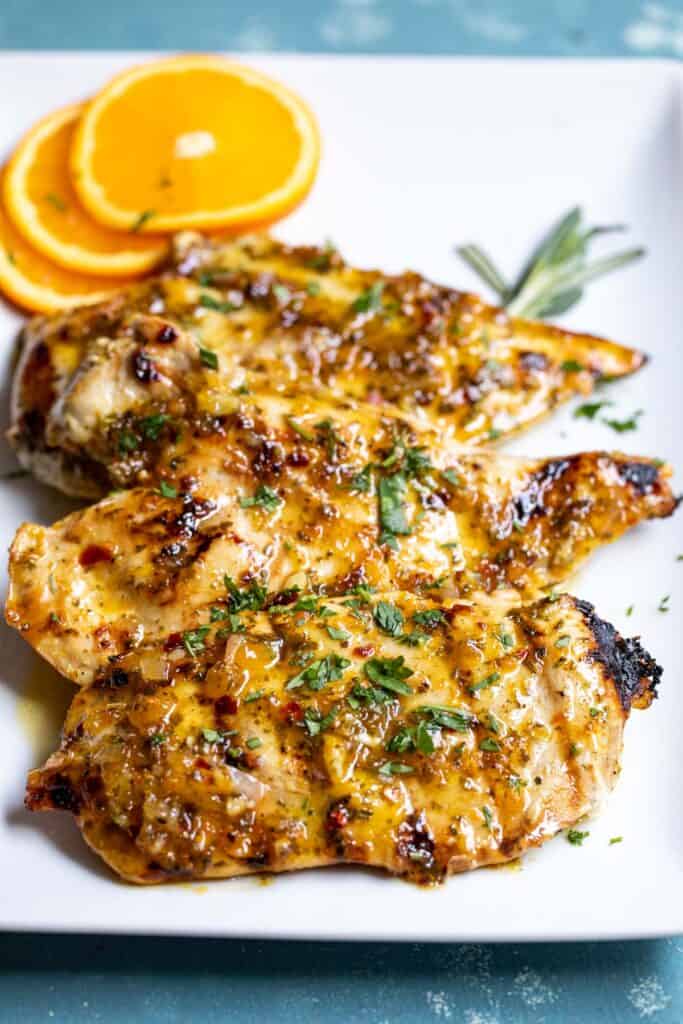 How to reheat leftover chicken
Sometimes I'll shy away from the microwave for leftovers, but to be honest, this chicken reheats really nicely in the microwave. Just place chicken on a microwave-safe plate or bowl and reheat it on high for 45-60 seconds. Then slice and serve!
Leftover grilled chicken will keep in the fridge for 3-4 days without a problem.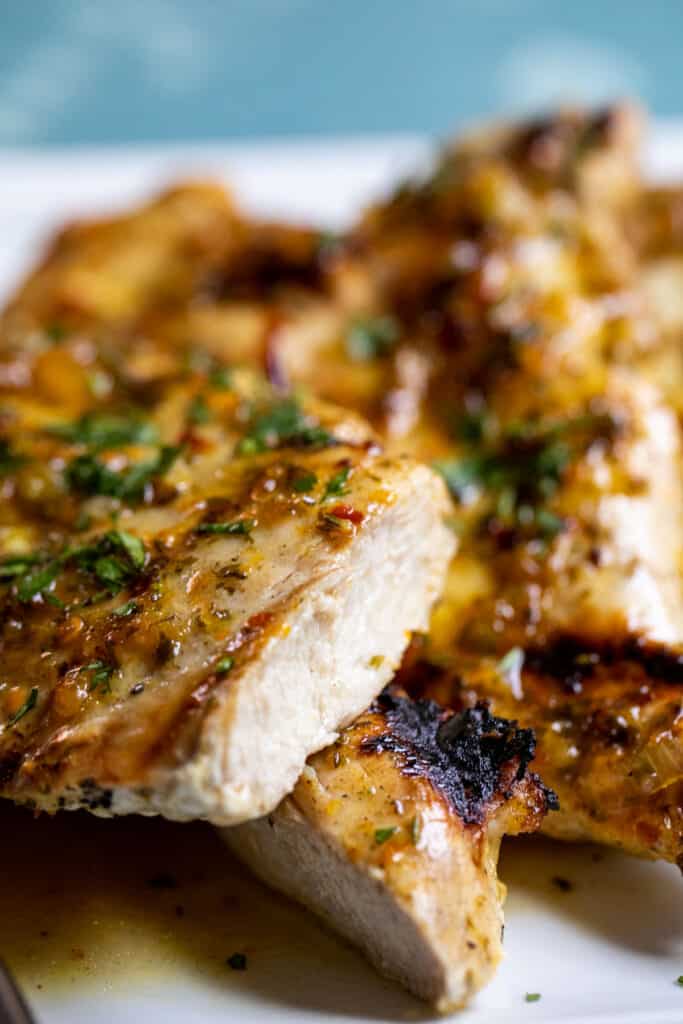 Grilled Citrus Chicken with Glaze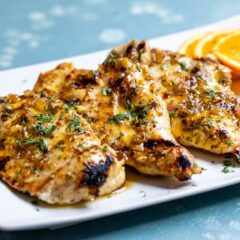 Ingredients
1 ½ – 2

pounds

chicken breasts

1

cup

fresh orange juice

1

tablespoon

Orange zest

1

large lemon

,

juice + zest

2

large limes

,

juice + zest

4

cloves

garlic

,

minced

2

shallots

,

minced

½

cup

olive oil

2

tablespoons

brown sugar

½

teaspoon

salt

½

teaspoon

pepper

1

tablespoon

fresh rosemary

1

tablespoon

dried parsley

1

teaspoon

red pepper flakes
Citrus glaze:
½

of the marinade

2

tablespoons

honey
Instructions
For Marinade:
Zest and juice fresh fruit and then stir together with other ingredients: garlic, shallot, olive oil, sugar, salt, pepper, rosemary, parsley, and red pepper flakes.
For Chicken:
If using chicken breasts, lightly pound the breasts or butterfly them in half so they are a more even thickness. Then add to HALF of the marinade recipe. Save the other half of the marinade for the citrus glaze.

Marinate the chicken for at least 30 minutes or up to four hours. Don't go longer than that or the chicken will start to break down too much from the acid.
Grilling the Chicken:
When ready to grill the chicken, preheat grill to medium-high heat and brush grates with some oil.

Grill chicken for 6-7 minutes per side until it reaches 165˚F in the thickest part of the chicken. Depending on the cut you are using, this time may vary so use a thermometer to make sure your chicken is cooked safely.

Brush chicken with glaze in the last minute or two of cooking if you are using.

Let the chicken rest for a few minutes before slicing and serving.
Glaze:
If you want to make the glaze, add half of the reserve citrus marinade to a saucepan with honey. Stir well and bring to a low simmer.

Simmer over low heat for 5-6 minutes until the glaze is thickened and coats a spoon.

Turn off heat and let cool. Then brush on chicken.

Note: if you are NOT making the glaze, you can half the marinade recipe.
Nutrition
Serving:
1
Chicken Breast
|
Calories:
811
kcal
|
Carbohydrates:
31
g
|
Protein:
86
g
|
Fat:
38
g
|
Saturated Fat:
6
g
|
Polyunsaturated Fat:
5
g
|
Monounsaturated Fat:
23
g
|
Trans Fat:
0.05
g
|
Cholesterol:
254
mg
|
Sodium:
768
mg
|
Potassium:
1764
mg
|
Fiber:
3
g
|
Sugar:
22
g
|
Vitamin A:
447
IU
|
Vitamin C:
65
mg
|
Calcium:
73
mg
|
Iron:
3
mg
Did you make this recipe?
Here are some other wonderful weeknight chicken dinner recipes to try!
If you are looking for some other quick chicken recipes to try for easy weeknight meals, check out this chicken and noodles recipe with crispy breadcrumbs. Also, this chicken alfredo penne is a go-to classic and my Ultimate chicken salad recipe is a guaranteed winner.
Want a whole roast chicken recipe? Try out this Palestinian Chicken from the Babish Cookbook!
If you're looking for a more lemon-packed and slightly simpler marinade, try this Lemon Garlic Chicken Skewer recipe from EatWell101!