Welcome to salad #4 in the Big Ass Salad series and this one is an instant winner for my house. It's a Roasted Carrot Salad with garam masala lentils and a bright coconut lime dressing.
In short, this one packs some flavor!
There are some tricks and tips to making this salad as good as possible and this salad does take a little longer than some of the others in the series because of the cooking time on the carrots and lentils, but nothing is hard and the salad keeps really well for days!
I doubt you've had a salad like this Roasted Carrot Salad, so you should probably try it!
What is the Big Ass Salad series?
I've been on a huge salad kick lately and wanted to create some huge salads that can be great for dinners, weekday lunches, or just whenever you are feeling in a meal rut!
That's the Big Ass Salad Series!
There are 10 salads in this series and I'll be posting all of them over the next few weeks.
Most of the salads are vegetarian, but not all of them. All of them are intended to be filling enough to not really need anything else alongside them.
How to cook lentils
I went through a phase a few years ago where I was making huge pots of lentils every week. Lentils are SO good and so easy to cook.
You don't have to presoak them like some other legumes, but it is a good idea to rinse them really well and also pick through them to make sure there isn't debris in the lentils.
Then add the lentils to some boiling water – I usually do 4 cups of water to 1 cup of lentil – but you don't have to be exact on it as long as you have a good mesh strainer.
Boil the lentils over low heat until they are tender, but not mushy, probably 18-20 minutes for brown lentils. Then Drain off any extra water and add them back to the pot with a drizzle of oil, some salt, and some garam masala.
These are GOOD, but as always it's a good idea to let them cool to room temperature before adding them to your roasted carrot salad.
Roasting carrots 101
Speaking of carrots, let's roast them. I went ahead and peeled mine, but if I'm being honest, I'm not sure it was really worth it to peel them. You could probably just chop them up and roast them and be okay.
If your bunch of carrots has the greens attached, don't toss those! They are great flavor. Cut them off, rinse them well, and add the fronds of the carrots to your greens for this salad.
To roast the carrots, spread them out on a baking sheet with a drizzle of oil, some cayenne pepper, and a pinch of salt.
400 degrees F. for about 20 minutes will leave you with slightly charred, tender, and flavorful carrots!
Making the coconut dressing
The secret of all of these Big Ass Salads is making really good homemade salad dressings that bring all the flavors together.
For this roasted carrot salad, I went with a coconut dressing with cilantro, garlic, and lime. Nothing to fancy, but I could drink this stuff!
I used a food processor to blend this up, but you could also use a blender.
Roasted Carrot Salad with Lentils and Coconut Dressing
This huge roasted carrot salad features some of my favorite ingredients including garam masala lentils, goat cheese, walnuts, and a zippy coconut dressing. Great for lunches!
Ingredients
1

cup

brown lentils

1

tablespoon

olive oil

1

teaspoon

garam masala

1

bunch

,

about a pound carrots, peeled and cut into matchsticks

1

tablespoon

olive oil

½

teaspoon

cayenne

½

teaspoon

kosher salt

4-6

ounces

goat cheese

½

cup

walnuts

,

toasted

1

small cucumber chopped

5

ounces

mixed greens
Coconut dressing:
1

14 ounce can coconut milk

½

lime

,

juice only

1

clove

garlic

½

cup

fresh cilantro

,

lightly packed

¼

teaspoon

Salt
Instructions
For dressing:
Add coconut milk, garlic, cilantro, lime juice, and salt to a blender or food processor and blend until mostly smooth and the dressing is a light green color. Set aside.
For lentils:
Rinse lentils well and remove any debris in the lentils. Then add to a pot of boiling water (4 cups of water). Turn heat down to low and simmer lentils for 18-20 minutes until they are tender, but not mushy. Then drain lentils in a mesh strainer and add back to the pot with a drizzle of olive oil, garam masala, and a pinch of salt. Leave the lentils uncovered to cool.
For carrots:
Preheat oven to 400˚F. Peel carrots and cut into matchsticks. Add to a baking sheet (lined with parchment for easier cleanup). Drizzle with olive oil and season with cayenne pepper and salt.

Roast the carrots at 400˚F until they are tender and blistered in spots, about 18 minutes. Let cool before adding to the salad.
To finish the salad:
Add greens to a large bowl and top with diced cucumbers, walnuts, goat cheese, carrots, and lentils. Drizzle with coconut dressing and garnish with carrot tops if you have any from the carrots!

Leftover salad will keep well in the fridge for 4-5 days if it is undressed. Dressed salad will only keep for 1-2 days.
Nutrition
Serving:
1
Side Salad
|
Calories:
283
kcal
|
Carbohydrates:
23
g
|
Protein:
14
g
|
Fat:
16
g
|
Saturated Fat:
4
g
|
Polyunsaturated Fat:
5
g
|
Monounsaturated Fat:
5
g
|
Cholesterol:
9
mg
|
Sodium:
371
mg
|
Potassium:
482
mg
|
Fiber:
11
g
|
Sugar:
2
g
|
Vitamin A:
692
IU
|
Vitamin C:
11
mg
|
Calcium:
68
mg
|
Iron:
3
mg
Did you make this recipe?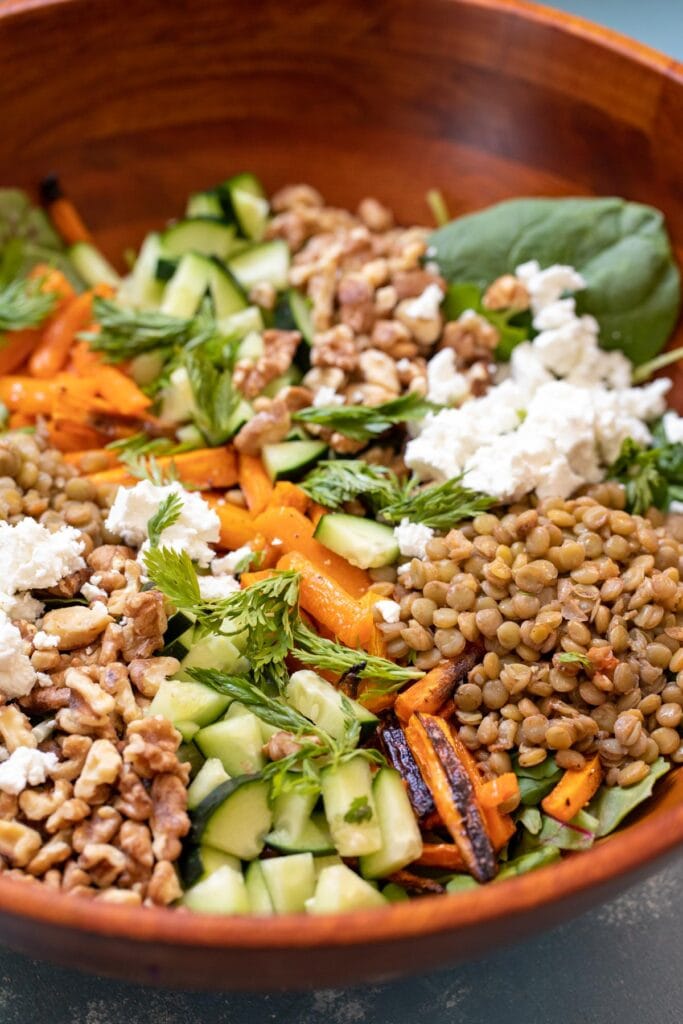 A few substitution ideas for this salad
All of these big ass salads are flexible. Here are some ideas on substitutions for this roasted carrot salad.
Ditch the carrots altogether for some roasted fennel or beets.
Instead of lentils, try a different grain like farro, quinoa, or even brown rice.
Any nut will do well here if you don't have walnuts. You just want something crunchy.
The goat cheese is optional or substitute it with a cheese like feta.
Storing this roasted carrot salad for later
This salad keeps really well in the fridge for 4-5 days as long as you don't dress the whole salad.
Once you do dress the salad, it'll keep for a day or two but then starts to get pretty sad.
Here are a few other great carrot recipes to try!
My family eats a lot of carrots. Here are some of my favorite ways to use carrots in a variety of ways!