The first time I had chicken avgolemono soup was many years ago and was served by a small Greek woman in DC out of a cart. I didn't quite understand what was happening with the soup and I could've went through a few dozen guesses at ingredients in the soup before I got to the main one: Egg.
There isn't a lot of ingredients in this soup. It's all about technique, but it's not hard. It's actually a great practice recipe for tempering eggs because even if it goes slightly wrong and you end up with some egg chunks in your soup, that's no big deal. Egg drop soup is also a thing after all.
But ideally, the soup will be creamy smooth and spiked with lots of lemon juice and zest for a bright flavor that cuts through the creaminess of the soup. This is a shortcut version of the classic recipe, which would involve making stock from scratch, but the shortcuts make it perfect for a weeknight meal.
As the weather cools down I think of this as a perfect lighter soup to bring in the fall season!
Easy Chicken Avgolemono Soup
This Greek Chicken creamy soup takes only about 30 minutes to make and is the perfect bridge soup between summer and fall. YUM!
Ingredients
1

pound

shredded chicken

4

cups

chicken stock

½

cup

orzo pasta

4

large eggs

1

large lemon

,

zest and juice

1

15 oz.

can Cannellini beans

Salt and pepper

Lemon zest

,

garnish
Instructions
To prepare add-ins for soup, shred chicken and drain and rinse can of beans. If you can't find a rotisserie chicken, you can poach a pound of chicken breasts in lightly salted water for 12-15 minutes until cooked through. Then let cool slightly and shred.

In a medium/large pot, add chicken stock and bring to a slight simmer. Add orzo pasta and cook until tender with the pot slightly covered. You want the stock to reduce slightly while the pasta cooks.

Meanwhile, whisk eggs in a bowl until light and frothy, a few minutes. Whisk in lemon juice and lemon zest.

When pasta is cooked, scoop off 1 cup of hot chicken stock and slowly whisk it into the egg mixture to temper the eggs and raise their temperature slowly.

Once the eggs are tempered, slowly drizzle them into the soup, whisking constantly, over low heat. Once eggs are added, stir in beans and chicken and let the soup thicken for a minute. Don't let it boil or the eggs will curdle.

Season soup with salt and pepper and serve, garnished with lemon slices and/or lemon zest or fresh herbs.
Nutrition
Serving:
1
Bowl
|
Calories:
416
kcal
|
Carbohydrates:
25
g
|
Protein:
43
g
|
Fat:
15
g
|
Saturated Fat:
4
g
|
Polyunsaturated Fat:
3
g
|
Monounsaturated Fat:
6
g
|
Trans Fat:
0.02
g
|
Cholesterol:
256
mg
|
Sodium:
493
mg
|
Potassium:
651
mg
|
Fiber:
1
g
|
Sugar:
5
g
|
Vitamin A:
297
IU
|
Vitamin C:
15
mg
|
Calcium:
57
mg
|
Iron:
3
mg
Did you make this recipe?
Chicken Avgolemono Soup
The classic version of this soup is literally just pasta, chicken, lemon, eggs, stock. I took a small liberty here and added a can of cannellini beans as well. Why? Well, I think they help turn the soup into a more fleshed out meal.
Also, my kids like beans and I knew they would eat more if there was a few in their bowl.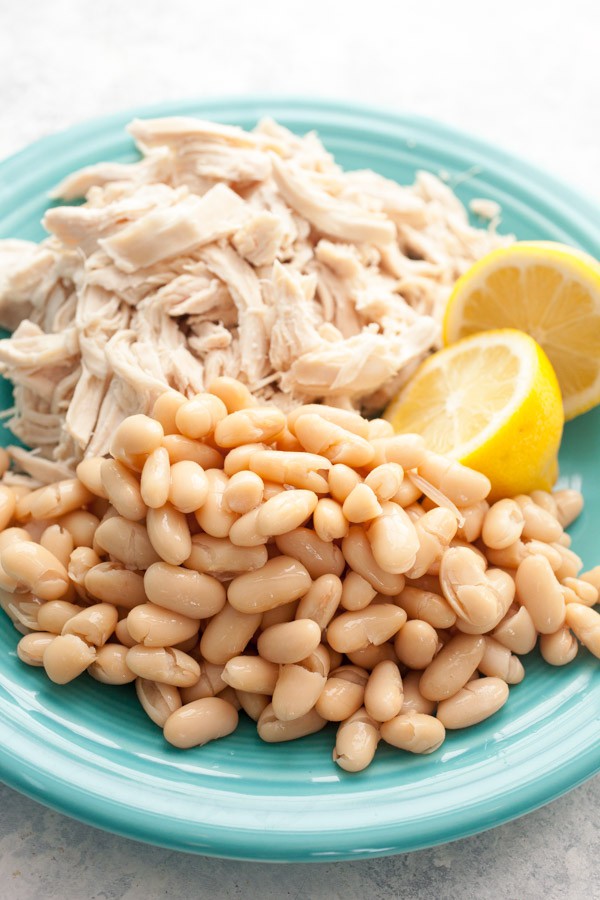 To start the soup, cook the orzo in the stock. You want the stock to reduce a bit during the cooking so don't cover the pot completely while it cooks.
Meanwhile, whisk your eggs until they are frothy and light. Add in the lemon and zest and you'll feel like you are making some sort of sugar-free lemon ice cream.
Now for the gutsy part: Tempering the eggs! Scoop out about a cup of the hot chicken stock and slowly whisk it into the eggs. Then slowly whisk the hot egg mixture back into the soup! Do this off the heat or over very low heat.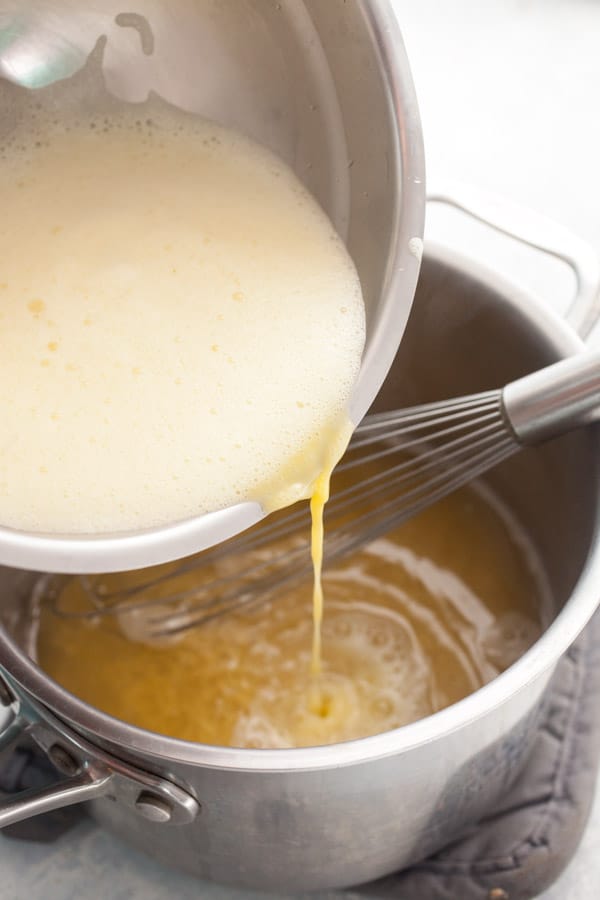 Then you can stir in the chicken and beans! If you did it right, the soup will thicken slightly (not like pudding). Also, if you did it right, there won't be any egg chunks in the soup. This is a bit ambitious if it's your first avgolemono try. You'll probably have a few egg chunks and that's fine! It's still good.
This chicken avgolemono soup is the perfect example of simple ingredients treated with an interesting technique that leads to something really delicious.
One note on this soup: I found that when reheated, you get much more cooked egg in the soup. It's creamiest right at the beginning and if you cool and reheat it, it still tastes good, but loses some of its texture.
Here are a few other easy soup recipes!