If you're like me, you sometimes find yourself in a pasta slump. It can be hard to get dinner on the table during the week and the go-to jarred pasta sauce is always right there. If you need a change-up in that plan though (and who doesn't?) then you have to try this Easy Carrot Pasta Sauce!
It's amazing how some ingredients can completely transform when you use a lot of them and cook them slowly, with love. Carrots are one of those things. They get caramelized and really balance out any acidity that can be in normal pasta sauce. It's truly special. Plus, who doesn't love that bright orange color?!
What does adding a carrot to sauce do?
Pasta sauce made with tomatoes can be really delicious, but it can also be very acidic if it isn't cooked correctly. A lot of times pasta sauce makers will use sugar to balance out that acidity which can lead to a kind of fake sweetness in the sauce.
Carrots, when cooked slowly and caramelized and then blended together, the finished sauce has a wonderful naturally sweet taste with a deep and rich flavor.
It also is a great base for other flavors like fresh herbs, spicy peppers, and parmesan cheese. After making this a few times, it's possible that I like more than a standard tomato sauce!
Ingredients that make this sauce special
There are not many ingredients in this pasta sauce, but each of them brings something great to the party.
Carrots. This goes without saying but you need a lot of carrots to make this sauce. You can use any bulk carrot for this.
Onions and Garlic. Like any good sauce, onions and garlic cloves are a great start for any sauce.
Olive oil. I like to use extra-virgin olive oil to start out this sauce. You could use other oils, but it's rich and a classic Italian pasta sauce starter.
Tomato paste. Rather than simmer down a bunch of tomato sauce, just a few spoonfuls of tomato paste gives the sauce a lot of flavor and some body as well.
Worcestershire sauce. This is kind of a secret ingredient for this sauce, but it adds a ton of umami to the sauce to balance out the sweetness of the carrots. You could also use soy sauce!
How to make carrot pasta sauce?
This sauce starts with olive oil in a large skillet. Peel and chop your carrots and add them to the skillet with onions. You want to give the carrots a lot of time to caramelize so they will need to sautee over medium heat for about 15 minutes until they are nicely browned on the edges. It's okay if they still crunchy in the center as they will simmer later and soften up.
Stir in the minced garlic and cook for a minute or two and then add the tomato paste. Cook that down for a few minutes and then add the vegetable stock. Stir that together and add your Worcestershire sauce. Bring the sauce to a simmer, cover, turn heat down to low, and simmer for about 10 minutes until the carrots are very tender.
Now it's time to blend the sauce! You can use an immersion blender in the pot if you have one or you can transfer the sauce to a traditional blender and blend that way. Just make sure to cool the sauce slightly to avoid hot splattering sauce. The finished puree will be very creamy.
When you are ready to finish your pasta, boil your pasta (I like penne pasta) in salted water. Then add the pasta to a skillet with the carrot sauce and a splash of pasta water. Finish cooking the pasta in the skillet and then serve it with parmesan cheese!
Making this carrot sauce in a pressure cooker or slow cooker
While I like to make this in a high walled skillet or pot, you can make it in a slow cooker or pressure cooker. The key step though is to make sure you caramelize the veggies first and then add them to the cooker with liquid. In a pressure cooker, you'll just need to cook the sauce for five minutes.
In a slow cooker, you could cook the sauce for 4 hours on low and then blend it up and keep it warm until needed!
What kinds of pasta work with this pasta sauce?
Any pasta will work with this carrot pasta sauce, but I like larger pastas that really hang onto the sauce. Penne pasta is my personal favorite since it's always available and easy to cook.
The key with whatever pasta you use is to pull it a minute before it's al dente and then finish the cooked pasta in the skillet with the carrot sauce.
Making this sauce in advance
This carrot pasta sauce is absolutely beautiful to make in advance. It stores fine in the fridge for 4-5 days and freezes absolutely perfect. You could keep it in the freezer for up to six months and just thaw it when you wanted to make a delicious carrot pasta.
Easy Carrot Pasta Sauce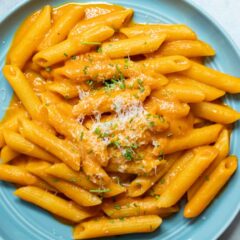 This easy carrot pasta sauce is a classic Italian sauce that is delicious served over pasta.
Ingredients
2

tablespoons

olive oil

½

yellow onion

,

diced

4

cloves

garlic

,

minced

1

pound

carrots

,

peeled and chopped

2

cups

vegetable stock

2

tablespoons

tomato paste

1

teaspoon

worcestershire sauce

½

teaspoon

salt

½

teaspoon

black pepper

¼

teaspoon

red pepper flakes

1

pound

penne pasta

,

al dente

Parmesan cheese

,

garnish

Chives

,

garnish
Instructions
In a large pot or skillet, add olive oil over medium heat. Add carrots and onions and cook for 10 minutes until carrots start to caramelize and brown. Then add garlic and tomato sauce and stir together for a minute. Add stock and Worcestershire sauce and bring to a simmer. Turn heat down to low, cover, and simmer until carrots are tender, probably another 10 minutes.

Blend the sauce either with an immersion blender or slightly cool the sauce and then transfer to a traditional blender and blend until completely smooth.

Cook penne until slightly less than al dente in salted water.

Drain penne, reserving some pasta water. Add carrot sauce to a large skillet and add penne. Pour in 1/2 cup of reserved pasta water and toss together until combined and then penne is tender.

Taste the sauce and adjust seasoning if it needs a pinch of salt.

Serve penne garnished with Parmesan cheese and chives.
Nutrition
Serving:
1
plate
|
Calories:
369
kcal
|
Carbohydrates:
68
g
|
Protein:
11
g
|
Fat:
6
g
|
Saturated Fat:
1
g
|
Polyunsaturated Fat:
1
g
|
Monounsaturated Fat:
4
g
|
Sodium:
621
mg
|
Potassium:
498
mg
|
Fiber:
5
g
|
Sugar:
7
g
|
Vitamin A:
12904
IU
|
Vitamin C:
7
mg
|
Calcium:
51
mg
|
Iron:
2
mg
Did you make this recipe?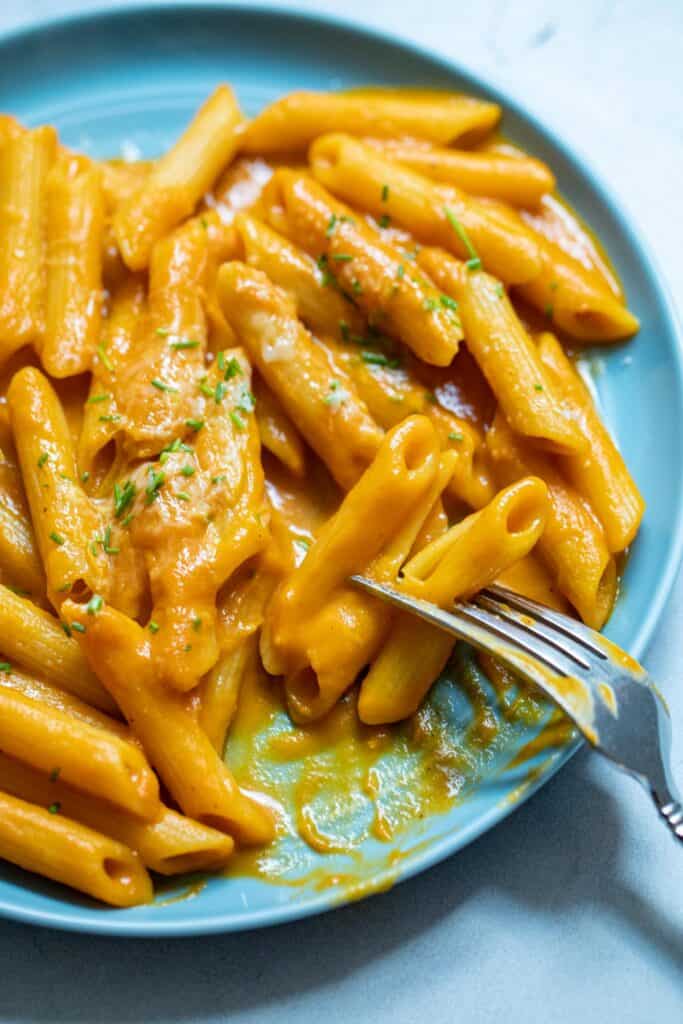 Here are a few other great Italian Dinner recipes to try!
If you're in a dinner rut, check out my 13 best weeknight chicken pasta recipes for a great bunch of ideas. If you can still find a good butternut squash, this butternut squash pasta toss is a great option and has similar flavors to this carrot pasta. For something completely different, check out this Melon Pasta Salad which is great for a spring picnic. For a different color, check out this Broccoli Pasta from RecipeTin Eats!