Carrot Coconut Soup is the answer. The question: What is the first freezer meal someone should make?
There are oh so many reasons for this. For starters, soup can be fairly cheap to make so worst-case scenario you won't be out a bunch of money if it turns out not to work. But don't worry. It will work.
This carrot soup recipe is also easy to make in huge batches. Whether you are making two servings of soup or ten, it's essentially the same amount of time and work.
Because soup is a liquid, it also freezes really nicely and reheats perfectly. The one exception to this is cream-based soups. Most of the time they will work, but I've heard the occasional story of cream soups curdling when you reheat them.
Most stock-based soups are good to go for many months in the deep freeze though. So get to blending!
Carrots: To Peel or Not to Peel
I go back and forth on whether or not I peel carrots. Many times I'll just scrub them really well and call it a day. For some reason I decided to peel them on this day, but I'm not sure that it's necessary. The carrot skin is so thin and it would get pureed with everything else without too much issue. The time it takes to scrub or peel though is sort of a wash.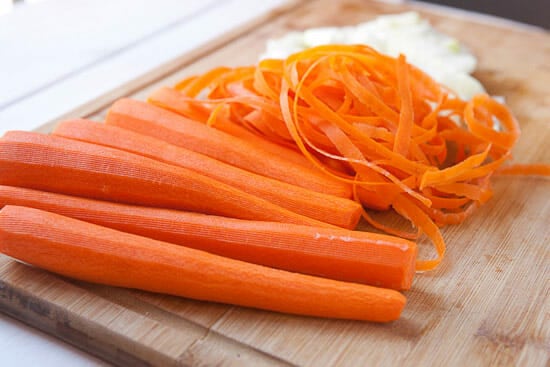 Instructions for this carrot coconut soup
Chop the carrots roughly and add them to a sturdy pot or dutch oven with some butter (or olive/coconut oil). Cook these over medium heat until they start to soften and brown (8-10 minutes) and then add the curry powder and onions. It'll start smelling good.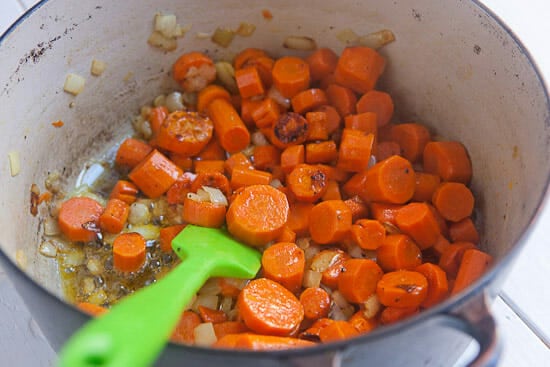 Notice in the above photo that some of the carrots have been browned. That's good stuff. That caramelization is great flavor.
Once the onions cook down a bit, add about half of the vegetable broth and use the liquid to scrape up any bits stuck to your pan. Then add the rest of the stock and the coconut milk. Bring this all to a lovely simmer and let it cook for about 15 minutes.
If you've ever read a soup recipe on this site you'll know that I always warn against blending hot liquids. It really is best to let the soup cool and then blend it in batches to avoid hot splatters everywhere.
If you make enough soups, grabbing an immersion blender is probably a good investment because then you can just blend the soup in the pot. Clean-up is easier and you don't have to wait for it to cool down!
Once the soup is blended, season it with chili sauce and salt and pepper. I gave a really wide range for the chili sauce amount in this soup. Two tablespoons is a good start for a little heat and chili flavor, but please do up that amount if you are a chili fan.
If you're serving it right away, spoon it up and garnish it with fresh cilantro!
What to serve with this soup
There are many options for serving with this soup. It's great on its own, honestly, or you can serve it with some good crusty garlic bread. I actually think it would be great with this savory monkey bread if you wanted to go way over the top!
Other options for over-the-top servings might be these Garlic Cheddar Pretzel Knots!
For a sandwich serving option, I might try this Parmesan Grilled Cheese! or these baked coconut chicken tenders would go with the coconut flavors!
Substitutions and Ideas
Soup is one of the more flexible recipes you can make. Feel free to change this one or add to it to suit your needs. Here are a few ideas!
Add some curry to the soup for a spicier and deeper flavored soup. A tablespoon of red curry paste would get the job done as a starting point.
Add other spices to amp up the flavors. Turmeric, cumin, or lemongrass would all work well in this soup.
Add some citrus to the soup with limes zest or fresh lime juice!
Freezing the Soup
If you're freezing the soup (which I highly recommend), let it cool to room temperature and then transfer it to quart-sized freezer bags (the sturdy ones please). Freeze these flat and then they stack nicely in your fridge!
Reheating the soup is easy. Let it thaw slowly or dunk it in warm water for a faster thaw. Then heat the soup on the stovetop!
It's a simple carrot coconut soup, but the flavors are great and it's filling. This plus a hunk of crusty bread and I'm all set!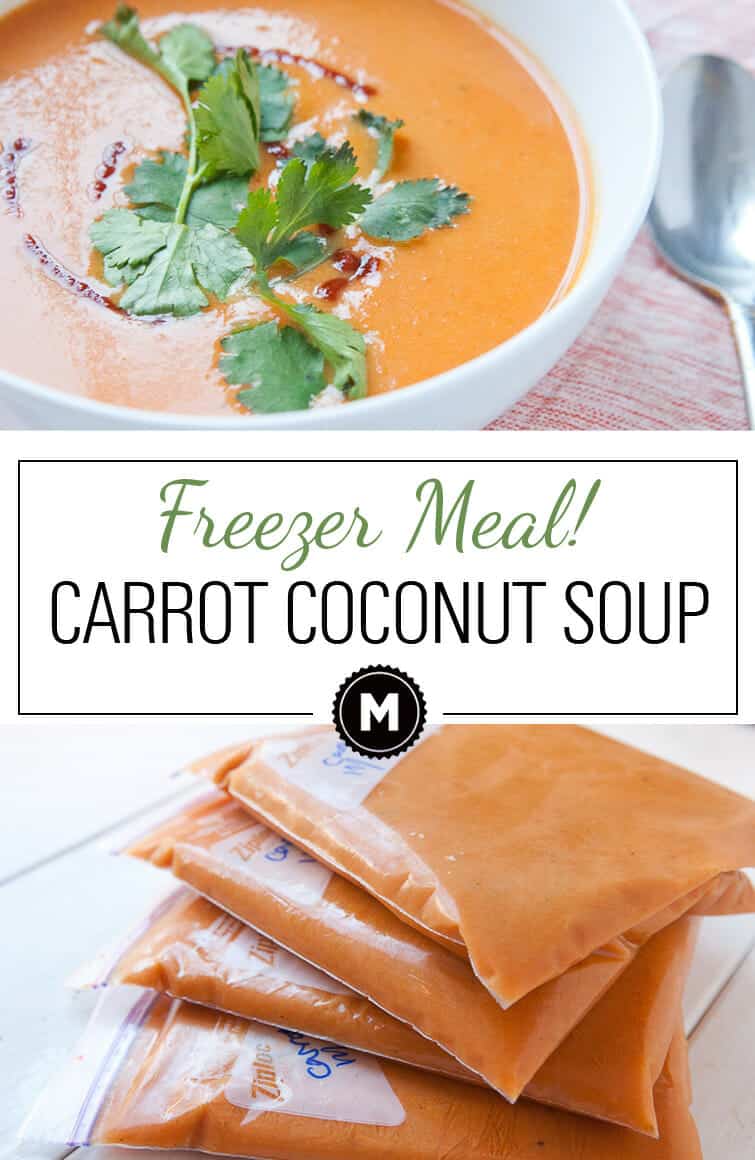 Carrot Coconut Soup
A full flavor carrot coconut soup that is perfect for a winter freezer meal. The soup reheats perfectly and is rich and delicious.
Ingredients
½

cup

unsalted butter

2

pounds

carrots

,

chopped

1

large yellow onion

,

diced

1

tablespoon

curry powder

1

quart

vegetable stock

2

15 oz. cans coconut milk

2-4

tablespoons

chili sauce

,

sriracha

Salt and pepper

Cilantro

,

garnish
Instructions
In a large, sturdy pot like a Dutch oven, melt butter over medium heat. Then add peeled and chopped carrots. Season with curry powder and salt and pepper. Cook until carrots soften and start to brown on the edges.

Add diced onions and cook for a minute or two. Then add about 2 cups of vegetable stock and use the liquid to scrape up any bits. Then add the rest of the stock and bring to a simmer.

Add coconut milk and simmer for 15 minutes.

Remove soup from the heat and let cool. Then blend until smooth (or use an immersion blender). Once smooth, return the soup to the heat.

Season the soup with salt and pepper and chili sauce. Serve garnished with cilantro.

For freezing: Cool soup completely and transfer to quart-sized freezer bags. Lay soup flat and freeze until solid. Reheat soup by thawing and then reheating in the stove top or on the microwave.
Nutrition
Serving:
1
bowl
|
Calories:
166
kcal
|
Carbohydrates:
15
g
|
Protein:
2
g
|
Fat:
12
g
|
Saturated Fat:
7
g
|
Polyunsaturated Fat:
1
g
|
Monounsaturated Fat:
3
g
|
Trans Fat:
0.5
g
|
Cholesterol:
31
mg
|
Sodium:
604
mg
|
Potassium:
412
mg
|
Fiber:
4
g
|
Sugar:
7
g
|
Vitamin A:
19584
IU
|
Vitamin C:
8
mg
|
Calcium:
48
mg
|
Iron:
1
mg
Did you make this recipe?
Here are a few other great recipes to try!