Welcome to Spring Cookbook Week on Macheesmo! I'll be posting recipes from five cookbooks this week and giving away copies! All winners will be announced next Friday (06/05).
Well, the moment has finally arrived where the nutritional needs for Theo have started to shift from Betsy to me. He'll still get most of his food from momma, mainly because he's absolutely terrible at eating, but slowly and surely he'll start eating solid foods now!
I've had a bunch of people email me since Theo's birth saying they can't wait until he can eat solids so they can see all the fun baby foods I come up with! Well, I'm excited for that too, but to be honest, it's also a bit scary. I've heard that at some point you can just puree whatever you are eating and give it to them, but I wanted a bit more guidance as I started exploring baby foods.
So, while it might not apply to everybody out there, I wanted to add a baby food cookbook to Cookbook week! The Best Baby Foods was recently released and the publisher offered to send me a copy to test out on the dude.
We are starting slow with the solids and Theo only has a few under his belt at the moment: Rice cereal, avocado, and this easy and actually delicious carrot puree!
It's barely a recipe but easy to make and you can make about a gallon of it for what carrot baby food costs in the stores.
Roasted Carrot Baby Food
Roasted carrot baby food is a great first food for babies! It's easy to make and keeps well either in the fridge or freezer!
Ingredients
1 ½

cups

carrots

1

cup

water
Instructions
Preheat oven to 300 degrees F. Cut carrots into 1 inch pieces. Optionally toss with about a tablespoon of olive oil.

Roast carrots for 30 minutes until tender.

Add carrots to blender with 1 cup water. Puree until smooth.

Store carrots in the fridge for 5 days or freezer for up to a month.
Nutrition
Serving:
4
tbsp.
|
Calories:
13
kcal
|
Carbohydrates:
3
g
|
Protein:
0.3
g
|
Fat:
0.1
g
|
Saturated Fat:
0.01
g
|
Polyunsaturated Fat:
0.03
g
|
Monounsaturated Fat:
0.003
g
|
Sodium:
22
mg
|
Potassium:
102
mg
|
Fiber:
1
g
|
Sugar:
2
g
|
Vitamin A:
5346
IU
|
Vitamin C:
2
mg
|
Calcium:
16
mg
|
Iron:
0.1
mg
Did you make this recipe?
Carrot Baby Food
Roasting Versus Boiling
When it comes to cooking carrots for a puree like this, you have two easy options: to roast or to boil. It's a personal choice and both work fine. Personally, I like to roast them. I think the carrots taste better roasted instead of boiled, but there's no wrong answer.
I used some fun multi-colored organic carrots for this version.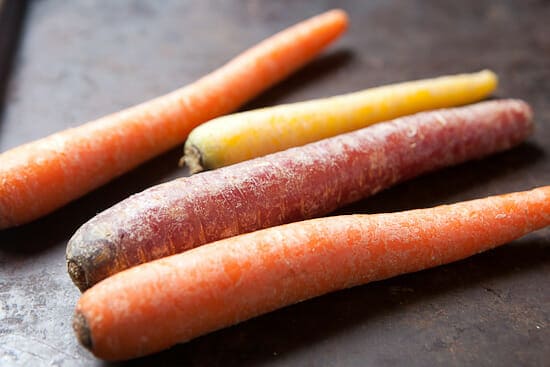 If you're roasting, just chop them up into about 1-inch pieces. I even left the skins on since they are all going in the blender anyway.
One thing I didn't do was toss them in olive oil. This would be a normal step for me any time I roast a veggie, but I didn't want to introduce that to Theo just yet so I just roasted them naked. In a month or two, I'll remake this and add some oil probably.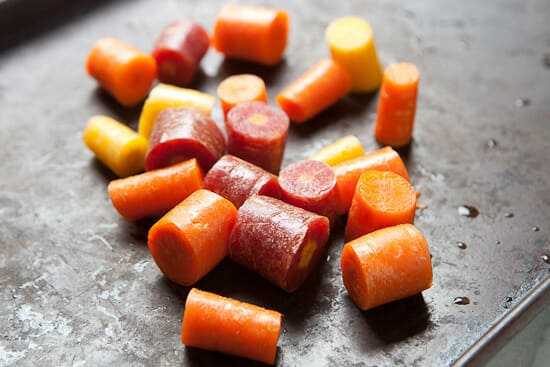 Roast the carrots for about 30 minutes at 300 degrees. You don't want them to take on a lot of caramelization which would be harder to puree. But, they should be super soft.
Then you can just toss them in a blender with some water!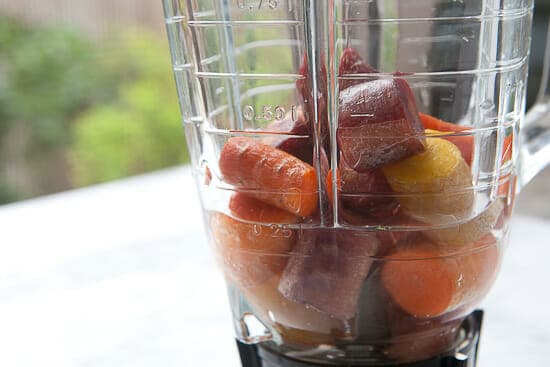 Run that sucker until it's in a smooth puree. Try to get out as many lumps as possible.
This was my finished blender view. I just love the dark orange color of these carrots.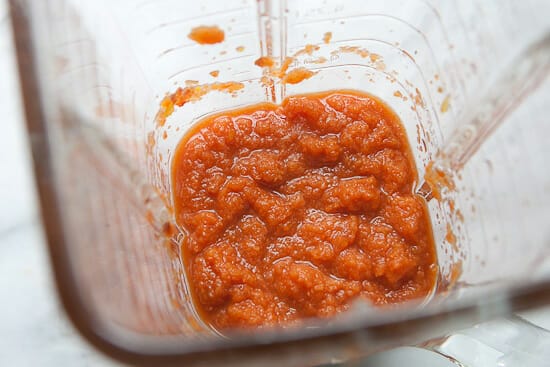 Carrot Baby Food Storage
Theo likes food as much as the next baby but he isn't eating all of this in one sitting. I find it easiest to freeze this and keep it in small portions so it thaws quickly.
You can either freeze it in an ice cube tray or just pour it into a freezer bag and use a few chopsticks to space out your portions. Press down on the sticks and it'll make little creases that you can then later break apart.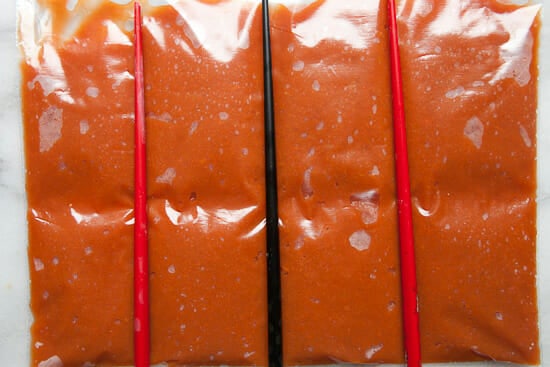 The hardest part about this recipe? Getting Theo to hold still while I snapped a picture. The kid hates to be in focus.