No, I haven't started talking in the third person. This isn't my Greek Tomato Salad recipe. Betsy's brother-in-law also shares my name and this is his lovely recipe that I always look forward to when we are together.
And just so there is no confusion: if you vacation with me, I will absolutely, unabashedly steal your recipes. Especially if they are this good and this easy.
I can't help myself. I have to peer over shoulders… taking mental notes… only to rush home and reproduce it as best I can.
What makes this salad so wonderful is using the ripest tomatoes you can find. The juice from the tomatoes helps flavor the dressing, which is mostly just red wine vinegar and a lot of it.
Don't let August tomatoes go by without making this simple greek salad.
Ingredients in this Tomato Salad
Don't get too caught up by the amounts in this Greek Tomato Salad. 3-4 tomatoes is about right though and I wouldn't add too much more onion to the salad. It's all extremely flexible though.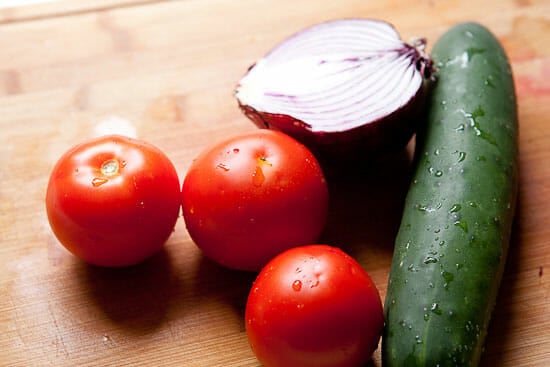 Ripe tomatoes are the key. Don't even bother trying to make this Greek Tomato Salad in February.
Make it now. Today. With bright red, juicy tomatoes.
A little trick I learned from Nick while I sleuthed the recipe out of him is to take a fork and run it down the sides of the cucumber before you slice it.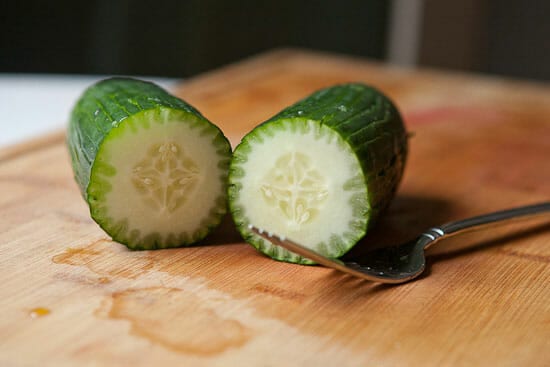 Not only does this make your cucumber beautiful, but it lets the dressing penetrate the cucumber a bit easier.
Then chop it up!
For this salad, you can chop roughly. You want the vegetables to be chunky.
The Tomato Salad Dressing
There is nothing fancy about the dressing for Tomato Salad. It's olive oil and red wine vinegar. You want a lot of vinegar as it makes the flavors really pop in the salad.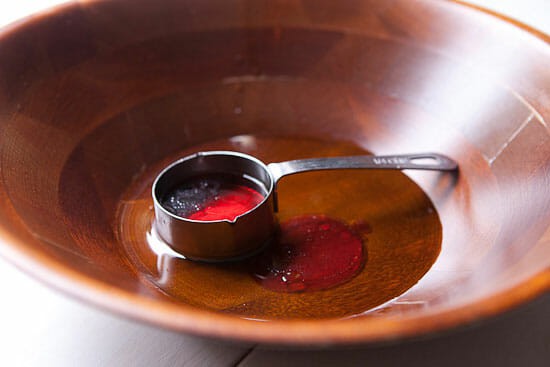 In fact, I recommend splashing on a bit more before serving, but that's just me.
Once you whisk together the oil and vinegar, add the cucumbers and onions and toss them together. Season it with a pinch of salt at this point.
Use a big pinch of kosher or sea salt while seasoning. This salad lives and dies by vinegar and salt.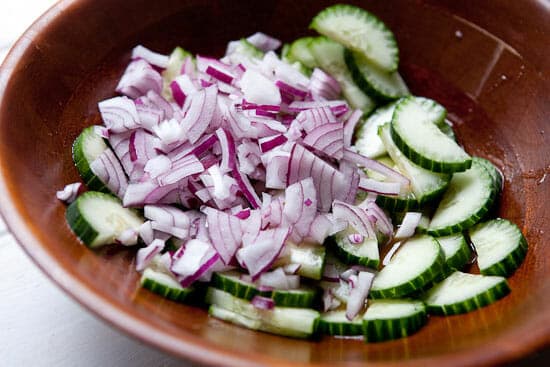 Then add those beautiful tomatoes. As the Greek tomato salad sits, the tomatoes will lose some of their liquid, adding to the dressing.
On the day I made this, I planted some Greek oregano which is just perfect for a salad like this.
If you add fresh oregano, which is nice but optional, go very light on it. Oregano has a strong flavor and can quickly take over the salad.
Toss it together. More salt? More vinegar? You're done.
Substitutions and Ideas
The ideas of this salad is to keep it simple and fresh, but let's add some ideas just for fun.
If it is winter and you just must have this salad, use cherry tomatoes instead of out-of-season tomatoes. (This Pearl Couscous Salad with Burst Tomatoes is another great option for cherry tomatoes!)
Add some good kalamata olives or feta cheese as a flavor boost.
Drizzle good olive oil on top and add fresh basil.
This salad is the perfect side salad for a hot summer night.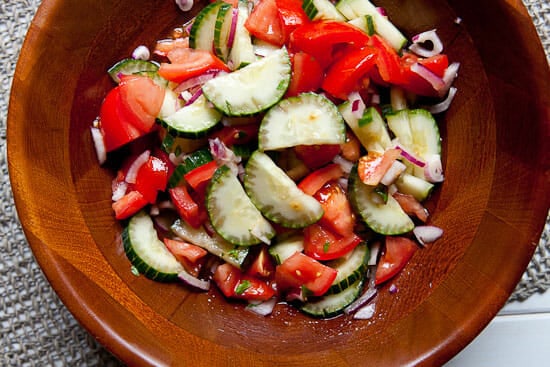 What to serve with this Greek tomato salad?
This is a simple and light salad that goes well with any number of entrees. I like it with a big loaf of garlic bread, for starters, like this Hasselback Garlic Bread. It's also good as a side dish for pasta like maybe one of these Chicken Pasta Recipes!
And, of course, it would be great as a side for gyro like these Lamb Gyros from Serious Eats!
Greek Tomato Salad
Greek Tomato Salad is a simple but super tasty Greek salad recipe that is really at it's best with the ripest tomatoes you can find.
Ingredients
3-4

ripe tomatoes

,

chopped

1

cucumber

,

chopped

½

red onion

,

chopped

1

teaspoon

fresh oregano

⅓

cup

olive oil

½

cup

red wine vinegar

1

teaspoon

kosher salt

Pinch

of black pepper
Instructions
In a large bowl, whisk together oil and vinegar and season with a big pinch of salt and pepper.

Run the tines of a fork down the side of a cucumber and chop into half rounds. Slice red onion into rough slices. Add cucumbers and onions to the bowl and toss to coat with dressing.

Roughly chop tomatoes and add to the bowl with any juice. Stir to combine.

Sprinkle fresh oregano over salad and season it to taste with salt and pepper. It's best to let this sit for a bit before serving. Toss it together before serving and don't be afraid to add another splash of vinegar.
Nutrition
Serving:
1
Side Salad
|
Calories:
131
kcal
|
Carbohydrates:
5
g
|
Protein:
1
g
|
Fat:
12
g
|
Saturated Fat:
2
g
|
Polyunsaturated Fat:
1
g
|
Monounsaturated Fat:
9
g
|
Sodium:
394
mg
|
Potassium:
239
mg
|
Fiber:
1
g
|
Sugar:
3
g
|
Vitamin A:
554
IU
|
Vitamin C:
11
mg
|
Calcium:
22
mg
|
Iron:
1
mg
Did you make this recipe?
What are some other great salad recipes to try?