Combining chicken and pasta in a meal is one of the very first things I ever learned how to make as a budding home cook. Pretty much every culture in the world has some combination of chicken and noodles and over the years I've tried dozens of different chicken pasta recipes! This is a summary of some of my favorite truly great (and easy) chicken and pasta recipes that are all doable almost on a whim.
Use the table of contents on the left to skip to the chicken pasta dishes that look good to you or just scroll through and get hungry!
Weeknight Crispy Chicken
This is my go-to weeknight chicken pasta recipe. If I'm struggling with dinner, this will be high on the list to make. It doesn't require a lot of ingredients and you make the sauce with onions, chicken stock, and cream, in the same skillet that you fry the chicken cutlets.
I like to use angel hair pasta with this recipe since it cooks so fast and really soaks up the sauce nicely.
Authentic Chicken Parmesan
In the opposite camp, I think it's worth mentioning this traditional Italian chicken pasta recipe since it's kind of a showstopper. Believe it or not I can make this on a weeknight, especially if I plan ahead. That said, it's probably best suited for a Sunday dinner.
Don't forget the briny olives and fresh mozzarella in this recipe. Those ingredients are my favorite additions to this authentic recipe.
Chicken and Noodles with Crispy Breadcrumbs
In the world of weeknight dinners, this is a really fun one and one that my kids now ask for. Keep in mind this isn't chicken and noodle soup. It's chicken and noodles. I like to even use a rotisserie chicken if I'm in a true rush and it turns out great. Just don't skip the crispy parsley breadcrumb toppings. It completely makes the recipe special.
Creamy Chicken Alfredo Penne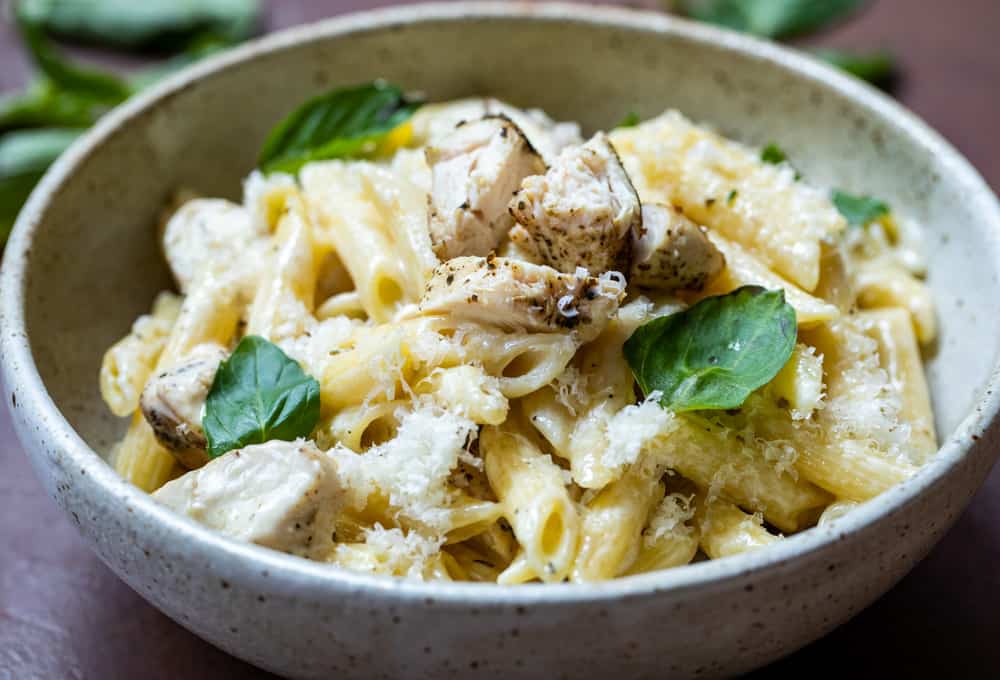 This is one of my favorite creamy pasta versions of chicken pasta recipes. When I was learning to cook, I would use store-bought alfredo sauce for something like this, but then I learned how truly easy homemade alfredo sauce is and haven't really looked back since. Go heavy on the garlic cloves and don't substitute the heavy cream for this recipe. Very important stuff and worth the calories. Serve this chicken alfredo recipe with penne pasta or any other short pasta shape that picks up sauce well.
Chicken Saltimbocca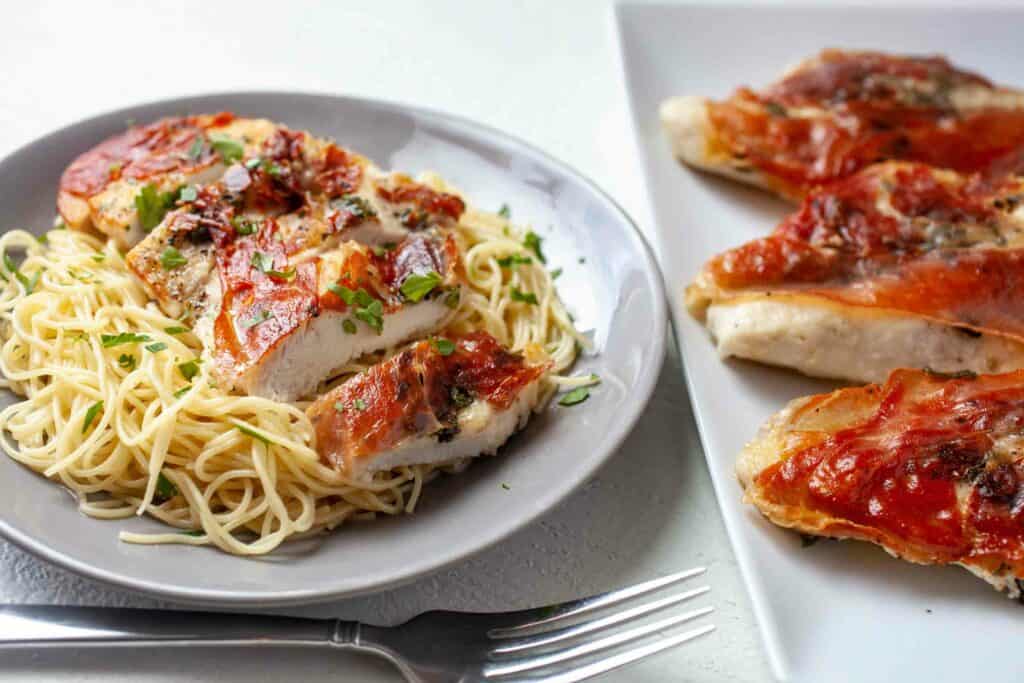 This is a lesser-known Italian chicken pasta recipe that feels a bit on the fancy side but is quite quick to make actually. I love the flavors in this recipe and it's way above your standard cooked chicken breasts recipe. What makes this recipe special is topping each chicken breast with a crispy layer of prosciutto which gets stuck to the chicken with a thin flour layer. Make a quick white wine pan sauce and serve the chicken over spagehtti!
Hoisin Chicken Soba Noodles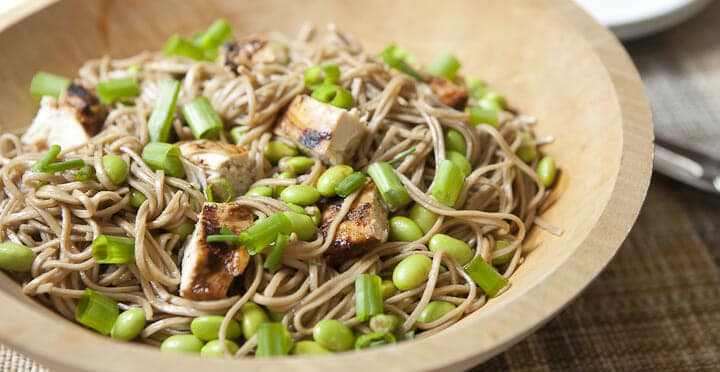 Traditioning to a more Asian-style chicken pasta recipe, this Chicken Soba Salad is always a favorite when I make it. You can make it with chicken breasts or chicken thighs. My preference is to grill the chicken after marinating it in the hoisin marinade.
Serve the whole thing with edamame and scallions over soba noodles (check out my soba noodles tutorial if you are afraid of lumpy soba noodles)!
Chicken Caesar Pasta Salad
Perfect for springtime, this is a nice smash-up recipe between pasta salad and chicken Caesar salad. The salad has Romaine lettuce, tomatoes, croutons, and a quick homemade Caesar salad that is made with mayonnaise, fresh lemon juice, and anchovies (obviously).
You could again use any cut of chicken in this recipe and roast it or grill it. I might even use a rotisserie chicken in a pinch!
Asian Chicken Noodle Salad
I look forward to making this noodle salad every single year. The basics are straightforward enough, but what makes it really special is a mango chutney dressing that is slightly sweet and spicy and sticks to the noodles and grilled chicken.
You could use a wide range of vegetables in this salad. I like green beans and scallions but some fresh baby spinach would be nice also.
Black Bean Chicken Pasta Salad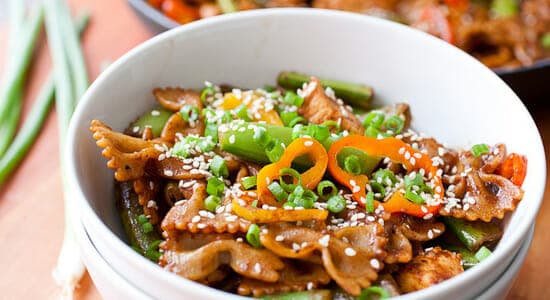 This recipe is kind of out there and I wasn't sure it would work when I first started working on it, but black bean paste is just such a versatile and wonderful ingredient that it brings the whole thing together. The key to this chicken pasta recipe is to use crunchy vegetables like peppers and green beans to bring the pasta to life. Some red pepper flakes and spices are nice to bring a little heat to the party also!
Chicken Mushroom Lo Mein
Noodle stir-fries are one of the first things I learned how to cook. This chicken lo mein recipe is exactly that – a beginner recipe that could be made by almost any home cook in just a few minutes! While it's easy, the sauce is made from scratch and a good way to build up a few Asian pantry staples.
Chicken Meatball Stir Fry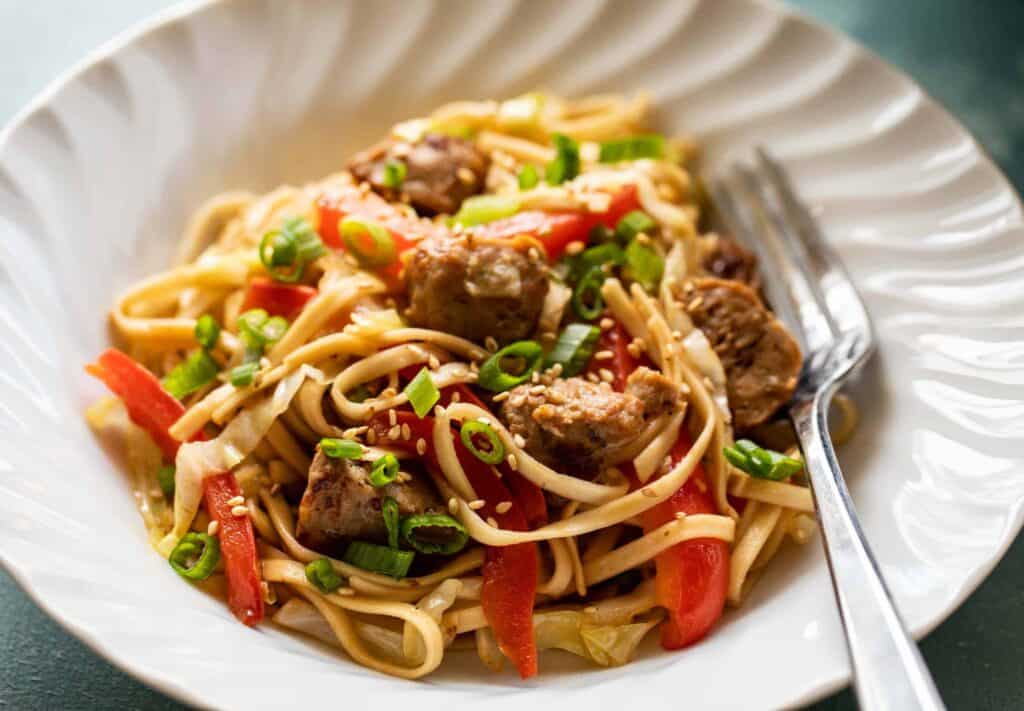 Normally I would make a stir fry like this with sausage meatballs, but the chicken meatballs are lighter and a nice change. While I used a specific brand of chicken meatball in this recipe, feel free to use whatever you can find.
Red peppers, cabbage, and udon noodles round out this stir fry and make it a full meal in one pot!
Chicken Piccata Pasta
This is a delicious chicken pasta recipe I made for Simply Recipes last year and sneaks into our weekly meal plan frequently. It ends up being quick because the pasta cooks while you pan fry the chicken. Just remember when you boil the penne to reserve a cup of the pasta water. The sauce uses the pan drippings from the chicken and some butter along with some chicken broth, but it's very important in this recipe to use some of the pasta water to bring the sauce together. Serve it with parmesan cheese, crispy breadcrumbs, or just fresh parsley!
Rotisserie Chicken Alfredo
Another easy homemade alfredo recipe that uses one of my favorite creamy chicken pasta recipe shortcuts: rotisserie chicken! Shred it and add it to the alfredo recipe for an easy and delicious meal. Serve it with your favorite garlic bread and a nice side salad!
Do you have a favorite weeknight chicken pasta recipe? Leave a comment with a link!