For me, summer is the season of light and quick pasta salads. I make them for everything. They work great as a light outside dinner during the week, or you can take them for work lunches, or take them to a picnic or barbecue. This Grilled Vegetable Pasta Salad is SO flexible and quick to toss together.
I find that these light summer pasta salads work best if you, first, avoid mayo or cream-based dressing. I know those are popular in supermarket pasta salad, but for a light meal I prefer a simpler dressing.
Second, you need the right ratio of pasta to add-ins. A pound of pasta is a lot and you would need to have a lot of add-ins to make it work. For recipes like this I like to use just eight ounces of pasta so this grilled vegetable pasta salad is nicely balanced, heavy on the vegetables, and feels lighter.
It's a quick recipe with not much preparation. Most of the cooking is done on the grill so you really only have to dirty one pot to cook this grilled tomato and corn pasta salad!
Ingredients I use in my pasta salad
The things you need to grill here are pretty straightforward.
Cherry Tomatoes. I like to toss these on a grill pan quickly until blistered. They go great in pasta salad.
Sweet corn. In the summer months when you can find really great corn, use it in salads like this any chance you can get! I recommend shucking the corn so the kernels can get a bit blistered on the grill. Drizzle everything with olive oil and a pinch of salt.
Mini Mozzarella. I like this salad to have some creamy cheese in it and tiny mozzarella balls are easy to stir in. If you can't find them you could just cube up a larger ball of fresh mozzarella into bite-sized pieces.
Fresh herbs. I used basil from my garden, but any light, fresh herb works well here from chives to parsley.
A light dressing like a vinaigrette. I used a light red wine vinaigrette for my version that works well without being too heavy.
Best way to grill vegetables
For salads like this grilled vegetable pasta salad, you want to grill your vegetables over HIGH heat. You can really blast them with heat. The tomatoes will need just a few minutes. You want them bursting but not mushy at all.
The pepper should be charred all over so the skin can be peeled later. The corn will take the longest (7-8 minutes) to get the right char. It's hard to overcook the corn.
Just remember when grill vegetables that the longer they sit on the grill, the more likely they are to fall apart and get mushy so I recommend high heat for a short amount of time until they just start to show some color.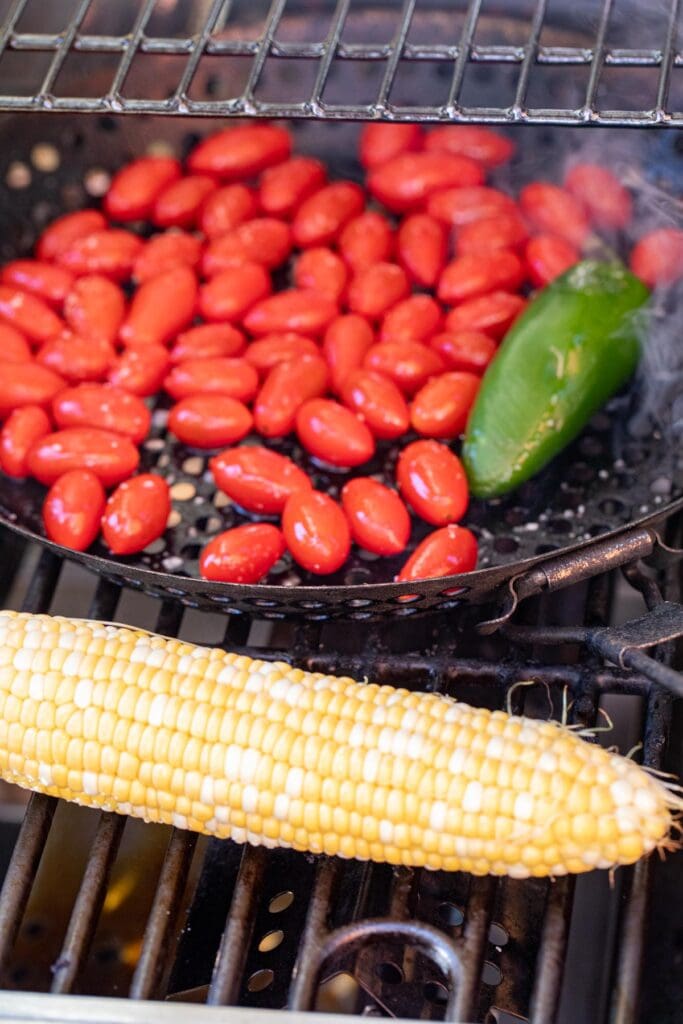 When the grilled veggies come off the grill, let them cool briefly before prepping them.
Cut the kernels off the corn, peel and dice the poblano pepper (adds a little heat to the salad) and you can just leave the tomatoes whole or cut them in half. Personally, I like to leave them whole.
Can you make this without a grill?
Well, sure! It kind of loses the spirit of the recipe, but if you just don't have access to a grill, you could spread out the vegetables on a baking sheet and broil them until they are blistered and charred. Just be sure to not over-roast the vegetables. They should be crisp-tender still when they come out.
Pasta that works for pasta salad
The only other thing you need to cook is the pasta! Any non-spaghetti will work for this pasta salad. You could use macaroni but I like bowtie pasta personally. In fact, I like the even smaller mini bowtie pastas for this salad.
Just make sure to boil the pasta in a large pot with salted water so it is seasoned well and don't overcook the pasta. When it's done, drain it well and rinse with some cold water to stop the cooking. You can toss the pasta with a drizzle of olive oil so it doesn't stick.
Making the dressing for this grilled vegetable pasta salad
This vinaigrette is about as easy as a dressing gets. I just whisk together some red wine vinegar with olive oil and a pinch of salt, pepper, and red pepper flakes. If you wanted a more complicated dressing you could add in some good dijon mustard. Drizzle the pasta with olive oil and red wine vinegar for a quick dressing and you're all set.
When everything is ready, add the grilled vegetables to a large bowl with cooked pasta. Toss in the mozzarella (I like the little fresh mozzarella balls) and drizzle in the vinaigrette dressing and fresh basil.
This grilled vegetable pasta salad is a super fresh and bright-tasting pasta salad.
Substitution ideas for this vegetable pasta salad
Oh the substitutions for this grilled vegetable pasta salad are many! Here are some ideas!
Use whichever vegetables you can find that look fresh and are good on the grill. This could be zucchini, yellow squash, asparagus, red onion, or even eggplant!
Switch up the cheese. While I like something creamy like mozzarella, you could go with a sharp cheese like Parmesan cheese or feta cheese as well.
Change up the pasta to a different shape of pasta. The rest of the recipe should remain the same.
Grilled Tomato and Corn Pasta Salad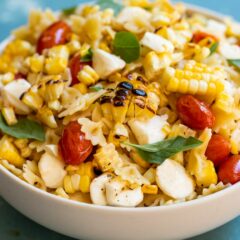 A perfect summer pasta salad with blistered grape tomatoes, charred sweet corn, and fresh mozzarella balls.
Ingredients
8

oz.

bowtie pasta

,

cooked

4

ears sweet corn

,

grilled

1

pint

grape tomatoes

,

grilled

1

poblano pepper

,

grilled

8

oz.

fresh mozzarella balls

4

tablespoons

olive oil

2

tablespoons

red wine vinegar

1

teaspoon

red pepper flakes

,

opt.

Fresh basil

,

garnish

Salt and pepper
Instructions
Cook bowtie pasta according to directions. Once cooked, drain and rinse with cold water to stop cooking.

Peel husk off of corn ears. Toss corn, tomatoes, and poblano with a drizzle of olive oil and season with salt and pepper. Grill veggies over HIGH heat until they are charred and blistered. Tomatoes will take 3-4 minutes, poblano, 5-6 minutes, and corn the longest at 7-8 minutes. Turn occasionally to make sure veggies are cooking evenly.

Remove veggies from the grill and let cool slightly. Peel poblano pepper and cut corn off the cob.

Toss veggies with bowtie pasta and add 3 tablespoons of olive oil and red wine vinegar. Stir in mozzarella and season with red pepper flakes, fresh basil, salt and pepper.
Nutrition
Serving:
1
bowl
|
Calories:
408
kcal
|
Carbohydrates:
44
g
|
Protein:
16
g
|
Fat:
19
g
|
Saturated Fat:
7
g
|
Polyunsaturated Fat:
2
g
|
Monounsaturated Fat:
10
g
|
Trans Fat:
0.01
g
|
Cholesterol:
30
mg
|
Sodium:
259
mg
|
Potassium:
505
mg
|
Fiber:
4
g
|
Sugar:
8
g
|
Vitamin A:
1197
IU
|
Vitamin C:
31
mg
|
Calcium:
211
mg
|
Iron:
1
mg
Did you make this recipe?
Here are a few other great salad recipes to try!