Being served a whole fish at a restaurant is a pretty special thing and restaurants charge a pretty penny if you order them. But, the other side of cooking whole fish is closer to what I was used to growing up. Catching fresh fish, bringing them home for cleaning, and cooking them the same night.
Cooking whole fish is actually humble (but delicious) fare and can be done cheaply and easily at home. The best way to cook a whole fish at home is actually to grill the fish! It produces a perfectly crispy skin and ensures your house doesn't smell too fishy after cooking.
Read on to learn all my tricks and tips for cooking delicious fish, at home, on the grill!
What Fish are best for grilling?
The short answer is that you can technically grill ANY whole fish that you can FIND that will fit on your grill. But, there are a few types of fish that are particularly good for this and are generally available for purchase.
Branzino. This is a common fish that can be found whole at some stores (Whole Foods generally has them whole for around $10 a fish). They have a light, but firm texture and the skin gets beautifully crispy.
Trout. Classic for fishermen! If you can find them they might just be my favorite for whole fish grilling.
Bass. Smaller bass are ideal for grilling. I rarely see whole bass in my area, but if you can find them they work well.
How to prepare fish for grilling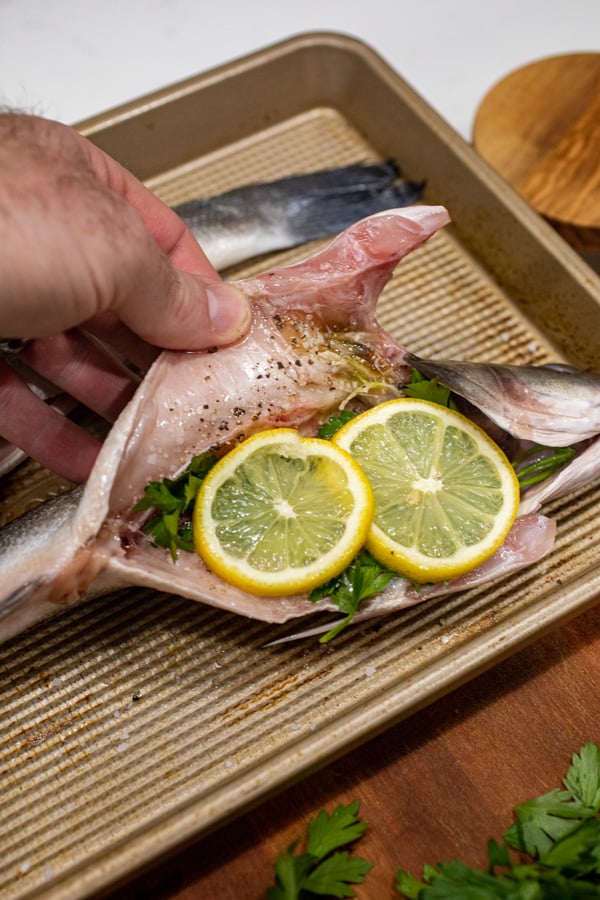 Unless you are catching the fish yourself, your fishmonger or butcher will almost always be willing to clean them for you. This would include scaling the fish and gutting it. That makes it even easier for you to prepare once you get home.
If you do have to do this cleaning yourself, honestly the best way to learn is to watch a video of the cleaning process. I'd recommending searching on Youtube for the type of fish you end up with and how to clean it!
Once you have the cleaned fish, I like to simply season my fish with salt and pepper and stuff some lemon slices and parsley in the cavity of the fish. Also, drizzle the skin of the fish with oil and salt and pepper.
Preheating grill for fish
Indirect or low heat is not the thing you need for fish. You want a pretty high, direct heat grill for fish. Fast and furious, as they say! If you are using gas, you can crank up all the burners to preheat the grill and for charcoal you can let the coals get very hot and spread them out when you are ready for grilling.
When I preheat my gas grill for grilling fish, my temperature gauge hits 550˚F which is great. I would get it hotter if I could!
Tips for preventing sticking
The biggest fear of grilling fish is that you spend the time preparing the fish is that you try to flip or remove the fish and the skin just falls apart on the grill. This not only ruins the beautiful skin on the fish but makes a mess on your grill!
Here are a few tips for preventing this sticking.
First, make sure your fish is dry and not super cold. If your fish is really cold then it will cause condensation on the hot grill and create steam. So pull your fish out of the fridge 20-30 minutes before grilling it and pat it dry with paper towels.
Second, make sure you have a really clean grill. The grates should be clean and I drizzle the fish with oil to prevent from sticking as well.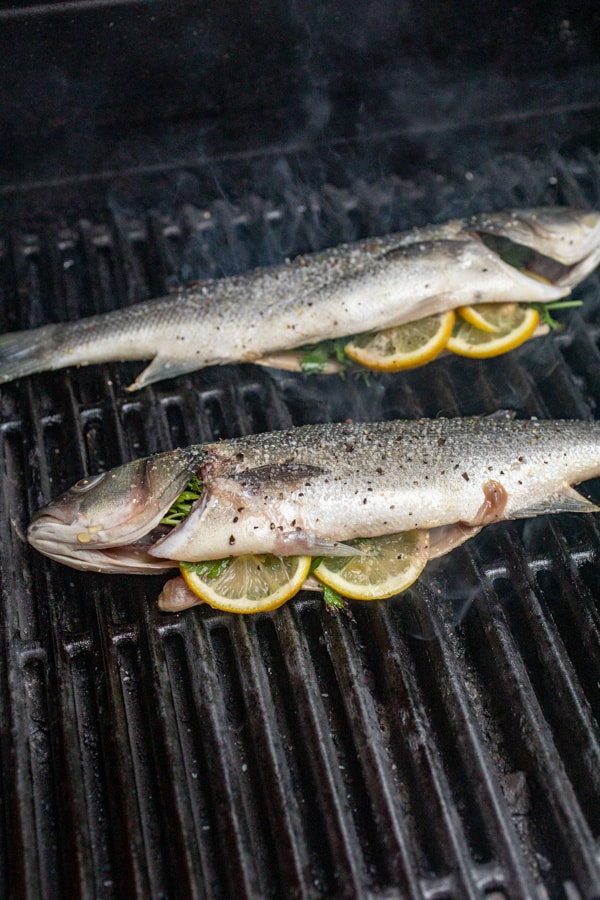 Third, don't mess with the fish. Once it's on the grill, let it be and then only flip it once. When you flip the fish, flip it toward the spine of the fish and gently roll the fish onto a clean grill area for the second half of grilling.
Look at that beautiful flip!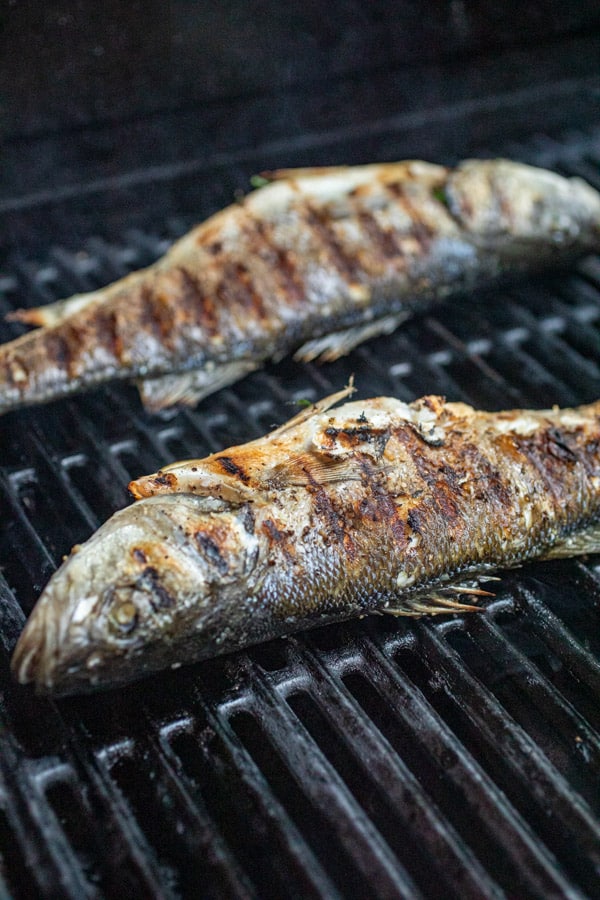 This grilled fish recipe featured in: 10 Grilling Alternatives to Hamburgers and Hot Dogs!
What to serve with grilled fish
As soon as these fish come off the grill, you want to serve them quickly while they are hot and the skin is crackling. But what to serve with it?
Well, for starches I like couscous or rice cooked with a little lemon. Any vegetable works well as well from broccoli to a simple spinach salad or this Tomato Crudo would be a great side dish.
Of course you can always checkout the side dishes or salads for some good ideas!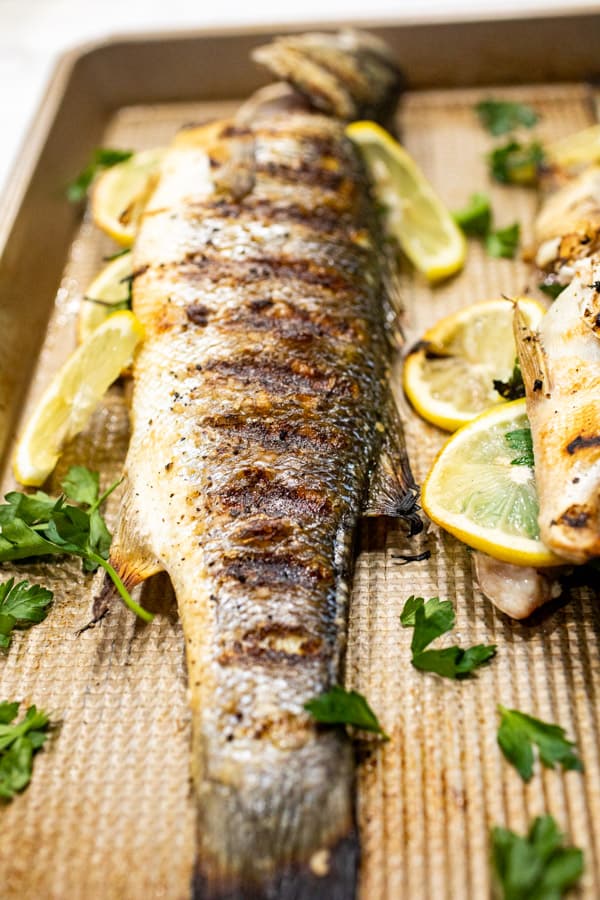 My Easy Whole Grilled Fish Recipe
Here is my basic grilled fish recipe! I hope you try it out this summer!
Grilled Whole Fish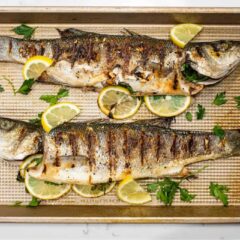 Grilling a whole fish can seem intimidating but it's actually a fast and easy way to make a healthy meal. Learn how to do it right!
Ingredients
2

whole fish

,

12-16 ounces like branzini, trout, or bass, scaled and cleaned

1

lemon

,

sliced thin

¼

cup

parsley sprigs

1

teaspoon

kosher salt

1

teaspoon

black pepper

2

tablespoons

olive oil
Instructions
Preheat grill to high heat, direct grilling. The temperature should be 500-600˚F. Clean grates well. Remove fish from the fridge 15-20 minutes before grilling to take the chill off and pat dry with paper towels.

Season the cavity of the fish with salt and pepper and stuff with thin-sliced lemons and parsley sprigs. Drizzle skin of fish with olive oil and season with salt and pepper.

Place fish on grill leaving plenty of space between fish so you can flip them onto a clean portion of the grill. Grill fish for 6-7 minutes on the first side. Don't mess with the fish as it grills.

To flip the fish slide a metal spatula carefully under the fish and gently rotate the fish over using the spine of the fish as a pivot. Grill on second side for another 6-7 minutes.

Carefully remove fish from the grill and serve whole (or filet off a side of the fish from the bone if you like). Serve with lemon slices and extra parsley or coarse salt.
Nutrition
Serving:
8
oz
|
Calories:
73
kcal
|
Carbohydrates:
3
g
|
Protein:
1
g
|
Fat:
7
g
|
Saturated Fat:
1
g
|
Polyunsaturated Fat:
1
g
|
Monounsaturated Fat:
5
g
|
Cholesterol:
0.3
mg
|
Sodium:
585
mg
|
Potassium:
66
mg
|
Fiber:
1
g
|
Sugar:
1
g
|
Vitamin A:
325
IU
|
Vitamin C:
19
mg
|
Calcium:
15
mg
|
Iron:
0.5
mg
Did you make this recipe?
How to Eat Whole Fish
It can be a bit daunting to eat a whole fish. A fancy restaurant will actually fillet the fish for you but at home you are kind of on your own. I like to start at the backbone of the fish on one side and use a fork to remove the fish from the ribs of the fish.
If you do it right, you should be left with a near perfect fish skeleton and have very few bones in your plated fish. Of course, you should always be careful when eating whole fish and watch out for bones as they can be major choking hazards!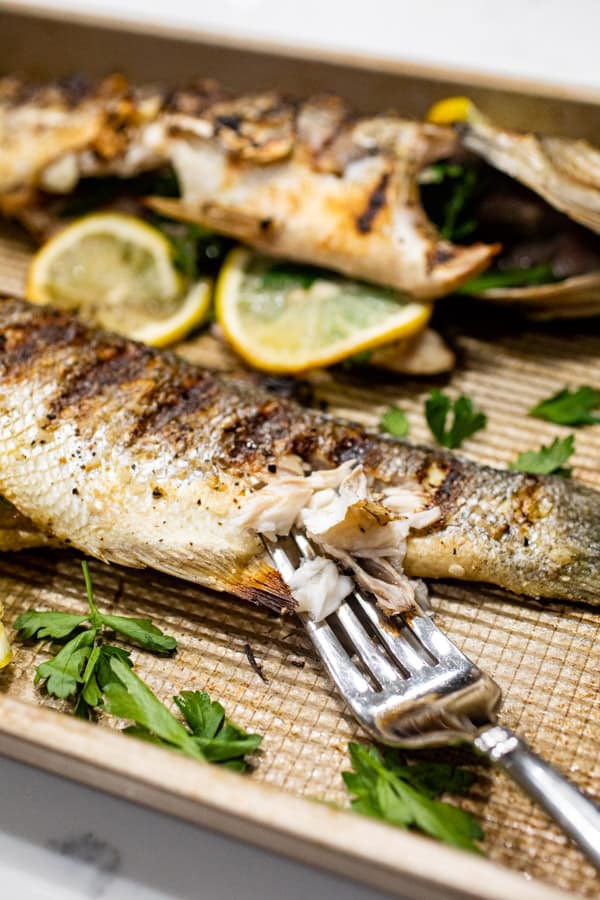 Here are a few other great recipes!