Grilling seafood can be a tricky thing (as I learned for these Grilled Cod Fish Tacos).
Typically, I stick to grilling sturdier seafoods like salmon and I almost always try to leave the skin on to help hold the fish together as it grills.
For these guys though, I tried grilling a flaky white fish (great for tacos, tough for grilling) and I tried doing it without the skin on because it's hard to find cod filets with the skin on.
After a few trials, I found a great way to do it that leaves you with really flaky, tender fish that's the perfect add-in for a spicy and crunchy taco.
My taco aficionado friend Jeff proclaimed these Grilled Cod Fish Tacos as good as any fish taco he's had in Mexico.
I will take that!
Grilled Fish Tacos
Delicious, healthy and perfect for a summer dinner! Crisp and tangy slaw is really the secret ingredient to these spicy tacos.
Ingredients
1 ½

pounds

white fish filets

,

cod

1

tablespoon

unsalted butter

1

tablespoon

olive oil

Coarse salt and pepper
Spicy Cabbage Slaw:
½

head green cabbage

2

carrots

,

shredded

½

red pepper

,

sliced thin

4

scallions

,

minced

1

jalapeno

,

seeded and minced

⅓

cup

sour cream

¼

cup

white wine vinegar

Big pinch of salt and pepper
Chipotle Cream:
1

cup

sour cream

1

lime

,

juiced

2

tablespoons

adobo sauce from chipotle peppers
Other needs:
8-10

medium flour tortillas

1

avocado sliced thin

4

ounces

queso fresco

,

crumbled

Fresh cilantro
Instructions
For slaw, shred cabbage finely with a knife or in a food processor. Grate carrots and slice red peppers thin. Then mince jalapeno and scallions and add to a bowl.

Stir in sour cream and white wine vinegar and season well with salt and pepper. Let this sit for 20 minutes or so before serving (or make it a day in advance).

For cream mixture, stir lime juice and adobo sauce into sour cream. Just use the sauce from the chipotle can (not the actual peppers).

To prepare the fish, preheat grill to medium-high heat. Season fish well with salt and pepper, drizzle with olive oil, and place a few pats of butter on the fish. Wrap white fish filets in foil tightly.

Grill the fish wrapped in foil for about 5 minutes per side until it's cooked through, but light and flakey. It'll be hard to overcook it because of the foil wrapping.

When you're ready to make a taco (or 8), grill tortillas for 10 seconds just to warm them up. Then add some slaw to a tortilla and top with some flaked fish, a spoon of spicy sauce, and any other toppings you want (avocados, queso fresco, and cilantro).

You'll have leftover slaw which is great just to eat as a side dish!
Nutrition
Serving:
2
tacos
|
Calories:
673
kcal
|
Carbohydrates:
47
g
|
Protein:
45
g
|
Fat:
34
g
|
Saturated Fat:
16
g
|
Polyunsaturated Fat:
3
g
|
Monounsaturated Fat:
10
g
|
Trans Fat:
0.4
g
|
Cholesterol:
145
mg
|
Sodium:
816
mg
|
Potassium:
1297
mg
|
Fiber:
7
g
|
Sugar:
12
g
|
Vitamin A:
6700
IU
|
Vitamin C:
76
mg
|
Calcium:
426
mg
|
Iron:
4
mg
Did you make this recipe?
Grilled Cod Fish Tacos
The Slaw
Honestly, the fish isn't the most important part of this taco. You can use almost any fish really.
But the slaw… don't mess with the slaw! It's so important to a good fish taco.
Take your time cutting the vegetables. If you have a food processor you can absolutely just shred everything through that, but you can also just use a knife and a box grater to get the job done.
This is what you're looking for.
Then stir in the sour cream (or you could substitute Greek yogurt) and white wine vinegar. The dressing should just lightly coat the cole slaw.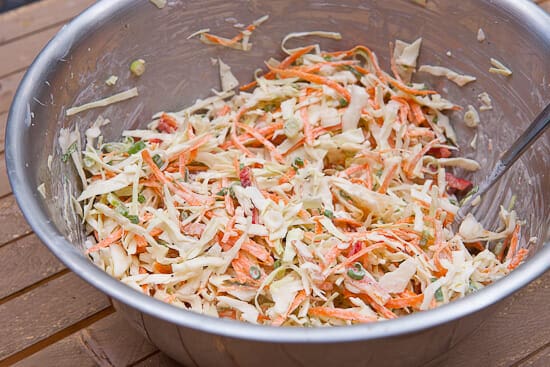 Season that well with salt and pepper and it's ready to be tacos! (You'll probably have leftover slaw, but that's cool. It's great to just eat as a side dish.)
The second important topping is super easy to make. Just stir some sour cream with a few spoonfuls of Adobo sauce (the stuff in the chipotle can) and the juice from a lime.
You can also prep the rest of your toppings: I used some avocado, crumbled queso fresco, and fresh cilantro.
Grilling Fish
I've grilled fish before and I usually leave the skin on.
This time, I seasoned a filet of cod and just tossed it on my hot, oiled grill.
Well, it cooked, but it also fell completely apart on the grill.
The fish was just too flaky and too tender to cook on the grill without losing huge chunks of it.
SO, the way to do it correctly is just to wrap the fish in foil along with a small amount of butter, a drizzle of oil, and a good pinch of salt and pepper.
Then you can grill the fish over medium-high heat for 5 minutes per side (depending on thickness).
It's fine to check on the fish every few minutes and it's done with it's cooked through and flaking apart.
Then you can make as many tacos as you want by throwing on some slaw, a few forkfuls of fish, the spicy cream sauce, and the other toppings!
I recommend tossing the tortillas on the grill for 10 seconds to warm them up also!
Many fish tacos are fried, but because the slaw is so crunchy, I didn't miss the fried fish really.
Grilling the fish in foil leaves you with this beautifully tender and buttery fish that goes really well with the spicy sauce and crunchy vegetables.
These Grilled Cod Fish Tacos make a great summer dinner. It takes around 30 minutes to make and there's no need to turn on the stove!