Before I decided to become a decent home cook, mussels were one of my favorite things to order at a restaurant. They seemed out of reach for the home cook and I was worried about messing them up. Oh times have changed! Now I love rocking homemade mussels whenever I get the chance and these Grilled Mussels are my go-to way to make them in the summer.
Making mussels on the grill is great because you don't have to heat up your kitchen! These grilled mussels are served with a simple white wine garlic butter (with lots of garlic) and big pieces of crusty grilled bread.
Serve them as an appetizer or just put the whole skillet between you and someone you love and dig in for a full meal.
Buying and Cleaning Mussels
I buy fresh mussels a few times a year but it's always great to get a little refresher on what to look for. I like this tutorial from PEI on how to choose good mussels. In short, make sure they are on ice and check the tag to see when they were harvested.
While I've heard different opinions on whether or not you need to discard open mussels once you get them home, I tend to discard them just as a precaution. It usually isn't more than a few of the little guys.
To clean the mussels, run them under cold water and scrub mussels to get off any dirt or grime. Then use your fingers to remove the beard from the mussel, which is a coarse string-like piece that will be hanging out of the flat side of the mussel. You can just gently pull it out with your fingers. It's possible that not every mussel will have a beard, but check them all.
Do you need to flush mussels?
Personally, I prefer to flush my mussels quickly before cooking them, but it's not 100% necessary if you are in a hurry. To flush mine, I just add them to a large pot with salted COLD water for about 15 minutes, then drain them and they will be a lot cleaner than if you moved them straight from cleaning to cooking.
There's no rule on this, but if you have the time I recommend flushing them quickly.
How to grill mussels
Once you have cleaned mussels, these are easy to grill! I recommend adding all the mussels to a cast iron skillet with about 1/2 cup of white wine to create some steam. I used about 1 1/2 pounds of mussels but you could use up to 3 pounds probably in one skillet. Cover the skillet well with foil and place it on a medium-high heat grill. (I used a gas grill for this version but you could use a charcoal grill as well.)
Cook the mussels for 8-10 minutes without peeking and they should open up beautifully and be cooked through at that point.
Once they are cooked, you can pour the butter sauce directly on them or serve it on the side.
How to make the garlic butter sauce
This is a very easy sauce to make and goes well with any shellfish, honestly including clams if you wanted to substitute those for mussels in this recipe.
I like to add the white wine to a small pot over low heat with the sliced garlic. Cook that for a few minutes so the garlic can start to soften. Then stir in all the butter and stir to emulsify the sauce.
Once the sauce is smooth you can remove it from the heat and add the fresh parsley. It's so good!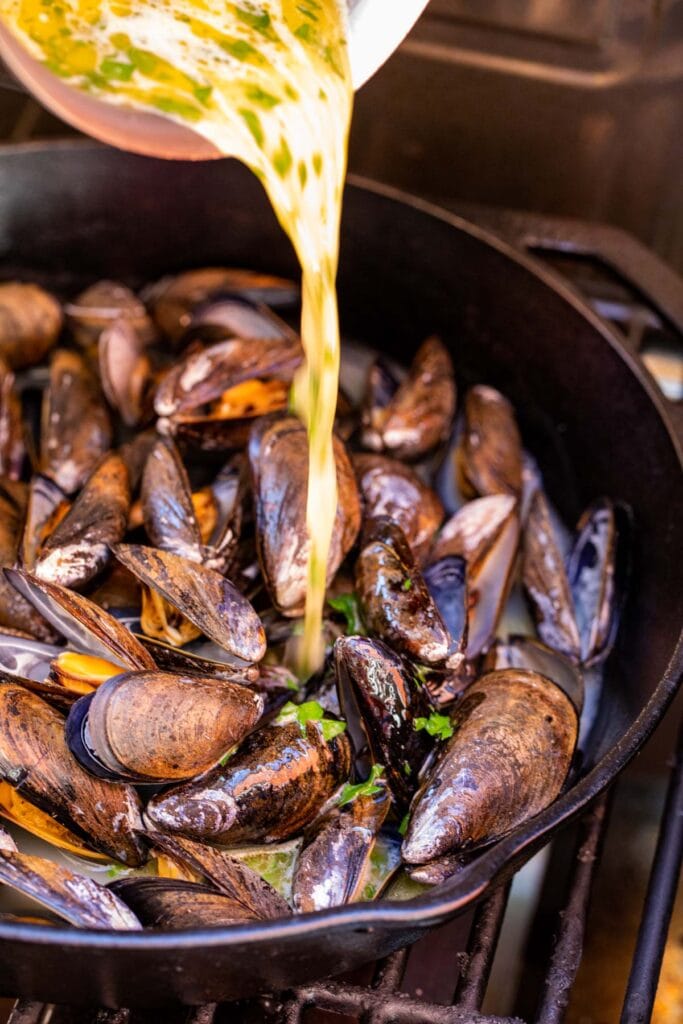 What to serve with these grilled mussels
For my money, all I need is a good piece of grilled, crusty bread to sop up all the flavorful broth from the mussels.
That said, it would also be a fine idea to serve these mussels with pasta like spaghetti (Try this spaghetti with crispy chili) or even a seafood risotto.
If you were serving these as an appetizer, they would go well with any grilled protein as a main or a really good pasta like carbonara or something similar.
Reheating leftovers
Leftover mussels aren't ideal in my opinion. They lose their deliciousness pretty quickly so if you do have leftovers I'd move them straight to the fridge and come up with a plan for them within a day or two.
Personally, I reheat the mussels gently with a little bit of fresh butter in a skillet over low heat. You could also fold them into pasta though or chop them up and use them in soups.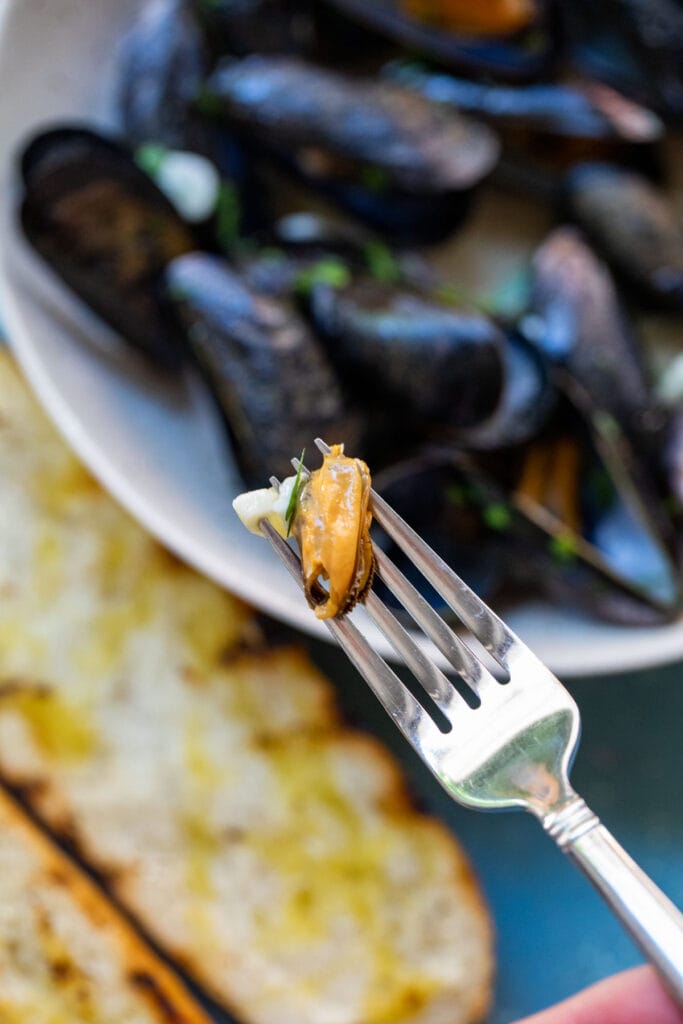 Grilled Mussels with Garlic Butter Sauce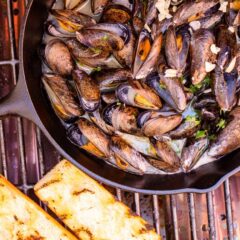 These grilled mussels are the perfect summer meal. They're super easy to make, and all you need is mussels, fresh herbs, garlic and lemon for this dish!
Ingredients
1 ½ – 2

pounds

fresh mussels

,

cleaned

1

cup

white wine

,

divided

⅓

cup

salted butter

4

cloves

garlic

,

minced

1

tablespoon

fresh lemon juice

2

tablespoons

fresh parsley

,

minced

loaf

Crusty Bread

,

for serving
Instructions
Clean mussels well by scrubbing them gently under cold water and removing the "beard" from the flat edge of the mussel. Not all mussels will have one, but if you can feel one then gently pull it out. Discard open mussels. Optionally, flush mussels in cold salt water for 15 minutes.

Preheat grill to medium-high heat. Add mussels to a large cast iron skillet along with 1/2 cup white wine. It's okay if they are piled up. Cover with foil and place on grill. Cook for 8-10 minutes.

Meanwhile, add white wine to small pot over low heat. Add minced garlic and cook for 2-3 minutes. Then add butter and stir until sauce comes together. Add lemon juice and remove from heat. Add fresh parsley.

Pour butter sauce over the mussels or serve on the side with crusty bread.
Nutrition
Serving:
1
bowl
|
Calories:
524
kcal
|
Carbohydrates:
58
g
|
Protein:
25
g
|
Fat:
20
g
|
Saturated Fat:
11
g
|
Polyunsaturated Fat:
2
g
|
Monounsaturated Fat:
5
g
|
Trans Fat:
1
g
|
Cholesterol:
73
mg
|
Sodium:
1061
mg
|
Potassium:
542
mg
|
Fiber:
2
g
|
Sugar:
5
g
|
Vitamin A:
827
IU
|
Vitamin C:
15
mg
|
Calcium:
99
mg
|
Iron:
9
mg
Did you make this recipe?
Here are a few other great recipes to try