Tomato season is finally upon us and if you are me, you've already eaten a few perfect tomatoes just like you would an apple, except maybe over the sink. This Tomato Crudo idea is my classy version of that. Simple, perfect tomatoes, sliced thin with just a little sprinkle of light dressing and herbs.
You can serve it as a side dish alongside whatever dinner you are making or as an appetizer with crusty bread. It'll be very well-received and be gone before you know it.
What is a crudo dish?
Crudo is an Italian word that means raw. It is normally describing fish dishes. Crudo will be sliced thin and usually seasoned with some sort of tangy dressing. It's common at Italian restaurants as a starter or sushi restaurants.
I used it for this recipe because the tomatoes, sliced very thin and lightly seasoned, reminded me of thinly shingled pieces of raw fish.
What kinds of tomatoes work well for this?
Sometimes I'm flexible on tomatoes, but not for this one. The tomatoes must be the ripest, in-season tomatoes you can find. If you can find good heirloom tomatoes, of a few different colors, that is best.
You could also use vine-grown tomatoes if they are very ripe or even cherry tomatoes sliced thin.
Avoid tomatoes that are stringy or too firm, like beefsteak tomatoes. Those don't have enough flavor to work in this dish.
How to slice the tomatoes for crudo
For the best presentation, I like to slice the tomatoes from the bottom of the tomato up so you have these really nice cross-sections of tomato.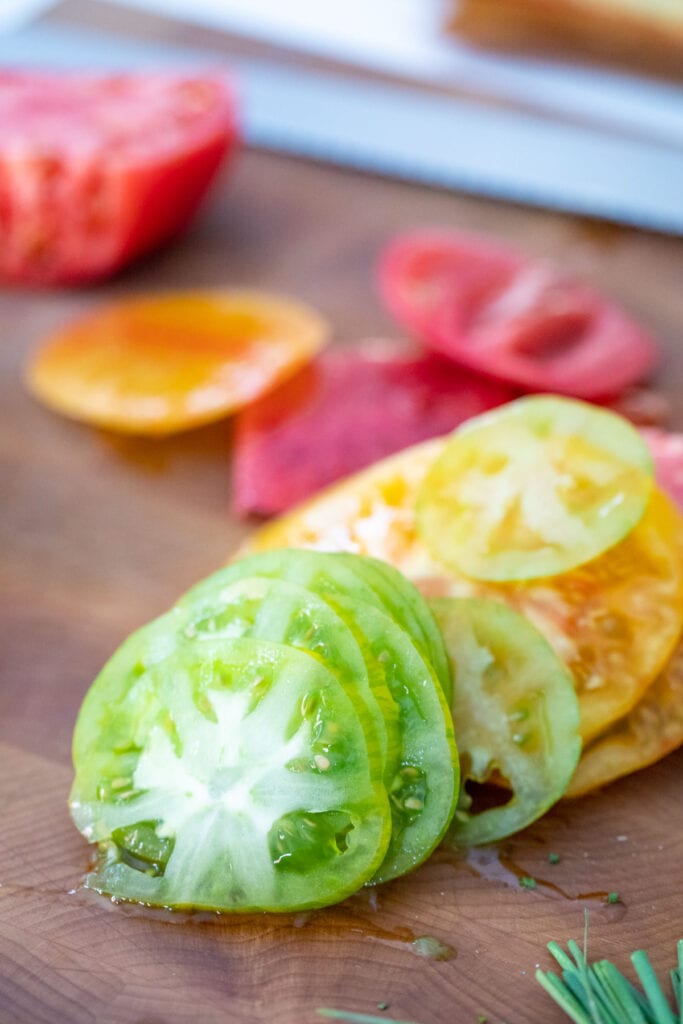 Also, since the goal is to get the slices transparent thin, your knife must be pretty sharp. If you have a hard time cutting the tomatoes cleanly, you can try a serrated knife, which sometimes works better for slicing tomatoes.
How to make the dressing for this tomato crudo
It could be argued that you don't need a dressing for these tomatoes since they are so juicy, but I like adding a very light one. This dressing has just a few ingredients and kind of melts into the tomatoes. The very tiny amount of honey adds some sweetness to counteract the acidity of the tomato and the very finely grated garlic gives it some bite, without being overpowering.
Whisk everything together and the dressing is done. Note that I don't recommend seasoning the dressing with salt because you'll add a good sprinkle of salt to finish the salad and you don't want it too salty.
Assembling the salad
Once you have your tomatoes sliced thinly for this crudo, stack them on a big platter so they overlap in a few layers. It's nice if you have a few different colors, but not essential.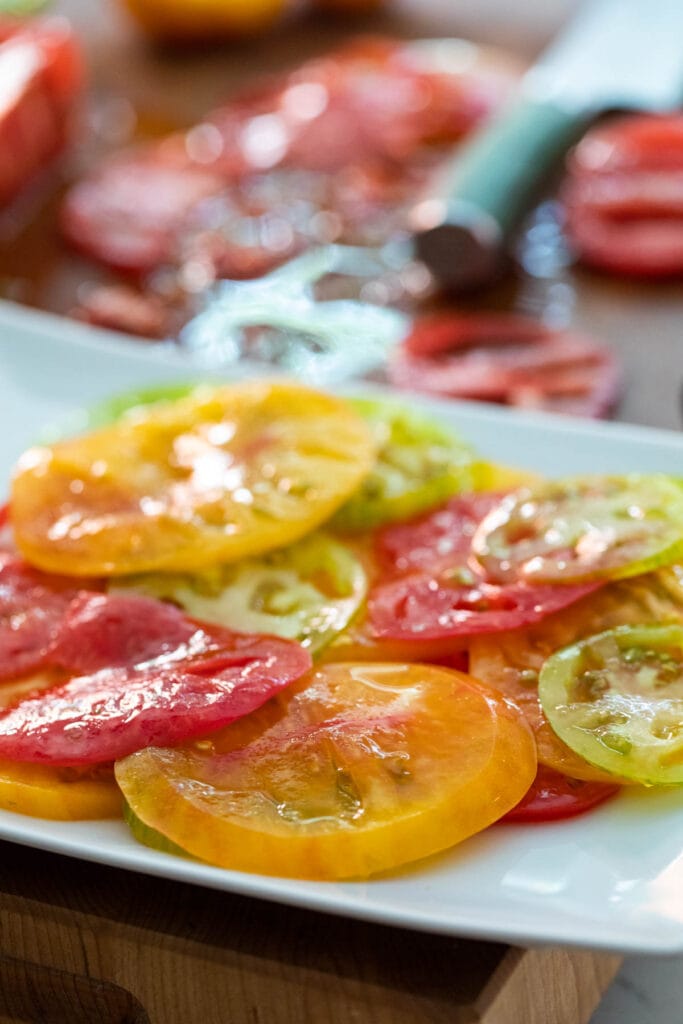 Then right before serving, drizzle the crudo with the dressing and sprinkle it with coarse flakey salt. YUM.
Serving Suggestions
If you are serving this crudo as an appetizer, really crispy bread is essential. Grill or broil a baguette and slice it up for great serving. You can slice the tomato pieces to the size of the bread and make little, delicious tomato toasts.
If you wanted to serve this crudo alongside other dishes, it can hold up to big flavors like this grilled salmon or even a steakhouse burger! If you wanted to keep it light, you could serve it with these buffalo chicken lettuce wraps!
Easy Tomato Crudo
This tomato salad is best when tomatoes are in-season and you can get really nice, ripe tomatoes. I like to use a variety of colors and top it with a very light vinaigrette dressing.
Ingredients
Light Vinaigrette:
2

tablespoons

olive oil

2

tablespoons

rice wine vinegar

,

or white wine vinegar

1

clove

garlic

,

grated

1

teaspoon

honey
Crudo
1

pound

heirloom tomatoes

,

variety of colors

2

tablespoons

chives

,

minced

Coarse finishing salt

Crusty Bread

,

for serving
Instructions
For the vinaigrette:
Whisk together dressing ingredients making sure honey dissolves completely. Don't worry about seasoning it with salt as there is salt sprinkled on the crudo at the end.
For the crudo
Washing tomatoes well and dry them. Then use a sharp chef's knife or serrated knife to slice the tomatoes thin, about 1/4-inch thin. They should be translucent and thinner than you would slice for a burger.

Stack the tomatoes, layered in a few layers and overlapping, on a large plate.

Drizzle the tomatoes with dressing and sprinkle with finishing salt and chives.

Serve immediately with crusty bread.
Nutrition
Serving:
1
plate
|
Calories:
206
kcal
|
Carbohydrates:
28
g
|
Protein:
6
g
|
Fat:
8
g
|
Saturated Fat:
1
g
|
Polyunsaturated Fat:
1
g
|
Monounsaturated Fat:
5
g
|
Sodium:
262
mg
|
Potassium:
327
mg
|
Fiber:
2
g
|
Sugar:
6
g
|
Vitamin A:
1010
IU
|
Vitamin C:
17
mg
|
Calcium:
37
mg
|
Iron:
2
mg
Did you make this recipe?
Here are a few other great recipes to try!