Sometimes a recipe idea pops into my head and I can't move on with my life until I make it. That was definitely the case with these Cheese Blanket Hot Dogs. Melting cheese in a good skillet until it starts to turn crispy and then rolling it around a hot dog just kinda makes sense. At least to me.
There are some issues with this recipe if you aren't careful. Use the wrong skillet and you'll have a mess on your hands. Also, it can be tricky to make a large batch of these Cheese Blanket Dogs (I'll give you some tips below).
But, it's a super fun recipe and I must say that a good cheese blanket improves most recipes, definitely hot dogs.
Let's dive in!
What kind of pan works best for this recipe?
Honestly the hardest part of this recipe is deciding what pan to use for the cheese blanket piece. Here are the options as I see it:
Best: Cast Iron Skillet. I tried these both in my cast iron skillet and on my cast iron griddle and they work well. This, of course, assumes you have a well-seasoned cast iron skillet. It works well because it has even heating and you can use a metal spatula to help release the cheese if needed.
Second Best: Non-stick pan. I tried it in my Hexclad pan and it worked well. If you are using a traditional nonstick pan, it should work fine but be careful with what spatula you use. You wouldn't want to use a metal spatula on a nonstick pan, but if you have a good nonstick pan, you probably won't need to use anything to release the cheese.
Worst option: Some sort of aluminum or steel pan. In theory this can work, but it's pretty tricky and more often than not the cheese will just stick and you'll be left with a cleaning project.
How to make the crispy cheese blanket
There's no massive trick here for making the cheese blankets (it's possible there is a more official word for what's going on here but I'm going with cheese blanket).
If you have a well-seasoned cast iron skillet or non-stick pan, I'd recommend just lightly spraying it with nonstick spray and then adding the grated cheese once the skillet is heated to a medium-low heat. You don't want it too hot or the cheese will immediately burn.
Don't mess with the cheese as it melts. Just let it melt and pool together. Once it is done bubbling, it'll start to crisp up around the edges and then you can add your cooked hot dogs and start to carefully roll them up!
It took me 3-4 minutes to make a hot dog like this. Not too bad!
How to make multiple cheese blanket hot dogs
The one downside of the cheese blanket hot dog is you are limited in your volume. You can probably only make two per skillet or if you have a large griddle maybe you can fit four.
But, good news, once you have these hot dogs done, they actually keep super well and you can keep them warm in a 250˚F oven while you work on the others. You could pretty quickly make 8 or so hot dogs like this and then serve them up all at once! The cheese blankets only get crispier and crispier the longer they warm in the oven so all is good there.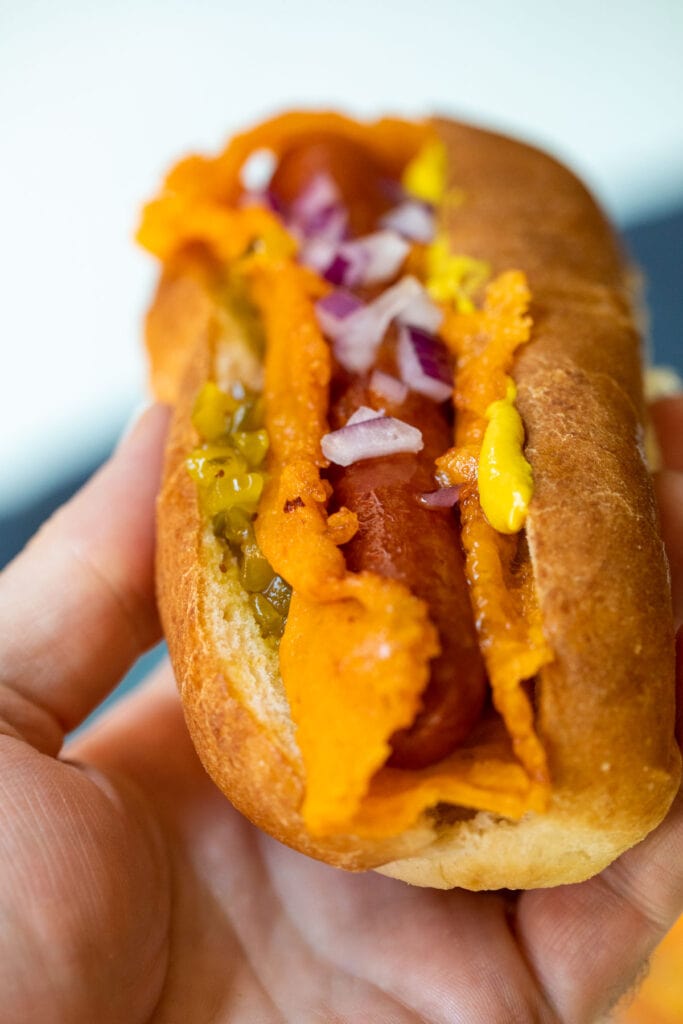 What to serve with these cheesy hot dogs
Any traditional BBQ sides would go great with these hot dogs. If you have a spare skillet, you could make this Gochujang Zucchini since you have the oven on. Also, a big salad like my grilled peach salad or tomato crudo would go great with these if the season is right.
When in doubt, you can always serve hot dogs with a good macaroni salad or a hearty green salad like this Roasted Carrot salad!
Cheese Blanket Hot Dogs
A fun twist on classic hot dogs. Seared hot dogs wrapped in a layer of crispy cheddar cheese and served with classic hot dog toppings.
Ingredients
4

all-beef hot dogs

1 ⅓

cups

grated cheddar cheese

4

Hot dog buns

Red onions

,

topping

Diced peppers

,

garnish

Mustard

,

garnish
Instructions
Place a well-seasoned cast iron skillet over medium-low heat. Once hot, cook the hot dogs for a few minutes until seared. Then remove and spray skillet lightly with non-stick spray.

Add cheddar cheese to skillet in about 1/3 cup portions. Try to shape into an oblong shape to match the hot dogs. Let the cheese melt and bubble. When cheese stops bubbling and starts to get crispy around the edges, place a seared hot dog on one side of the cheese and use a spatula to rolll up the hot dog.

If the cheese sticks to the skillet at all, use a good spatula or a butter knife to loosen the cheese around the edges and it should eventually release.

If you aren't eating immediately, you can keep hot dogs warm in a 250˚F oven.

Serve cheese blanket hot dogs in buns with mustard, diced onion and peppers, and any other toppings you like.
Nutrition
Serving:
1
hot dog
|
Calories:
383
kcal
|
Carbohydrates:
30
g
|
Protein:
18
g
|
Fat:
21
g
|
Saturated Fat:
10
g
|
Polyunsaturated Fat:
2
g
|
Monounsaturated Fat:
6
g
|
Cholesterol:
58
mg
|
Sodium:
764
mg
|
Potassium:
147
mg
|
Fiber:
1
g
|
Sugar:
3
g
|
Vitamin A:
378
IU
|
Vitamin C:
1
mg
|
Calcium:
338
mg
|
Iron:
3
mg
Did you make this recipe?
Here are a few other recipes to try!