If you are looking for some fancy-pants brunch recipe today, you should probably stop reading.
This Hot Dog Hash recipe isn't fancy, but it is delicious and it was born out of what I like to call The Hot Dog Cycle. Hot dogs tend to come in packs of 8 while hot dog buns come in packs of 6. So that leaves you 2 bunless hot dogs. If you buy another pack of buns, you have 4 dogless buns and the cycle continues.
SAT question: What is the smallest number of hot dogs and buns you would have to buy for the buns and dogs to match perfectly?
I was stuck with two hot dogs recently because of The Cycle so I decided to make hot dog hash instead of succumbing to the bun industry.
It was a good decision.
Hot Dog Hash
Hot Dog Hash if perfect If you happen to have a few leftover hot dogs. Mixing them into a delicious breakfast hash makes a perfect breakfast or brunch dish!
Ingredients
2

all-beef hot dogs

1

large Russet potato

,

diced

½

white onion

,

diced

1

clove

garlic

3

tablespoons

olive oil

Paprika

Salt and pepper

2

large eggs

Hot sauce

Ketchup
Instructions
Dice hot dog into cubes and add to a skillet over medium heat with a small drizzle of oil. Cook until hot dog pieces are starting to get crispy and brown, about five minutes.

Meanwhile, dice potatoes by cutting into planks, then sticks, and finally diced. Also dice onion and mince garlic.

When hot dog is done cooking, remove and add potatoes. Add another drizzle of oil if pan is dry along with a pinch of salt. Let potatoes cook until they are starting to get crispy on the outsides, about 10 minutes. Stir once or twice as they cook.

When potatoes are almost done (Crispy but soft on the inside) add in onions and garlic and cook until veggies are soft. Stir on hot dogs at the end to reheat. Season hash with salt, pepper, and paprika.

In a separate medium skillet, add a drizzle of oil or small pad of butter and let melt over medium heat. Crack in two eggs and cook over-easy. I like to do mine sunny-side up by cooking for a minute and then putting a lid or plate on the skillet and letting the egg steam for 30 seconds.

Serve the egg over the hash with hot sauce (or ketchup) on the side.
Nutrition
Serving:
1
plate
|
Calories:
455
kcal
|
Carbohydrates:
30
g
|
Protein:
13
g
|
Fat:
32
g
|
Saturated Fat:
7
g
|
Polyunsaturated Fat:
4
g
|
Monounsaturated Fat:
20
g
|
Trans Fat:
0.01
g
|
Cholesterol:
184
mg
|
Sodium:
378
mg
|
Potassium:
621
mg
|
Fiber:
3
g
|
Sugar:
2
g
|
Vitamin A:
240
IU
|
Vitamin C:
24
mg
|
Calcium:
57
mg
|
Iron:
3
mg
Did you make this recipe?
Hot Dog Hash
Basic stuff
This Hot Dog Hash recipe makes two huge servings of hash which works great for brunch, especially if you've had one too many beers the night before. You don't need much to make it. I just used two leftover hot dogs (all-beef) and a large Russet potato, plus some onions and garlic.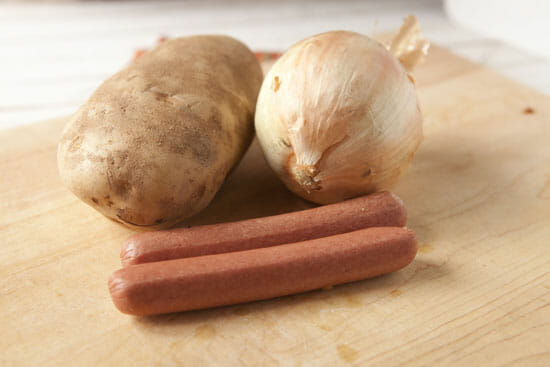 The hot dogs you can just cube up. I sliced mine into quarters longwise and then chopped them up. The potatoes for hash might give you the most trouble.
No need to peel the potato. Just scrub it well and then slice it into planks that are about 1/4-inch thick. Slice those planks into sticks and then dice the sticks into cubes. Get it?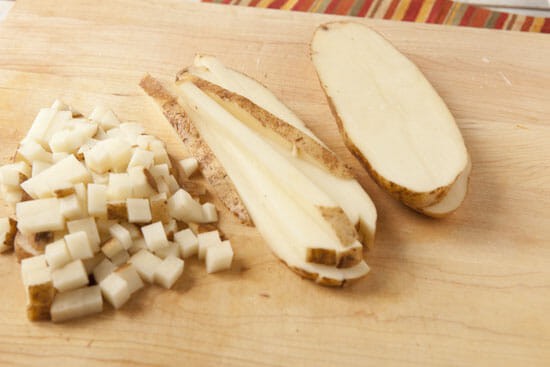 If you aren't going to make your Hot Dog Hash right away, store the potato cubes in cold water so they don't turn brown.
Making the Hash
One trick about this hash is you want to actually cook the hot dogs first and then remove them and cook the potatoes. This ensures that the hot dogs don't get overcooked, but are still crispy and delicious.
In a large skillet over medium heat, add a drizzle of oil (a teaspoon or two) and add in your cubed hot dogs. Cook these until they start to brown slightly on the edges. They will even get a little crispy which is nice.
Then remove the hot dogs from the pan and add the potatoes. You'll need to add a larger drizzle of oil for this step so the potatoes have plenty of oil to cook in (1-2 tablespoons). Cook the potatoes until they start to get browned on the outside and soften on the inside. This will take around 10 minutes. Stir occasionally to make sure they are cooking evenly.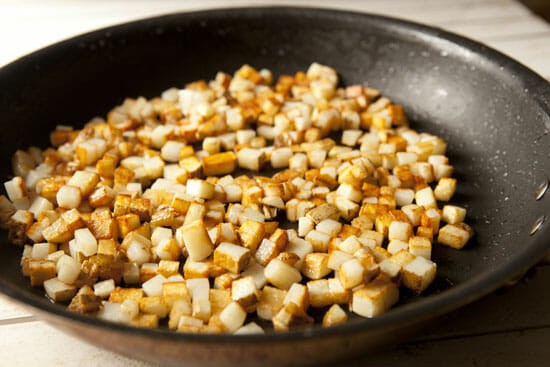 When the potatoes are mostly done you can add in the onions and garlic and cook until the veggies are soft.
Then stir in your hot dogs at the end and season the whole dish with salt, pepper, and paprika.
The Egg
Serving hash without an egg isn't really an option in my opinion. You could poach the egg or fry it over-easy. Personally, I like mine sunny-side up so I just add a very small amount of oil or butter to a small skillet over medium heat. Once that is hot, I crack in my egg and let it cook for about 60-90 seconds until the whites are mostly set.
Then I cover the skillet with a lid or plate for about 20-30 seconds and the whites are perfectly set with the yolk still runny.
Divide the hash between a few plates and slide the egg right on top.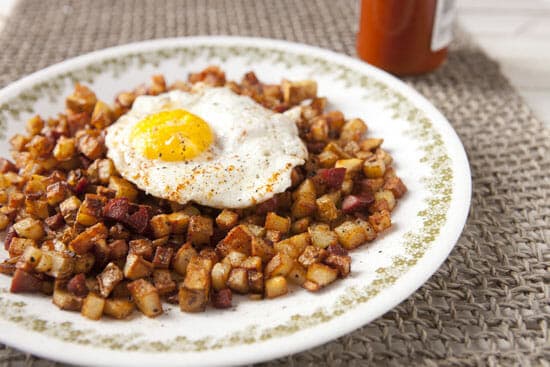 Some people (ok, most people) probably want ketchup with this plate of food, but hot sauce is my preferred condiment. I splash it on heavy.
This Hot Dog Hash might sound like a weird combo to some people, but I promise it works. If you like corned beef hash, this is very similar.
Leave a comment if you like the looks of this or if you know the answer to the SAT question!