You want to know how much I love Sriracha chili sauce? I put it on everything as a condiment but it's the main ingredient in this Spicy Macaroni Salad!
I realize there is a Sriracha shortage right now, but if you have some in the pantry this is the side dish for your next backyard BBQ.
I will occasionally go through a phase where I'll put Sriracha on pretty much anything. Soups, salad, meats, whatever. It's just delicious. But, it's in short supply right now so I limit my sriracha use to key recipes. This is one of those!
You can customize the macaroni salad to your liking after the sriracha goes in. I like some crunchy veggies and a light mayo dressing! It's an easy side dish that's perfect for a summer meal.
Substitutions for Sriracha
Sriracha is more of a type of chili sauce rather than a brand. I've noticed a few other competing brands pop up recently besides just the classic "rooster" Sriracha sauce. You can use any and all of these for this macaroni salad.
You could also play around with other hot sauces, but if you substitute a more standard hot sauce I would also add something a little sweet like honey as sriracha has a little sweetness to it.
What I don't like about store-bought macaroni salad
When I was shopping for the ingredients for this macaroni salad recipe I noticed that my local grocer carries pre-made macaroni salad in the deli section. What I loved about it is that you could barely even tell it was macaroni salad. Good thing it was labeled!
It was basically just pasta swimming in a sea of gloppy sauce with a few small chunks of veggies. It was more soup than salad.
If you're going to make real macaroni salad, the two things that you need to get right are the macaroni and the mayo.
How to cook perfect macaroni for this salad
The macaroni salad nightmare is overcooked pasta. I find that mine cooks faster than the package says, so keep an eye on it. It shouldn't be soggy at all. Al dente is the technical term.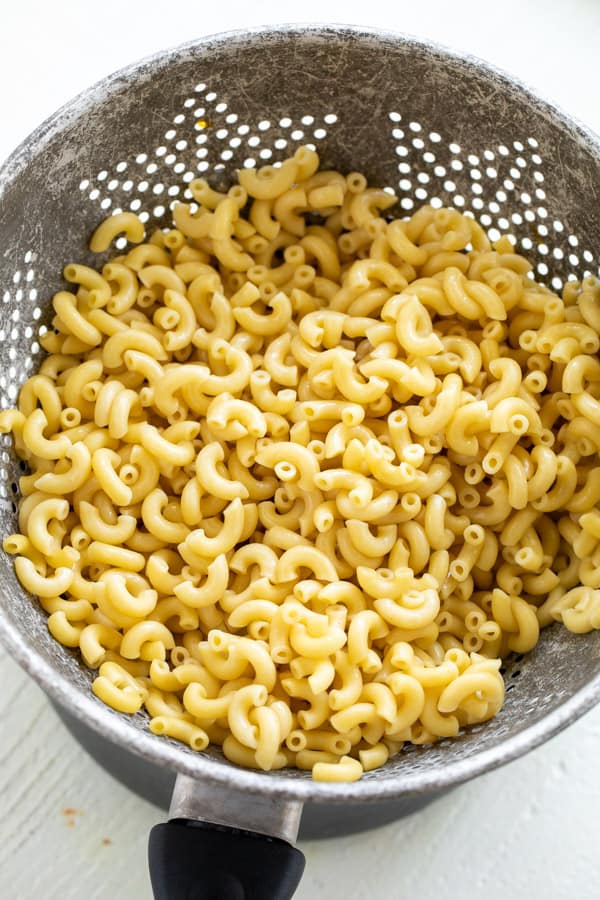 When it's done, drain it and drizzle it with a tiny amount of olive oil so the pasta doesn't stick together.
How to make the dressing for this macaroni salad
When it comes to the mayo, I really encourage you to try to make your own if you can. Homemade mayo is leaps and bounds above any store-bought version I've tried. But, store-bought is fine in a pinch!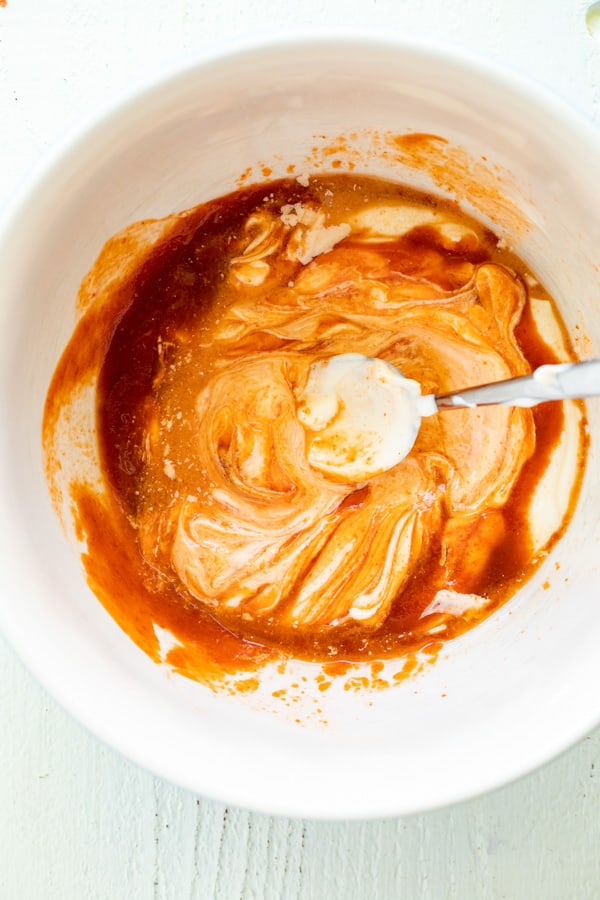 The mayo should be a light coat on the macaroni. The macaroni should, at no point, be floating.
What's nice about homemade mayo is that it's so flavorful that you can get away with using a lot less of it.
Mix all the dressing ingredients together and it should be just enough to coat the pasta. If you are really worried about it, you can add the dressing in batches, but my recipe should be just enough dressing to hold ingredients together.
The Veggies
I like to pack in a lot of veggies in my pasta salad. Good fresh crunchy ones are the way to go. You can use almost any vegetable that you like really. I went with a few of my favorites, but honestly I change it every time I make macaroni salad.
The key to fresh veggies in a salad like this is to try to get them all basically uniform. Take your time dicing (it's good practice). The last thing you want is to get a big chunk of red onion or something.
They should all be roughly the same size regardless of what veggies you are using.
Other vegetable ideas?! Try shredded carrots, minced celery, or chopped cherry tomatoes.
Oh. And don't forget the Sriracha!
Basically just stir all this stuff together!
When it comes to the chili sauce, start light. I'd recommend about two tablespoons. Then stir it and taste it. I used about three in my version, but like I said, I have a problem.
Also, keep in mind that the salad will get spicier if you let it sit overnight.
This spicy macaroni salad is perfect for a picnic or for lunch.
Pile it high and deep!
I'm generally not a huge macaroni salad fan, but I could almost eat my weight in this stuff.
Watch out for that rooster though. He's a spicy one!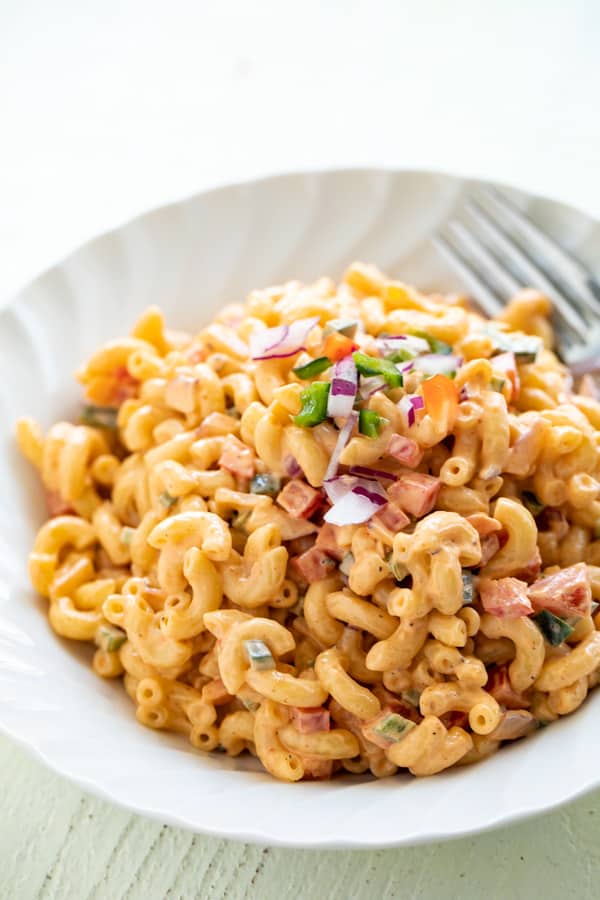 Storing Spicy Macaroni Salad
This macaroni salad keeps beautifully and actually gets better after a day or two in the fridge. It does get a bit spicier (I think) as it sits so keep that in mind if you are making it in advance.
You can always add more spice later if you find it to be too bland!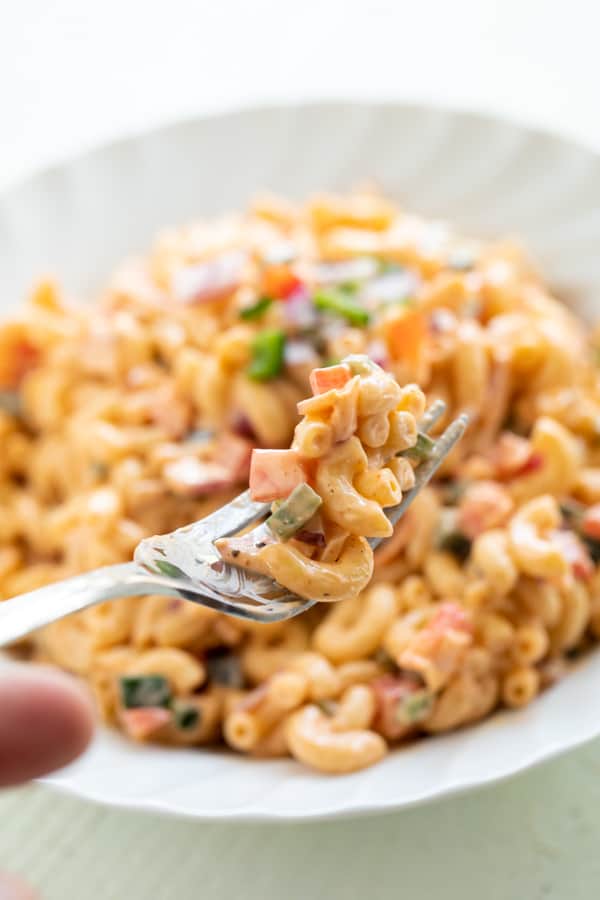 Spicy Macaroni Salad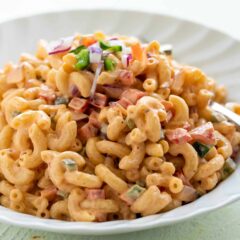 Macaroni and flavorful veggies mixed with homemade mayonnaise and spicy Sriracha sauce. The perfect picnic side!
Ingredients
12

ounces

macaroni

,

cooked *al dente

½

small red onion

,

minced

1

red pepper

,

minced

1

Anaheim

,

or poblano pepper, minced

⅔

Cup

mayonnaise

, homemade mayo is best

1

tablespoon

apple cider vinegar

2-3

Tablespoons

sriracha sauce

Salt and pepper

Olive oil
Instructions
Cook macaroni al dente. Drain and drizzle with a bit of olive oil. Stir to make sure it isn't sticking.

Dice veggies to an equal size.

Add veggies to macaroni along with mayo and chili sauce.

Start with a small amount of mayo and sauce and work up to the desired amount. Taste frequently.

Season with salt and pepper.

Keeps in the fridge for 4 or 5 days without a problem.
Nutrition
Serving:
1
bowl
|
Calories:
294
kcal
|
Carbohydrates:
34
g
|
Protein:
6
g
|
Fat:
15
g
|
Saturated Fat:
2
g
|
Polyunsaturated Fat:
9
g
|
Monounsaturated Fat:
3
g
|
Trans Fat:
0.04
g
|
Cholesterol:
8
mg
|
Sodium:
231
mg
|
Potassium:
146
mg
|
Fiber:
2
g
|
Sugar:
2
g
|
Vitamin A:
483
IU
|
Vitamin C:
23
mg
|
Calcium:
13
mg
|
Iron:
1
mg
Did you make this recipe?
Here are a few other great BBQ side dishes: