We are in the season of abundant zucchini and personally, I can only eat so much zucchini bread. This Crosshatched Zucchini glazed with a sweet and spicy gochujang glaze has been my favorite side dish the last few weeks. I've served it in a few different ways and it's always a hit.
If you find yourself with extra zucchini in the next few weeks, this should absolutely be on your menu!
What is Gochujang?
Gochujang is a Korean red chili paste that also has fermented soy, salt, sugar, and a few other simple ingredients. It's a very thick paste that is usually thinned before being used. It has a really unique flavor that is the perfect amount of sweetness, saltiness, and spiciness.
It's something that I almost always have in my pantry as it's a great way to boost flavors in a variety of dishes.
It used to be that you would have to go to an Asian market to find gochujang but these days you can usually find some version of it at most grocery stores. That said, the best and cheapest versions are still in the Asian markets. You can buy a pretty big tub of it for a few bucks.
How to cross-hatch zucchini
I used a technique that Thomas Keller popularized for zucchini for these called crosshatching. It's not hard to do and looks fancier than it is. The benefit of it though is that the zucchini cooks faster and it has lots of crevices that the glaze can settle in.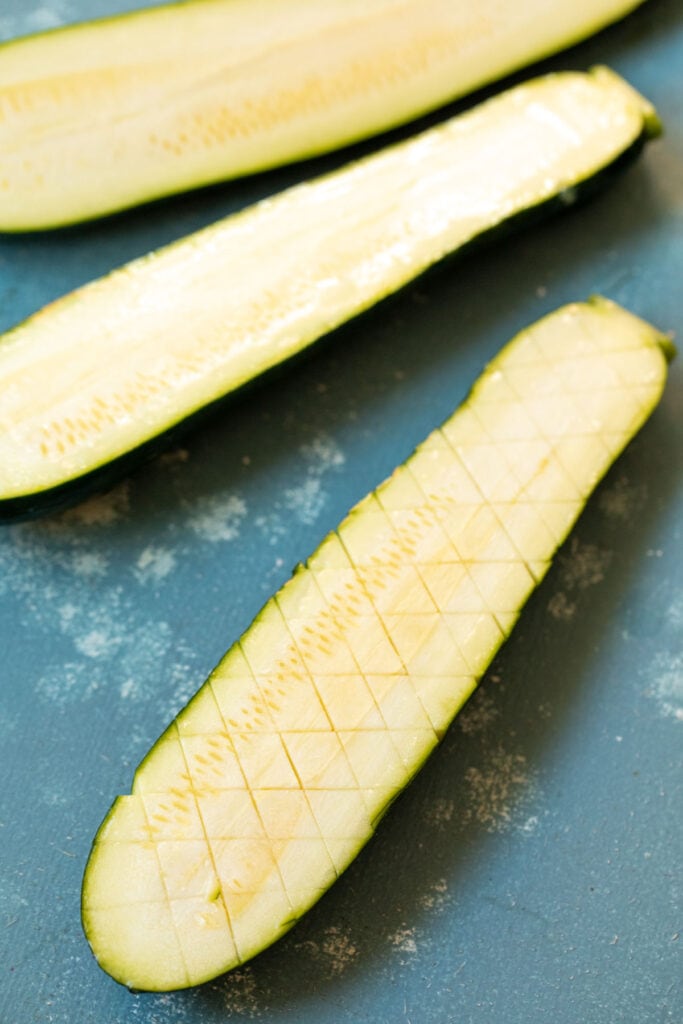 I like to use a paring knife to crosshatch and just work down the zucchini, cutting about 1/2-inch slices being careful not to cut all the way through the zucchini. Then rotate the zucchini and cut perpendicular the other direction.
Once you get the hang of it, you can cross-hatch quickly. I love doing this for squashes anytime I'm cooking them.
Making the gochujang sauce
This gochujang glaze only needs four ingredients, but each is important. Just whisk together the gochujang, soy sauce, rice wine vinegar, and sesame oil until it's a smooth sauce.
If it is really clumpy and seems to thick, you can drizzle in a tablespoon of hot water to thin it out even more.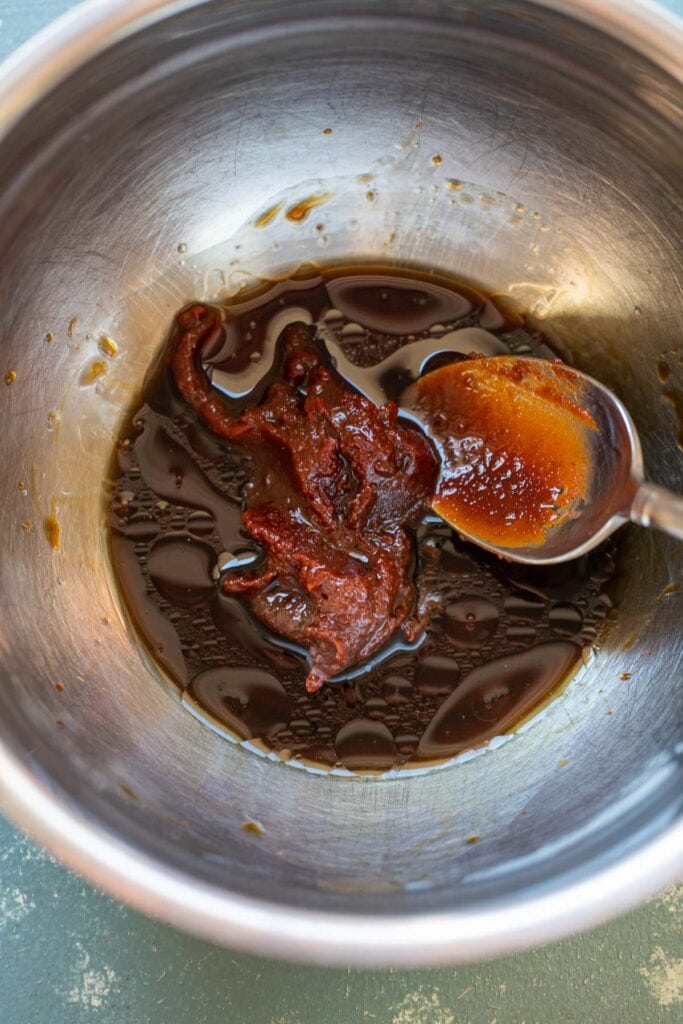 Once the glaze is smooth and whisked together, it's ready to use!
How to cook the zucchini
Once you have your zucchini sliced, it's time to cook! I like to start these on the stovetop to get a good sear on them but finish them in the oven so the glaze thickens slowly and the zucchini gets tender without burning.
Start the zucchini in an oven-safe skillet over medium-high heat with a drizzle of olive oil. Cook them cut-side down for 4-5 minutes to get a really good sear.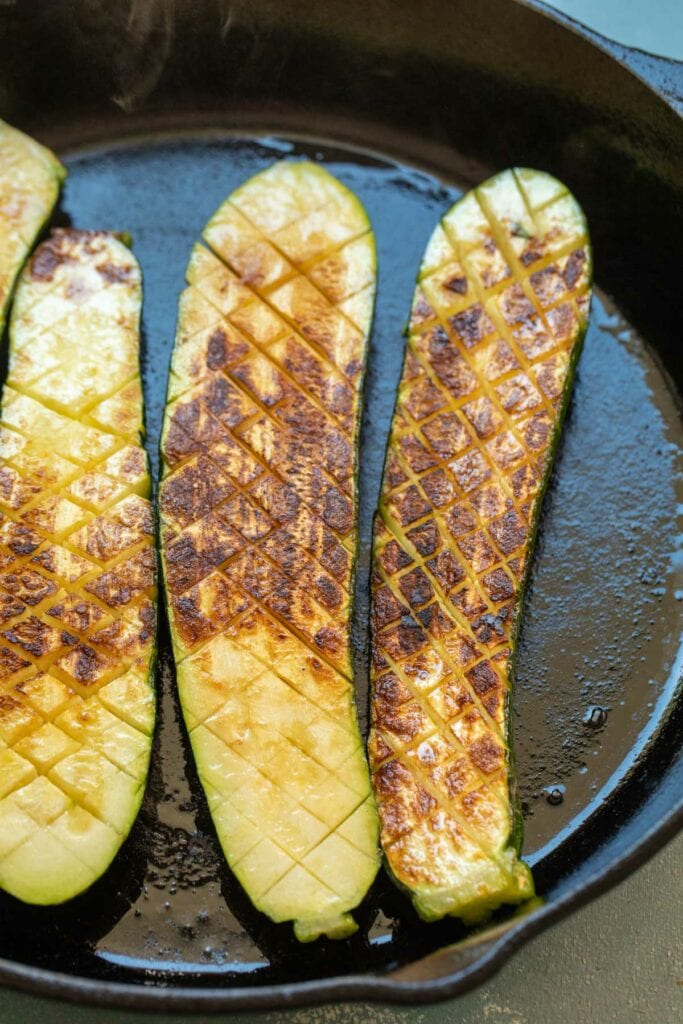 Then flip the zucchini and add the gochujang glaze. Then the skillet goes in the oven for about 10 minutes until the glaze is thickened and the gochujang zucchini is tender.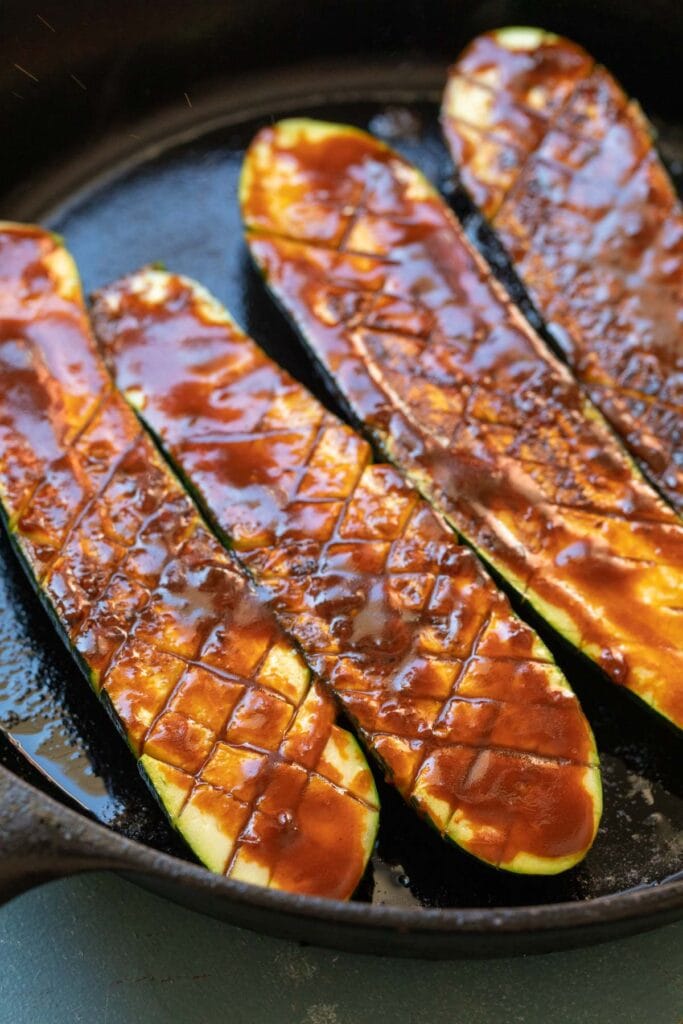 What to serve with this gochujang zucchini
This is a very flexible side dish. You could serve this over any rice dish like a rice bowl or noodle bowl. I can even have a zucchini half with some rice as a quick lunch.
I think the gochujang zucchini would be great served on glass noodles or as an addition to this cold soba noodle salad.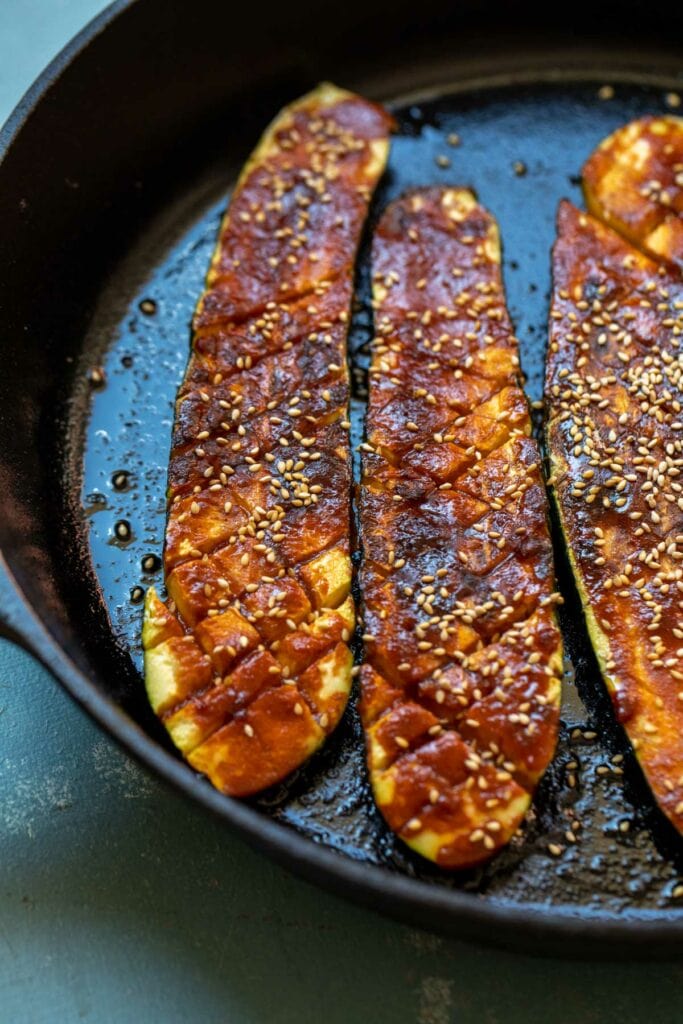 Gochujang Zucchini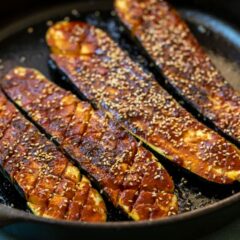 This roasted zucchini with a spicy and sweet gochujang glaze is my new favorite way to cook zucchini. You can serve it with so many things!
Ingredients
2

medium

zucchini

,

halved

1

tablespoon

olive oil

,

for cooking

Sesame seeds

,

garnish
Gochujang Glaze:
1

tablespoon

gochujang chili paste

1

tablespoon

soy sauce

1

tablespoon

rice wine vinegar

1

teaspoon

sesame oil
Instructions
Preheat oven to 400˚F. To prepare the zucchini, slice them in half down the middle and then crosshatch the zucchini by making 1/2-inch deep slices going on direction and then more slices perpendicular.

In a large, oven-safe skillet over medium-high heat, add olive oil and place zucchini halves, cut-side down. Sear for 4-5 minutes until browned.

Meanwhile, whisk together gochujang ingredients for the glaze.

After zucchini halves are seared, flip and drizzle liberally with glaze so it gets in the slices of the zucchini.

Place zucchini in the oven and roast for 10 minutes so glaze thickens and zucchini cooks through.

Remove and serve immediately garnished with sesame seeds.
Nutrition
Serving:
0.5
zucchini
|
Calories:
64
kcal
|
Carbohydrates:
4
g
|
Protein:
2
g
|
Fat:
5
g
|
Saturated Fat:
1
g
|
Polyunsaturated Fat:
1
g
|
Monounsaturated Fat:
3
g
|
Sodium:
260
mg
|
Potassium:
280
mg
|
Fiber:
1
g
|
Sugar:
3
g
|
Vitamin A:
204
IU
|
Vitamin C:
18
mg
|
Calcium:
18
mg
|
Iron:
1
mg
Did you make this recipe?
Here are a few other great recipes to try!