There is a very local tradition here in Denver of serving hot dogs with cream cheese. This was popularized by one of my favorite hot dog shops I've ever been to: Biker Jims.
For the 4th of July (and grilling season in general), I was recently challenged to make a regional variation on hot dogs using their smoked Andouille sausage and making a homemade version of the Classic Biker Jim's dog was the very first thing that came to my mind (I think about them often, honestly).
There are a few tricks to getting this sausage dog right. For starters, take your time with the onions and use a little cola to give them extra sweetness (a trick I learned by watching them cook them at the shop).
Not in the traditional style, I also added some crispy fried onions to my sausage dog for some crunchy texture! I guess you could say they are optional, but they really make the sausage dogs something special!
While I used Andouille Smoked Sausage for my sausage dogs, Zatarain's also makes a Cajun Style Smoked Sausage. You can find their sausages at many locations like Sam's Club and King Soopers or use their Store Locator to find it near you!
How to Make the Caramelized Onions
The trick to caramelized onions is, unfortunately, time. I slice mine and add them to a skillet with butter and let them cook down slowly.
One trick that I noticed the Biker Jim's cooks use is after the onions have cooked down for 20 minutes or so they add a splash of soda! It speeds up the caramelization process and doesn't add any off flavors (just don't use diet).
After 30 minutes or so your caramelized onions will be a dark tan color and ready for the sausage dogs. Keep them warm until serving time!
Making the Crispy Onion Topper
This is sort of an optional step, but I like the texture it gives the dogs. I cut one onion into thin strips and marinated it in milk.
Then toss the onion strings in a flour and spice mixture and fry them very quickly in a few cups of oil. You can do this in small batches since the goal here isn't to make a huge plate of onion rings but just enough to top each dog.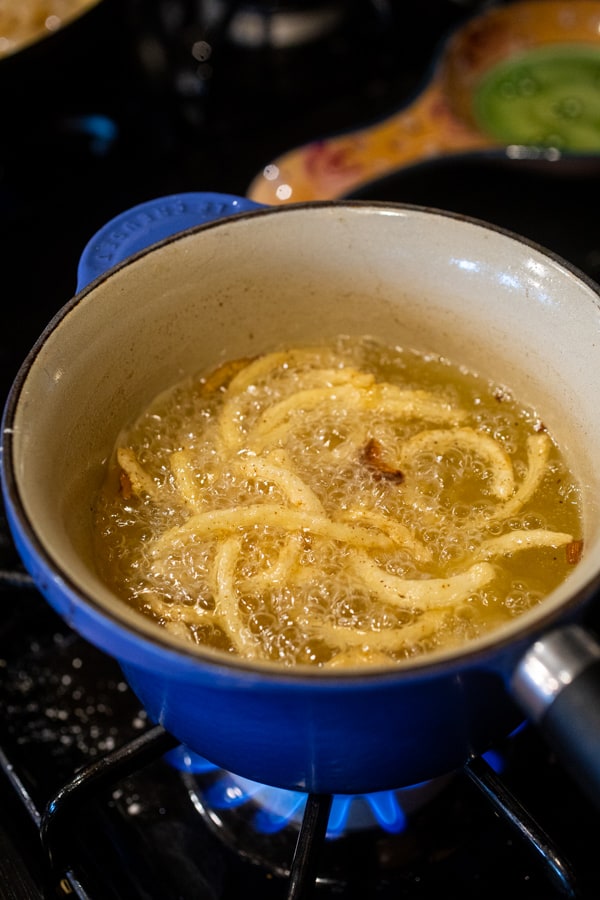 Making the Sausage Dogs
The Zatarain's Andouille Smoked Sausage is already cooked, but I like to add it to the grill to crisp up the sausage a bit and warm it through obviously.
Each sausage link will make TWO sausage dogs. So slice them in half and add them to a bun that has been smeared with cream cheese. Trust me on the cream cheese!
Then top the sausage dogs with a big scoop of caramelized onions!
Top each sausage dog with some crispy onions and fresh parsley and you are ready to rock and roll!
They sausage dogs are a really nice switch-up and I love the spicy flavors of the Andouille smoked sausage with the creaminess of the cheese and the sweetness of the onions.
Happy grilling season everybody!
Caramelized Onion Sausage dogs
You've never had a hot dog like this! These Caramelized Onion Sausage Dogs are spicy, sweet, savory, and perfect for a casual BBQ hang. Don't forget the cream cheese (seriously)!
Ingredients
2

14 oz. packages Zatarain's Smoked Andouille Sausage

8

hot dog buns

8

ounces

softened cream cheese

Fresh parsley

,

garnish
Easy Caramelized Onions:
3

medium Vidalia onions

,

sliced

3

tablespoons

butter

½

teaspoon

kosher salt

⅓

cup

cola

,

not diet
Crispy Onion Strings:
1

small Vidalia onion

,

sliced thin

1

cup

milk

1

cup

all-purpose flour

1

teaspoon

chili powder

1

teaspoon

kosher salt

1

teaspoon

black pepper

2

cups

vegetable oil

,

for frying
Instructions
To make the caramelized onions, add butter and sliced onions to a large skillet over medium heat. Season with salt and let cook, stirring occasionally, for 20-25 minutes until onions cook down and start to brown.

After they have started to brown, add cola to the skillet and stir. The cola will quicken the caramelization process and give them more sweetness and color. Continue to cook and stir onions until they reach the desired color and flavor. Keep warm until serving.

To make crispy onions, slice onions very thin and soak in milk for at least 15 minutes. In a small bowl, whisk together flour, salt, chili powder, and pepper. Remove onions from the milk and let any extra liquid drip off. Then add to flour bowl and toss to coat.

Fry the onions strings in small batches in 350˚F oil. Fry for 2-3 minutes until onions are very crispy. Remove and let drain on a few paper towels. Repeat until all your onion strings are fried.

To make sausage dogs, cut andouille sausages in half and grill for 3-4 minutes per side over direct heat until the sausages are hot and have some nice grill marks.

Toast buns and add about an ounce of softened cream cheese to each bun. Then add your grilled sausage and top with a generous amount of the caramelized onions. Sprinkle each dog with crispy onions and fresh parsley. Serve warm.
Nutrition
Serving:
1
Sausage Dog
|
Calories:
441
kcal
|
Carbohydrates:
43
g
|
Protein:
12
g
|
Fat:
25
g
|
Saturated Fat:
11
g
|
Polyunsaturated Fat:
4
g
|
Monounsaturated Fat:
7
g
|
Trans Fat:
0.2
g
|
Cholesterol:
58
mg
|
Sodium:
922
mg
|
Potassium:
298
mg
|
Fiber:
2
g
|
Sugar:
9
g
|
Vitamin A:
645
IU
|
Vitamin C:
5
mg
|
Calcium:
146
mg
|
Iron:
3
mg
Did you make this recipe?
Here are a few other great hot dogs recipes!