I usually think of oatmeal as a sweet breakfast. I like it with a little butter, some brown sugar, and maybe a dollop of peanut butter. But oatmeal is basically a sponge for flavor. It's kind of bland on its own, but is great at soaking up other flavors, which is why this savory Cheesy Bacon Oatmeal works so well!
Almost like an Asian congee bowl, this savory oatmeal is simmered with some onion and just a little bacon grease. The finished bowl is packed with umami savory notes. Once you have the basics down you can actually top this with lots of different topping options, but generally, I like some chives or scallions and a soft egg.
I've never had a huge sweet tooth so this savory bacon oatmeal is my new favorite weekend breakfast. Trust me when I say that these savory oats will jump way up your breakfast list once you try them!
How to Make Savory Oatmeal Video
Using bacon in oatmeal
Bacon is wonderful for breakfast but sometimes people overdo the bacon thing. This recipe though does really benefit from bacon, but you don't need a bunch of it. Just a few strips goes a long way to giving a breakfast bowl really deep, savory flavors.
When using bacon in something like oatmeal, that is inherently soggy, I like to crisp it up, then remove it, and then add it back near the end so it stays crispy. Start with thick bacon and chop it up and place it in a cold pot. You'll cook everything except the egg in this one pot.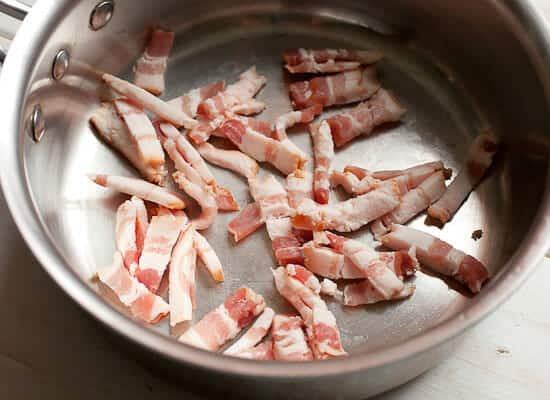 Cook the bacon over low heat for 10 minutes or so until the fat has rendered out of the bacon. A little patience helps here and you don't want to rush the process or you will burn the bacon.
One the bacon is evenly cooked and crispy, you can remove the bacon bits and keep the bacon grease in the skillet. That's all flavor!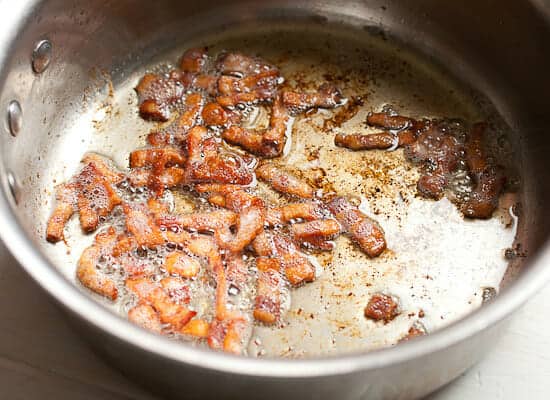 If you have more than a tablespoon or two of bacon grease, drain off the extra, but given that you aren't starting with a bunch of bacon, it'll probably be okay unless you have very fatty bacon. You can eyeball it.
Then add the diced onion to the pan. Don't overdo it on the onion. A little goes a long way.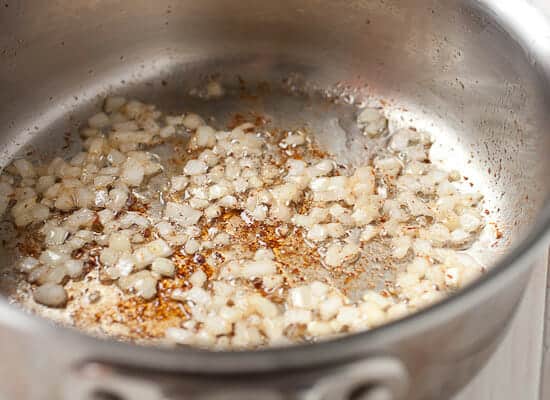 What kind of oatmeal to use in this recipe?
I'm generally a steel-cut oatmeal fan like I used in these Cinnamon Roll Oatmeal Bowls and these Strawberry Rhubarb Oatmeal Bowls. You can absolutely use steel cut oatmeal for these savory bowls as well, but it will add 25-30 minutes onto your cooking time.
Generally, I like to keep my breakfast recipes in the 20-30 minute range so since we are already cooking the bacon and onions, I use rolled oats for this recipe which drastically reduces the cooking time.
Your choice ultimately, but I like the rolled oats for these savory oatmeal bowls.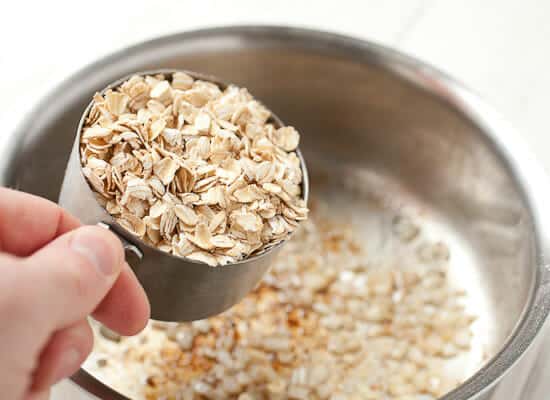 Actually cook the oats in the bacon grease for a few seconds like you would a risotto. The pan will look really dry.
Then add the water and bring the pot to a simmer. Turn the heat down to low and let the oatmeal simmer for 8-10 minutes until it's nice and thick. If it gets too thick, add more water, but 2 cups should be about right.
Season the cooked oatmeal with a little salt and pepper.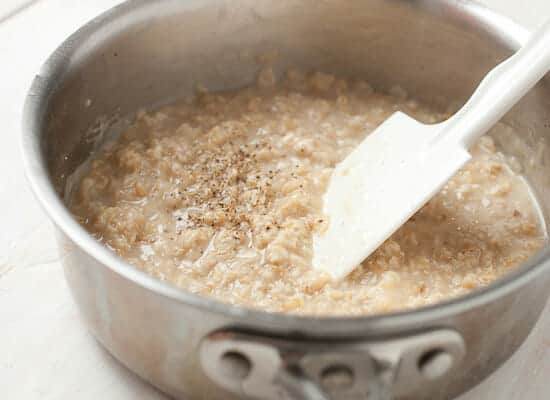 I like to add the cheese in two installments. Serve some right on top of the finished oatmeal, but stir some into the oatmeal while it's cooking.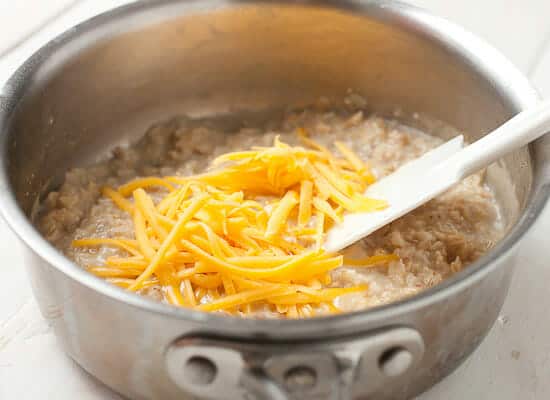 Eggs and other add-in options
You don't need to serve these bowls with an egg, but it really rounds out the bowl in my opinion. I recommend just cooking the over-easy. The soft egg kind of melts into the oatmeal bowl. Good stuff.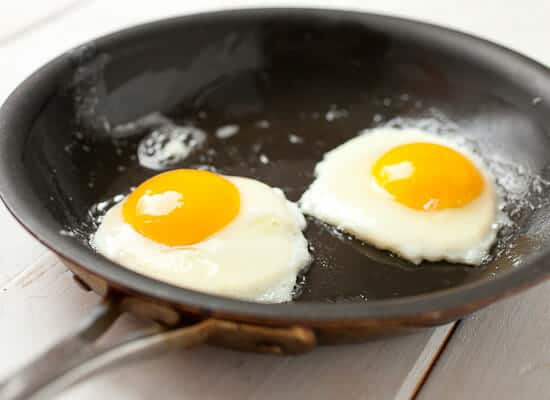 Divide the savory oatmeal between two bowls and top with some more cheese, crispy bacon, the egg, and some fresh chives.
Need some other topping ideas for these bowls? Here are a few ideas!
Sun-dried tomatoes
Sauteed mushrooms
Spicy chili sauce
Leftover protein like steak or shredded chicken
Roasted sesame oil
This is home comfort food at its best.
Have you ever tried savory oatmeal?? I imagine the topping ideas are endless.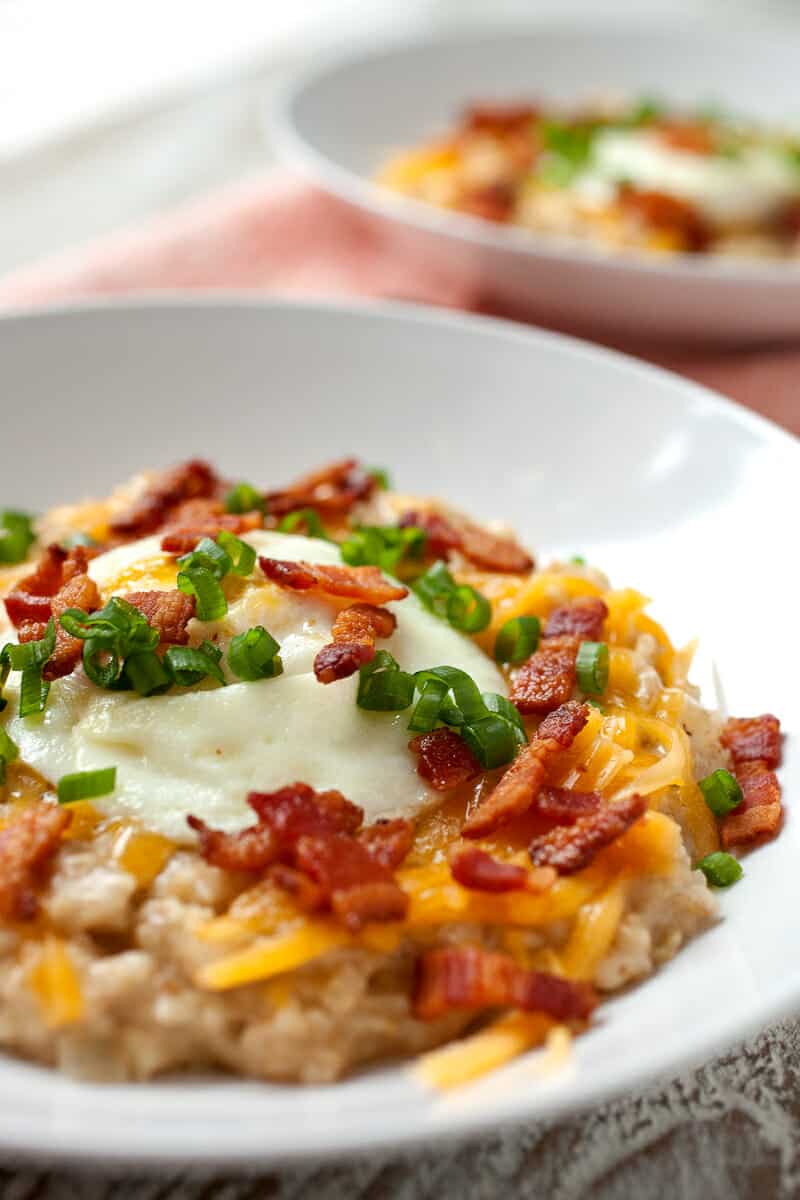 Making this savory oatmeal in advance
You can absolutely make this oatmeal in advance. Cook the bacon and keep it separate from the oatmeal so it stays crispy. Cook the oatmeal as it is in the recipe and then you can chill it in the fridge for up to five days. Reheat it gently on the stovetop with a little water or stock and then add the toppings as you would originally.
Bacon Cheddar Savory Oatmeal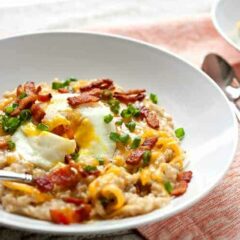 The perfect change for the savory breakfast lover. This oatmeal is served with crispy bacon, gooey cheese, and fresh chives!
Ingredients
2

strips

thick bacon

,

chopped

2

tablespoons

diced onion

1

cup

rolled oats

2

cups

water

2-3

oz.

cheddar cheese

,

grated

2

large eggs

,

over easy

Salt and pepper

Fresh chives

,

garnish
Instructions
Roughly chop bacon and add to a medium pot over low heat. Cook slowly, rendering out bacon fat until bacon is crispy, about 10 minutes.

Remove crispy bacon bits from pan and drain off most the bacon grease, leaving about a tablespoon. Add diced onion and cook for a minute, using the onion to scrape up any bits stuck to the pan.

Add rolled oats to the pan and stir for 15 seconds. Then add water. Bring to a simmer, turn heat down to low, and simmer for 8-10 minutes until oatmeal is thick. Season with a pinch of salt and pepper.

Meanwhile, cook eggs over-easy.

Right before serving, stir in grated cheddar cheese.

Divide oatmeal between two bowls. Sprinkle with cheddar cheese and crispy bacon. Top each bowl with an over-easy egg and fresh chives.
Nutrition
Calories:
428
kcal
|
Carbohydrates:
30
g
|
Protein:
20
g
|
Fat:
25
g
|
Saturated Fat:
10
g
|
Polyunsaturated Fat:
4
g
|
Monounsaturated Fat:
8
g
|
Trans Fat:
0.04
g
|
Cholesterol:
207
mg
|
Sodium:
399
mg
|
Potassium:
287
mg
|
Fiber:
4
g
|
Sugar:
1
g
|
Vitamin A:
530
IU
|
Vitamin C:
1
mg
|
Calcium:
283
mg
|
Iron:
3
mg
Did you make this recipe?
Here are a few other great recipes you might like!