Here at house Macheesmo we eat oatmeal almost every single weekday morning for breakfast. It's a healthy and easy way to start the day, but I have to admit that I get a bit bored with the standard. This Blueberry Baked Oatmeal with Pomegranates is a nice switch up from the classic versions and still very easy to make.
My kids can be a bit finicky about the oatmeal they eat, but this fruit-packed oatmeal with berries and pomegranates is always a hit at our house. If your kid is a very picky eater, you might be out of luck, but over the years, I've had success with this version over some other, more standard baked oatmeal recipes.
Let's dig in and make this wonderful breakfast happen!
Preparing the Pomegranate Seeds
You can buy prepared pomegranate seeds in the stores these days, and that's totally fine to use in this recipe. You can save yourself a few bucks though, and have more flavorful pomegranates if you get the seeds yourself out of fresh pomegranate.
There are two easy ways to do this. First, you can cut the pomegranate into quarters, submerge them in water, and break them up. The seeds will sink to the bottom and the white pithy parts will float, which you can scoop off and then drain the seeds.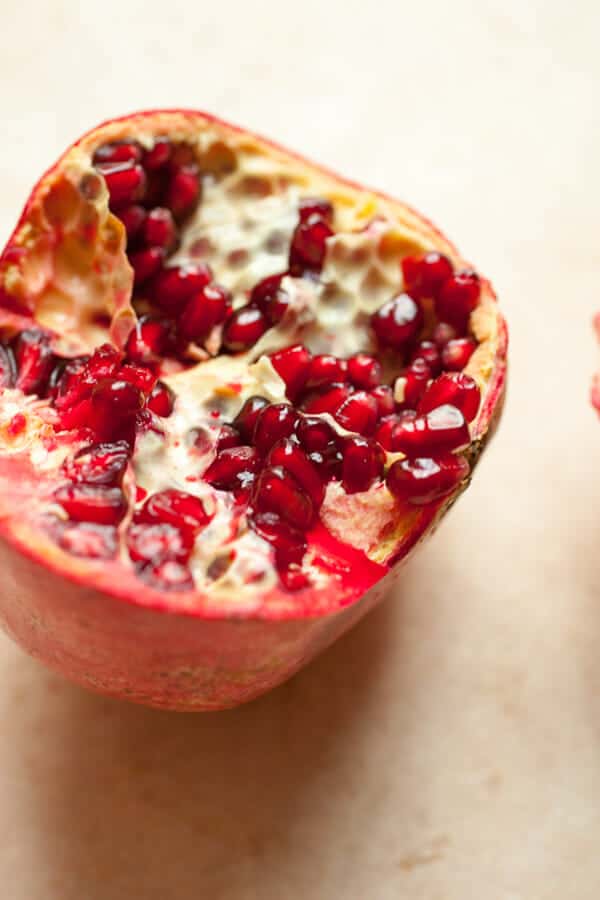 A slightly more precise way to prepare the pomegranates is to cut the edge off the pomegranate and see where the sections divide. You'll see five quadrants divided by the pith. If you cut along those lines, you'll be able to break out the seeds very easily. Here's a video of a similar method that looks great!
Preparing the Baked Oatmeal
This is a really easy oatmeal dish to toss together. You can make it the night before and then just bake it in the morning OR completely bake it and then just reheat in the microwave for super-fast breakfasts.
It starts with a little brown sugar, eggs, milk, ground cinnamon, ground nutmeg, and a pinch of salt.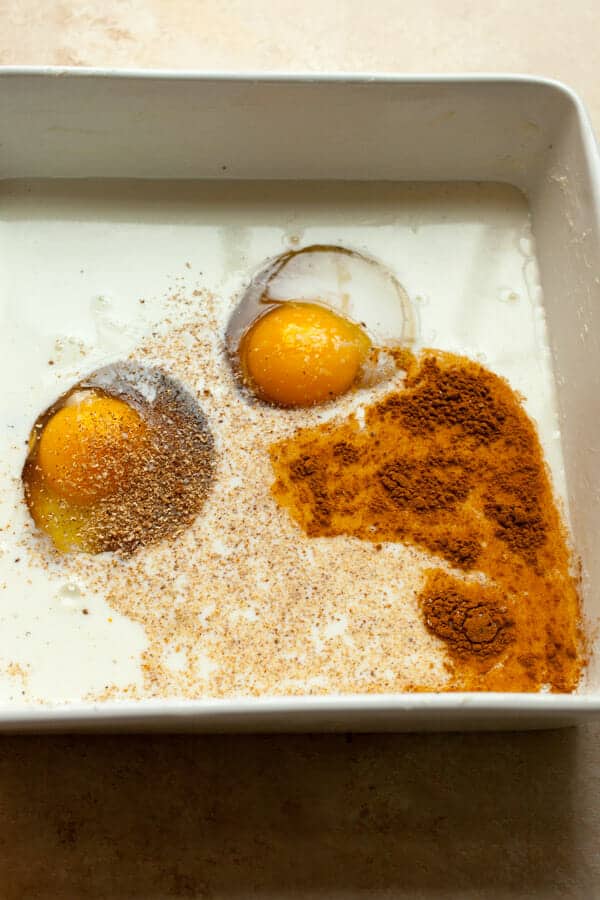 Then add in some rolled oats. I'm normally a steel-cut oatmeal fan, but rolled oats will work best for this version.
Then there is the fruit! Pomegranates are beautiful right now and add perfect little pops of texture and flavor to the oatmeal. You can seed them yourself or buy already seeded ones.
Mix in the fruit with the oatmeal in a medium bowl and pour the mixture into a baking dish. I recommend lightly oiling or buttering the dish to keep the oatmeal from sticking.
Finally, drizzle some melted butter over the whole situation.
This is ready for the oven! I love those colors. Again you could do this the night before baking and store it in your fridge or pop it right in the oven from here.
Baking the Oatmeal
Bake this blueberry oatmeal for about 40 minutes at 350 degrees F. It's done when the oatmeal is just set in the center. It will get a bit crispy around the edges, but should still be moist in the center. The blueberries and pomegranates will give the whole dish a wonderful color.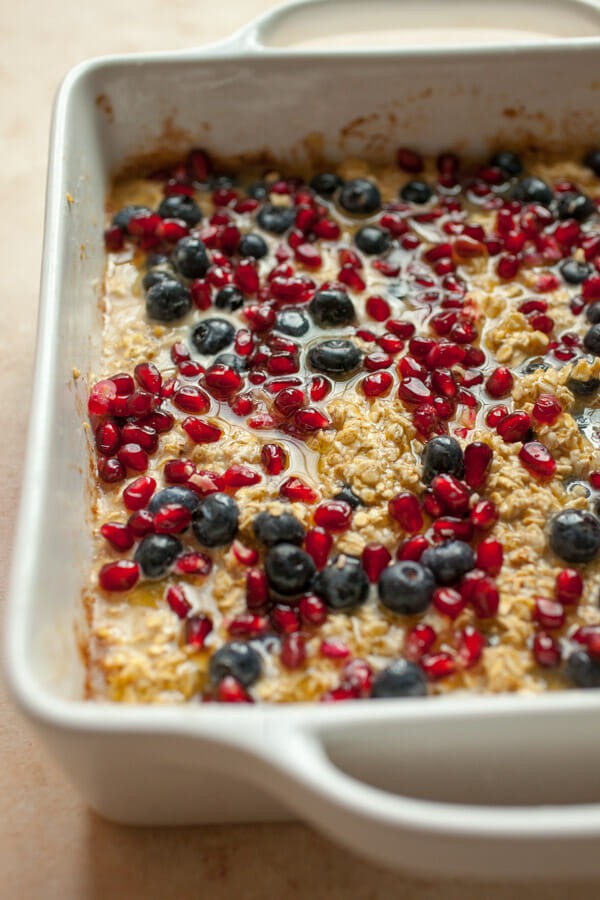 How to serve this baked oatmeal
I like to serve this Blueberry Baked Oatmeal with some Greek yogurt but you could also spoon it into a bowl and add a little milk to it.
Other options for serving would be a dollop of peanut butter or almond butter, which would make it a heartier breakfast, for sure. For a sweeter take, you could serve it with some maple syrup, whipped cream, or honey.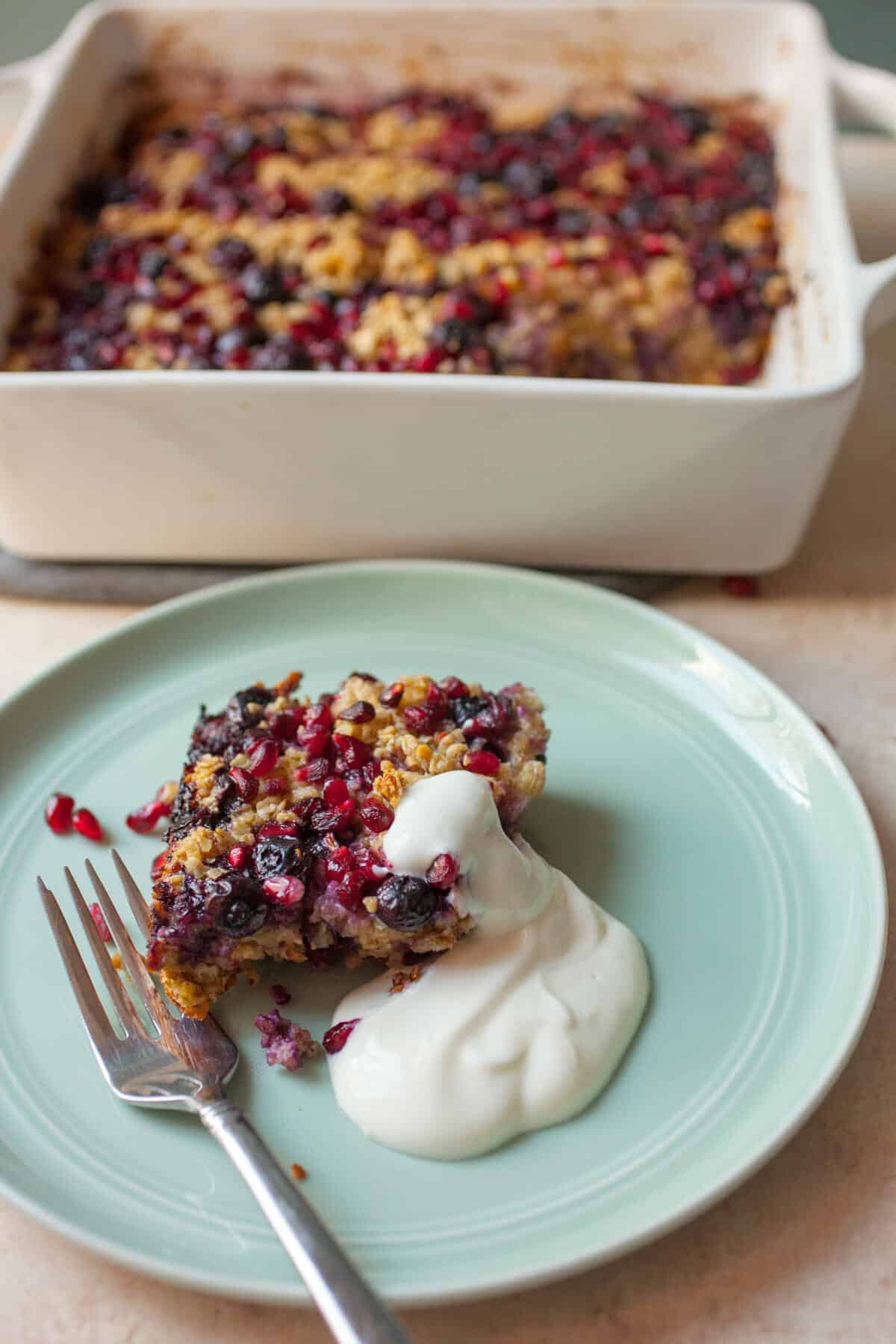 Alternatives for this blueberry baked oatmeal
There are loads of substitutions and ingredients you could use in this recipe.
Dairy-Free – If you wanted to make this dairy-free then just substitute the milk for almond milk or oat milk. Instead of butter, you could use coconut oil as well.
Naturally Sweet – Instead of brown sugar I use, you could substitute real maple syrup or honey for a naturallly sweetened version of the baked oatmeal.
Vegan Version -If you wanted to make this a vegan version of baked oatmeal, you would need to substitute the milk with almond milk or oat milk and the eggs with an egg replacement. For a baked oatmeal, you could substitute with a whipped banana, mashed and stirred into the oatmeal. You could also do the chia seed trick of soaking about 1/4 cup of chia seeds in water or almond milk and stirring those into the oatmeal.
Add some Crunch – I like this oatmeal without any nuts but if you wanted to add some chopped pecans or walnuts, those are flavors that go very well, generally with baked oatmeal.
Reheating Leftover Baked Oatmeal
This baked oatmeal is a dream to reheat. If you already have it baked, then all you have to do is scoop out a serving of the baked oatmeal and add it to the microwave with a splash of water or milk. Microwave it for about a minute on high and it'll be beautifully reheating and ready for breakfast.
This blueberry baked oatmeal gets lots of YES votes at House Macheesmo and I hope it makes its way to your breakfast table soon also.
Blueberry Baked Oatmeal with Pomegranate Seeds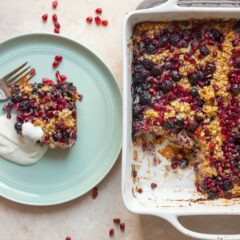 This easy baked oatmeal is jam-packed with lots of fresh fruit for a perfect mix of tangy and sweet flavors. You're gonna love it. Very kid friendly!
Ingredients
½

cup

brown sugar

2

large eggs

1½

cups

milk

1

teaspoon

cinnamon

½

teaspoon

ground nutmeg

Pinch

of salt

3

cups

rolled oats

6

oz.

blueberries

½

cup

pomegranate seeds

2

tablespoons

unsalted butter

,

melted

Greek yogurt

,

for serving
Instructions
Preheat oven to 350 degrees F. In an 8×8 baking dish, stir together brown sugar, eggs, spices, milk, and a pinch of salt. Add rolled oats and stir together.

Add blueberries and pom seed and evenly divide them on the oatmeal. Let oatmeal sit at room temperature for 5 minutes or store overnight.

Drizzle baked oatmeal with melted butter. Bake for 40-45 minutes at 350 degrees until the oatmeal is set.

Let cool briefly before serving. Serve with Greek yogurt.
Nutrition
Serving:
1
bowl
|
Calories:
515
kcal
|
Carbohydrates:
83
g
|
Protein:
15
g
|
Fat:
15
g
|
Saturated Fat:
7
g
|
Polyunsaturated Fat:
2
g
|
Monounsaturated Fat:
4
g
|
Trans Fat:
0.2
g
|
Cholesterol:
108
mg
|
Sodium:
79
mg
|
Potassium:
510
mg
|
Fiber:
8
g
|
Sugar:
39
g
|
Vitamin A:
467
IU
|
Vitamin C:
6
mg
|
Calcium:
191
mg
|
Iron:
3
mg
Did you make this recipe?
Here are a few other great recipes to try!