Congee, or rice porridge, is one of my favorite savory breakfasts to make. Depending on the culture, it has many names all over the world, but is essentially slow-simmered rice. For some reason, it has never really caught on in the US, which is a complete mystery to me. This vegetarian congee is an easy version of the dish.
Congee, or jook, probably is not a weekday breakfast because the rice needs to simmer for a while to get really tender, but if you have the time, Vegetarian congee is a fantastic treat and one that most Americans haven't tried.
Vegetarian or Vegan Congee
Congee will traditionally have some meat in it, but not much. Sometimes it will have some sliced pork or shredded chicken, but it's very easy to make vegetarian. I just use vegetarian stock while simmering it and then top it with all sorts of sauteed vegetables.
If you wanted to make this vegan, the only switch you would need to make is to leave out the egg. Add all the vegetables, chiles, or herbs to make it your own after that!
What kind of rice to use for Congee?
The nice thing about congee is that you can use any rice for it really. But, depending on what rice you use, you'll get different results. If you use a short-grained rice, it will almost all dissolve into a porridge. You won't even be able to recognize it as rice.
Meanwhile, if you use a long grain rice, like jasmine rice, like I did for this recipe, it'll have a bit more texture to it which I prefer.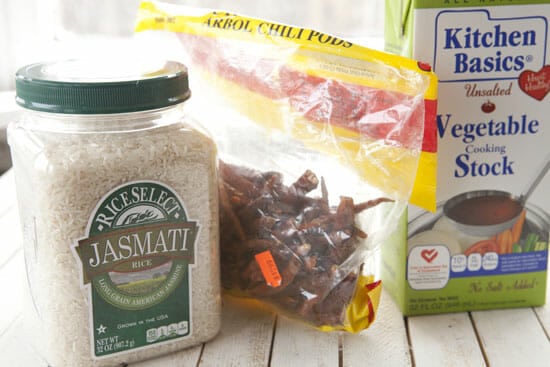 If you happen to have leftover rice, then I would absolutely just use that. It's easiest to make congee out of leftover rice since it is already softened and by simmering it you will quickly break it down.
Making the Congee Recipe
I normally make my congee in just a pot on the stove. The other option that's easy is the slow cooker. You could also use a pressure cooker if you wanted, but it seems like overkill to me to bust out the big equipment for what is essentially boiled rice.
To get this started, you'll also need some vegetable broth and a few dried chilies if you want to add some spice to the congee.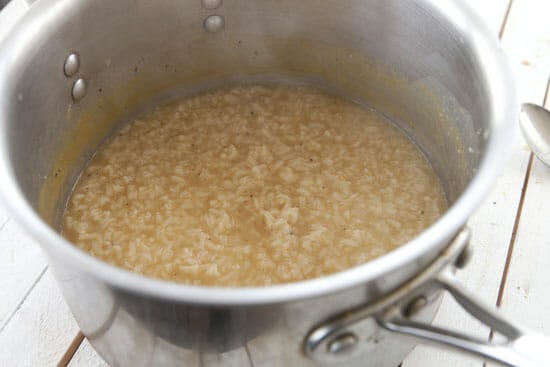 I usually start with 6-7 cups of liquid per cup of rice when I'm making congee and most of that liquid should be water. I usually do five cups of water, one cup of stock, and one cup of rice.
Bring the liquid to a simmer and then stir in your rice and let it simmer until it starts to breakdown. If the mixture gets too thick at any point, you need to add more water! My congee was almost done after 35-40 minutes of simmering and stirring occasionally. Once the congee gets to this point, you can start seasoning it. It'll need a BIG pinch of salt and pepper for starters.
Taste as you season to make sure it has good flavor.
The cooking time on congee can vary drastically depending on the kind of rice you are using and if you are using leftover rice or uncooked rice. There's not a perfect recipe for every case, but it's also very hard to mess up. Just simmer and stir until the rice has a porridge consistency. If it is too thick, then add more liquid!
How to make this in the Slow Cooker
Since this is a simmered recipe, it's pretty easy to adapt. Just add your liquid and rice and aromatics to your slow cooker and cook on low for up to eight hours or on high for 3-4 hours.
Once the congee is made, you will want to stir it well to make sure the rice is broken down and season it well, to taste, with pinches of salt, pepper, and maybe even a splash of soy sauce or sesame oil.
Making the Toppings
Most traditional congee dishes involve some sort of meat — pork is the standard. When I wanted to make a veggie version, I headed straight for the mushroom aisle.
I sliced up a few Shiitake mushrooms and crimini mushrooms and then sautéed them over medium high heat in a tablespoon or two of oil in a skillet. At the very end I hit them with a small drizzle of soy sauce just to up the savory flavors even more.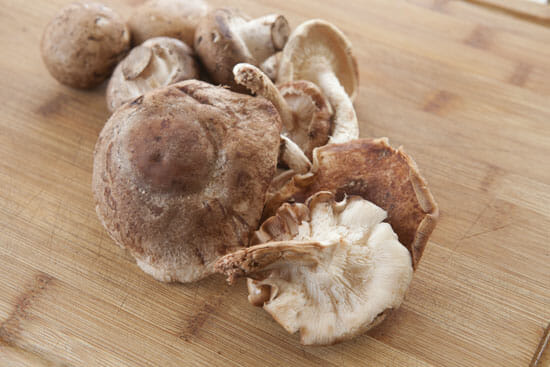 I also wanted to top my bowls with soft-boiled eggs, but those are optional.
Here are a few other topping ideas!
Sauteed peppers and onions. Cook the peppers and onions slowly in a skillet until they are caramelized, almost like in a cheesesteak. Then add those to the congeebowls.
Ginger and Garlic. You can add lots of aromatics to the broth while cooking to infuse your congee with flavors. Ginger and garlic are easy ones, but also dried chiles are nice.
Cheese Congee. This is very not traditional, but if you stir in a little hard cheese (like parmesan) right at the end of cooking, it's very good.
Dessert Version. While I prefer a savory congee, it's not too hard to swing this into the sweet category. Think about topping it with strawberry jams, peanut butter, and maybe a splash of cream or nutella.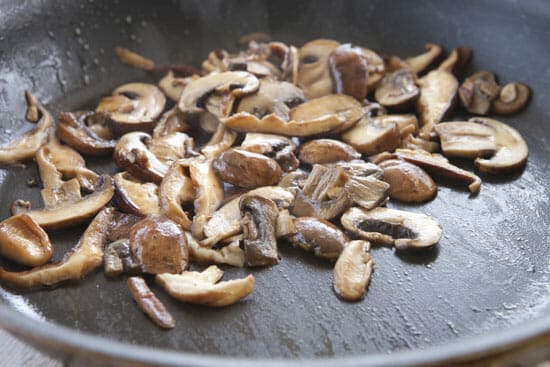 Finishing the Vegetarian Congee
Topping options are infinite for this Vegetarian congee. Beyond the egg, I also added some fresh cilantro and chives and a few spoonfuls of chili garlic sauce. Green onions, fried shallots, or basically any herb would go great with these bowls.
You can get crazy with the toppings though. Any crunchy veggie works great. Anything pickled is a good idea. Anything spicy will find its way into my bowl.
Note on using leftover rice
If you want to use leftover rice for this, which is what I do in the cookbook, just decrease the liquid by about half since the rice is already cooked. It'll take less time but the rice should still almost dissolve into a thick porridge. This is one of my new favorite breakfasts to serve people because it's not on the standard American breakfast menu, but it should be.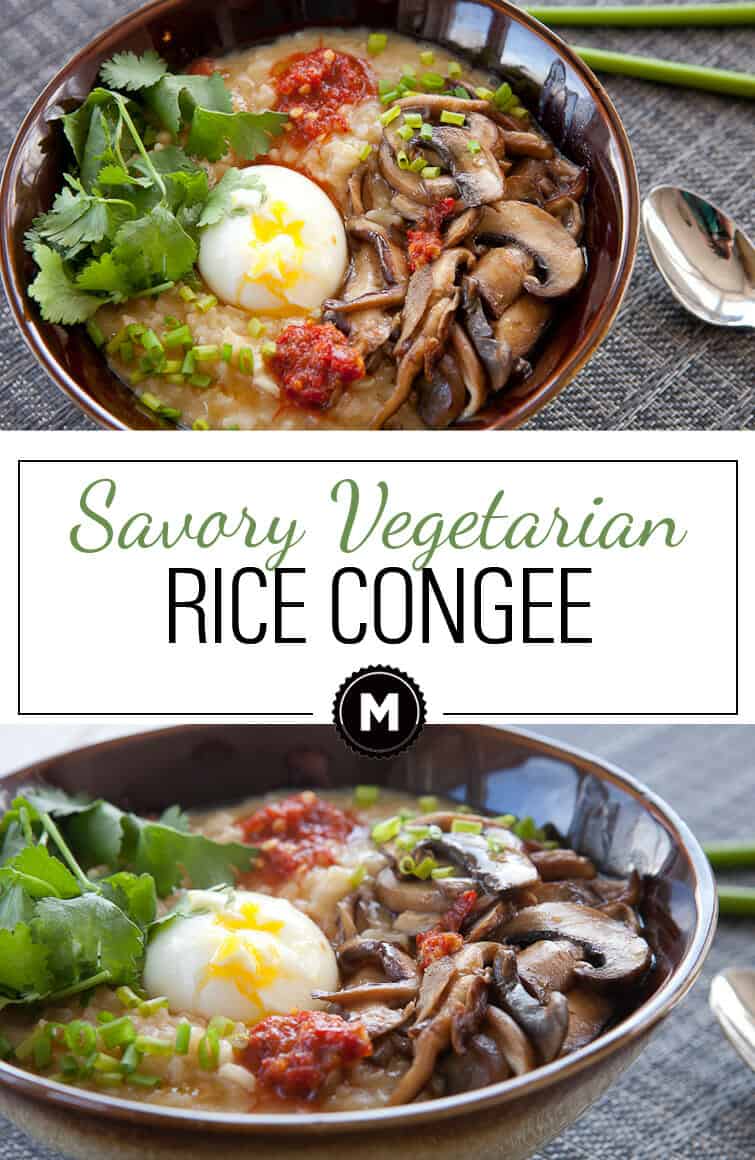 Vegetarian Rice Congee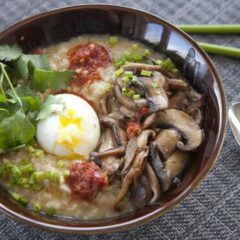 My version of a slow-simmered rice congee with vegetable stock and sauteed mushrooms. A really filling and delicious meal!
Ingredients
1

cup

long-grain rice

5

cups

water

1

cup

vegetable stock

2-3

dried arbol chilis

,

optional

½

teaspoon

kosher salt

½

teaspoon

ground black pepper

8

ounces

mushrooms

,

sliced thin

1

tablespoon

olive oil

1

teaspoon

soy sauce

Soft-boiled eggs

Chili Garlic Sauce

Fresh chives

Fresh cilantro
Instructions
Bring the water and stock to a simmer in a large pot. Reduce heat to medium and stir in rice. Let simmer, covered, stirring occasionally, until rice thickens, about 30-40 minutes. If at any point the rice looks too thick, add more water.

When the rice is a porridge consistency season it well with salt and pepper. Keep the porridge warm over low heat until you're ready to serve.

For mushrooms, slice thin. Add a drizzle of oil to a large skillet over medium high heat. Add shrooms and cook until the mushrooms lose their liquid and soften, about five minutes. At the end of cooking, hit the shrooms with a small drizzle of soy sauce.

Spoon congee into a bowl and top with mushrooms, soft-boiled egg, herbs, chili sauce and mushrooms.
Nutrition
Serving:
1
bowl
|
Calories:
280
kcal
|
Carbohydrates:
40
g
|
Protein:
11
g
|
Fat:
8
g
|
Saturated Fat:
2
g
|
Polyunsaturated Fat:
1
g
|
Monounsaturated Fat:
4
g
|
Trans Fat:
0.02
g
|
Cholesterol:
164
mg
|
Sodium:
680
mg
|
Potassium:
301
mg
|
Fiber:
1
g
|
Sugar:
2
g
|
Vitamin A:
364
IU
|
Vitamin C:
1
mg
|
Calcium:
82
mg
|
Iron:
2
mg
Did you make this recipe?
Here are a few other recipe ideas to try!