And so the Big Ass Salad series treks on and this Roasted Beet Salad with Mint Dressing is the next installment!
To be honest, this is probably the smallest ass of the big ass salads, if that makes sense. It doesn't have a grain or carb component so it's not quite as filling as some of the other salads, but it does have a few other big flavors.
This salad is still very good on its own though and is particularly good if you serve it alongside some grilled protein or a simple pasta dish.
It's a great salad to serve for Sunday dinner and the leftovers keep well for weekday lunches!
How to roast beets
The cooking time on this salad is the longest of the series just because you have to roast the beets, but it's so worth it to roast them correctly.
Roasted beets end up as very sweet and almost like candy. I used to not be a beet fan, but I realized that I was just eating them wrong.
Roasted beets are delicious!
To roast the beets, trim the stems and roots off the beets and then roast them at 375˚F until they are very tender, about 45 minutes. A knife should easily go into the beets.
Then you can let them cool slightly, peel them, and cube them up!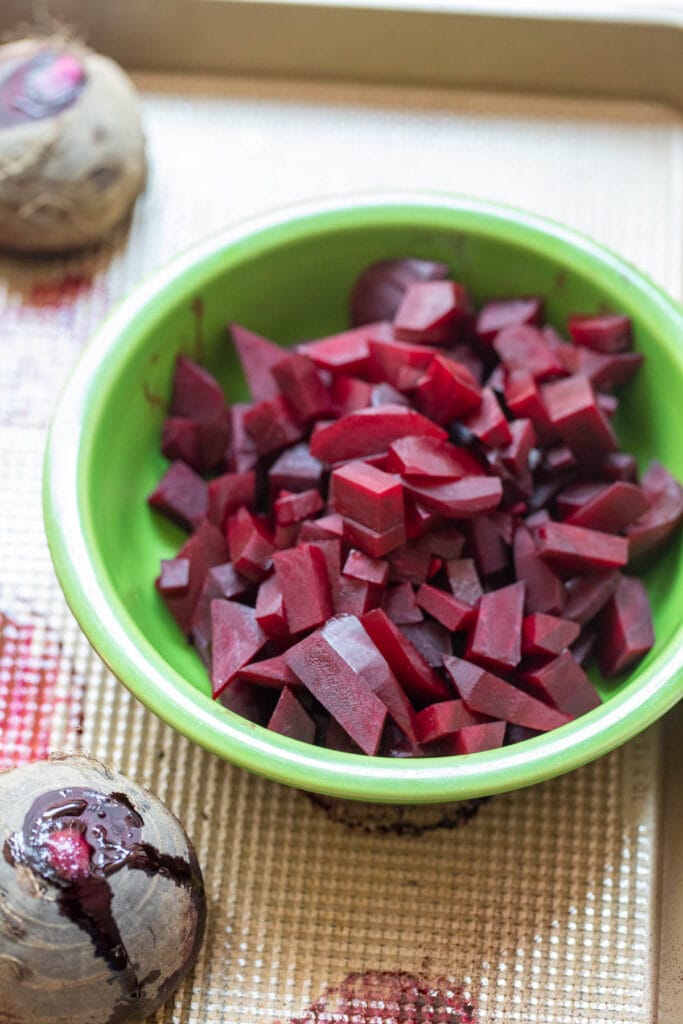 How to make the mint dressing
I considered using fresh mint for this dressing, but I went with dried mint so the flavor is more concentrated and the dressing will keep longer if you use dried mint over fresh mint.
You could use fresh mint though if you have it readily available.
Just stir all the ingredients (sour cream, lemon juice, honey, mint, salt) in a bowl and taste and adjust to your liking. It should be a pretty thick dressing so it sticks to the salad well.
Side note on this dressing, I also discovered that it's a delicious dip for vegetables!
Other ingredients for this roasted beet salad
The other ingredients for this roasted beet salad are very straightforward. I went with baby spinach as a base for the salad and also added some gorgonzola and pistachios. The gorgonzola goes really well with the beets and is kind of a tangy/creamy component that the salad needs.
If you buy beets with greens on them, don't throw them away. You can wash them really well and chop them up and add them to the salad along with the spinach!
The pistachios are a great crunchy and salty addition to the beet salad.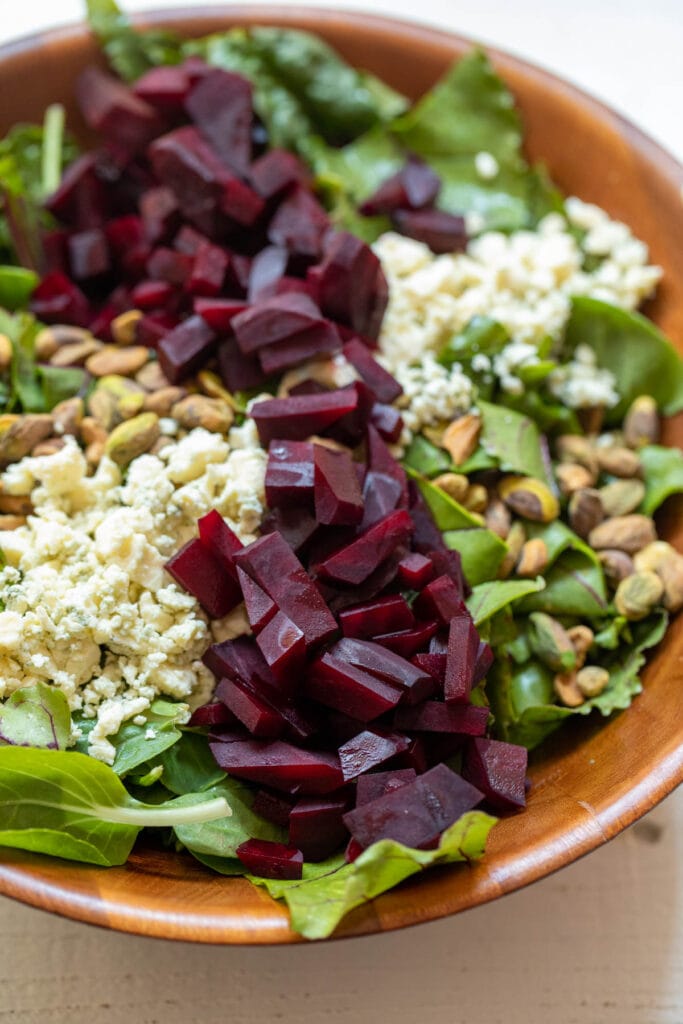 Roasted Beet Salad with Mint Dressing
This roasted beet salad has just a few ingredients but massive flavor. Loads of pistachios and gorgonzola cheese go really well with the sweet roasted beets. A winner of a salad!
Ingredients
4

medium beets

,

roasted and cubed

5

ounces

baby spinach

4

ounces

gorgonzola cheese

½

cup

pistachios
Mint dressing:
1

cup

sour cream

2

tablespoons

lemon juice

1

tablespoon

dried mint

2

tablespoons

honey

Pinch

salt
Instructions
For the beets, preheat oven to 375˚F. Cut the stems and roots off the beets and place them on a baking sheet. Roast the beets until they are very tender and a knife goes in easily and smoothly, probably 45 minutes. Then let beets cool a bit, peel them, and cube them into ½-inch pieces.

For the dressing, stir ingredients together in a small bowl and taste. Adjust lemon and salt to your liking.

To make salad, add a base of baby spinach to a large bowl. Top with roasted beets, pistachios, gorgonzola, and the dressing if you are serving immediately. If you are serving it later, dress it right before serving.
Nutrition
Serving:
1
Side Salad
|
Calories:
252
kcal
|
Carbohydrates:
17
g
|
Protein:
9
g
|
Fat:
18
g
|
Saturated Fat:
8
g
|
Polyunsaturated Fat:
2
g
|
Monounsaturated Fat:
6
g
|
Cholesterol:
37
mg
|
Sodium:
292
mg
|
Potassium:
525
mg
|
Fiber:
3
g
|
Sugar:
12
g
|
Vitamin A:
2687
IU
|
Vitamin C:
12
mg
|
Calcium:
186
mg
|
Iron:
2
mg
Did you make this recipe?
Substitution ideas for this roasted beet salad
As always here are some substitution ideas for this roasted beet salad.
Golden beets! Instead of standard beets, you can use golden beets which won't stain as badly and are still very sweet and delicious. Sometimes golden beets are a bit more expensive.
Blue cheese! Blue cheese is always an easy substitute for the gorgonzola.
Other seeds and nuts. You could add any nut or seed to this salad. Sunflower seeds would be great if you don't have any pistachios
Storing this salad for later
This salad keeps well for a few days. The best way to keep it though is to keep the roasted beets and dressing separate from the salad. The beets will stain the salad and the dressing will make it wilty.
So store those ingredients separately and the salad will keep for 4-5 days without problem.
Here are a few other great beet recipes!
Here are some other great beet recipes to try!