If you've ever had really good tacos from a taco truck or even a good restaurant, you'll know that a bottle or bowl of bright green sauce for your tacos means you are in the right place. This Green Taco Sauce is usually similar to a salsa, but also different in some key ways.
There are as many ways to make this sauce as there are taco places in the world, but here is my humble version of the sauce that I make frequently if I'm having a homemade taco night. I've also listed a few substitutions and ideas for how you can make the sauce your own.
Let's dive in and make some great green taco sauce!
Is Taco Sauce different than Salsa?
Technically not really. Salsa basically just means sauce so any sauce could be called a salsa.
I tend to think of salsas as a bit chunkier though and sauces like this one as a smoother consistency.
The nice thing about sauces like this is you can truly make it your own. If you like a chunkier texture, then just don't blend it as much or use a molcajete to mash the ingredients and your sauce (or salsa) will be chunkier.
What ingredients go in this green taco sauce?
Here are the basics that I use for this green taco sauce.
Tex-Mex experts might notice one ingredient that is missing from this list: Tomatillos. While I sometimes will add some tomatillos to this sauce, they are not always available year-round so I've made a base version of the sauce with just readily available peppers.
Personally, when I use tomatillos I think of it more as a salsa verde rather than a lighter taco sauce since the tomatillos thicken the sauce more.
Here are the basic ingredients I use:
Peppers! Lots of peppers! I used a mix of jalapeno peppers, serrano peppers, and poblano peppers. I roast all these peppers well before blending them into the sauce.
White onion. You need some onion for this sauce.
Garlic. Toss some garlic cloves on your roasting pan as well.
Cilantro. Blending in cilantro makes the sauce bright green and gives the sauce a nice flavor.
Lime juice. This sauce is best when it is bright and citrusy and that means lots of lime juice!
Spices. I keep it simple with cumin, salt, and pepper.
Water. A little water is important to thin this sauce out, make it very smooth, and dilute the spicy peppers a bit.
How to roast peppers for this sauce?
The peppers, onion, and garlic in this green sauce benefit greatly from roasting. You can do this on a grill as well if you have access to a grill. It'll go much faster on a grill.
On this day though, I just added all the peppers, onions, and garlic to a sheet pan and drizzled them with olive oil and a pinch of salt. They roasted at a high heat – 500˚F for 25 minutes. Flip them once halfway through to ensure even roasting.
When they are done the skin on the peppers will be well-blistered and easy to peel off. You should let all the ingredients cool until you can handle them before you blend.
If you do have a grill, this will take just 5-10 minutes. Grill the peppers and onions over high, direct heat until they are completely blistered. Let them steam in a bowl for 10 minutes before peeling them and proceeding with the recipe.
Blending the green taco sauce
There are some options for finishing this green taco sauce. Personally, I use a high-powered blender. Add all the ingredients (peel and seed and stem the peppers) to the blender with about a cup of water.
Blend until the mixture is completely smooth.
If you don't have a good blender, you can use a food processor as well. It'll work just find but you may not get the mixture quite as smooth.
If you want more of a rustic salsa verde texture, you can mash the ingredients in a molcajete. I love this method, especially if I'm adding some roasted tomatillos. Check out my molcajete guide if you want to try that method out!
When you blend the sauce, be sure to taste it! It might need an extra pinch of salt or another squeeze of lime. It should be pretty spicy and salty. As a condiment, you won't need much to bring some big flavor to your tacos.
What tacos to make for this sauce?
Once you have this sauce made, you can drizzle on almost anything in the Tex-Mex world. It goes particularly well on tacos like these grilled fish tacos or on something like these flank steak fajita bowls.
Once you have it on the fridge, you can even just drizzle it on some quick microwaved nachos for a nighttime snack or as a breakfast, it's really good on over-easy or scrambled eggs!
At the end of the day, this green sauce can turn most tacos into great tacos and is also a great drizzle to any enchilada or burrito!
Substitutions and Ideas for this sauce
There are some common and wonderful substitutions and ideas for this sauce to change it up.
Tomatillos! If you have access to good tomatillos, add 4-5 to the sheet pan along with the peppers and roast them. Blend them up and you'll have a more traditional salsa verde.
Avocado. To turn this into a guacamole sauce, add a ripe avocado to the blender as you mix the ingredients.
Tone down the heat in this sauce by subbing the serrano peppers with an extra poblano pepper or a roasted bell pepper.
Add extra spices to this sauce like chili powder or paprika.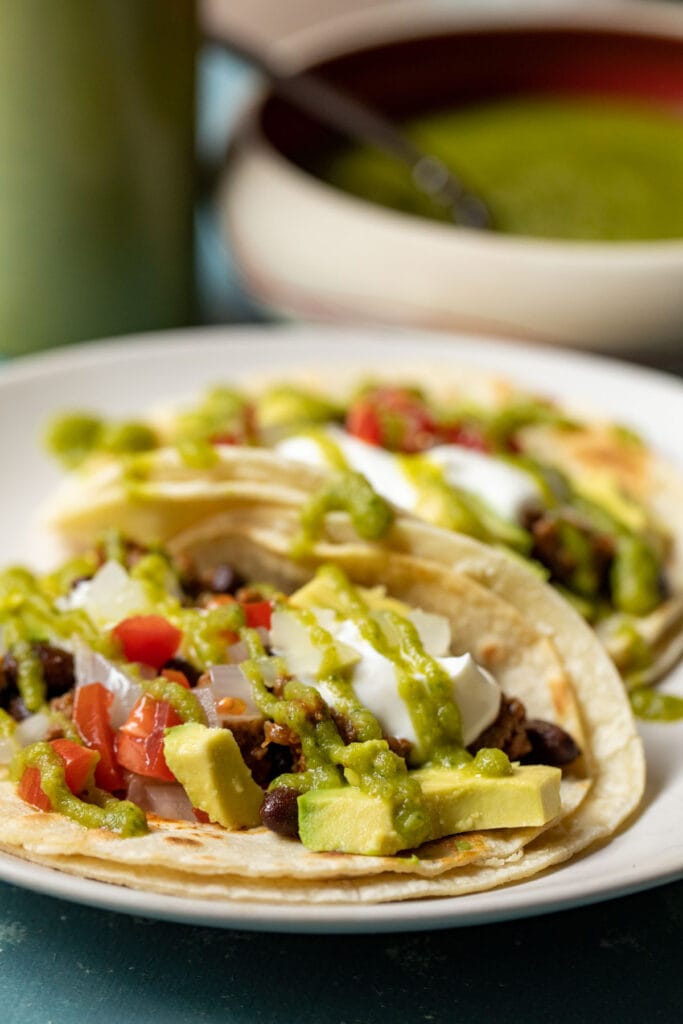 Storage Instructions
This sauce stores perfectly. That's one reason I don't like to add avocado to mine as it can brown. With just the peppers, salt, and garlic the sauce keeps well for two weeks in the fridge. You can also freeze it for longer storage, but I can usually go through a batch in a few weeks without too much of an issue!
Ultimate Green Taco Sauce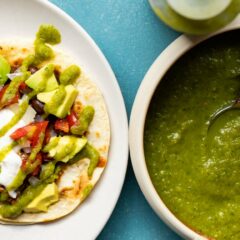 Similar to a green salsa, this green taco sauce is packed with roasted peppers and citrus. It's great drizzled on almost any taco from fish tacos to beef!
Ingredients
1

white onion

,

quartered

1

poblano pepper

4

jalapeno peppers

2

serrano peppers

4

cloves

garlic

1

tablespoon

olive oil

½

cup

fresh cilantro

1

lime

,

juice only

1

teaspoon

ground cumin

1

teaspoon

kosher salt

1

cup

water
Instructions
Add peppers, onion, and garlic to a sheet pan and drizzle with olive oil and season with kosher salt. Roast for 20-25 minutes at 500˚F. Let cool briefly.

Scrape skin off the peppers and slice them in half to remove seeds and stem. Add all ingredients to a blender along with water and blend until very smooth.

Taste the sauce and adjust to your liking. It should be salty, spicy, and bright with citrus.

Transfer sauce to a squeeze jar or bowl for serving. Store leftovers in the fridge.
Nutrition
Serving:
2
tablespoons
|
Calories:
16
kcal
|
Carbohydrates:
2
g
|
Protein:
0.3
g
|
Fat:
1
g
|
Saturated Fat:
0.1
g
|
Polyunsaturated Fat:
0.1
g
|
Monounsaturated Fat:
1
g
|
Sodium:
147
mg
|
Potassium:
46
mg
|
Fiber:
1
g
|
Sugar:
1
g
|
Vitamin A:
110
IU
|
Vitamin C:
13
mg
|
Calcium:
9
mg
|
Iron:
0.2
mg
Did you make this recipe?
Here are a few other great recipes to try!