Have you ever known a recipe was going to be good while you were cooking it? Maybe it was the smells or the colors or the combination of textures, but something was just so clearly right about what you were making?
For these breakfast stuffed peppers, I had that sense somewhere between looking at the delicious fillings, smelling the roasted peppers, and sneaking a corn strip which I would later be layering into the poblanos for a little crunch.
These are spot on stuffed peppers and by stuffed I mean stuffed. One is an excellent meal and almost like a carb-free burrito. Why would you even need a tortilla when you can just wrap the fillings with a mildly spicy roasted pepper?
Breakfast Stuffed Peppers
Breakfast stuffed peppers with roasted poblanos, crispy corn strips, and traditional breakfast ingredients. Plus, cheese and salsa for a Tex-Mex twist!
Ingredients
4

poblano chiles

,

roasted

4

corn tortillas

,

sliced

6

large eggs

,

whisked

½

cup

sweet corn

1

jalapeno

,

minced

¼

red onion

,

minced

2

tablespoons

olive oil

Salt and pepper

½

cup

salsa

1

cup

queso fresco

,

crumbled

cilantro

,

garnish
Sour cream sauce:
½

cup

sour cream

1

lime

,

juice only

1

teaspoon

ground cumin
Instructions
Preheat oven to 375 degrees F. Lay out peppers on a baking sheet and corn tortillas (cut into strips).

Roast peppers and tortillas for 8-10 minutes. Then remove tortilla strips so they don't burn and flip peppers. Roast them for another 5-10 minutes until they are well blistered. Transfer peppers to a large bowl and cover with plastic wrap and let steam for 5 minutes. Then peel the peppers (it's okay if some skin remains).

Meanwhile in a large skillet, add a drizzle of oil over medium heat. Add jalapeno,corn, and red onion and cook for 3-4 minutes until veggies soften. Season with salt and pepper and remove from skillet.

Add another drizzle of oil and scrambled eggs. Turn heat down to low and cook until eggs are just cooked. Try not to overcook them.

For sour cream sauce, stir ingredients together and set aside.

When ready to make peppers, cut each pepper down the center and then horizontally by the stem to form a T. Scoop out seeds.

In each pepper, layer in the corn tortillas, eggs, corn mixture, and queso fresco. Return to oven and bake a second time for 5-8 minutes until cheese is well-melted.

Remove peppers and garnish each one with sour cream mixture, cilantro, and salsa. Serve immediately!
Nutrition
Serving:
1
pepper
|
Calories:
423
kcal
|
Carbohydrates:
29
g
|
Protein:
18
g
|
Fat:
28
g
|
Saturated Fat:
10
g
|
Polyunsaturated Fat:
3
g
|
Monounsaturated Fat:
11
g
|
Trans Fat:
0.3
g
|
Cholesterol:
284
mg
|
Sodium:
562
mg
|
Potassium:
594
mg
|
Fiber:
5
g
|
Sugar:
8
g
|
Vitamin A:
1481
IU
|
Vitamin C:
107
mg
|
Calcium:
294
mg
|
Iron:
3
mg
Did you make this recipe?
Breakfast Stuffed Peppers: Multi-task Roasting
Without a doubt, my favorite part of these peppers is a nice layer of crunchy corn tortilla strips in the pepper. It gives the pepper some body and crunch that is very much needed. Otherwise, the whole thing would be a bit on the soggy side.
Luckily, we need to roast our peppers so just toss the corn tortilla strips on the same baking sheet. That's multi-tasking!
Roast these at 375 degrees F. and the corn strips will be nice and crispy after about 8 minutes. The peppers will need a flip and another 7-8 minutes to make sure they are blistered well.
Just scoop your strips off the baking sheet so they don't get burned.
After another round in the oven, the peppers will be blistered and beautiful.
A little trick to make these easier to peel is to stick them in a bowl, cover them with plastic wrap, and let them steam for about five minutes.
Also, don't stress about peeling them perfectly. Some skin on the peppers is okay.
When your peppers are cool enough to handle, cut a T in each pepper and scoop out the seeds. This will make for easy stuffing.
If you were making classic chile rellenos and frying these, I would try to keep the incision as small as possible so the fillings don't come out, but for these I actually like to really open them up so the fillings almost spill out and you can stuff the peppers extra full.
Pepper Fillings
Besides the corn tortillas and some crumbled queso fresco, I made two fillings for these guys.
The first is a simple veggie mix of jalapenos, red onion, and sweet corn. I used frozen sweet corn, but if you can find fresh then use it!
Just saute these all in a skillet over medium heat with a little olive oil and a pinch of salt and pepper until they start to soften.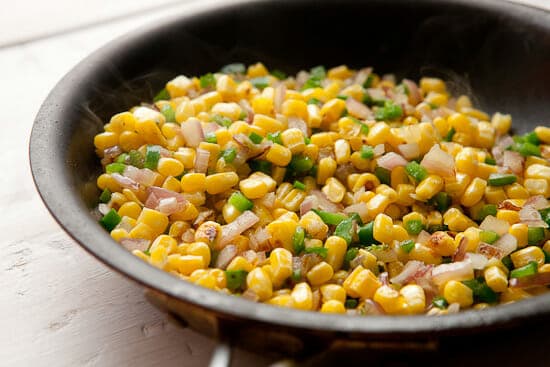 Second filling is eggs! Hard to have a stuffed breakfast thing without them!
Cook the eggs over low heat until they just cooked. Since we are going to bake these a second time in the peppers, it's best to undercook these a bit if you can.
The Stuffed Layers
Okay. We are ready to stuff. Start by adding a nice layer of crispy corn strips on the bottom of each pepper. This will give you a little crispy base to work on.
Then the eggs.
Then some queso fresco and the corn mixture. Again… don't be afraid to stuff the crap out of these. I'm talking bursting.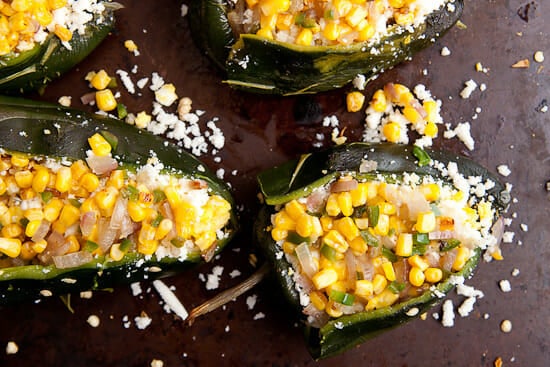 Return the peppers to the oven and bake them for another 5-10 minutes. You want to melt the cheese and warm the fillings but not completely break down the pepper.
When the peppers come out, garnish them with the sour cream mixture, salsa, and cilantro.
One of these is a great breakfast with maybe a side of fruit. They are pretty filling.
How could you not want one of these?!
Here are a few other great recipes to try!