One of my wife's favorite late-night snacks is a plate of nachos. For late-night snacks, it's too much work to turn on the oven and make a real-deal nacho platter so we make microwave nachos!
Believe it or not, there is actually some science and technique to making a really good plate of microwave nachos. You can't just pile on your ingredients and zap them into oblivion!
In case you need a Tex-Mex snack fix, look no further than the easy and incredibly quick microwave nacho plate!
Good Ingredients for Microwave Nachos
I love nacho platters that are piled to the max with toppings. Just check out my nacho archives if you need some examples there.
But, when you are making nachos in the microwave, it's actually better to have a light touch with the toppings. I prefer to use fewer toppings that have big flavors. I usually leave off meat and beans for microwave nachos because meat gets greasy in the microwave and the beans are just too much for a snack.
Instead, I like to keep my toppings simple for microwave nachos. Things like:
Cheese (obvs)
Avocado
Salsa (drain it if it is very watery)
Sour cream
Pickled Jalapenos
Fresh cilantro
Best Cheese for Microwave Nachos
I've tried pretty much every cheese in the cheese drawer for quick microwave nacho snack plates. I think the best cheese for these is a mix of Monterey Jack and cheddar.
Monterey Jack is the best for melting. It really melts beautifully and isn't too strong in flavor. A little cheddar gives some sharpness to the cheese mix, but if you just have Monterey Jack that's fine.
American cheese also does okay in a pinch, but has a weird texture once it cools – which is inevitable for a microwave plate of nachos.
Tip: Heat Your Chips!
Before you add anything to the chips, spread out your chips on the plate and microwave them for a few seconds (20-30 seconds) on high. This is sort of like toasting the chips and it warms them up nicely.
Then when you do add your shredded cheese, try to spread it out really evenly on the chips. Don't just pile it up in the middle! Think thin layers instead of big piles!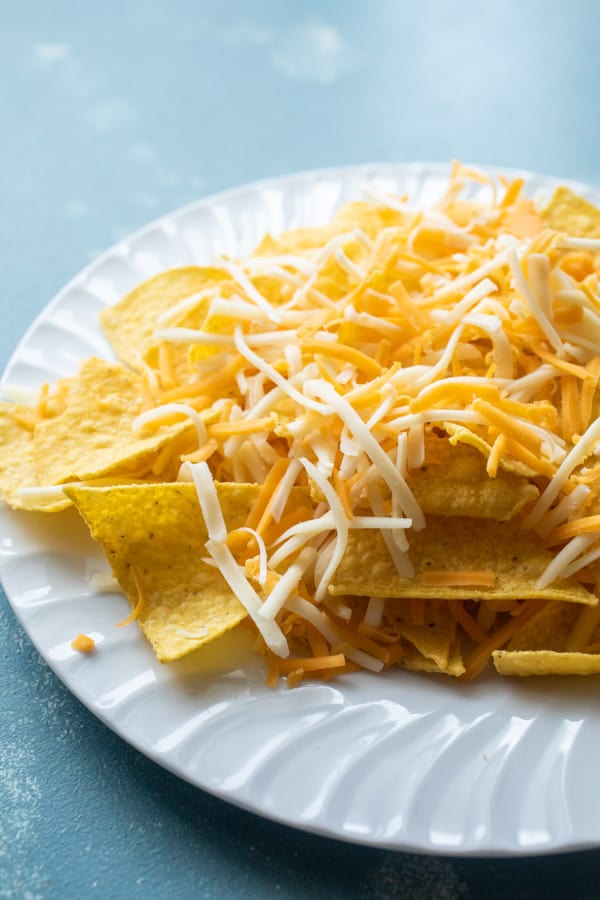 Tips and Tricks for Making Microwave Nachos
Here are some tips to remember for making the best plate of microwave nachos!
Careful melting the cheese! A microwave can quickly melt and scorch cheese. I recommend melting the cheese in 15-20 second bursts until it's just melted but not burned at all.
Once your cheese is melted, add any sturdier toppings (jalapeno, salsa, avocado, etc.) and microwave the plate again for 15 seconds. This will warm up the ingredients.
Add sour cream and herbs right before serving!
Eat microwave nachos right away! The sooner the better!
Of course, these are no replacement for a real full-on nacho platter, but the perfect is the enemy of the good when it comes to snacks!
I wouldn't serve these microwave nachos to guests, but I'll gladly make them for me and my wife as we binge something on TV.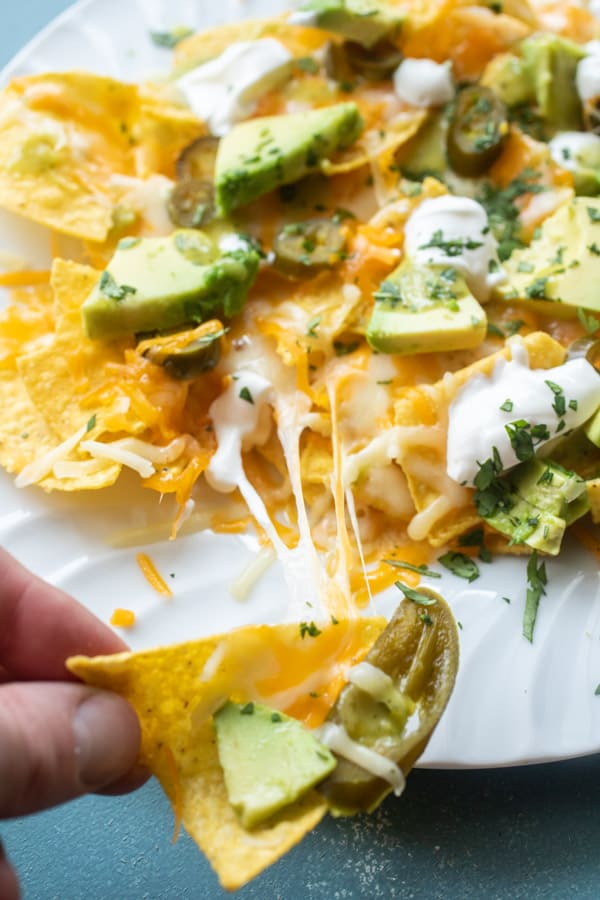 Be honest: Have you ever microwaved nachos?!
Like this recipe? Check out my 12 easy game day recipes.
Easy Microwave Nachos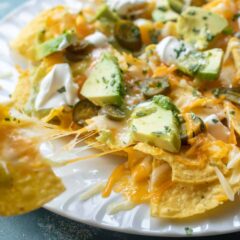 For easy snacks, nothing beats a plate of microwaved nachos! These are no frills, easy to make, and delicious. Plus, these are ready in literally 2 minutes. Enjoy the easy tex-mex snacks!
Ingredients
1

plate tortilla chips

⅓-½

cup

grated Monterey jack cheese

⅓-½

cup

grated cheddar cheese

½

avocado

,

chopped

Pickled Jalapeno

Salsa

Fresh Cilantro
Instructions
Spread out tortilla chips on a microwave-safe plate and microwave on high for 30 seconds. This will warm the chips and slightly toast them.

Remove chips and add cheese. Spread the cheese out evenly on chips, don't just pile it up in the center. Microwave in 20-second increments on high until cheese is melted, but not burned.

Remove from microwave and add small drizzles of salsa, avocado, and pickled jalapeno. Return to microwave and microwave for 15 seconds. This warms everything through.

Remove from microwave and add sour cream and fresh cilantro.

Enjoy immediately!
Nutrition
Serving:
1
plate
|
Calories:
589
kcal
|
Carbohydrates:
29
g
|
Protein:
22
g
|
Fat:
45
g
|
Saturated Fat:
17
g
|
Polyunsaturated Fat:
6
g
|
Monounsaturated Fat:
18
g
|
Trans Fat:
0.02
g
|
Cholesterol:
71
mg
|
Sodium:
572
mg
|
Potassium:
599
mg
|
Fiber:
8
g
|
Sugar:
1
g
|
Vitamin A:
815
IU
|
Vitamin C:
10
mg
|
Calcium:
589
mg
|
Iron:
1
mg
Did you make this recipe?
Here are a few other great nacho recipes!