My loving wife has been trying to take some of the cooking stress off of my shoulders for weeknight dinners and make a dinner a few times a month. Given her busy schedule (and hatred of cooking) she is pretty much only making slow cooker recipes. She recently made this Slow Cooker Pepper Steak recipe and I thought it was so good that I would share it!
I was actually surprised how much I liked the original recipe, and how little I needed to change in it, to make it really delicious, although there was a few typos in it. Most importantly the recipe doesn't require you to brown the steak before adding it to the slow cooker.
I thought this was blasphemy, but it turns out not to matter much for this particular recipe, although you could still brown the steak if you wanted to.
Bust out the slow cooker and try this recipe. It's an excellent easy weeknight meal!
Ingredients for Pepper Steak
The pepper in this title works in two ways. For starters, the steak is seasoned with basically just pepper. You can go heavy on it. But, the recipe also includes a lot of peppers! I used a mix of red peppers and green bell peppers, but you could change it up to fit what you like or what you have. Here's the other stuff you'll need.
Steak – I used flank steak, but other steaks should work.
Peppers – A variety of colors is nice.
Onions – I used a yellow sweet onion.
Garlic and ginger – Lots of this is wonderful. I doubled the original recipe amounts.
Stock – beef stock or chicken stock works well.
Seasonings – Soy sauce, sesame oil, rice wine vinegar, and a little brown sugar round out the flavors.
Cornstarch – Thickens the sauce after cooking to make that silky smooth sauce.
What kind of steak works best for this?
I used a flank steak for this recipe and I would recommend it if you can find it. Flank steak are thicker than something like skirt steak so they hold up well to slow cooking. Also, since you slice the flank steak into thicker slices, across the grain, the pieces become fall-apart tender as they cook.
If you wanted to upgrade the steak, you could use something like sirloin for this but I wouldn't use a chuck roast as it's too lean and you need a little more fat to make the steak really tender.
So I would go with flank steak unless you just have a very good reason not to.
How to make slow cooker or crock pot pepper steak
I wish I could tell you this recipe is harder than it is. But seriously I just sliced up the steak into thick slices, seasoned the slices with salt and pepper, and added them to a slow cooker with all my other ingredients except the cornstarch.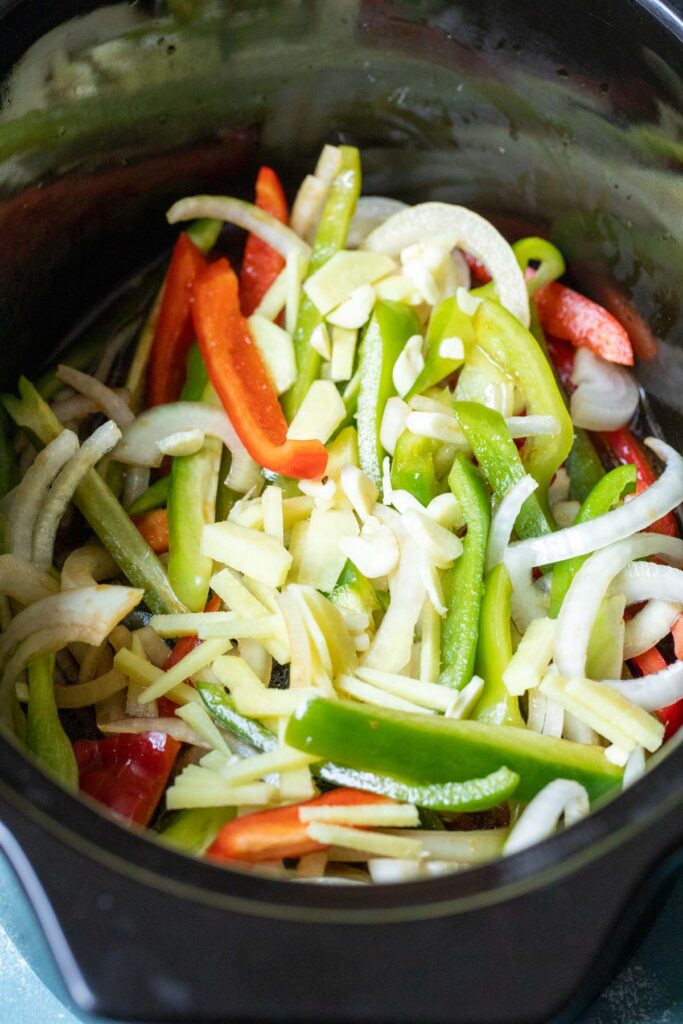 Cook the mixture on low heat for six hours or high heat for 3-4 hours.
The original recipe for this said to remove the ginger from the recipe before serving, but I have no idea why. I left it in and it was just fine. Cooked ginger is delicious!
When everything is done, pull out about 1/2 cup of the cooking liquid and stir in the cornstarch to make a cornstarch slurry. Add that back into the slow cooker and the sauce will thicken slightly and turn silky smooth. So good!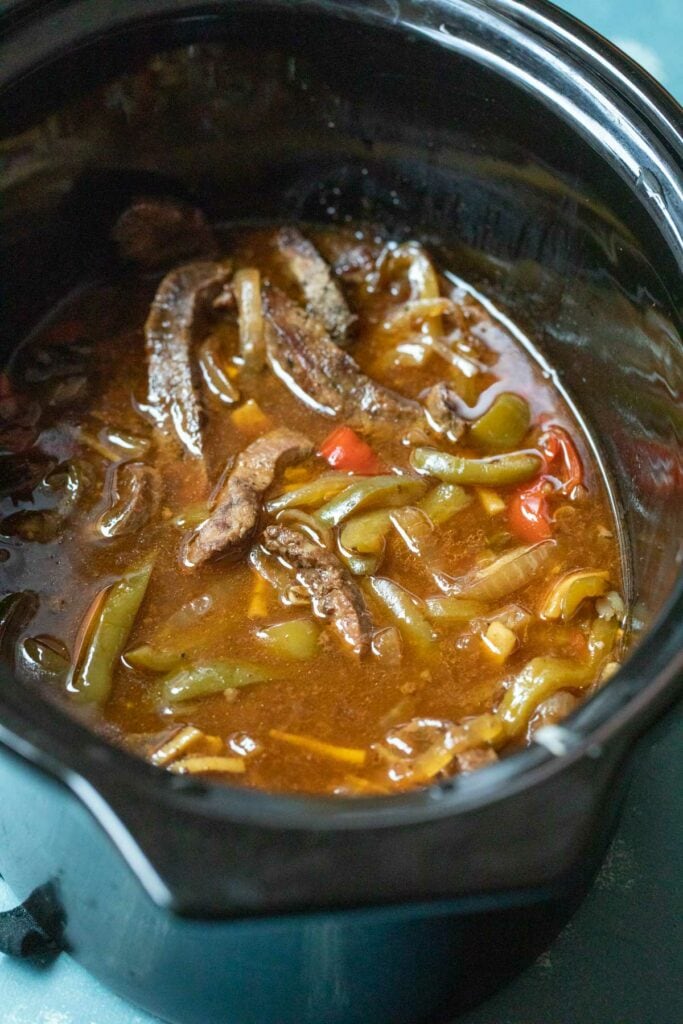 Serve up the pepper steak piled high and garnish with sesame seeds, scallions, and hot sauce.
Can you make this recipe without a slow cooker?
Of course you can make this pepper steak without a slow cooker but you'll need to be a little more attentive.
I think I would go the braising route, personally. So add all the ingredients to a dutch oven and put on the lid. Braise it in a 350˚F oven for probably 2 1/2-3 hours until the steak is very tender. You may or may not need to thicken the sauce after braising it.
Serve it over rice and you are in business!
What to serve with pepper steak
There are many options for serving here. You could serve this over rice, which is how I served it. It's an easy answer and the most straightforward.
You could also serve this over egg noodles for more of a European twist on this recipe.
One idea that I didn't try, but know would be delicious is to serve the steak and peppers on a bun, with some provolone cheese. It would almost be like a cheesesteak, but with tender, thicker slices of steak. That would be my game-day twist for serving this recipe.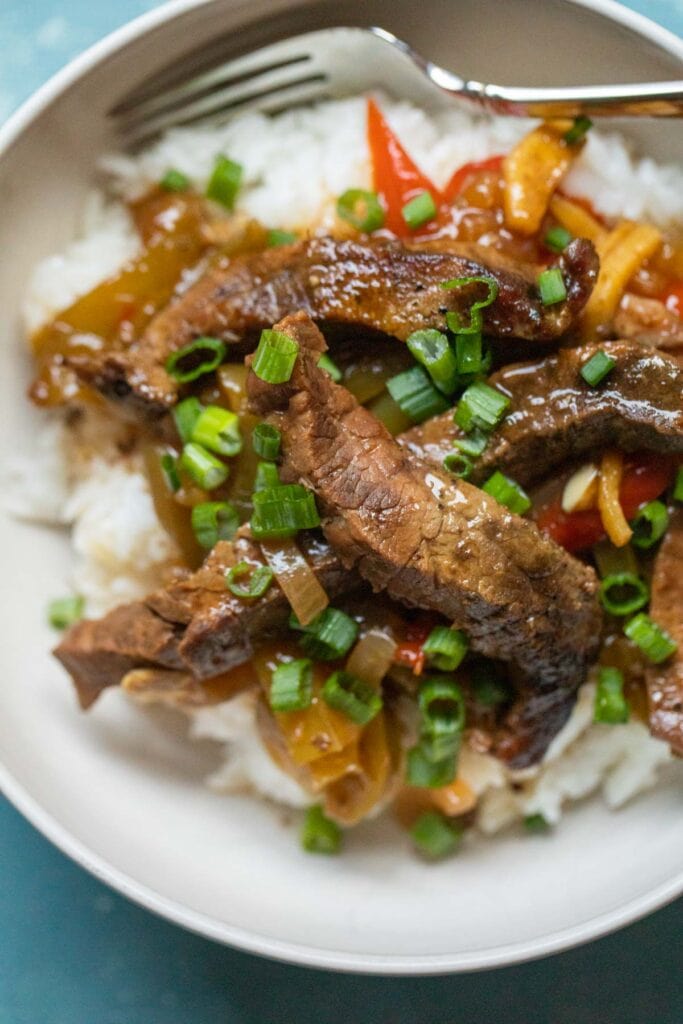 Storing and reheating
This easy slow cooker pepper steak recipe keeps really well in the fridge for five days or you can freeze it for up to three months. Store it in an airtight container in the refrigerator or freezer and you can even reheat it in the microwave without too much worry.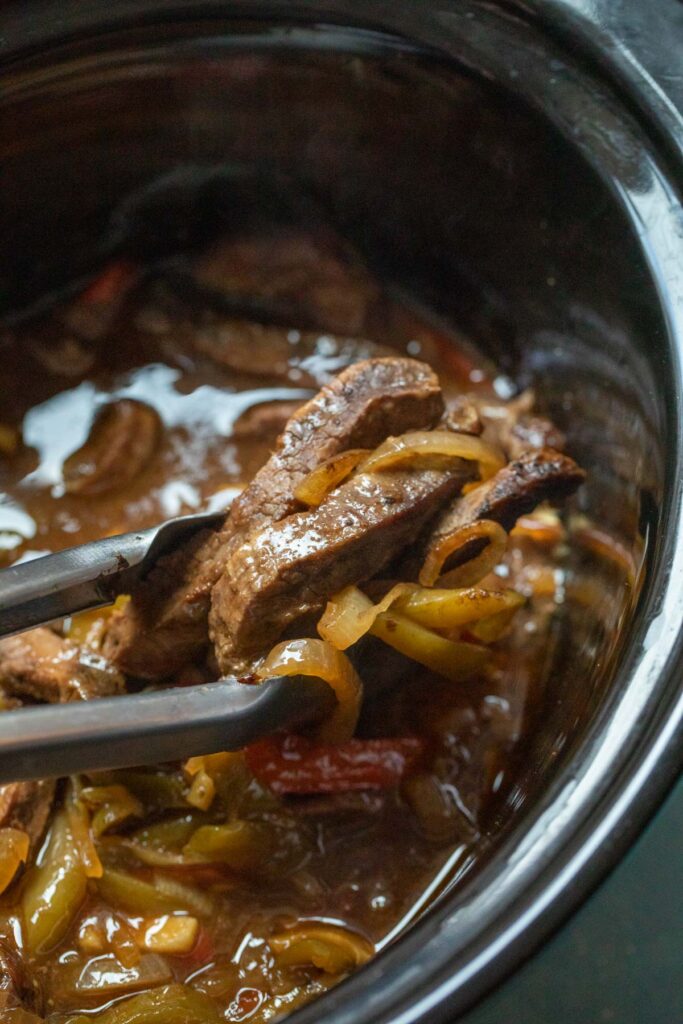 Slow Cooker Pepper Steak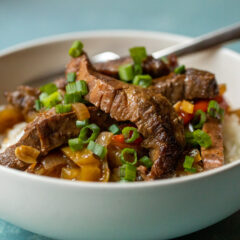 This slow cooker pepper steak is about as easy as dinner can get. Toss the ingredients in your cooker and come back to a delicious dinner!
Ingredients
1 ½ – 2

pounds

flank steak

,

sliced into 1/2-inch slices across the grain

2

green bell peppers

,

sliced

1

red pepper

,

sliced

1

yellow onion

,

sliced

6

cloves

garlic

,

sliced

2

inches

fresh ginger

,

chopped

1

cup

beef stock

¼

cup

soy sauce

¼

cup

brown sugar

¼

cup

rice wine vinegar

2

tablespoons

sesame oil

1

tablespoon

sriracha

2

tablespoons

cornstarch

,

+ 1/4 cup cooking liquid

1

teaspoon

kosher salt

1

teaspoon

black pepper

Scallions

,

garnish

Sesame seeds

,

garnish

2

cups

white rice

,

for serving
Instructions
Season flank steak slices well with salt and pepper. Add flank steak, peppers, onion, garlic, ginger, stock, soy sauce, brown sugar, rice wine vinegar, sesame oil, and sriracha to the slow cooker. Stir to combine.

Cook the pepper steak on low for 6 hours or on high for 3-4 hours until steak is very tender.

Remove 1/4 cup of the cooking liquid and stir in cornstarch to make a slurry. Return liquid to slow cooker.

Serve the pepper steak over white rice garnished with sesame seeds and scallions.
Nutrition
Serving:
1
bowl
|
Calories:
715
kcal
|
Carbohydrates:
68
g
|
Protein:
64
g
|
Fat:
19
g
|
Saturated Fat:
6
g
|
Polyunsaturated Fat:
3
g
|
Monounsaturated Fat:
7
g
|
Cholesterol:
159
mg
|
Sodium:
1214
mg
|
Potassium:
1248
mg
|
Fiber:
3
g
|
Sugar:
12
g
|
Vitamin A:
774
IU
|
Vitamin C:
61
mg
|
Calcium:
104
mg
|
Iron:
5
mg
Did you make this recipe?
Here are a few other great recipes to try!