I was a bit intimidated when I first opened my brand new molcajete, but after using it for a few months, it has become a staple in my kitchen.
I know molcajetes are not common in most American kitchens so I thought I'd write a full guide on this beast of a kitchen tool and why you should consider adding one to your kitchen list!
What is a Molcajete?
In short, a molcajete is a South American version of a mortar and pestle. They tend to be large – at least 6 inches in diameter but up to 10 inches. Molcajete can be found in a variety of materials. Mine is made from a coarse pumice stone, but you can also find them made out of granite or even steel.
Molcajete are very heavy and sturdy pieces, but do require some care to make sure they are ready for your next batch of spices or guacamole!
Buying a Molcajete
Buying a molcajete can seem overwhelming. First, I would consider size. If you want to make a decent batch of guacamole, I would at least get a 6 inch molcajete but honestly I think the 8-9 inch version is best as it gives you plenty of room.
While Italian mortar and pestle devices tend to be marble or granite, I really like the volcanic stone that is common for molcajete. It's what I would recommend buying. While you do have to season it and clean it, the volcanic stone has some advantages.
First, you can bake in it and it holds heat incredibly well!
Second, it's coarse surface helps grind up whatever you are making.
Third, while they are heavy, the volcanic stone is lighter and easier to move around than a heavier granite or marble one.
Seasoning a Molcajete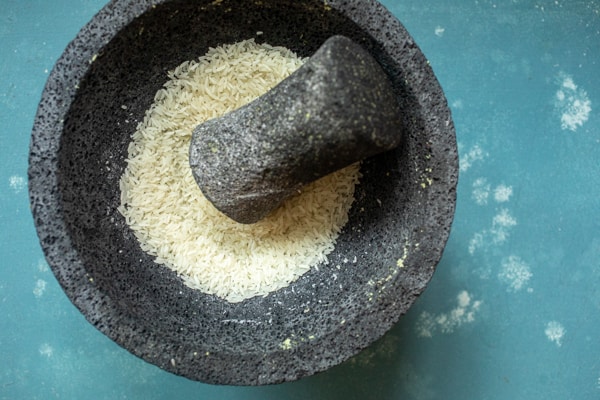 Since a molcajete is made out of a natural product, it isn't finished or polished. Most manufacturers recommend seasoning the molcajete before you use it.
The easiest way to do this is to add rice to the molcajete and grind it up really well until it turns a light gray color. Essentially you are grinding off any loose rock on the molcajete. The goal here isn't to fill all the little holes in the stone, that would be impossible. The goal is just to clean up any loose bits slightly polish the inside of the molcajete.
How to Clean a Molcajete
Once you have seasoned the molcajete, or any time you need to clean the molcajete, WATER is your friend. I wouldn't recommend using any harsh soap. If you do use a soap, go very light with it and make sure it is fragrance free. The stone will absorb any soap fragrance and stick around (lavender guacamole anybody?!).
The best way to clean your molcajete is to use a sprayer from your sink and spray down the surface really well to get any stuck food bits out of the holes in the surface.
A few notes on cleaning:
You can absolutely use the molcajete if it is wet. Just pat it dry and it's good to go.
Be careful if you are baking in your molcajete to not add water to it while it is hot OR put it in the oven if it is wet. It might crack.
How to Store a Molcajete
If you are using your molcajete a lot and have the space, it might be best to store it on the countertop. If you don't have space on the countertop (I don't), I recommend storing it under counters so you don't have to lift it up or risk it falling on you or your counters. That would be a disaster!
You can store the molcajete outside of your kitchen if you use it infrequently (like in a basement) but I'd recommend lightly covering it with plastic as it can attract dust easily.
Making the Best Guacamole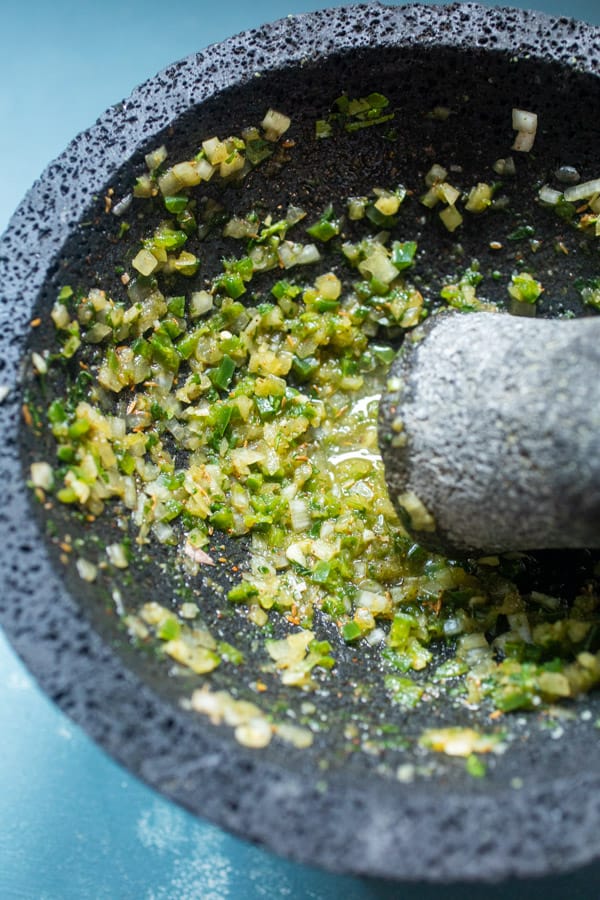 The molcajete was made for making quick salsas and guacamoles. I've made boatloads of guacamole in my day and making it in the molcajete is truly better than any other method I've tried.
WHY?
Well, instead of just chopping and stirring stuff together in a bowl, you use the grinding motion of the molcajete to make a paste of the ingredients. This paste of shallot, cumin, chili, and lime, is SO much more flavorful and leads to a really delicious dip.
For my best molcajete guacamole, I grind together the aromatics, then mash in the ripe avocados, and then gently fold in the cilantro and tomatoes.
At the end, always season your guacamole with salt and extra lime and it's ready to go!
My Best Guacamole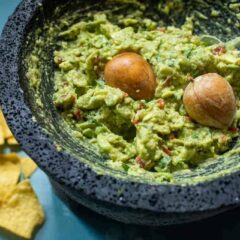 Making guacamole in a molcajete makes it truly special and combines all the flavors into a fantastic dip. Once you make it this way, you'll never go back!
Ingredients
2

tablespoons

minced shallot

½

teaspoon

cumin seeds

½

teaspoon

chili powder

1

lime

,

juice only

1

jalapeno

,

seeded and diced

2-3

tablespoons

fresh minced cilantro

3

large

,

ripe avocadoes

½

cup

grape tomatoes

,

diced

Salt to taste

Tortilla chips

,

for serving
Instructions
Add minced shallots, jalapeno, half of the cilantro, half of the lime juice, and a pinch of salt to molcajete with cumin and chili powder. Mash the ingredients together well into a rough paste.

Scoop the ripe avocado into the molcajete and mash together with the other ingredients.

Finish the guacamole by folding in extra cilantro, minced tomatoes, a squeeze of extra lime, and a pinch of salt to taste.

Serve immediately with tortilla chips.
Nutrition
Calories:
256
kcal
|
Carbohydrates:
17
g
|
Protein:
4
g
|
Fat:
22
g
|
Saturated Fat:
3
g
|
Polyunsaturated Fat:
3
g
|
Monounsaturated Fat:
15
g
|
Sodium:
17
mg
|
Potassium:
827
mg
|
Fiber:
11
g
|
Sugar:
2
g
|
Vitamin A:
499
IU
|
Vitamin C:
27
mg
|
Calcium:
31
mg
|
Iron:
1
mg
Did you make this recipe?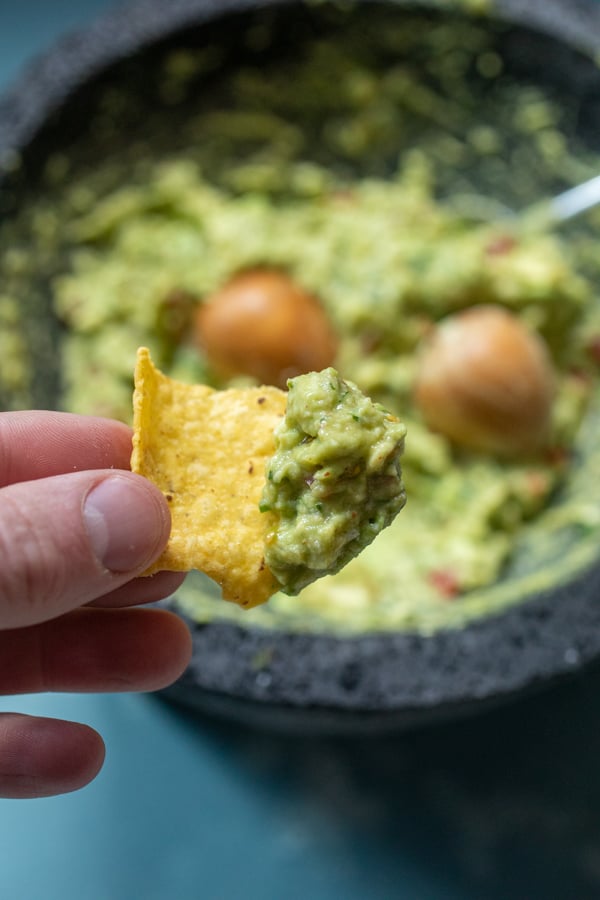 You can serve the guacamole right out of the molcajete!
Ideas for Using Your Molcajete
Of course guacamole is what people think of when they think of this kitchen tool, but there are many other uses:
Spice blends: If you are starting with whole chilis and seeds, grinding them in a molcajete is easy and makes for a wonderful spice blend.
Salsas: Grinding your ingredients for salsa rather than chopping or food processing them leads to a different texture to salsa. Worth trying!
Go Italian! While the molcajete is a traditionally South American kitchen tool, the Italians are known for using it for pesto also!
Baking! Try out this Molcajete Queso for a fun baking project or try out this Molcajete Mixto from Nibbles and Feast!