This Smoked Salmon Omelette is the perfect low-carb update for the person who loves these flavors on a bagel!
Growing up in a small Wyoming town, I wasn't privy to the deliciousness of bagels and smoked salmon until I was in college. Sure, we had a good amount of smoked fish growing up, but smoked salmon, capers, red onions, and cream cheese on a bagel?
That was completely new to me and I'm pretty sure I ate nothing but that for about six months after discovering it. It's one of my absolute favorite flavor combos so I try to sneak it into dishes every chance I get.
Some people (my wife) have a serious aversion to capers for some reason and you could definitely leave them out of this smoked salmon omelette if you want. To me though, they make the whole thing work.
Difference Between Lox and Smoked Salmon
This took me an embarrassingly long time to figure out but there is a difference between lox and smoked salmon. Lox is cured with salt and tends to have a more salty finish than smoked salmon. Lox tends to be sliced very thin and served at delis.
Smoked salmon can have some salt seasoning on it, but is smoked rather than cured and has a more mild flavor than lox. Therefore, it can be served flaked and not slice thin. Generally, how salmon is smoked, you actually can't slice it thinly the way you can with lox.
I like to use smoked salmon for this omelette instead of lox because you can be a bit more generous with it and we do cook the salmon in the skillet. Lox shouldn't really be cooked so smoked salmon is my favorite for this particular recipe.
The Basic Ingredients
It's true that smoked salmon is a pricy ingredient, but the good news is that you don't need to use a lot to get a lot of flavor from it. The same goes for capers. A little go a long way.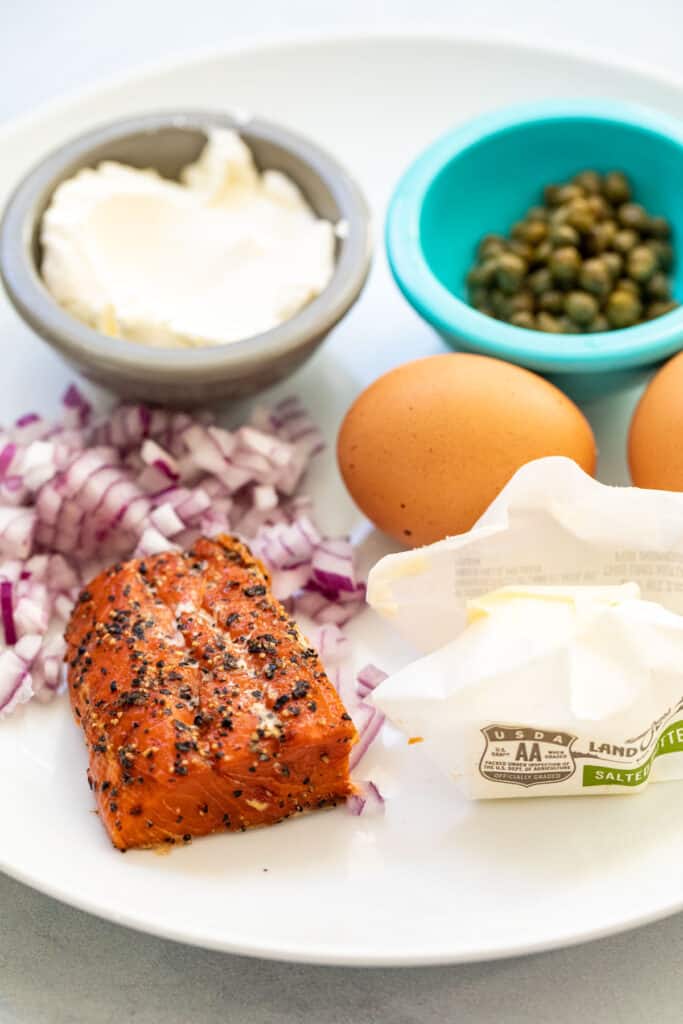 A four-ounce package of smoked salmon will cost somewhere in the $7-$10, but it's enough salmon for four omelettes so that isn't too bad.
It's not my normal weekend omelette (or omelet), but it's a fun treat every once in a while.
To get the fillings ready, dice the red onions pretty finely and flake the smoked salmon so it's in pieces. Again, you don't need a lot of each filling to get the flavors going.
For the cream cheese, it's best if you let it come to room temperature before using it so it is nice and spreadable.
Cooking the omelette
In a small nonstick skillet (this is a good one), add your butter over medium-high heat. Once it's melted then go ahead and toss in all your filling ingredients: capers, onions, and salmon.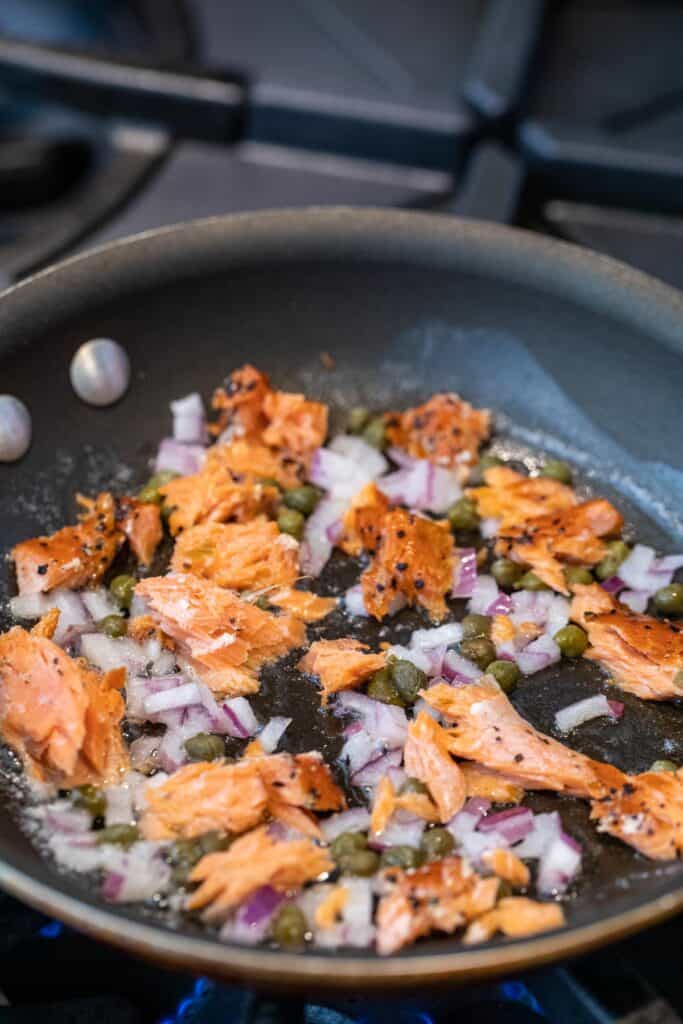 Let this stuff cook in the butter for just a few minutes. Basically, you just want to cook the onions a bit and heat everything up nicely.
While that's cooking, you can go ahead and scramble your eggs. Just mix together a few eggs with some milk and whisk them together until they are nice and fluffy.
Next, pour your eggs right over your fillings in the pan. It'll sizzle and hiss and complain, but that's good. Turn your heat down to medium heat so you don't overcook the eggs.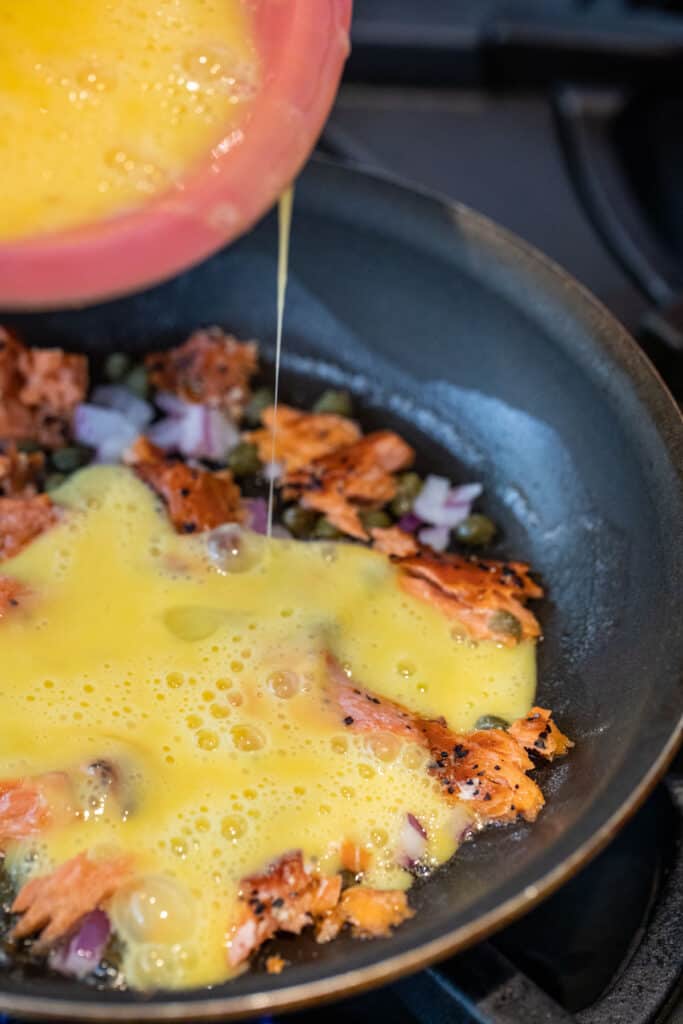 As the eggs cook, use a rubber spatula to kind of push the cooked eggs into the center of the pan. Tilt the pan a bit to let the uncooked egg mixture flow to the outer parts of the pan and cook.
After doing this for about 2-3 minutes you should end up with a lovely almost 100% cooked egg. There will still be a very thin layer of uncooked egg on the top, but that's okay. It'll finish cooking after we add the cheese.
For the cheese, add a few spoonfuls of cream cheese on one side of the omelette. Don't worry about smoothing it out or anything. Cream cheese melts quickly and as it melts it'll even out.
Then just take your spatula and fold over the omelet into a classic half-circle shape of an omelette.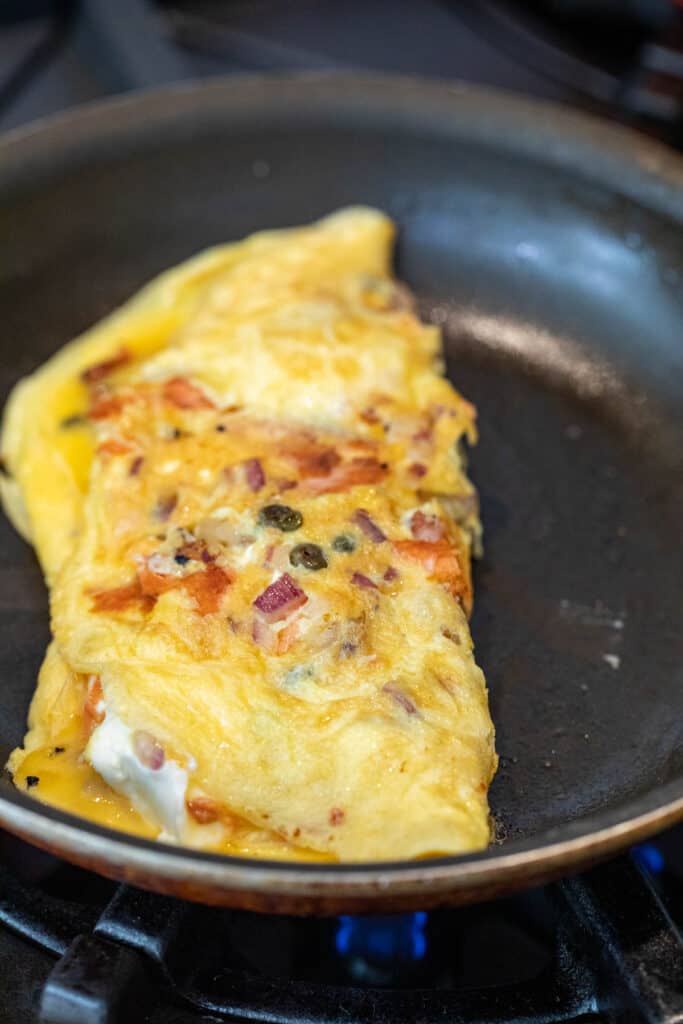 Put this back on the heat and cook it for about 30 seconds per side. When you're flipping this guy, don't be nervous about it. The melted cheese should keep everything together.
Cooking it briefly on both sides will make sure the cheese is melted and also finish cooking any uncooked egg on the inside of your omelet.
Serve this bad boy just like that or if you want to get fancy you can sprinkle on some chopped dill or other fresh herbs like parsley or thyme.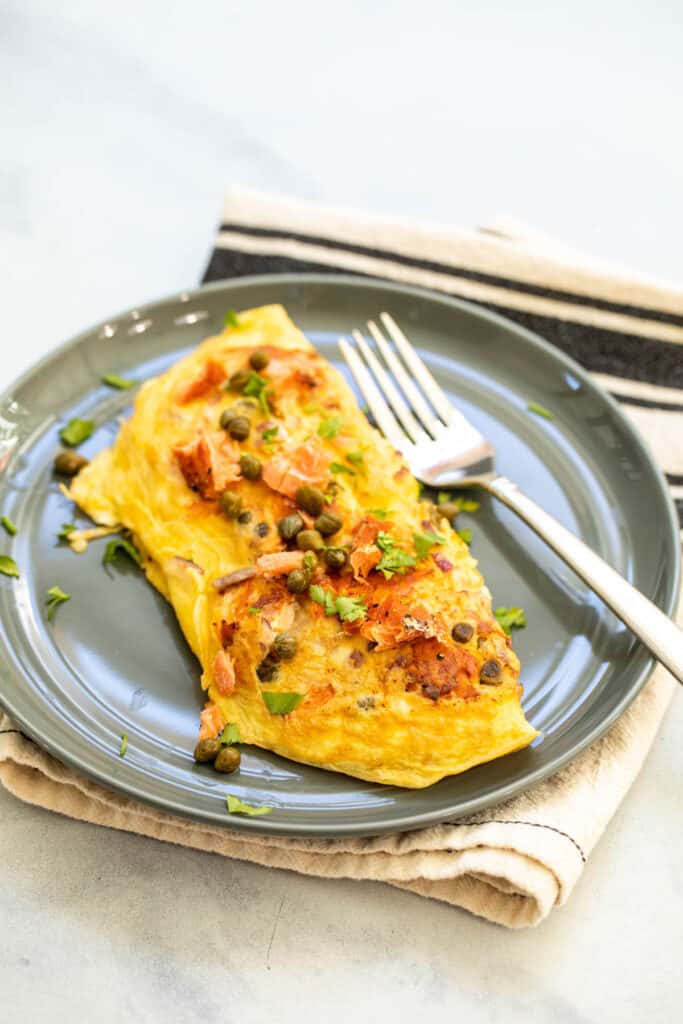 This smoked salmon Omelettewas one of the more flavorful omelettes I've made for Macheesmo actually. All these flavors together just work.
It's really delicious and would actually be a nice treat for the holidays also.
Assuming you can get your hands on some good smoked salmon, you've got to give this a shot!
What to serve with omelettes
Omelettes are intended to be kind of a meal on their own, but having some sides along with them is nice, especially if you are entertaining. I always am a fan of some potato side dish like these sheet pan hash browns or maybe these sweet potato fritters.
Other serving options would be a fruit side dish like maybe these breakfast bruschetta or something sweet like these Greek Yogurt pancakes.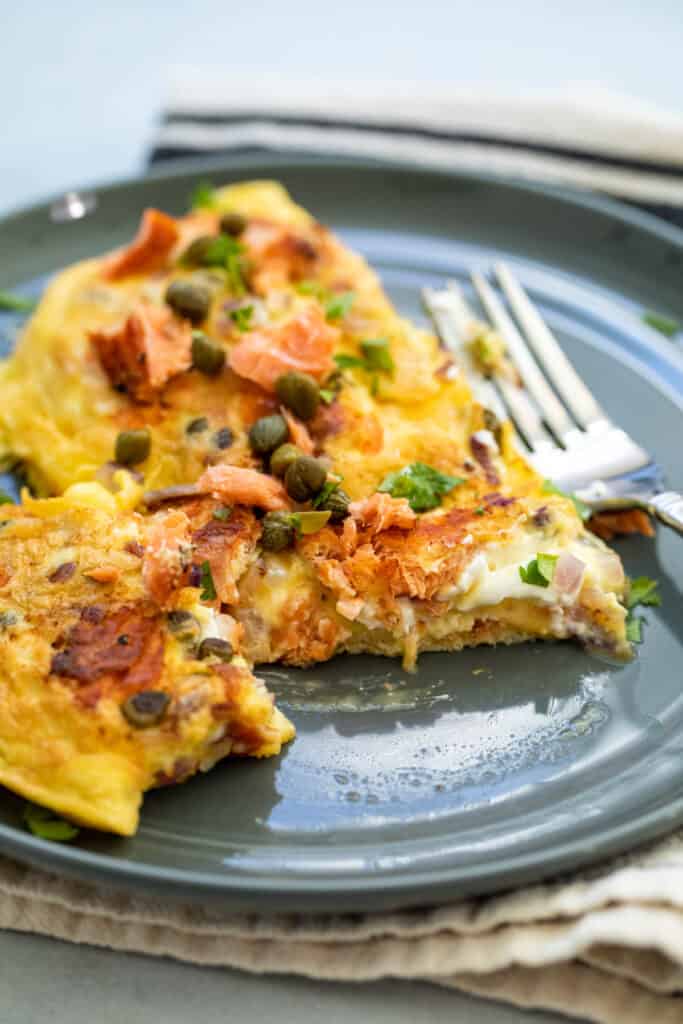 The Lox Omelet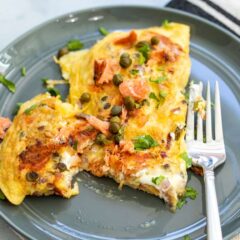 Here is a delicious smoked salmon omelette recipe that makes a quick and tasty breakfast. My version includes capers, red onion, and cream cheese!
Ingredients
2

large eggs

2

tablespoons

milk

1-2

ounces

smoked salmon

1

tablespoon

capers

2

tablespoons

red onions

,

diced

1-2

ounces

cream cheese

1

tablespoon

unsalted butter

Fresh dill or parsley
Instructions
Roughly chop or shred smoked salmon and dice red onions.

Add butter to a small omelette pan until melted over medium-high heat and then add the smoked salmon, red onions, and capers. Try to distribute the fillings evenly over the surface of the pan. Cook for about 2 minutes.

Meanwhile, whisk eggs together with milk with a fork to scramble them.

Pour eggs over the filling mixture in the pan. Turn heat down to medium and cook eggs. As the eggs cook, use a flat spatula to push the cooked eggs to the center and tilt the pan slightly to let the uncooked eggs flow to the outside.

Cook the eggs until they are almost all the way cooked. There will be a very thin layer of uncooked egg on the top and that's fine.

Add cream cheese to one half of the omelette and use a spatula to fold the egg over to form an omelette.

Cook omelet for another 30-45 seconds on each side to melt the cheese and finish cooking the eggs.

Serve omelette with fresh dill.
Nutrition
Serving:
1
omelet
|
Calories:
317
kcal
|
Carbohydrates:
6
g
|
Protein:
22
g
|
Fat:
22
g
|
Saturated Fat:
11
g
|
Polyunsaturated Fat:
2
g
|
Monounsaturated Fat:
7
g
|
Trans Fat:
0.5
g
|
Cholesterol:
371
mg
|
Sodium:
781
mg
|
Potassium:
331
mg
|
Fiber:
1
g
|
Sugar:
4
g
|
Vitamin A:
925
IU
|
Vitamin C:
2
mg
|
Calcium:
200
mg
|
Iron:
2
mg
Did you make this recipe?
Here are a few other great recipes to try!