Believe it or not, I think this is the recipe that I've worked on the most over the last year or so. That's somewhat embarrassing, but it's the truth. I've made different variations of these sheet pan hash browns no less than EIGHT times over the last two weeks alone. They have haunted me in my sleep.
The goal, of coarse, is simple failsafe hash browns in the oven starting with real potatoes. Ideally, you could mostly forget about them until it's time to eat. It sounds easy, but there's a lot that can go wrong. The hash browns can be soggy in parts but burned in other areas. They can taste bland. They can get gummy and just stick together in a big mass of starch.
I can see why people just say, "Screw it. I'm going to a diner."
But here we are. This is it. Follow these little tips and you'll be on your way to perfect sheet pan hash browns every weekend.
BONUS: These are gluten-free if you are entertaining gluten-intolerant friends or family!
Sheet Pan Hash Browns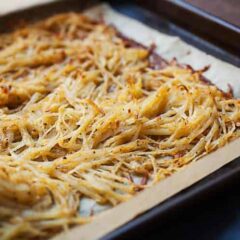 After much experimentation, here's easiest and most failsafe way to make crispy hash browns in the oven on a single sheet pan!
Ingredients
4

cups

peeled and grated potatoes

2

tablespoons

unsalted butter

1

tablespoon

olive oil

½

teaspoon

kosher salt

½

teaspoon

black pepper

½

teaspoon

chili powder

½

teaspoon

garlic powder

½

cup

grated Parmesan
Instructions
Line a sheet pan with parchment paper and preheat oven to

400

°F

.

Peel and grate potatoes until you have 4 cups (about 2 potatoes). Add the grated potatoes to a large bowl and rinse the potatoes well with cold water. Drain and rinse a second time. Drain off as much water as you can.

Use a few paper towels to dry off the potatoes as much as possible by rubbing the potatoes in the bowl.

In a microwave safe bowl, combine butter, oil, and spices. Microwave on high for 30 seconds to melt butter. Stir spice mixture into potatoes along with grated parmesan cheese. Stir well.

Spread potatoes out on sheet pan in a single,even layer. Some overlap is inevitable, but try to make it as even as possible.

Place sheet in a preheated oven on the bottom rack for 15-20 minutes. When edges of hash browns are browning nicely, move sheet pan to the very top rack. Bake for another 10-15 minutes so top can crisp up. Don't stir the potatoes!

Remove potatoes and serve immediately with other breakfast goodies!
Nutrition
Serving:
1
plate
|
Calories:
298
kcal
|
Carbohydrates:
39
g
|
Protein:
8
g
|
Fat:
13
g
|
Saturated Fat:
6
g
|
Polyunsaturated Fat:
1
g
|
Monounsaturated Fat:
5
g
|
Trans Fat:
0.2
g
|
Cholesterol:
26
mg
|
Sodium:
527
mg
|
Potassium:
922
mg
|
Fiber:
5
g
|
Sugar:
2
g
|
Vitamin A:
363
IU
|
Vitamin C:
41
mg
|
Calcium:
140
mg
|
Iron:
2
mg
Did you make this recipe?
Sheet Pan Hash Browns
The Taters
This is not a hard recipe once you see it, but there are a few hurdles that are very important.
The good news is you can really use most potatoes. I'd recommend Russet or new potatoes though. If you use Russet, be sure to peel them. If you use new potatoes you can scrub them and leave peel on.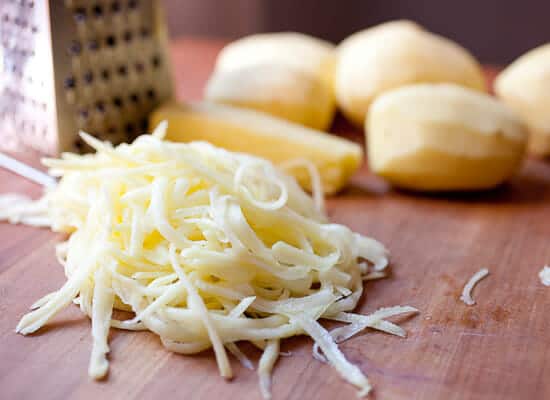 If you're using a standard home cook sheet pan that is roughly 11×17 inches, you want to measure out 4 cups of grated potatoes. Don't get greedy here! If you want more hash browns, use a second sheet pan. If you crowd it too much, the taters will just turn into more of a potato pancake than delicious hash browns.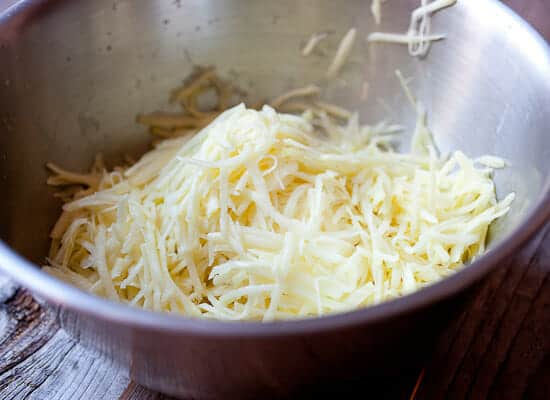 Once you have your potatoes peeled, grated, and measured, give them a quick rinse with cold water. This will rinse off the starch on the potatoes which will keep the potatoes from glooping together. Glooping is the technical term, I believe.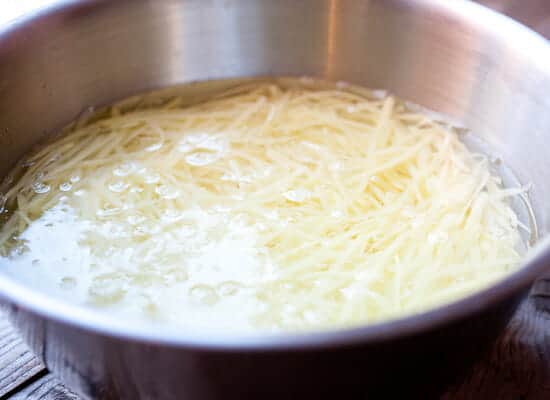 I recommend rinsing them twice, then draining them really well and getting them as dry as possible after you rinse them.
I just grab a few paper towels and stir the potatoes with my hands and the paper towels. This gets most of the liquid absorbed pretty quickly.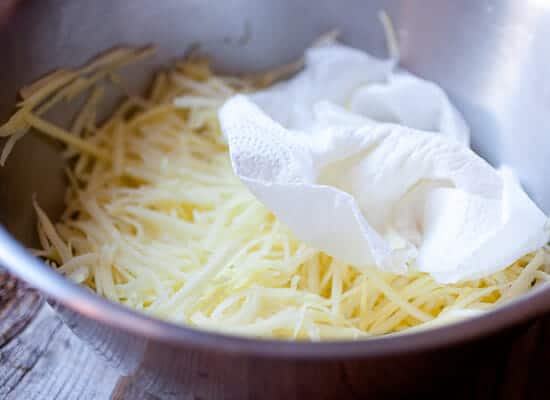 The Spice Mix
The nice thing about these hash browns is that they come out of the oven pretty much perfectly seasoned. Sure, you could add a little hot sauce or something, but they are delicious with nothing else thanks to this spice mix. It's butter, olive oil, salt, pepper, chili powder, and garlic powder. Microwave it on high for 30 seconds to melt the butter.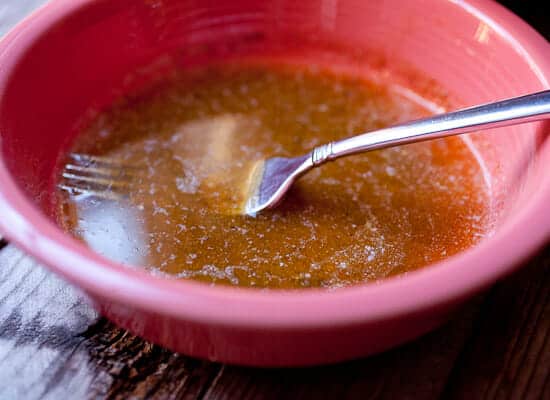 Pour this over your dried potatoes.
SECRET INGREDIENT: Parmesan cheese.
Two reasons. First, it adds a little salt and cheesy flavor to the hash browns. Second, as it bakes, it actually gets crispy on the sheet pan so you get these little cheesy crunchy bits baked into the hash browns.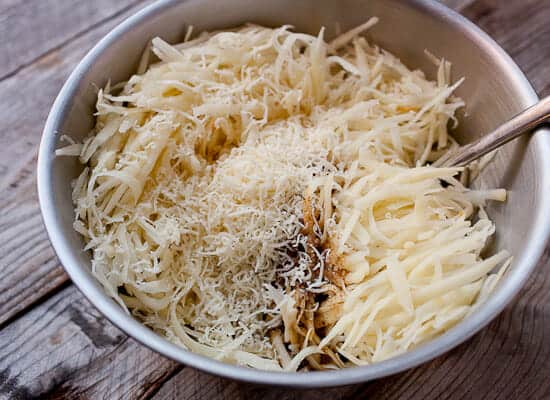 Baking the Hash Browns
Here's the easy part. Line a sheet pan with parchment paper. The parchment paper really helps them from sticking and creates a nice crust on the hash browns. Don't skip it.
Spread the hash browns out in an even layer. Some overlap is gonna happen, but try to get them as even as possible.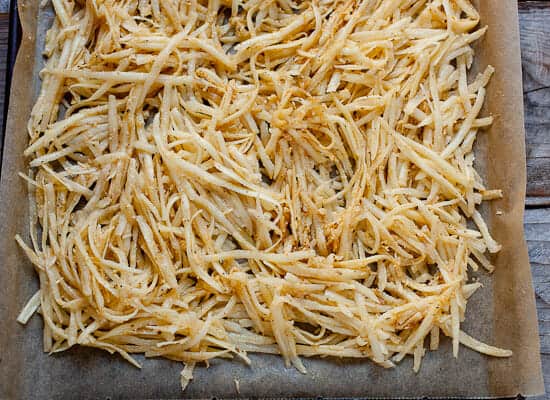 Here's the important part. Don't touch these while they bake. No need to stir them. Don't move them around. Just let them bake accordingly:
400 Degrees.
15-20 minutes on the lowest rack of your oven. When the edges are browning nicely they are ready for phase two.
10-15 minutes on the highest rack of your oven.
Moving the sheet pan higher in the oven will get a good crust on the bottom of the hash browns and then crisp up the top of the hash browns at the end. Keep the temperature the same. If you crank the temp too high they will just burn.
Don't worry about stirring them or anything. Just move them bottom to top at some point in the baking process.
Spatula them up and serve them with whatever other breakfast fare you desire.
Project sheet pan hash browns: DONE.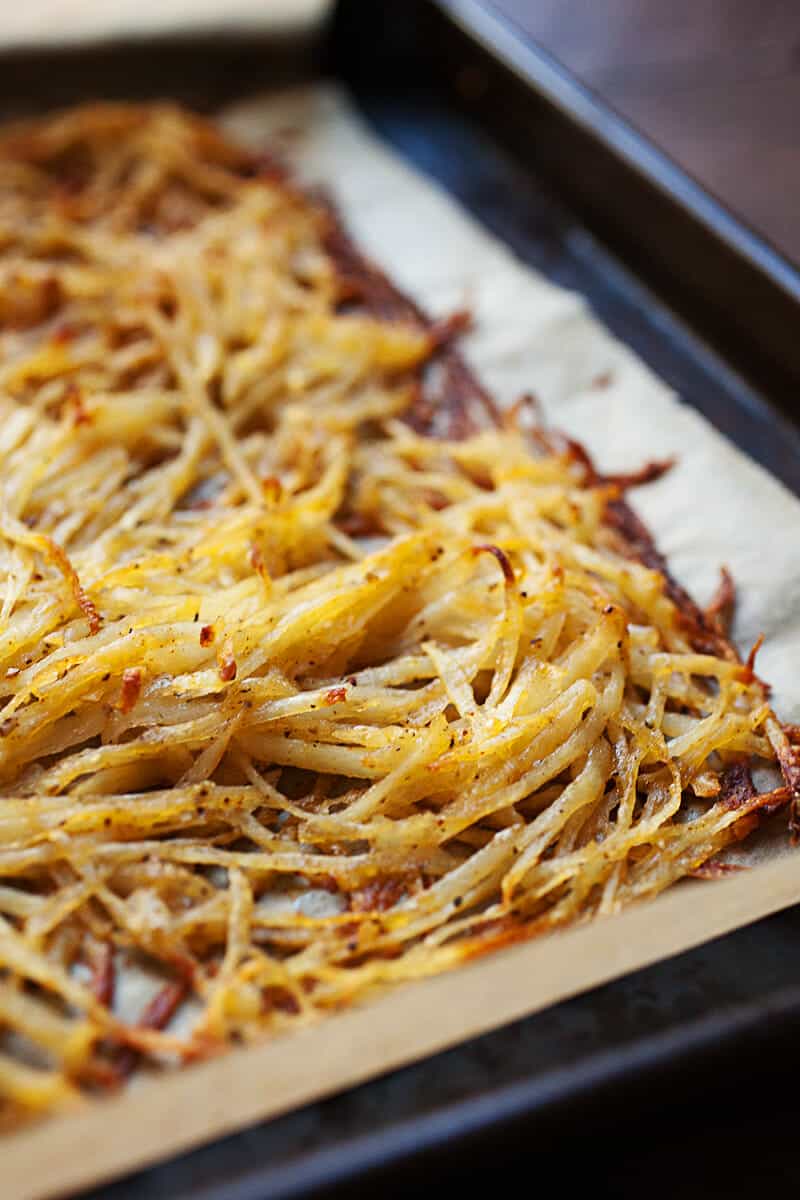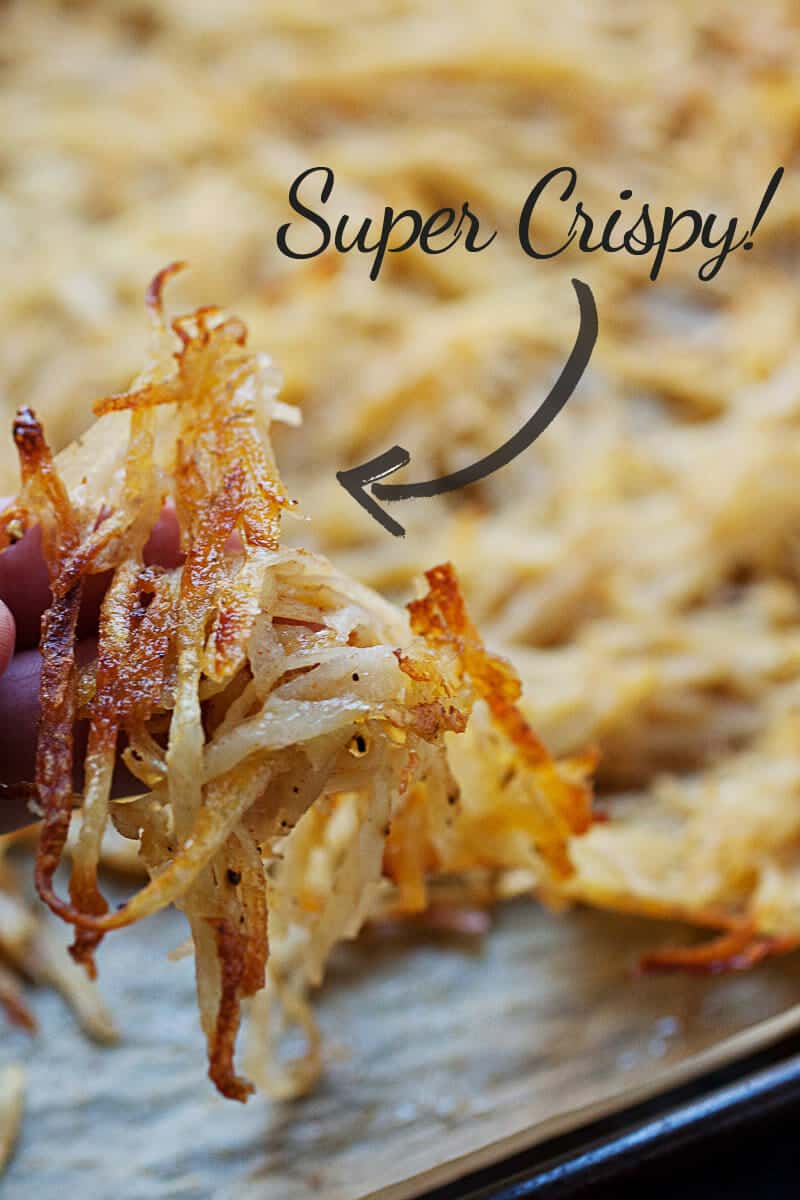 More Easy Breakfasts!