The omelette is one of the first things I learned how to make in the kitchen. Little did I know that there was a lot of politics behind the omelette! But have no fear… This Bacon Omelette with Cheddar and Spinach isn't pretentious or fussy. There's no right or wrong way to make it. You can make it however you like. The flavors WORK.
There are soooo many ways and techniques to make an omelette. Do you flip the eggs before you add the filling? Do you pour the eggs over the filling? Do you like the eggs to have a slightly under-cooked center? Do you like them crispy around the edges?
I've seen and made all of these methods over the years and all I can tell you is that I'm a firm believer that there is no correct way. There is only the way you like it. So, learn how to make an omelette like YOU like it and then do that!
That said, I wrote this particular spinach omelette like I prefer my omelettes. I highly recommend it, but the flavors work no matter what.
Don't let people omelette shame you! Cook it like you like it and eat it!
Bacon and Spinach Filling
This is a really basic, and classic, filling, but there are a few key points here.
First, use fresh spinach. A big handful of it wilts perfectly and is easier to cook with than frozen spinach. You can use the full adult spinach or baby spinach. Personally, I just use a partial bunch of the full adult spinach. Rinse it well!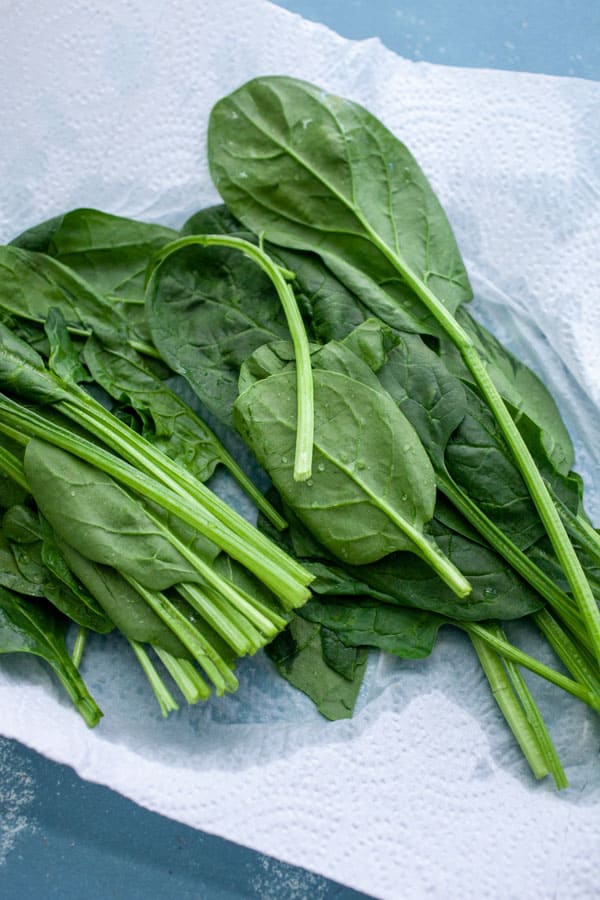 In a small skillet, add the chopped bacon over medium-low heat. Once it is crispy, scootch (technical term) it to one side and add the spinach. You shouldn't need any extra oil for the skillet. The bacon grease will add all the fat you need to wilt the spinach.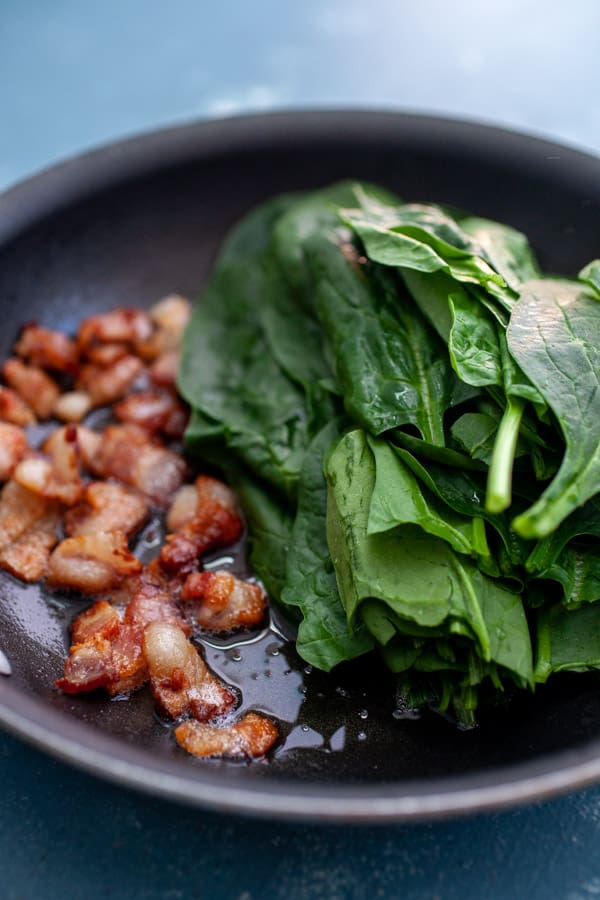 Wilting the spinach in the bacon grease adds SO much flavor to the spinach. It gives it that little something extra that you can definitely taste in the finished omelette, but you wouldn't be able to identify it as a step. It's my secret!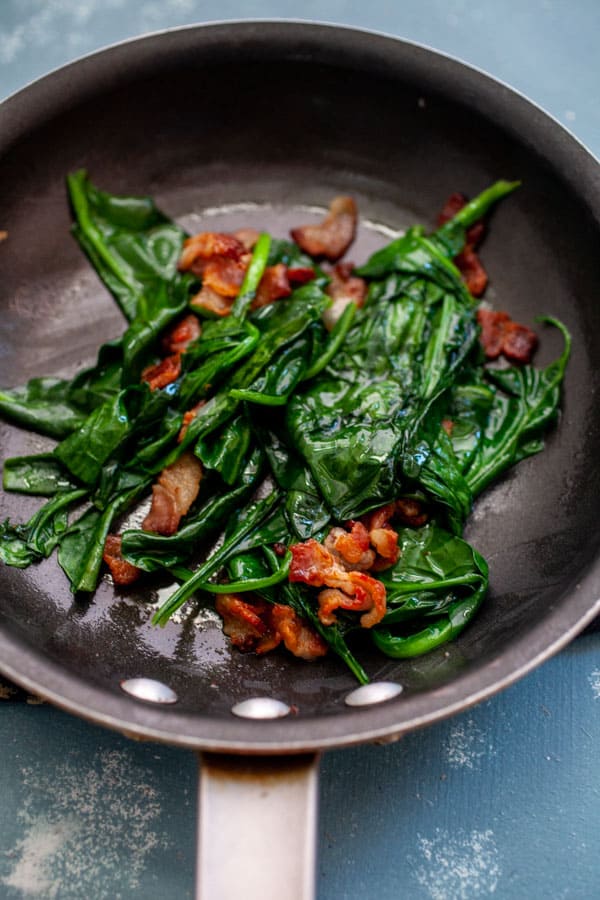 Once your bacon is crispy and the spinach is wilted, you're ready to make the omelette.
Some people like to pour their eggs over the filling, but I like to remove the filling and just work with the eggs first.
How to Make a Folded Omelette
Assuming you have some bacon grease still in the pan, you are good to add in the eggs, but if the skillet is completely dry, you want to add some fat. I recommend about a teaspoon of olive oil (or butter).
Two eggs makes a good omelette in my opinion. Some people prefer three, but given all the filling we are using, I think two is a good number of eggs. If you wanted to use just egg whites, check out my egg white tutorial.
As the eggs cook, use a spatula to push the cooked eggs to the center, tilt the skillet, and let the uncooked eggs flow to the outside.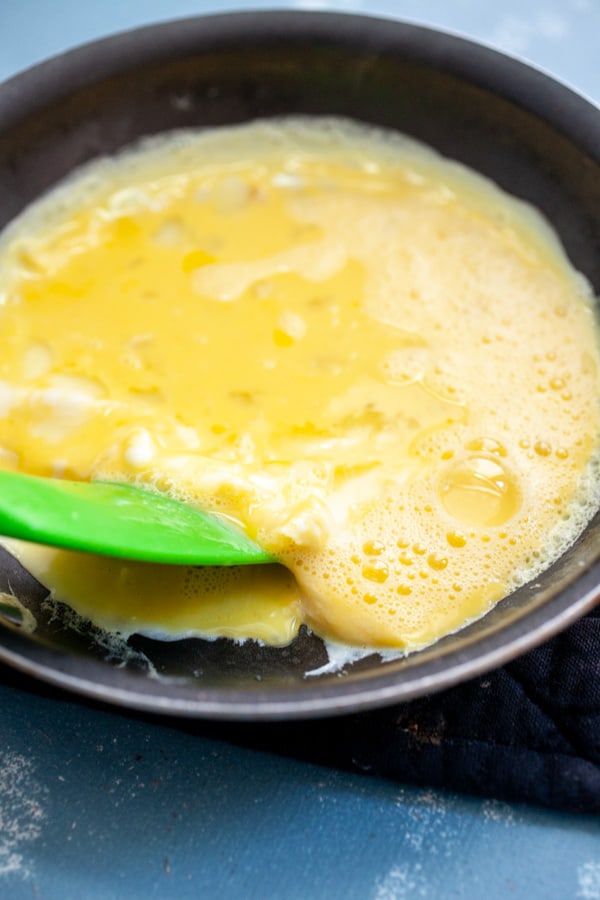 Now for the controversial part. Some people will want to flip the eggs at this point to ensure that the eggs are completely cooked. Personally, I don't mind a small amount of slightly undercooked eggs in my omelette so I just get the eggs 90% cooked on the first side by pushing the uncooked eggs to the outside and then I add my filling to this side!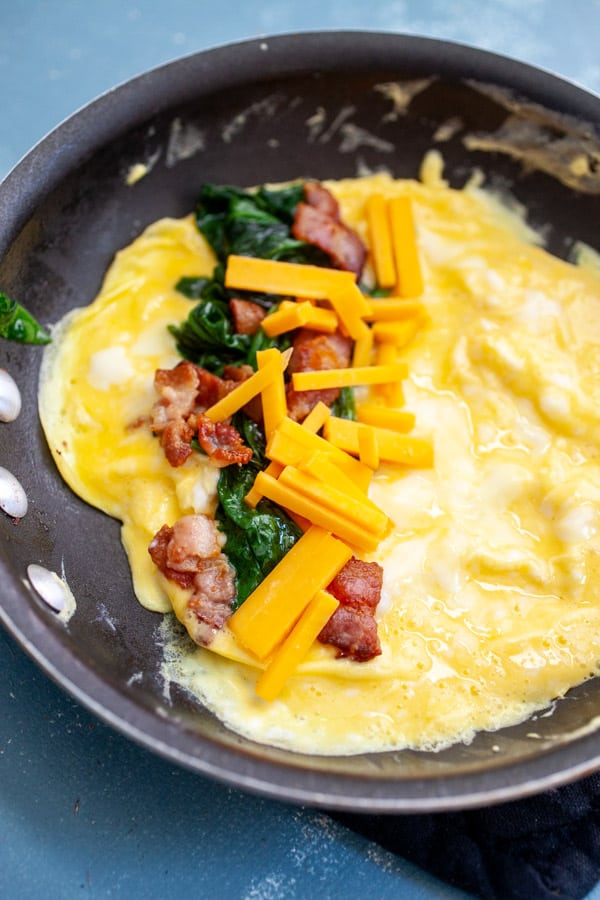 Then I fold the omelette over and I'm almost there!
I do like to let the omelette cook for about 30 seconds like this and then flip it to the other side so the cheese melts well and the eggs continue to cook.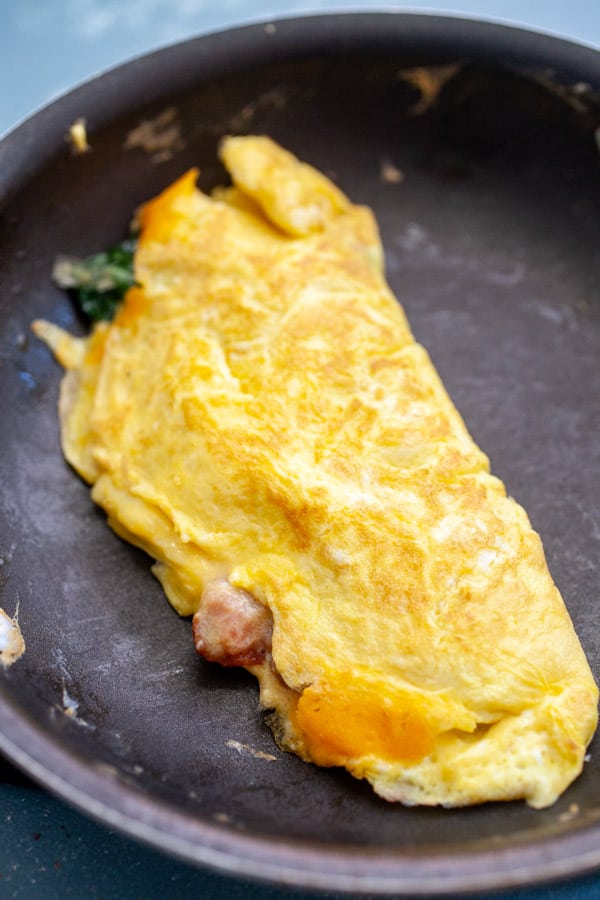 Then just slide the bacon spinach omelette onto a plate and garnish it with salt, pepper, and red pepper flakes! You are in business!
Personally, I love the soft texture of this omelette with the spinach and crispy bacon, but again… I'm not a firm believer in any particular omelette method. Make it your own way and enjoy breakfast!
What to serve with this omelette?
This is a pretty hearty omelette, but you could serve it alongside some other dishes if you are serving it to guests for brunch or something.
I would recommend some sort of light fruit salad or maybe these fruit kabobs. If you are looking for a potato something, sheet pan hash browns are always a hit at house Macheesmo.
If you are just serving this for yourself, then I don't think it needs much. Maybe some toast on the side with some fresh fruit and call it a day!
Can you make omelettes in advance?
The short answer: No. Premade omelettes are not a thing I would recommend.
BUT! You can make the filling in advance. This is especially nice if you are feeding a big crowd and making a bunch of omelettes. Make the bacon and spinach filling in advance and store it in the fridge. Then warm it up gently when it's time to make omelettes and fold it into each omelette. Works great and does lower the cooking time.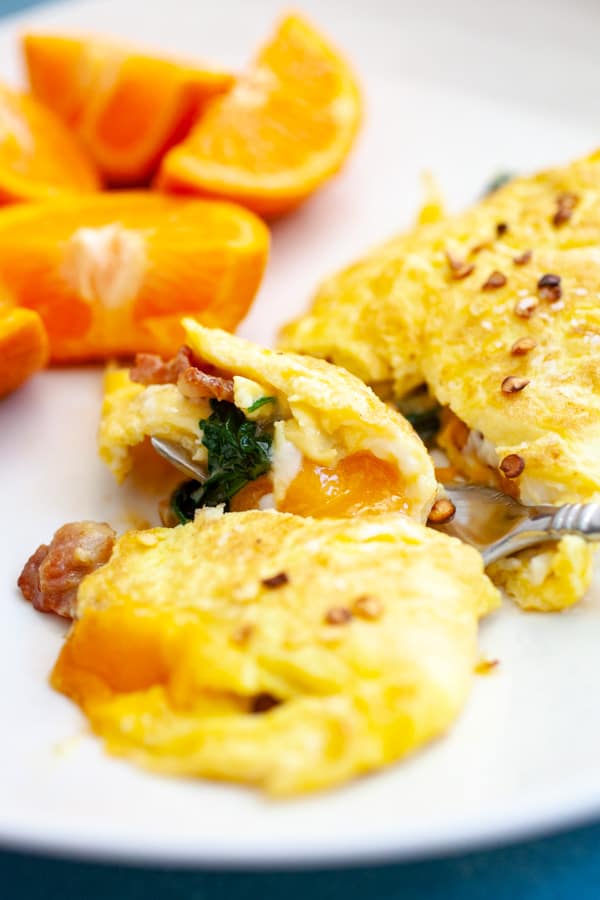 Bacon Spinach Omelette with Cheddar
The key to this simple bacon spinach omelette is to use fresh spinach and wilt it down in the bacon grease. So good! Don't forget the cheddar cheese, obviously!
Ingredients
3

strips

bacon

,

chopped

1

cup

fresh spinach

,

2 oz.

4

large eggs

1

tablespoon

olive oil

½

cup

grated cheddar cheese

Salt and pepper

Red pepper flakes

,

garnish
Instructions
In a small skillet, add chopped bacon over medium-low heat. Cook until bacon is crispy and browned, probably 7-8 minutes.

Meanwhile, rinse spinach well and when bacon is crispy, move it to one side of the skillet and add spinach. Cook spinach in the bacon grease until it's wilted, maybe 1-2 minutes. Then stir together bacon and wilted spinach. Remove mixture from the skillet.

Whisk two eggs together and add to the skillet over medium heat. Ideally, you should have some bacon grease to cook the eggs in, but if the skillet is dry, add a teaspoon of olive oil.

Cook eggs for 2 minutes, using a spatula to gently push the cooked eggs to the center, tilting the pan, and allowing uncooked eggs to flow to the outer edges of the skillet.

When the eggs are mostly cooked and there is a very thin layer of uncooked egg on the top, add half of the bacon spinach mixture to half of the eggs along with a handful of cheddar cheese. Fold the eggs over the top to make a half-circle omelet.

Cook the omelette for 30 seconds and then flip the omelette to the other side. Cook for another 30 seconds or so which should melt the cheese and finish cooking the eggs.

NOTE: If you want your eggs completely cooked, the best way to achieve that is to actually flip the omelette before you add the filling so both sides are 100% cooked. Personally, I'm okay with a thin layer of under-cooked egg, but it's personal preference.

When omelet is to your liking, slide it onto a plate and garnish with salt, pepper, and red pepper flakes. Serve immediately!
Nutrition
Serving:
1
omelette
|
Calories:
444
kcal
|
Carbohydrates:
2
g
|
Protein:
22
g
|
Fat:
38
g
|
Saturated Fat:
14
g
|
Polyunsaturated Fat:
5
g
|
Monounsaturated Fat:
16
g
|
Trans Fat:
0.1
g
|
Cholesterol:
377
mg
|
Sodium:
540
mg
|
Potassium:
292
mg
|
Fiber:
0.3
g
|
Sugar:
0.5
g
|
Vitamin A:
2177
IU
|
Vitamin C:
4
mg
|
Calcium:
266
mg
|
Iron:
2
mg
Did you make this recipe?
Here are a few other Omelette recipes!