Have you ever tried to cook an omelet for more than two people? It can be tricky. Lots of egg whisking, lots of fillings, and lots of carefully monitoring skillets. This 12 Egg Omelette for a Party is just what you need!
It has 12 eggs in it so it could feed about six people or you could slice the pieces thinner and serve it as almost an appetizer at a brunch or something. I filled my version with ham and cheese as you'll see below but the options are pretty unlimited once you get the technique down.
There are a few tricks to getting the omelette out of the pan in a clean way, but it's still much easier than cooking a bunch of separate omelets! That, of course, allows you to drink more mimosas!
What is a party omelette?
Rather than making one omelette at a time for your guests, like an omelette station at a brunch buffet, a party omelette is one large omelette that you bake on a sheet pan. Then you can roll up the omelette and slice it into pretty slices.
These can be sliced thick and served as an entree or sliced thin and served as a brunch appetizer or side dish.
How to prepare your eggs for the omelette?
You'll need a dozen eggs for this bad boy. Whisk them with some milk and a pinch of pepper. It's very important to make sure your eggs are an even consistency before you make the omelette so whisk them really well.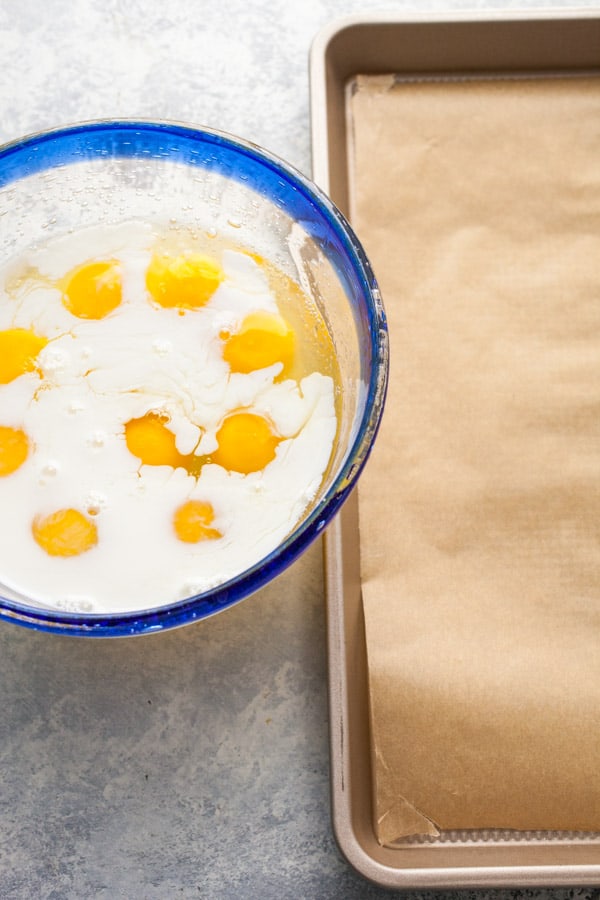 The most important part of this recipe is to line your pan with some parchment paper and take your time to get it as close to the edges of the pan as possible. This will make the removal of eggs much easier! I also buttered the edges of my pan a bit, but I'm not sure that does much.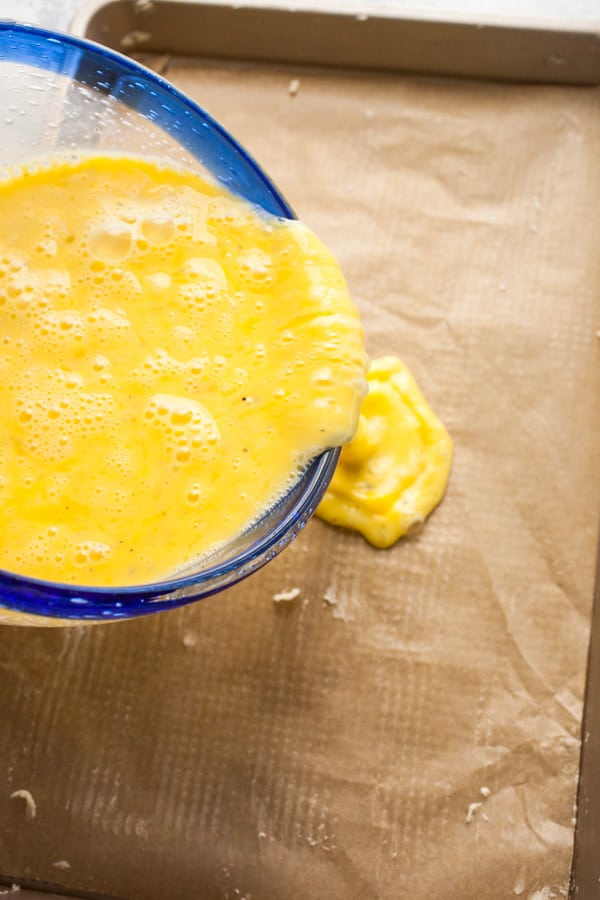 Baking the eggs for the party omelette
Bake the eggs for 15 minutes at 375 degrees F. and they should be mostly set. If you are using a slightly larger pan (like a normal cookie sheet) you may only need 12 minutes in the oven.
Some areas of the eggs might puff up a bit more than others but that's okay! Don't worry about it.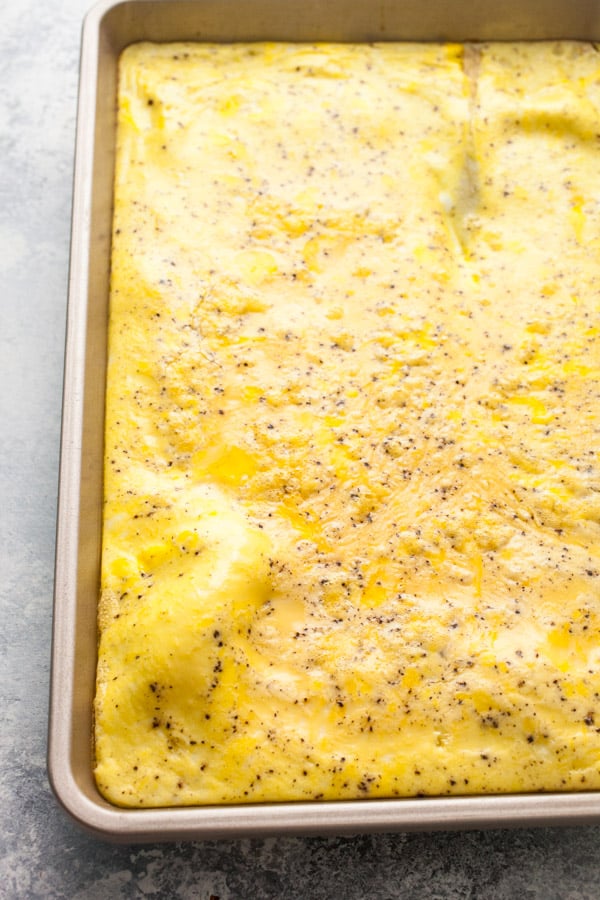 Now for the toppings! You could add anything that would be good in an omelet, but use restraint! Too many fillings and you'll have trouble rolling this bad boy.
I added a thin layer of ham to my eggs along with some shredded cheddar cheese. Again, you could go crazy with filling options here.
Bake the party omelette for another five minutes just to warm the fillings and melt the cheese.
Rolling and cutting the omelette slices
Now for the tricky part: removing the omelette! Use a thin spatula or knife to work around the edges, separating the omelet. Take your time with this step and try not to rip the omelette at all. If it does tear, that's okay, don't stress about it, but try to keep it in a nice clean sheet if possible.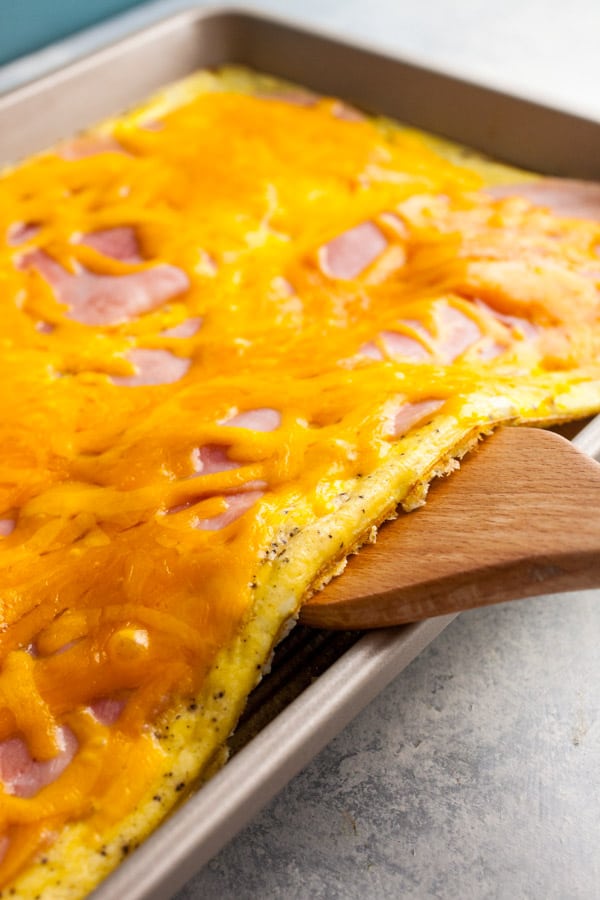 Then use the parchment paper to roll the omelet over on itself! You can peel the parchment paper off as you roll, leaving you with a really clean omelette.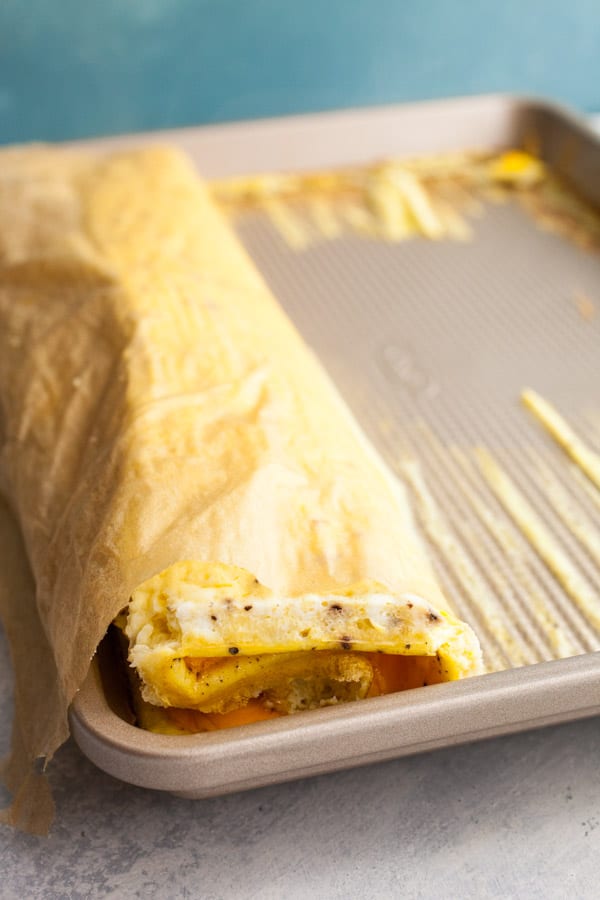 Then just slice the large omelet into pieces and you're ready to go! I like to garnish my party omelet with a little fresh parsley.
Can you make this 12 egg omelette in advance?
I actually think you could make these, wrap them in plastic wrap, and freeze them for quick weekday omelets also if that's your speed. Ultimately though, eggs are best right away so this omelette is the best right out of the oven, rolled and served within a few minutes.
If you have a really tight prep time though for it, you could make it comletely in advance, roll it up, store it in the fridge for a few days, and then reheat it for serving.
What to serve with this party omelette?
Well, lots of breakfast fare would work with this party omelete. I would definitely serve a potato side dish like maybe these sheet pan hash browns or maybe these sweet potato fritters.
Bacon is never a bad idea so serve up a side of habanero bacon or just crispy oven bacon.
For some lighter serving options, maybe try these mojito fruit skewers!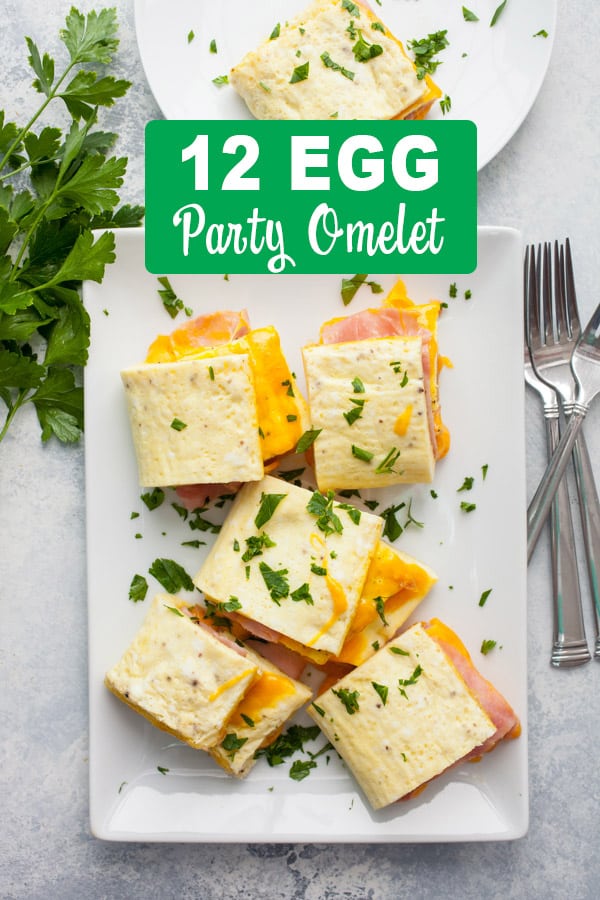 12 Egg Party Omelet
This is my method for making omelettes for a group of people. It's about as easy as cooking twelve eggs at a time can get and you can fill it with anything! I go for ham and cheese, but it's your world once you master the method!
Ingredients
12

eggs

⅓

cup

milk

Pinch

of black pepper

4

ounces

deli ham

4-6

ounces

cheddar cheese

,

grated

Parsley

,

garnish

Butter

,

for dish

Parchment paper
Instructions
Preheat oven to 375 degrees F. Line the bottom of a baking sheet or jelly roll pan with parchment paper. Butter the sides of the pan or spray with nonstick spray.

Whisk together eggs with milk and season with black pepper. Pour eggs into pan.

Bake eggs for 15 minutes until they are just set.

Add a layer of ham slices and grated cheese to the eggs. Don't over-cheese them or you'll have trouble rolling the eggs.

Bake for another five minutes.

Remove dish and carefully free the eggs from the pan by sliding a thin spatula or knife around the outer edges. Lift one long side of the pan out and carefully roll it up, peeling off the parchment paper as you go.

Transfer the rolled omelet to a clean plate and cut into six servings. Garnish with fresh parsley and salt and pepper.

Serve while warm.
Nutrition
Serving:
1
Omelette
|
Calories:
257
kcal
|
Carbohydrates:
2
g
|
Protein:
20
g
|
Fat:
18
g
|
Saturated Fat:
8
g
|
Polyunsaturated Fat:
2
g
|
Monounsaturated Fat:
6
g
|
Trans Fat:
0.03
g
|
Cholesterol:
360
mg
|
Sodium:
478
mg
|
Potassium:
210
mg
|
Sugar:
1
g
|
Vitamin A:
687
IU
|
Calcium:
201
mg
|
Iron:
2
mg
Did you make this recipe?
Here are a few other great Omelette Recipes!