My requirements for the Best Shrimp Quesadillas are pretty simple. I wanted something that I could eat with my hands, that was super-spicy, and that would be easy to make for a crowd.
I also was on a mission to prove that seafood and cheese can go quite well together in a Tex-Mex dish.
I'm a huge fan of quesadillas, but I'm also kind of picky. I like mine to be super-crispy with lots of spices and flavors and enough cheese to hold the thing together. I do think it's possible to over-cheese a quesadilla… that's not the case with this spicy shrimp quesadilla recipe though. It has just enough cheese and plenty of flavor.
My wife was skeptical about the idea of a shrimp quesadilla when I told her we were having them, but she quickly saw the light. They're delicious!
How to Prep the Shrimp for Quesadillas
You can definitely buy shrimp that are already cleaned for this dish. I have a mild obsession about buying shrimp in the shell. I just prefer to clean them myself. For some reason I think the shrimp is generally fresher with the shell on but I have ZERO evidence to support that belief.
If you are cleaning them yourself and aren't familiar with how to do it, just peel the shell off the shrimp off with your fingers. It should kind of unwrap around the shrimp if you start with the little legs. Then, using a paring knife or kitchen shears, gently slice a cut all the way down the back of the shrimp revealing their digestive vein. Wash that under cold water to get it clean and then toss your cleaned shrimp in a bowl.
The first time you do it, it might take some time, but you'll get fast at it pretty quickly.
Once all your shrimp are ready to go, you'll need a bunch of spices that is similar to a taco seasoning recipe!
I'll be honest, I completely winged this spice combination. It was spicy which is what I was going for, but feel free to change it around and substitute freely.
Once your shrimp are cleaned add them to a small bowl with all your spices along with your chopped chiles, lime juice, and olive oil.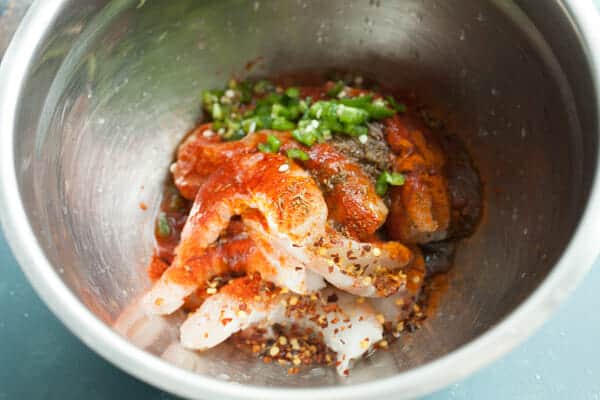 Let this sit for about 10 minutes to get all happy.
Cooking the shrimp
Meanwhile, preheat your oven to 400 degrees, grate your cheese and slice some red onion if you want.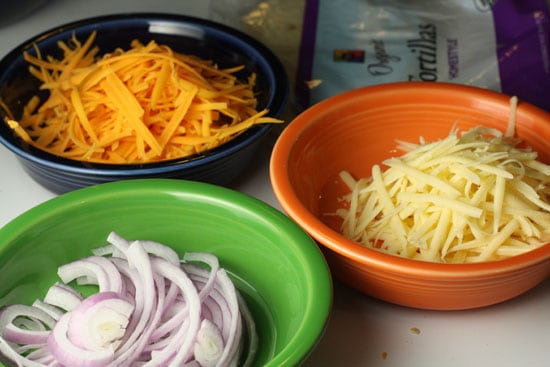 Once your shrimp have been marinating for a few minutes, add them to a large skillet over medium-high heat. They should cook pretty fast depending on the size of your shrimp. Mine were the medium sized shrimp and they took about 5 minutes to cook through, stirring them occasionally with a spatula or wooden spoon.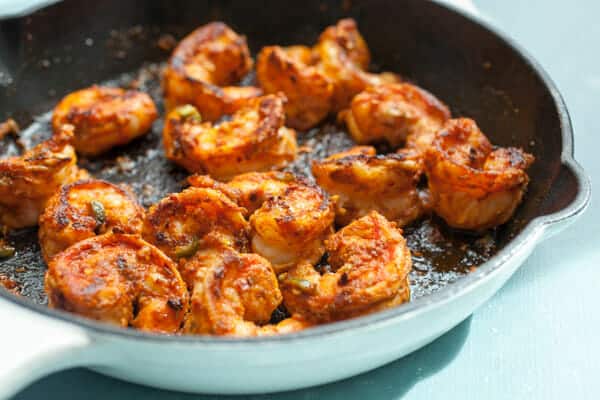 Once they are cooked through (won't be pink on the inside), give them a quick chop on a cutting board. This will make them easier to put on the quesadillas. Eating whole shrimp between two tortillas is kind of awkward so this makes it easier.
Cooking these quesadillas in the oven
Once your shrimp are cooked and chopped, it's a pretty easy process to assemble these shrimp quesadillas which is why I think they'd be perfect for a game-day snack. You could make most of the fillings and everything before hand and then cook a bunch of these at once.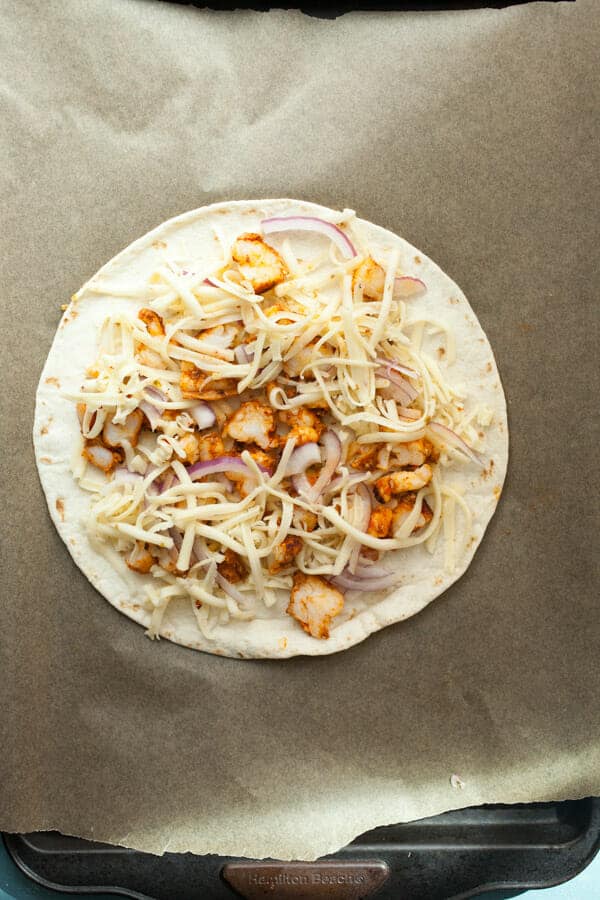 Just lay out some tortillas on a baking sheet, add some cheese (I like a mix of mozzarella and cheddar cheese), add your shrimp and onions, and then top with a bit more cheese.
Add the top flour tortilla and cook these for about 8-10 minutes at 400 degrees. Then take out your baking sheet and carefully flip each quesadilla with a spatula.
The shrimp quesadillas should be very crispy and delicious on the bottom.
Return them to the oven for another 5-6 minutes and then they should be ready to serve!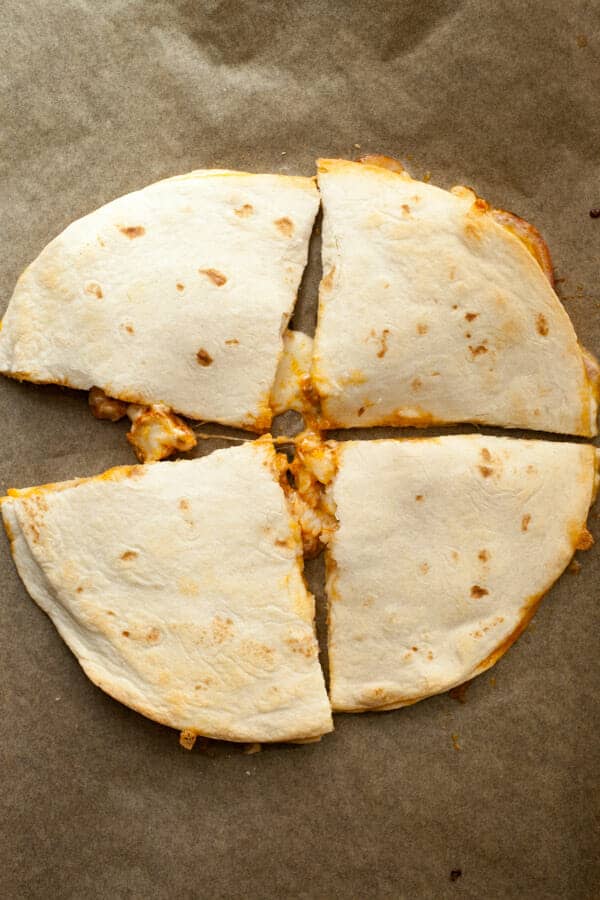 I cut mine into quarters, but you could do eighths if you were really trying to feed a crowd.
How to cook these shrimp quesadillas in a skillet
If you want to use a skillet to cook these shrimp quesadillas, that absolutely works. You won't be able to cook them all at once, but that can be good if you are feeding a smaller crowd.
Heat a skillet over medium heat and add a little oil the skillet. Add your flour tortilla and some cheese, your shrimp mixture, and more cheese. Then FOLD the tortilla over and cook for a few minutes per side until the cheese is melted and the tortilla is crispy.
Can you use corn tortillas?
Well, sure. But I always think of quesadillas as having flour tortillas. If you use corn tortillas these almost become more of a crispy taco situation like my crispy chicken tacos. Still delicious, of course, but not exactly a quesadilla in my mind.
I think large flour tortillas are the best for quesadillas and then you can slice them to fit the size you are going for. If you use smaller tortillas, you have more flipping and folding to deal with.
Garnishes for the Shrimp Quesadillas
To top my shrimp quesadillas, I also mixed an avocado, some sour cream, and the juice of a lime in a little food processor for a quick avocado cream sauce. Great topper! Fresh cilantro is an excellent idea and goes well with the shrimp flavor.
You could also use any sort of salsa, but green salsa would be my preference. You could also make a quick pico de gallo with fresh tomatoes, peppers, and lime and use that as a fresh topping. I think the cantaloupe salsa I used in this grilled chicken recipe would also be a nice and unique topping.
Of course, you couldn't go wrong with some homemade guacamole as a topper!
Top these spicy shrimp quesadillas with your favorite toppings and go to town.
Reheating shrimp quesadillas
Quesadillas definitely lose some of their luster if you don't eat them right away, but it is possible to reheat them if you store them in the fridge for a day or two. I would avoid the microwave at all costs and instead reheat the quesadillas in a hot skillet over medium-low heat on the stovetop until the shrimp quesadillas are warmed through.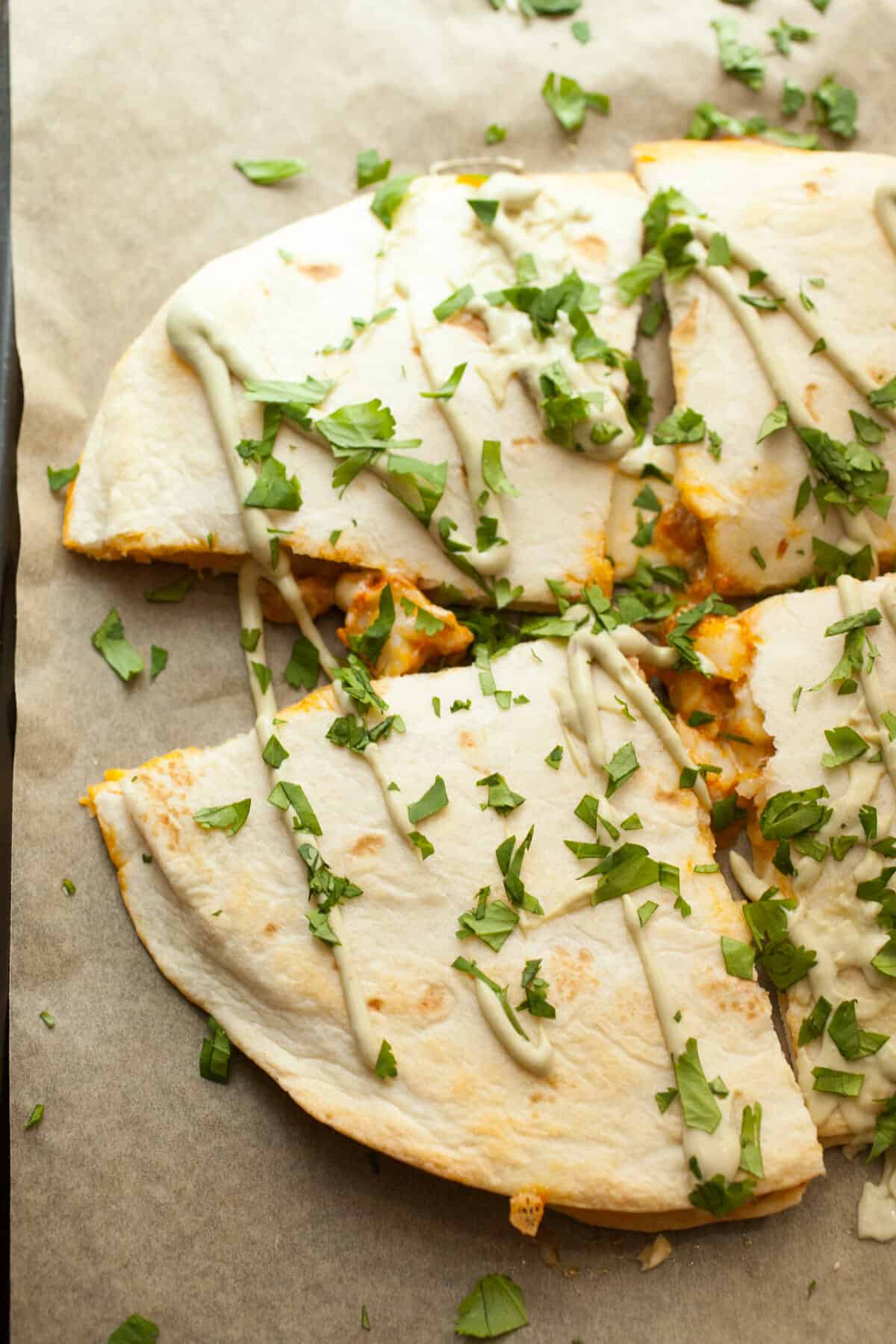 Spicy Shrimp Quesadillas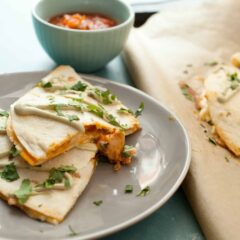 Shrimp are marinated in paprika, red pepper, cumin, and cayenne for a very spicy quesadilla. Oh, and lots of cheese obviously.
Ingredients
1

pound

cleaned shrimp

1

Tablespoon

olive oil

2

Teaspoons

hot paprika

2

Teaspoons

cumin

1

Teaspoon

cayenne

,

or adjust to your tastes

½

Teaspoon

red pepper flakes

1

jalapeno

,

chopped

1

lime

,

juice only

16

ounces

cheese

,

I used a mix of cheddar and mozzarella.

¼

red onion

,

sliced (optional)

8

medium-large tortillas
Toppings:
Hot sauce

Sour cream or Greek yogurt

Guacamole
Instructions
Clean and de-vein shrimp.

Add cleaned shrimp to a bowl with spices, jalapenos, lime juice, and olive oil. Let marinade for 10 minutes. Preheat oven to 400 degrees.

Add shrimp to a pan over medium-high heat and cook for 5-6 minutes until they are just cooked through.

Once the shrimp are cooked, give them a quick chop.

Lay tortillas out on a baking sheet. Add some cheese, chopped shrimp, onions, and a bit more cheese.

Top with another tortilla and bake for 8-10 minutes. Then flip each quesadilla carefully.

Return to oven and bake for another 5 minutes until they are very crispy. Chop and serve with lots of toppings!
Nutrition
Serving:
1
Quesadilla
|
Calories:
791
kcal
|
Carbohydrates:
36
g
|
Protein:
55
g
|
Fat:
48
g
|
Saturated Fat:
24
g
|
Polyunsaturated Fat:
3
g
|
Monounsaturated Fat:
12
g
|
Trans Fat:
0.01
g
|
Cholesterol:
296
mg
|
Sodium:
1326
mg
|
Potassium:
553
mg
|
Fiber:
3
g
|
Sugar:
4
g
|
Vitamin A:
1970
IU
|
Vitamin C:
10
mg
|
Calcium:
983
mg
|
Iron:
4
mg
Did you make this recipe?
Here are a few other great Shrimp recipes!