People need to branch WAY out for salsas. Sure… tomatoes, tomatillos, it's all good. But, fruit salsas like this one are underrated and should be higher on people's list. The Cantaloupe Habanero Salsa I made to top this grilled chicken is something I dream about!
Of course, peeling and mincing a cantaloupe is an annoying step and habanero peppers can always be a tricky ingredient to work with. But, the flavors go SO well together. Habaneros have a natural fruity flavor to them and just one gives plenty of spice for this salsa.
The salsa would go well with almost anything grilled, but goes particularly nice on grilled chicken or shrimp.
My only regret is not making a double batch of the salsa so I can eat it with chips! It's that good and not something you'll find in stores.
Making Cantaloupe Habanero Salsa
Breaking down a full cantaloupe is something I rarely do because… um… it's a PAIN in the butt.
Normally I would just use a melon baller to get the goods out, but to be thorough, I peeled and seeded this one. The best way to do it is to cut the melon in half through the center and then use a sharp knife to slice the skin off, working around the melon.
Once it is peeled you can cut the melon into strips and then dice it up. It dices really easily once you get the skin off.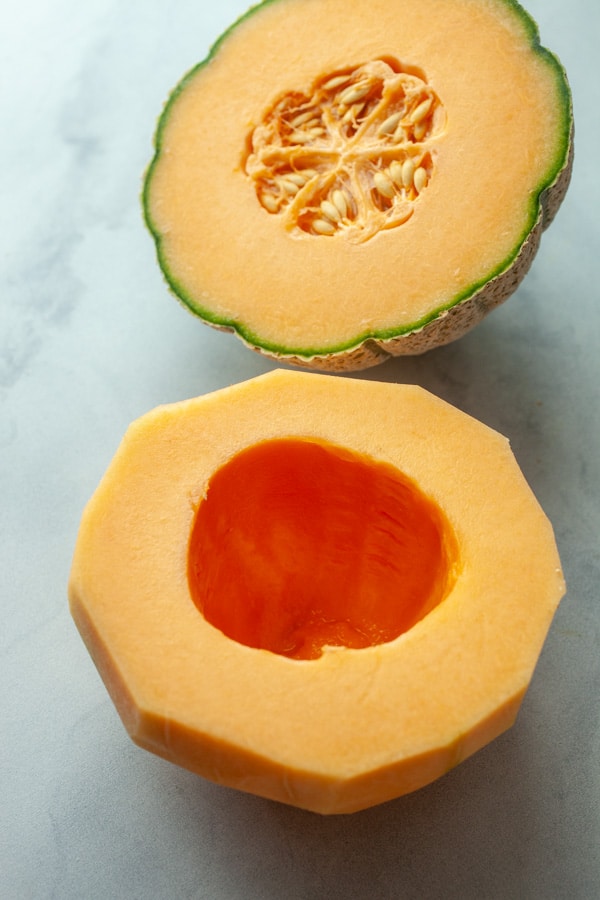 Annoying ingredient number two: Habanero peppers! Be careful with these. They are POWERFUL. Cut the stem off, cut the seeds out, mince it very finely, and then wash everything well so you don't touch your eyes or something!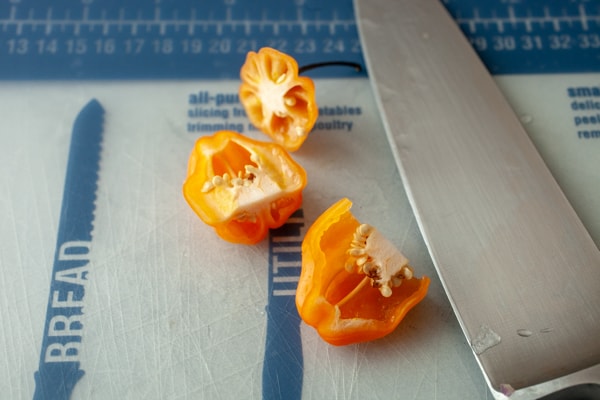 Stir those together with some red onion, cilantro, lime juice, and salt and you're in business.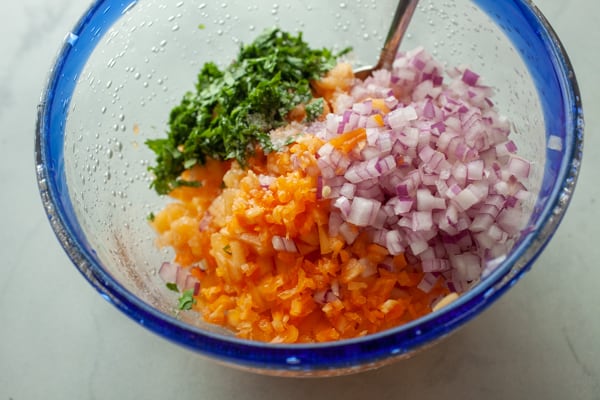 What chicken cuts work best for the grill?
I'm a big fan of grilling chicken for fast meals. For a meal like this, you can use any cut of chicken but just know that your preparation time will vary a lot. For example, if you used chicken thighs (like in these grilled hoisin chicken thighs), you'll need 30-45 minutes to grill them, but they would be very good with this salsa.
The nice thing about these chicken cutlets is that they cook very quickly so dinner can be done in just a few minutes.
Grilling the Chicken Cutlets
I kept the chicken simple for this entree. I drizzled my cutlets with some olive oil and seasoned them with salt, pepper, paprika, and granulated onion.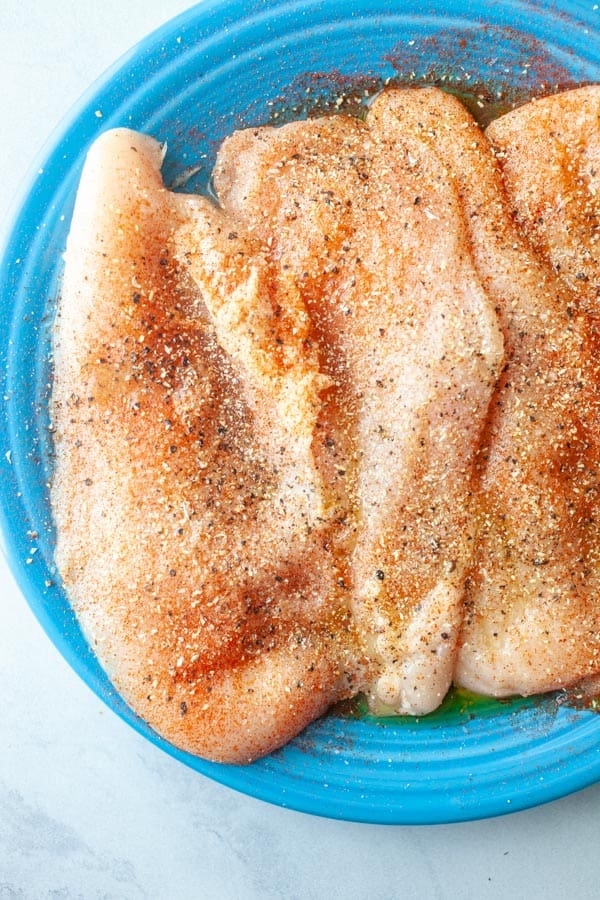 On the grill over medium-high heat for 6-7 minutes per side and they are looking good! Some good char is nice to see, of course!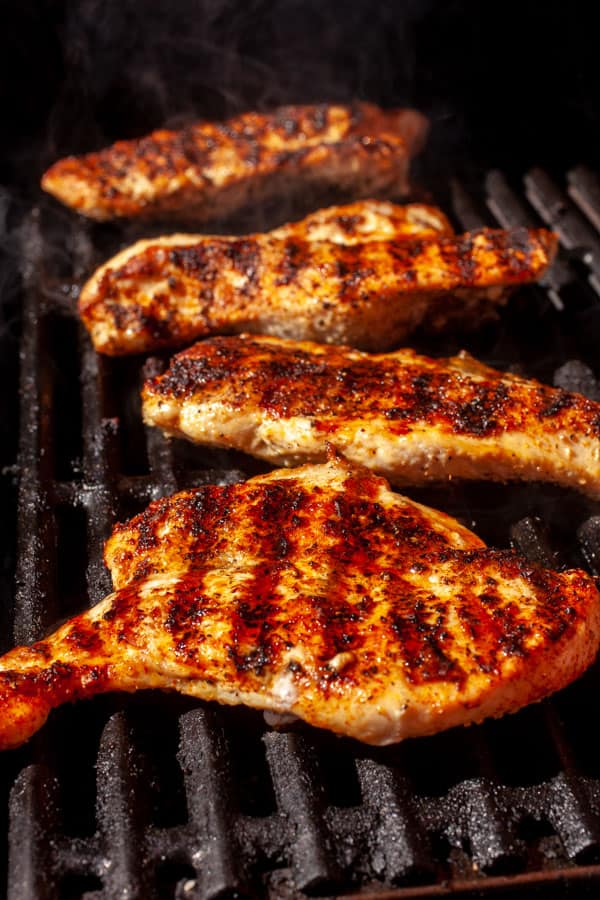 Always check your grilled chicken to make sure it reaches 165 F˚ with a meat thermometer.
Then let the grilled chicken rest for a few minutes and top it generously with the cantaloupe salsa! How fresh and delicious does this look?!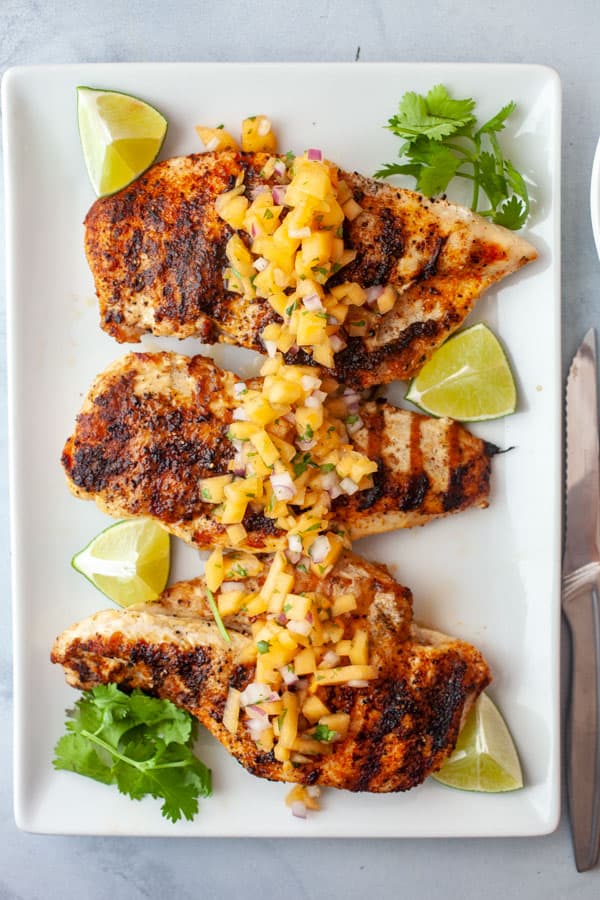 Had to try a bite right away, of course!
What to serve with this grilled chicken dish
This is a solid main dish for any quick dinner and is also classy enough to serve at a dinner party, I think. But, it could use some help on the table. It would go great with a light couscous salad like this Couscous Tabbouleh or something more substantial like these crispy rosemary roasted potatoes!
Storing leftovers
If you have some chicken and salsa leftover, that's great! The salsa is wonderful with chips as a snack, actually and will keep fine in the fridge for at least a week. The chicken will keep for 5-6 days as well and stores best in an airtight container separate from the salsa.
Leftovers idea: Chop up the leftover chicken and add it to a wrap with lettuce, the leftover salsa, and a smear of cream cheese or Boursin cheese.
Substitutions and Ideas
Here are some ideas for substitutions you could try!
This salsa recipe is pretty flexible. Feel free to substitute other sturdy fruits for the cantaloupe. Mango or peach would be a great option and if the habanero is too intense for you, downgrade it ot a fresh jalapeno.
Change up the protein. This salsa goes well with any grilled protein so try salmon or pork chops, which also will cook very fast.
If you're looking for something fresh and delicious to make this summer, add this to the list!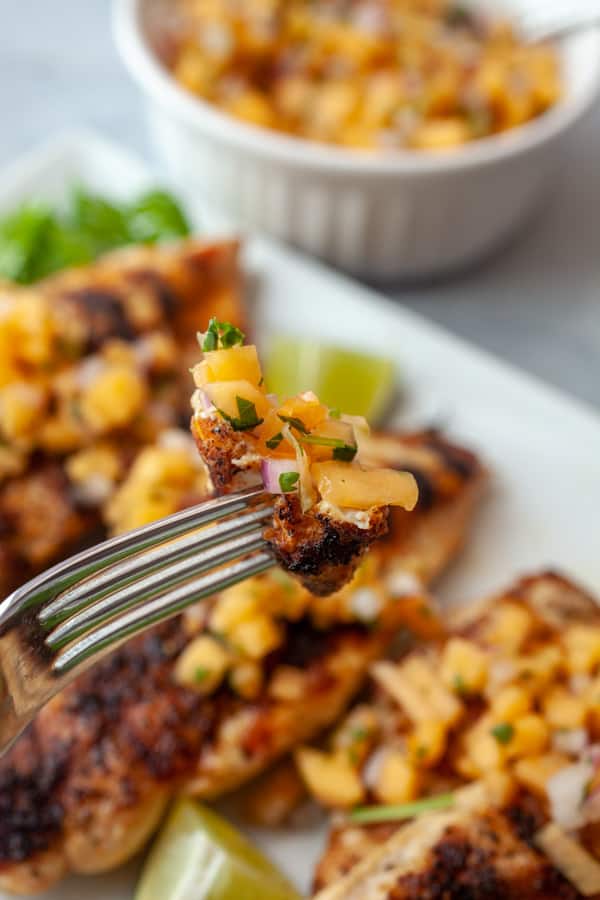 This recipe featured in: 10 Grilling Alternatives to Hamburgers and Hot Dogs
Grilled Chicken with Cantaloupe Habanero Salsa
Bright and fresh and just spicy enough! This Grilled Chicken with Cantaloupe Salsa is brought to life with minced habanero! YUM!
Ingredients
1 ½

pounds

chicken breasts

,

4 cutlets

½

teaspoon

kosher salt

½

teaspoon

paprika

½

teaspoon

granulated onion

¼

teaspoon

black pepper

2

tablespoons

olive oil

Cilantro

,

garnish
Cantaloupe Habanero Salsa:
2

cups

minced cantaloupe

½

cup

minced red onion

1

habanero

,

seeded and minced

½

lime

,

juice only

2

tablespoons

fresh cilantro

,

minced

Kosher salt

,

to taste
Instructions
To make salsa, use a sturdy chef knife to slice the peel off of half of a cantaloupe. Then scoop out seeds and mince the flesh into about 1/4-inch pieces.

To prep habanero, cut pepper in half and cut out seeds and stem. Then mince finely and add to cantaloupe. Wash hands, cutting board, and knife well to prevent cross-contamination.

Stir salsa together with other salsa ingredients and set aside.

Rub chicken with olive oil and sprinkle with spices. Preheat grill to medium-high heat.

Grill chicken cutlets for 6-7 minutes per side until they are cooked through and reach 165 F˚ in the thickest parts of the cutlet.

Remove chicken and let rest for a few minutes.

Serve grilled chicken topped with cantaloupe salsa and garnished with extra lime and cilantro.

Leftovers keep great for 3-4 days. Keep the salsa and the chicken separately.
Nutrition
Serving:
1
cutlet
|
Calories:
296
kcal
|
Carbohydrates:
10
g
|
Protein:
37
g
|
Fat:
12
g
|
Saturated Fat:
2
g
|
Polyunsaturated Fat:
2
g
|
Monounsaturated Fat:
6
g
|
Trans Fat:
0.02
g
|
Cholesterol:
109
mg
|
Sodium:
514
mg
|
Potassium:
812
mg
|
Fiber:
1
g
|
Sugar:
7
g
|
Vitamin A:
2922
IU
|
Vitamin C:
18
mg
|
Calcium:
26
mg
|
Iron:
1
mg
Did you make this recipe?
Here are a few other great Grilling recipes!