When it comes to tacos, I'm a big fan of the hard shell, but sometimes I find store-bought hard shell tacos to be kind of flimsy. That's why I like to make my own shells for these Crispy Chicken Tacos!
These tacos end up being very easy to make and you could very easily add them to my ultimate weeknight meals guide.
Homemade hard shell tacos are a bit tricky though. You need to hold them in place and fry them until crispy. They do make a strange device that will make it possible to do this at home, but personally that seems like more work than it's worth.
So I came up with a much quicker and easier method for making darn good crispy chicken tacos at home. These are actually a delicious mash up between an enchilada, a taco, and a taquito. But trust me, you'll have a hard time giving them up once you try them!
Shredded Chicken Hard Tacos
Chicken and black beans folded inside a corn tortilla and fried to make hard shell tacos!
Ingredients
1

pound

boneless skinless chicken breast

,

poached and shredded

1 15

ounce

can black beans

,

drained and rinsed

½

red onion

,

diced

1-2

jalapenos

,

minced

½

Cup

salsa

6

ounces

pepper jack cheese

,

shredded

12

corn tortillas

Salt and pepper

Olive oil
Toppings:
Sour Cream

Avocado

Lettuce

Hot Sauce
Instructions
Add chicken breasts to a medium pot and cover with water by 1/2 inch. Bring to a simmer and simmer for about 15 minutes or until chicken is cooked through.

Once chicken has cooled a bit, shred it. Also, dice onion and pepper and drain and rinse the beans.

Add 2 tablespoons olive oil to a medium pan over medium heat. Once hot, add onions and peppers and cook until soft. Then stir in shredded chicken, black beans, and salsa.

Stir mixture until it's heated through and season with salt and pepper.

On a large griddle or in a large skillet, add a tablespoon of olive oil over medium-high heat. Working with one tortilla at a time, add it to the hot pan and top one half with chicken and shredded cheese. Fold tortilla over to form a taco. Press down on it lightly so it holds it's shape and move it to the outer part of the pan while you work on a second one. Do as many tacos as you can fit at once without them overlapping.

Cook tacos for about 3 minutes per side until tortilla is crispy and cheese is well-melted.

Serve tacos immediately with avocado, hot sauce, lettuce, and sour cream.
Nutrition
Serving:
1
Taco
|
Calories:
192
kcal
|
Carbohydrates:
19
g
|
Protein:
15
g
|
Fat:
6
g
|
Saturated Fat:
3
g
|
Polyunsaturated Fat:
1
g
|
Monounsaturated Fat:
2
g
|
Trans Fat:
0.004
g
|
Cholesterol:
37
mg
|
Sodium:
357
mg
|
Potassium:
354
mg
|
Fiber:
5
g
|
Sugar:
1
g
|
Vitamin A:
187
IU
|
Vitamin C:
3
mg
|
Calcium:
146
mg
|
Iron:
1
mg
Did you make this recipe?
How to Make the Chicken Taco Filling
There are really no rules when it comes to fillings for these tacos. I used some chicken and black beans, but you could take it in any direction really.
If you do want to use chicken though, the easiest way to prep it for the filling is to lightly poach it in a few inches of water for about 10 minutes or until it's cooked through completely. Depending on the thickness of your chicken breast, you might need a few more minutes. Then, once your chicken is cool, you can shred it up with a fork.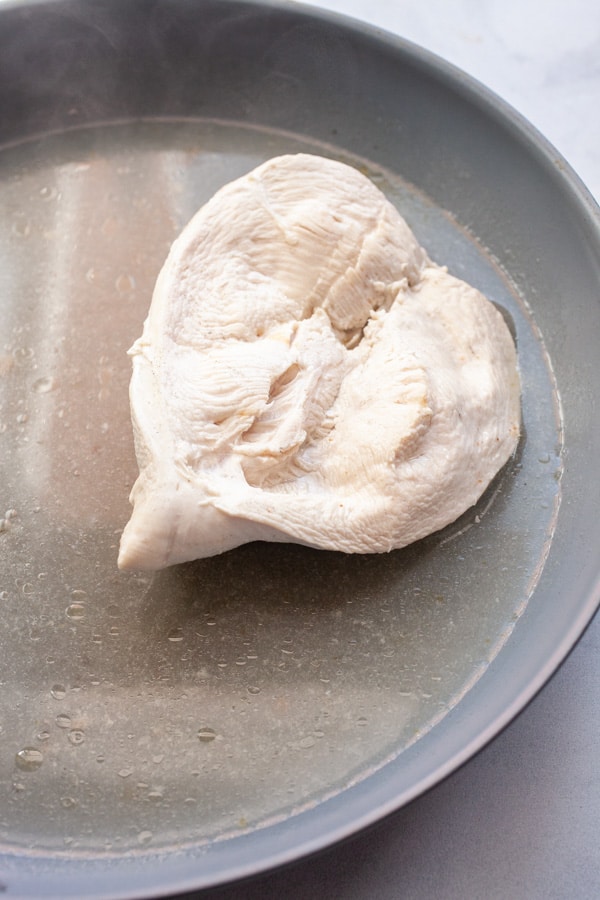 You could also use leftover chicken from a different meal!
Besides the chicken, I also recommend using some fresh red onion and jalapeno which gives the filling great Tex-mex flavors.
Just dice both relatively small. If you want more heat, then leave the seeds in the peppers.
To finish off the filling, add a drizzle of oil to a medium pan over medium heat and add your onions and peppers.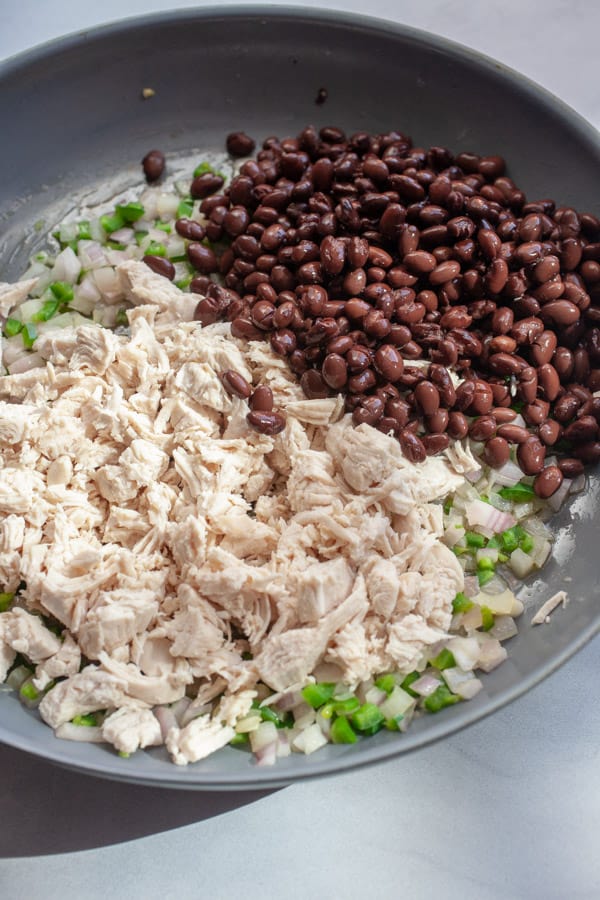 Cook them until they are soft, about 4-5 minutes, then stir in your chicken drained black beans.
I like to add some salsa to mine also which just kind of rounds out the flavors and ties everything together. It's a bit of a shortcut, but it works like a charm.
Stir this all together over medium heat until the filling is hot.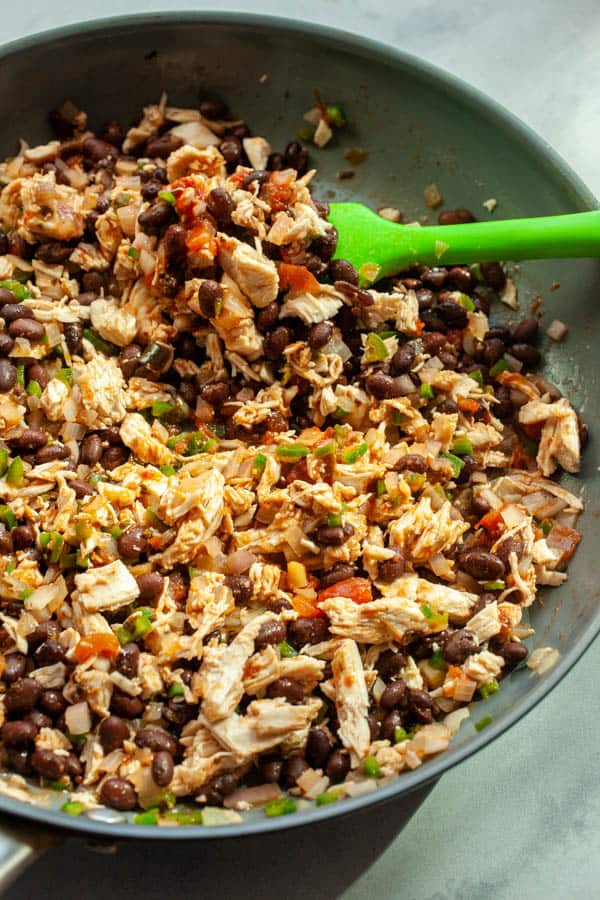 Making the Crispy Chicken Tacos
These tacos are actually pretty easy to make. Don't be intimidated!
Corn tortillas are really strong. They don't burn easily so you have a lot of flexibility in your cooking time which is nice. I like to make mine on a large griddle or a large skillet.
Just add a drizzle of oil to the pan and get it hot over medium-high heat. Then work with one tortilla at a time. Start by just warming the tortilla up for a seconds and then top half of it with a large spoonful of filling.
Add some cheese and you'll get this:
You could use any cheese for these tacos, but cheddar or pepper jack are my personal favorites.
Then the only tricky part is to fold the top part of the taco over. Once you have the taco folded over, press down on it lightly so it holds it's shape.
Once you have one taco shaped, you can move it out to the side of the pan and get started on a second taco. When I'm really rocking and rolling, I can do about six at a time on my griddle. In a skillet I can usually make 3-4 in a batch.
Cook them for about 3-4 minutes per side so they get nice and crispy on the outside. It's almost impossible to overcook them. They will just get crispier!
Toppings and Servings
I made up a plate of some of my favorite taco toppings for these guys including sour cream, avocado, and and maybe chopped lettuce. Hot sauce wouldn't be a bad idea either.
Serve up a few of the crispy chicken tacos with some toppings and you are in for a treat! Three tacos is a good dinner although I've been known to eat four…
These guys turn crispy and delicious as they cook and then you can kind of pry them open and stuff them with all kinds of delicious toppings. The shells are a lot more substantial than those flimsy guys you buy in the store that crack and shatter with the slightest touch.
I know these crispy chicken tacos are good because my Tex-Mex aficionado wife requested them two nights in a row!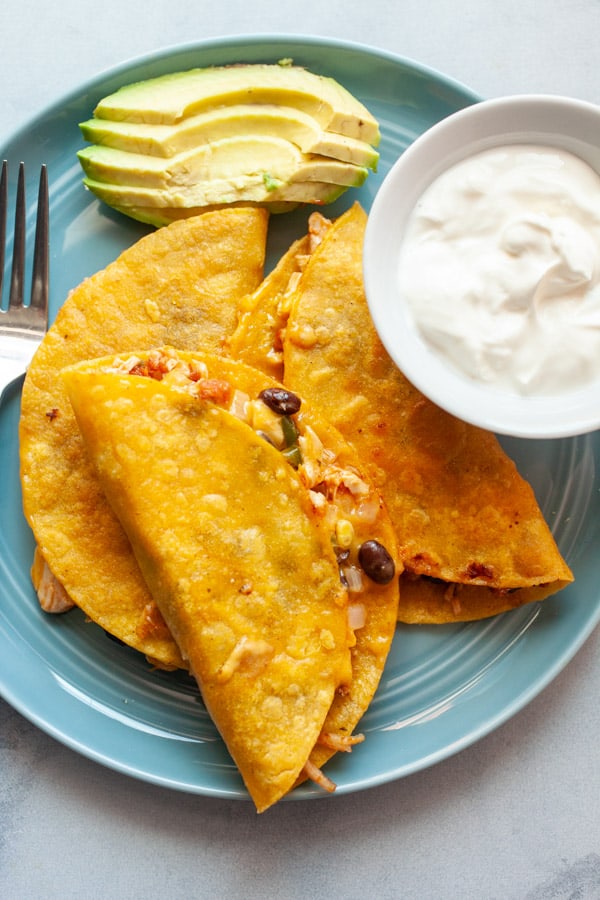 Here are a few other great Taco Recipes!