This Baked Shrimp Dip is a perfect example how rules are made to be broken. There is a supposed rule that you shouldn't mix cheese and seafood. I guess that's a good guideline if you are planning on putting a block of provolone on some salmon. But, sometimes seafood and cheese go quite well together.
One of the first things I ever felt comfortable cooking for others was a hot crab dip with loads of Old Bay and cream cheese. It taught me the genius that can be seafood and cheese if you bake into a creamy dip.
This shrimp version is equally good and maybe even better in some aspects. I like the chunks of shrimp in the dip. Plus, I like to add a little spice with a fresh red chili pepper and some cheddar cheese for some sharpness.
Other good news? You literally use one pot for the entire recipe. You cook the dip ingredients, bake the dip, and serve the shrimp dip all in the same cast iron skillet! Oh the joys of cast iron!
Can You Use Fresh, Frozen, or Canned Shrimp?
The short answer is yes across the board. This baked shrimp dip is flexible enough that you can use any shrimp for it. If you are using canned, be sure to drain and dry the shrimp as much as possible. If you are using frozen shrimp, thaw them slowly and then dry them as well.
Personally, I almost always use fresh or frozen shrimp for this baked shrimp dip, but anything will work.
How to Make this Baked Shrimp Dip
This dip doesn't have too many ingredients actually which is nice. While you could leave the chili out if you aren't a fan of spice, I think it adds a nice kick to the dip. I seeded my pepper and just roughly chopped it with a few shallots to get the dip started.
Cook the peppers and shallot over medium heat in your cast iron skillet with some butter. Don't get these too hot. You don't want to brown them really.
For the shrimp, you can use any size. Peel and clean them if they aren't already cleaned and then roughly chop them.
Add the shrimp to your hot skillet and cook everything together until the shrimp are just cooked through. Again, keep your heat around medium or medium-low. Gentle heat is best. They will still cook through in just a few minutes.
From here on out you're just going to have to trust me. Stir the cream cheese, sour cream, seasoning (Old Bay or cajun spice), lemon, and cheddar cheese into the skillet.
Yes! Cream cheese in shrimp dip is a good idea. Trust me!
The residual heat in the skillet will help melt the cheese and combine the ingredients. Sprinkle a little extra cheddar on top with some salt and pepper!
Bake this creamy baked shrimp dip at 375 degrees F. for about 30 minutes. It should be bubbly and delicious in the center and browned around the edges.
Let your dip cool for a few minutes before digging in and sprinkle it with some fresh chives. Serve it with pita chips or tortilla chips and maybe a little extra spritz of lemon if you want.
Here's the thing about this easy, baked shrimp dip. It's delicious, but it's really best right away while it's hot. Once it cools off it loses some of its charm!
What to Serve with the Shrimp Dip
There are so many options for deliciousness when it comes to dipping things into this shrimp dip. Personally, I default to pita chips because they are easy to find, crispy, and sturdy enough to hold up to the dip.
A few other ideas for serving:
Tortilla chips
Toasted Baguette slices
Sturdy crackers
Tortillas
Substitutions you can use for this recipe
This is a very flexible dip and you can change many parts of it.
Substitute shrimp for canned crab or a quick crab dip.
Add a tablespoon of hot sauce for a spicy kick.
Garnish with different fresh herbs (or whatever is in your garden) like green onions, fresh parsley, or dill.
How to Store the Shrimp Dip
I think this dip is best right out of the oven, but you can mix the ingredients together in advance and then bake it. I wouldn't do it more than a day in advance though.
If you do have leftovers (ya right) I did have success reheating it, but do so in oven at 325 F. until it's just warmed through. Please do not microwave it. Shrimp hate the microwave.
But, ideally, just eat it all right away!
Easy Baked Shrimp Dip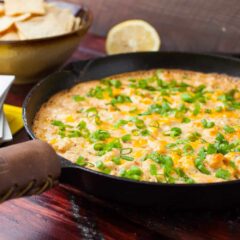 This delicious and simple appetizer combines just a few ingredients and is a seafood lover's dream! All baked in a cast iron skillet!
Ingredients
2

shallots

,

chopped

1

red chili

,

seeded and minced

2

tablespoons

butter

1

pound

fresh shrimp

,

chopped

⅔

cup

sour cream

8

oz.

cream cheese

1

cup

grated cheddar cheese

2

teaspoons

Old Bay

,

or cajun seasoning

½

lemon

,

juice only

Pinch

of salt and pepper

Chives

,

garnish

Pita chips

,

for serving
Instructions
Preheat oven to 375 degrees F. Seed and mince chili, chop shallot, and peel and chop shrimp. It doesn't really matter what size of shrimp you use since you want to chop them up anyway.

In a oven-safe cast iron skillet, melt butter over medium heat. Add shallot and chili and cook for a minute or two until they start to soften. Add shrimp and cook until shrimp are just cooked through, maybe 2-3 minutes.

Remove skillet from heat and stir in sour cream, cream cheese, lemon, most of the cheddar cheese, and seasoning. The residual heat should help mix together ingredients. Stir together well. Top with a little extra cheddar and a pinch of salt and pepper.

Bake dip at 375 degrees F. for about 30 minutes until the dip is bubbling hot in the center and getting browned and crispy around the edges. Remove and let cool for a minute.

Top dip with chopped chives and serve with chips. Serve while warm.

Dip is best served right away. If you have leftovers and want to reheat them, do so in an 325 degree oven until the dip is warm. Don't microwave.
Nutrition
Serving:
1
bowl
|
Calories:
279
kcal
|
Carbohydrates:
8
g
|
Protein:
27
g
|
Fat:
16
g
|
Saturated Fat:
9
g
|
Polyunsaturated Fat:
1
g
|
Monounsaturated Fat:
4
g
|
Trans Fat:
0.2
g
|
Cholesterol:
170
mg
|
Sodium:
518
mg
|
Potassium:
421
mg
|
Fiber:
1
g
|
Sugar:
4
g
|
Vitamin A:
576
IU
|
Vitamin C:
17
mg
|
Calcium:
354
mg
|
Iron:
1
mg
Did you make this recipe?
Here are a few other great Seafood Appetizers: