Betsy's family has been going to the same beach every summer for a family reunion/vacation for 37 years. It's an epic retreat and anywhere from 30-50 family members make it every year. We essentially rent an entire block of houses. It's a great tradition.
Since Betsy and I live in Colorado now, we always make it a point to each as much fresh seafood as we can manage. You can actually get decent seafood in Denver these days, but it'll cost you so it's nice to get super fresh seafood at reasonable prices.
For happy hour every day, we'll be sure to have a big bowl of shrimp ready for snacking. I tried a few different methods of cooking the shrimp this year and landed on what I think is the hands-down best way for how to steam shrimp.
It's far from hard and steaming the shrimp like this will leave you with tender and wonderfully seasoned shrimp.
Steamed Shrimp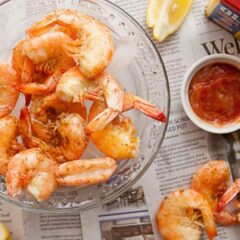 A quick and easy step-by-step guide that results in perfectly cooked shrimp every time! Plus a super easy trick for peeling them!
Ingredients
1

pound

large

,

16-20 count shrimp

Old bay seasoning

Cajun seasoning

,

opt.

Lemons

Cocktail sauce
Instructions
Use kitchen shears or scissors to cut up the back of each shrimp, exposing the vein if there is one. Rinse out any dirt or vein with cold water. Leave the shell around the shrimp though.

When all your shrimp are cleaned, toss them in a steamer and season them well with Old Bay and optionally Cajun seasoning. I recommend using about 2 teaspoons of Old Bay per pound of shrimp. A lot of it will fall off during cooking.

Add steamer with shrimp to a pot of simmering water. The water shouldn't really touch the shrimp if you can help it. Let the shrimp steam for about 6 minutes until they are cooked through and tender.

Serve shrimp while warm or chill over ice. Serve shrimp with lemon and cocktail sauce!
Nutrition
Serving:
0.25
pound
|
Calories:
181
kcal
|
Carbohydrates:
10
g
|
Protein:
2
g
|
Fat:
17
g
|
Saturated Fat:
2
g
|
Polyunsaturated Fat:
2
g
|
Monounsaturated Fat:
11
g
|
Sodium:
8
mg
|
Potassium:
550
mg
|
Fiber:
8
g
|
Sugar:
1
g
|
Vitamin A:
166
IU
|
Vitamin C:
11
mg
|
Calcium:
14
mg
|
Iron:
1
mg
Did you make this recipe?
How to Steam Shrimp
To Steam or To Boil
Boiling shrimp is a common approach, especially if you are cooking a bunch of them, but I don't like boiling shrimp for a few reasons:
1) It's hard to season the shrimp well. You basically just end up with a huge pot of super-salty water.
2) It's really easy to over-cook the shrimp. Even an extra minute in the water can be enough to turn your shrimp from tender to rubbery.
Steaming though, while a bit more of a set-up, solves both of these problems so it's my preferred method these days.
Prepping the Shrimp
Please. Please don't steam (or boil) shrimp without the shell on. The fragile little guys can't stand that kind of direct heat.
Leave the shells on when steaming them to give them a little insulation from the direct heat. This will let them cook a bit slower and result in more tender shrimp.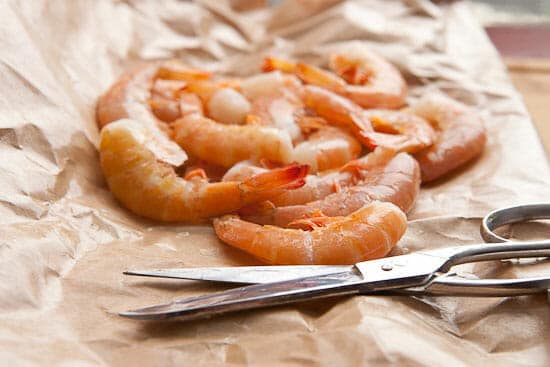 BUT, many people don't like cooking the shrimp in the shell because it means that the dirty vein of the shrimp is cooked in. To be honest, this doesn't really bother me, but I get that it's a bit off-putting.
Here's my solution. I take a pair of scissors or kitchen shears and run it up the back of each shrimp. This cuts through the shell and also about halfway through the shrimp itself, exposing any vein that might be there.
You can then easily rinse the shrimp under cold water to rinse out the vein but the shell is still intact around the shrimp!
The bonus feature of this method is that the shrimp are easier to peel after they are cooked!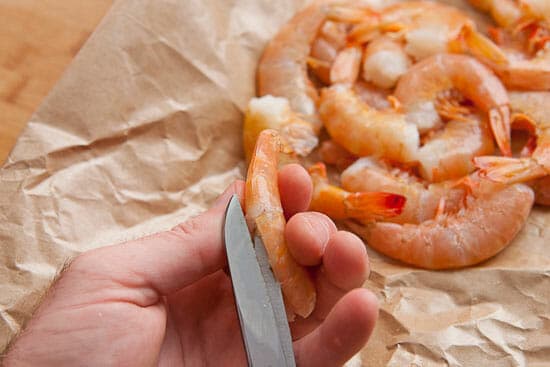 Seasoning!
Once you've cut and cleaned your shrimp, it's time to season them. Even though these guys won't be directly in the water, a lot of the seasoning will still sweat off them from the steam so feel free to use a liberal hand with the seasoning. I like to use a mix of Old Bay and cajun seasoning.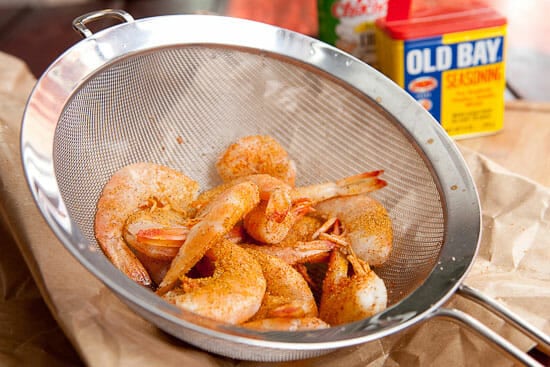 Steaming!
You can use a wide variety of methods for steaming the shrimp at this point. The important part is that you want the shrimp elevated over the water.
The water should be rapidly boiling. If you have a steamer basket that'll work fine. Personally, I just use my mesh strainer which essentially acts as a steamer once you cover the pot.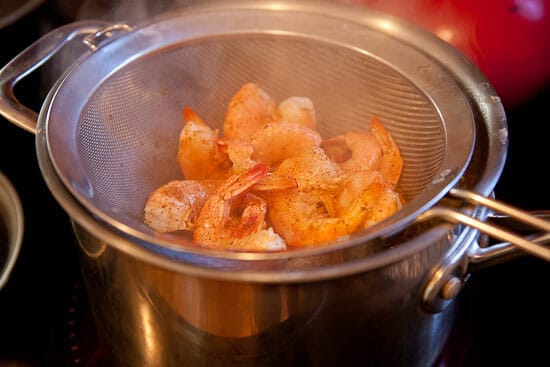 For the large (16-20 count) shrimp, they will need to steam for 5-6 minutes to be cooked through. I like to take them out at 3 minutes and toss them lightly to make sure they are cooking evenly. If you are cooking a few pounds at a time, the ones on the bottom of the steamer might cook slightly faster.
It is possible to overcook the shrimp still, but it's a lot harder to do than if you boiled them.
When they are done, just pull them out of the steamer and either serve them hot or chill them down over some ice!
Personally, I like mine chilled.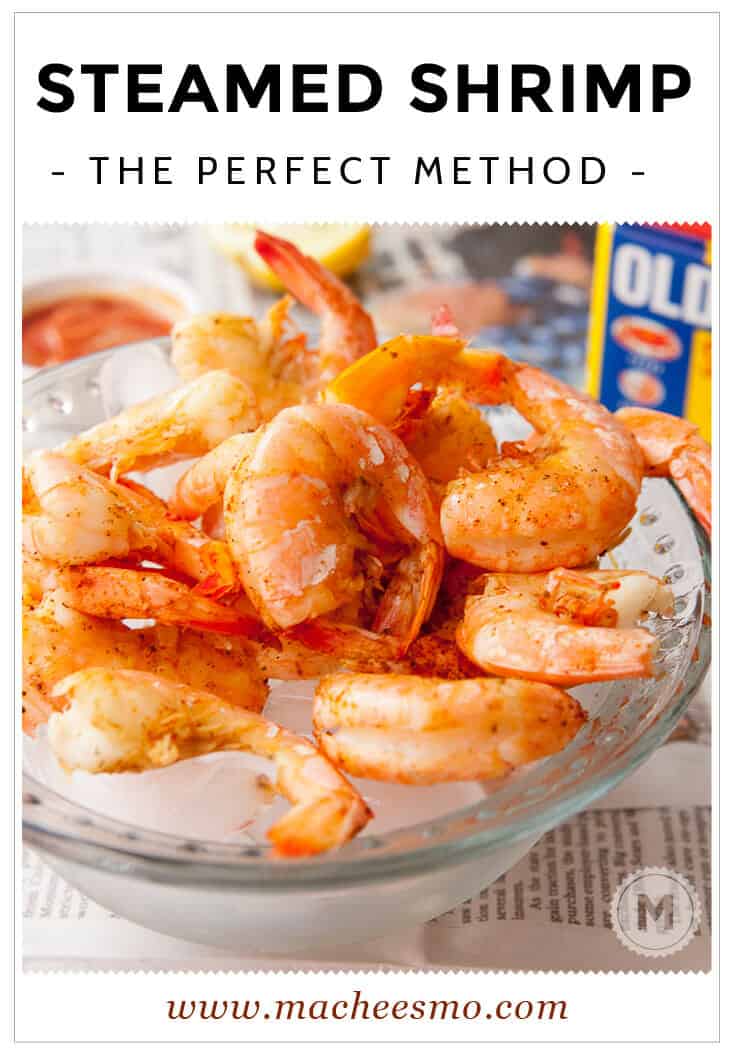 The nice thing about cutting the shells is that the shrimp are super-easy to peel. The shell just kind of unwraps around the shrimp and it's ready for dipping!
Personally, I like to dip mine in a simple cocktail sauce that's ketchup and a dollop of horseradish.
Lemon is always a good option also!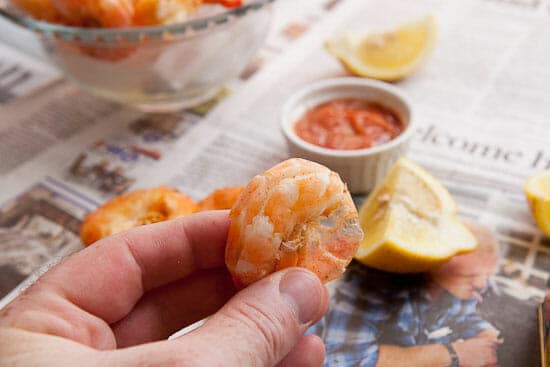 I think I tried 3-4 different shrimp cooking methods and this method for how to steam shrimp was far and away my favorite.
Buy good shrimp and cook them like this and you'll be in for a great appetizer treat!
Need more appetizer ideas?