I've been working on this post for a few months now… not because it is particularly hard, but because it takes a while to save up enough Parmesan rinds to test this Parmesan Powder idea!
But, whether you are a parmesan rind hoarder (me!) or just have a spare one in the fridge, you can make this easy parmesan powder to extend the flavor and parmesan deliciousness and get every single gram's worth of Parmesan out of that expensive block of cheese.
There are many uses for leftover parmesan rinds. You can always add them to stocks or soups for a flavor boost, but I like this use because it feels transformative and really extends the parmesan. Let's dig in!
How to store leftover rinds
There's no need to overthink this really. Parmesan is aged cheese and most parmesan blocks have been ages for many months or years already.
Depending on the quality of parmesan you are buying, some will have a thicker exterior layer on it than others, but it makes no difference for this parmesan powder idea.
If you are planning on making this within a few months, you can just store the parmesan in the fridge. I like to store mine in a bag with all my other parmesan rinds!
If you are a slow parmesan user, you can freeze rinds for even longer and wait until you get a critical mass to make this powder.
How to clean parmesan rinds
There's not a ton you need to do to these rinds to get them ready for the powder phase. I like to trim off any very hard exterior layer of the cheese as it won't grind down very easily.
Use a paring knife to carefully trim down the rind so you have just the end part of the cheese. This part tends to be harder than the majority of the parmesan block and is harder to grate for normal use, but is still edible!
How to make parmesan powder
Before we make this, I should say that you can obviously make this with ANY part of the parmesan cheese. If you love the powder, you can slice off a hunk of the cheese and just make the powder. Personally, I like to use the majority of the cheese for fresh grating and then use the tail end for this powder.
Making the powder is very easy. Once you have the rind shaved down, cut it into 1 or 2 inch chunks and place them on a microwave-safe plate.
Microwave the parmesan for two minutes. You'll want to keep a close eye on it as it microwaves. It'll puff up a bit and bubble some, which is all the water in the cheese evaporating out. If you keep microwaving it for too long, it can actually burn so try to pull it when it looks dry but not turning too brown. For me that was about two minutes, but it can vary based on the size of your parmesan pieces and the microwave you are using.
Once you have microwaved them, let them cool completely. They will be super hot when they come out and cool down very quickly. Once they are cool, you can actually crumble them with your fingers!
To make it a bit easier, I like to add the parmesan chunks to a mortar and pestle and grind them up into a fine powder. You could also add them to a bag and smash them with a mallet or rolling pin.
If you cooked the parmesan long enough, it'll be very easy to crush into a powder! Then you are all set!
Storing the parmesan powder for later
Once you have this parmesan powder made, I recommend storing it in the fridge since it is a perishable item.
I think it would keep for many weeks in an airtight container. I was worried that the powder would clump up but mine was fine even after a few days. You can just use a spoon or your finger to break it up.
Some great uses for parmesan powder
Ohhh the uses for this delicious parmesan powder! Let's go through a few ideas!
Popcorn! This is my favorite and easiest use. Just add some butter to popcorn and liberally sprinkle the parmesan powder on top. So good!
Salads! The powder is a great flavoring for salad greens. It would be really good on this roasted sprout salad!
Pizzas and Pastas. This is very similar (homemade version) to the parmesan that is served at pizza joints. Use accordingly. Would be great on this asparagus carbonara recipe!
Garlic Bread! The next time you mix up some garlic bread, sprinkle it with parmesan powder before baking it!
Parmesan Powder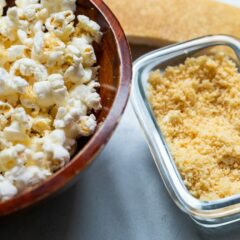 My new favorite use for leftover parmesan rinds is to make this quick parmesan powder which extends the parmesan flavor and can be used in dozens of delicious ways!
Ingredients
3-4

Parmesan Rinds

,

leftover
Instructions
For each parmesan rind, use a paring knife to trim off any wax on the very exterior edge of the cheese. Try to keep as much cheese as possible. Cut the leftover rind in to 1 or 2 inch chunks.

Place rind chunks on a microwave safe plate and microwave on high for 2 minutes. Watch carefully. Depending on thickness, they might only need 90 seconds or a few extra seconds. Cheese pieces will puff slightly and then start to brown a bit. Make sure not to burn them.

When you remove the parmesan pieces, let them cool completely and then mash into a powder using a mortar and pestle or place them in a bag and smash them.

Store parmesan powder in an airtight container in the fridge for a few weeks.
Nutrition
Serving:
2
tablespoons
|
Calories:
49
kcal
|
Carbohydrates:
0.4
g
|
Protein:
4
g
|
Fat:
3
g
|
Saturated Fat:
2
g
|
Polyunsaturated Fat:
0.1
g
|
Monounsaturated Fat:
1
g
|
Cholesterol:
9
mg
|
Sodium:
200
mg
|
Potassium:
12
mg
|
Sugar:
0.1
g
|
Vitamin A:
98
IU
|
Calcium:
148
mg
|
Iron:
0.1
mg
Did you make this recipe?
Here are a few other great recipes to try!